Thank you Village Harvest for sponsoring this post. Every day Village Harvest is planting seeds of change and growing possibilities, one bag of goodness at a time.
Enjoy the comforting flavors of Tikka Masala, already prepared in an aromatic basmati rice, ready to eat in just 90 seconds! Click the image below to shop the variety of flavors from Village Harvest.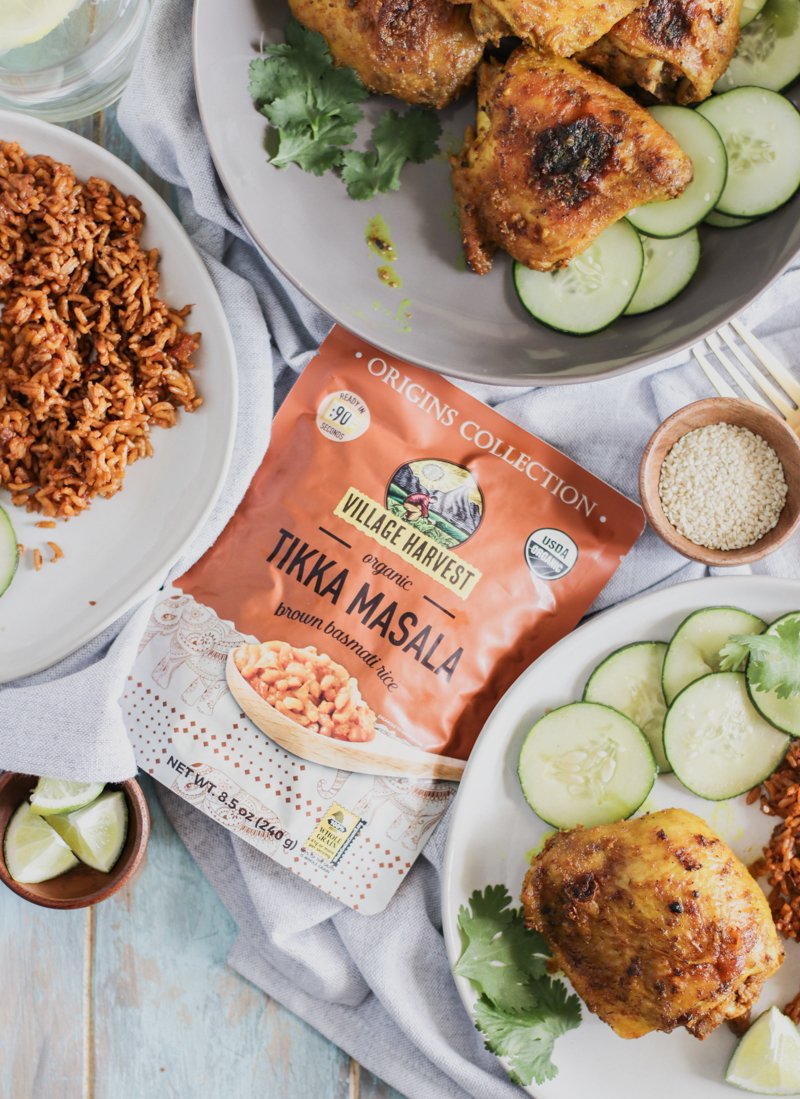 I don't mean to toot my own horn, but I have been killing it with meal prep lately. I like to think I've always been good at meal prepping, but there are weeks where life is either too busy, or I make a ton of generic food that's healthy, but a little plain in an effort to get it all done, and then I find myself bored, and end up wasting food, and/or eating out more than I need to.
But I've started shifting my mindset more, and more lately (which is why you've seen an abundance of recipes here too), and really the best way to stay motivated and satisfied with meal prep is to enjoy healthy, but also F L A V O R F U L meals – that's not really a secret or anything, but it's something I've been able to stick with for a lot longer than I can remember.
Jason and I love Indian food, but I don't make it very often at home. Jason is more creative with that cuisine, and Indian spices, which is fine by me. But most weeks, I'm the one in charge of the majority of our meal prep, because um, did you know first year attorneys are never home?! I'm half teasing, but also pretty much I can assume that my husband will have to go into the office at least one weekend day each week. It's just part of what we signed up for, and he's got to pay his dues, and I [usually] go with it. It's still better than when he worked full-time, and went to law school at night.
My job is a little more flexible; I work from home about 60% of the week, and travel the rest of the time. But those days when I travel, if I don't plan out what we're eating, you know I'm not eating right. It's definitely convenience food I will rely on. And not quality convenience food either, you guys. We're talking I either don't eat, or I drive through, and hate myself afterward.
So for the days when I know I'll be traveling, I'll usually take whatever protein I've made for the week, and add a quick side that's easy, and healthy to eat on the road. With Village Harvest's, Origins Collection, featuring authentic recipes from India and Thailand, I'm not bored with meals, and I have zero excuse for lazy meal prep. Bonus: The Origins Collection is Organic & Non-GMO, 100% Whole Grain, and Gluten Free. I can promise you that's a lot better than when I'm hangry between visits for work. Now, that IS quality convenience.
Village Harvest Origins have so much flavor, and are the perfect side for my lunch meal prep, or quick dinner, and are ready in 90 seconds. Whether you want Thai green curry (Thailand), Lemon Rice (India), Coconut Turmeric (Thailand), or Basmati & Lentil (India), there are so many flavor combinations, that you won't be bored. At least we haven't been. Shop here, to try any of these flavors, yourself.
This week, I prepped Village Harvest Origins Tikka Masala (India) to pair alongside a batch of my Crispy Tumeric Chicken Thighs. For dinner, we'll enjoy the Tikka Masala on a plate (obvi), like normal people, but during the week, I kind of mix everything together like a bowl (I love these containers for meal prep), and am always satisfied, and never wanting to drive through anywhere.
I used to guilt myself if not everything I prepped was from scratch, and loaded with fresh veggies. But all that did was get me to make sometimes plain-ish meals that left me bored. When you can find quality, healthy, and flavorful sides that help you stay on track, there is nothing wrong with that!
I was selected for this opportunity as a member of CLEVER and the content and opinions expressed here are all my own.
Join my Facebook Group to keep the convo going!
This post may contain affiliate links. Purchasing through them help support this website. Please see the disclaimer here.