The best canned wines to drink this summer! Perfect for patio hangs, camping or hiking with friends, and of course the beach!
Happy Summer! Somewhere between the boxed wine I got down on in my twenties, to the fancy bottles I like to treat myself with for a special occasion, lies canned wine. And I am here for it!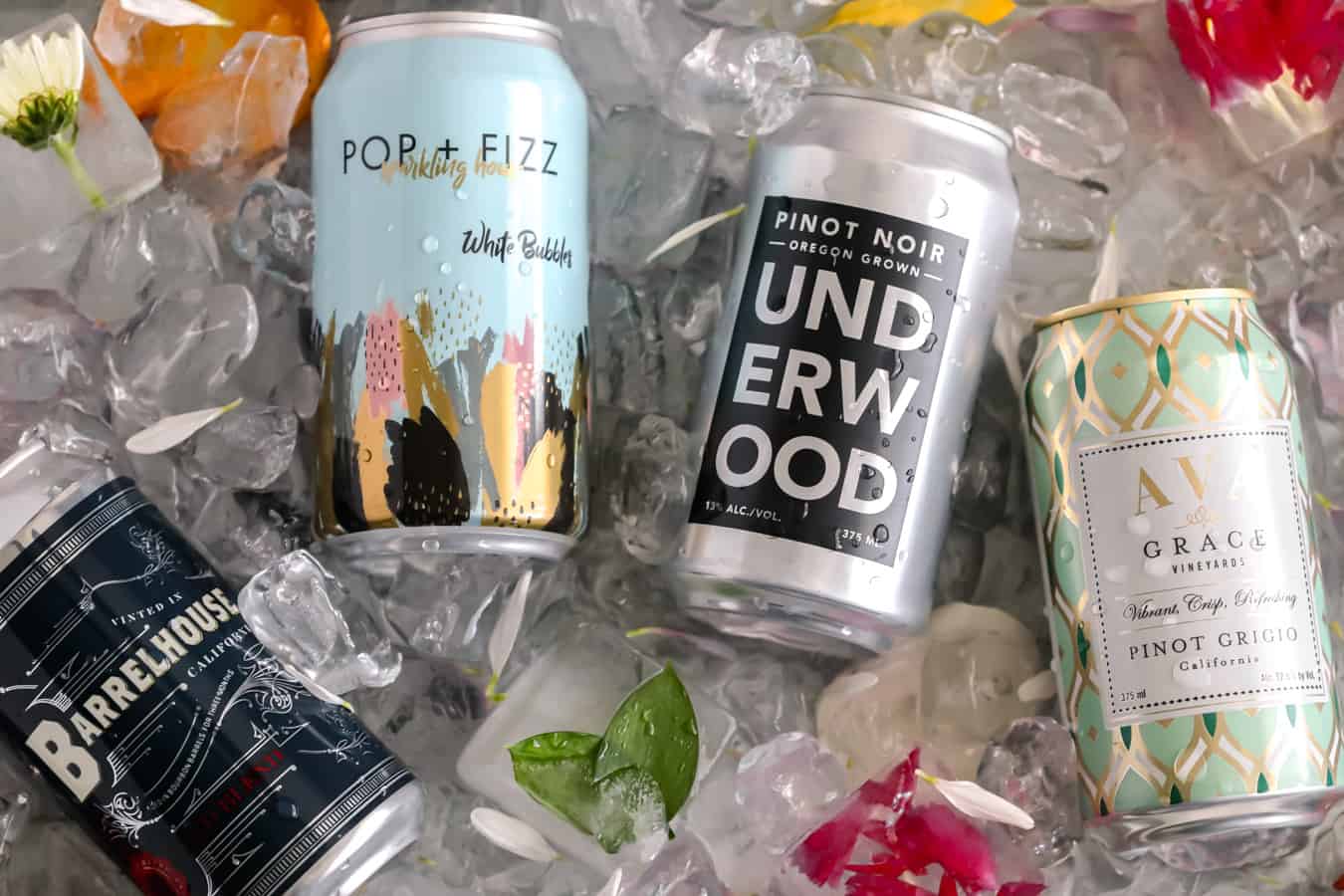 Best Canned Wines for Summer
Last year, I hosted friends for a rosé tasting with grilled pizza (lucky friends, and they know it!) and it turned out half of the group don't care for rosés – thus breaking my heart. But also, it kind of introduced me more to the convenience that is canned wine.
Canned wines are the perfect boozy bevvy – and are usually inexpensive making them ideal to bring to a party to enjoy! And what I especially love about canned wines is that if you do bring as a gift (always leave the booze you bring to a shindig) someone will definitely enjoy said canned wine, making for a great conversation starter. I used to bring whole bottles of wine, but my friends and I don't always have the same taste, so it always hurt my heart a little to bring a bottle they won't actually sip and enjoy.
And in these weird times where we're stuck at home more than ever, canned wine in the backyard is the way to go. Convenient and less waste. It's also a great way to sample different varieties without committing to an entire bottle.
WHERE TO BUY CANNED WINE
Canned wines are having a moment, and I couldn't be happier about it! Anywhere you tend to buy wine or beer, you'll find canned wine as well.
The cans I've included in this summer list were purchased at Total Wine, ABC Liquor and my local Target.
Here are ten canned wines to enjoy this summer
(in no particular order)
BUTTERCREAM CHARDONNAY
Chilled whites are always good in the summer heat, and this one truly tastes smooth and buttery!
UNDERWOOD ROSé BUBBLES
This is the fizziest can of bubbles I've ever enjoyed and I loved it!
JACQUELINE LEONNE BRUT
My favorite bubbly is La Marca Prosecco, but this is a very close second and because it comes in a can, this brut is best for the beach, a picnic, anything outdoorsy.
STE CHAPELLE BLOOD ORANGE SPRITZ
Personally, I find a lot of canned spritzes to be too sweet and not my thing. This Blood Orange Spritz is seriously refreshing without being too sweet.
Yes Way Rosé
Another favorite at Casa de Crews; this rosé is more dry than sweet, making me a huge fan.
BARRELHOUSE BOURBON RED WINE
If you are more of a red fan (such as cabs), this can is for you! It's got an oaky taste that I surprisingly like. If you've got a bourbon fan in your house who doesn't like wine, I bet they'll like this one…
POP + FIZZ SPARKLING WINE
Another bubbly in a can! Sorry, I just think you can't have enough options. This sparkling wine is perfect for the cooler.
UNDERWOOD PINOT NOIR
Sometimes I find pinots to be heavy. This one is surprisingly light and a little fruity tasting too.
AVA GRACE PINOT GRIGIO
Pinot Grigio is my go-to white when I don't want chardonnay. It's lighter tasting and so refreshing chilled. I personally love that this isn't too sweet either.
Dark Horse Rosé
My favorite canned rosé! Not too sweet and not too dry, this one is jussst right.
SNACKS THAT PAIR WELL WITH CANNED WINE
There is a time and place for proper wine pairings, but in my opinion canned wine isn't the time. Here are a few snack ideas to enjoy this summer with your favorite canned wine.
Are there any wines you think should be on the list that we missed? Let me know!