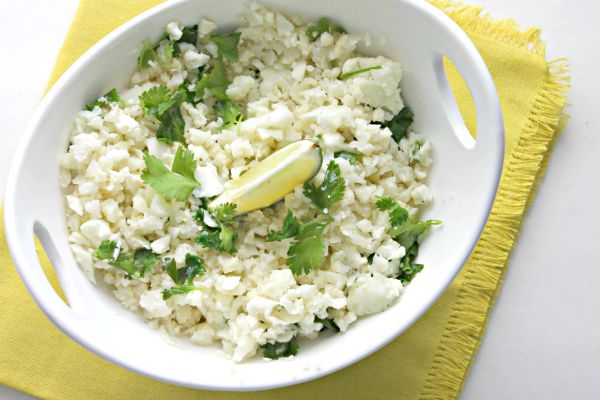 Oh heyyyyyy, another Cilantro-Lime recipe? I promise this is the last one for now, though. I started thinking you could make this Cilantro-Lime Cauliflower "Rice" with my Cilantro Lime Chicken, and have a flavor explosion.
I went back and forth on whether to even create this post. There are at least one bazillion recipes for cauli "rice", aren't there? But this is a side I have made on and off for years, and it started when I was doing the Atkins Diet many moons ago. I thought at the time cauliflower was actually not good. But back then, I loved carbs. Still do. So I tried my hand at this faux rice. Most recipes will tell you to saute for 6-7 minutes until tender.
I think it depends on your stove-top. 6-7 minutes, and my cauliflower is mushy, and personally unappealing. So I saute for 3-4 minutes and it is jusssst right. Does this taste like rice? The answer is no. But it is tasty once you figure out how to get the texture the way you like it. The fresh cilantro, and lime really help with the flavor.
Again, I wasn't sure if I should share such an obvious recipe, but ever since I shared my Sesame Chicken Stir-Fry recipe, several people have asked how to make cauliflower rice.
If you're not watching your carbs, but trying to get more veggies into your diet, you could make a dish with half and half. Over time though, you may really just come to love cauli "rice" like I do, and make this in place of grains.
[bctt tweet="How to make rice using cauliflower, for a healthy #lowcarb alternative!"]
[amd-zlrecipe-recipe:43]