I am thrilled to report that this year's Thanksgiving with the in-laws was a smashing success! Nothing burned, people were mostly on-time, and the food was delish (if I do say so, myself).
Almost everything on the menu at Casa de Crews was made from scratch with less processed ingredients. Except for the rolls, which were store bought, and the Jiffy cornbread I used to make the stuffing.
And you guys, I want to tell you if you like cranberry sauce, use this recipe! It was a hit. Even Jason ate some. And he doesn't like cranberries, or honey (which was used to sweeten the sauce instead of sugar). He rubbed his stomach like Monica does in the Thanksgiving episode of Friends where Rachel makes a trifle with beef by mistake, lol. I love that man, I swear it.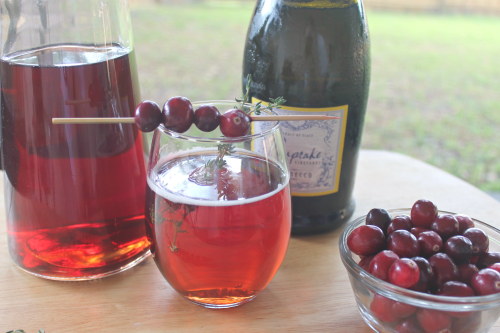 So anyway…cranberries. We had a lot leftover, [see more Thanksgiving leftover ideas on my Pinterest board] and I wanted to do something with them. We are planning to run/walk the Tampa Bay Times Turkey Trot this Thanksgiving with friends, and then they're coming over post run for a quick brunch. I'm excited to see my friends, get a run in (let's be honest, I'll probably plan to mostly walk as I have been slacking on training) and drink mimosas before then heading to my parents house for a feast, and family time. I expect it to be a glorious day of gluttony, which will start with these Cranberry and Prosecco Mimosas!
I love mimosas. I prefer prosecco to champagne, but you can use either for this drink; such a festive cocktail, that you can make for any holiday brunch you're planning this season. Or maybe a cookie swap party. Or just because it's Tuesday…
To make: Mix equal parts bubbly, and cranberry juice (not cranberry juice cocktail – this is just extra sugar, and not the real deal). Garnish with fresh cranberries, and fresh sprigs of thyme. Fact: I had never added fresh thyme to a cocktail before – turns out, thyme is a real game changer; try it! That's all it takes to make this mimosa. So simple, that there is no need for a fomal recipe, my friends.
Simply mix well, and enjoy!
xo.