Grilled Steak Chimichurri Bowls are packed with so much flavor; will fill you up and make loads of healthy leftovers!
T-5 days until this round of my whole 30 is o v e r. I'm excited AF! With the exception of my very first whole 30, I struggled the other three times I attempted to make a go of it. This time…this time, I'm killing it. I have so much to share on this very soon, but that is it's own post for another day.
In the meantime, I have my last guest post from a fellow food blogger, Laura, co-creator at Foodology Geek! I met Laura this past spring at a blog conference in Utah. We had mutual friends and kept running into each other. She is a paleo lovah, and I love her imagery! Plus, they have like all the BEAST BOWLS on their site. I love bowls filled to the brim with good ingredients! You can see more of Foodology Geek's beast bowls, here.
For W30 purposes, I did tweak the ingredients very slightly but you can find the original, clean recipe here. If you're going low-carb, just omit the plantains, and this bowl is compliant and amazing!
Steak Grilled To Perfection And Paired With a Spicy Chimichurri Sauce
This Beast Bowl is one of my absolute favorites. First, of all it has steak. Second, it's spicy and fresh. Third, Guacamole! Need I say more? It's packed with protein, veggies, and healthy fats.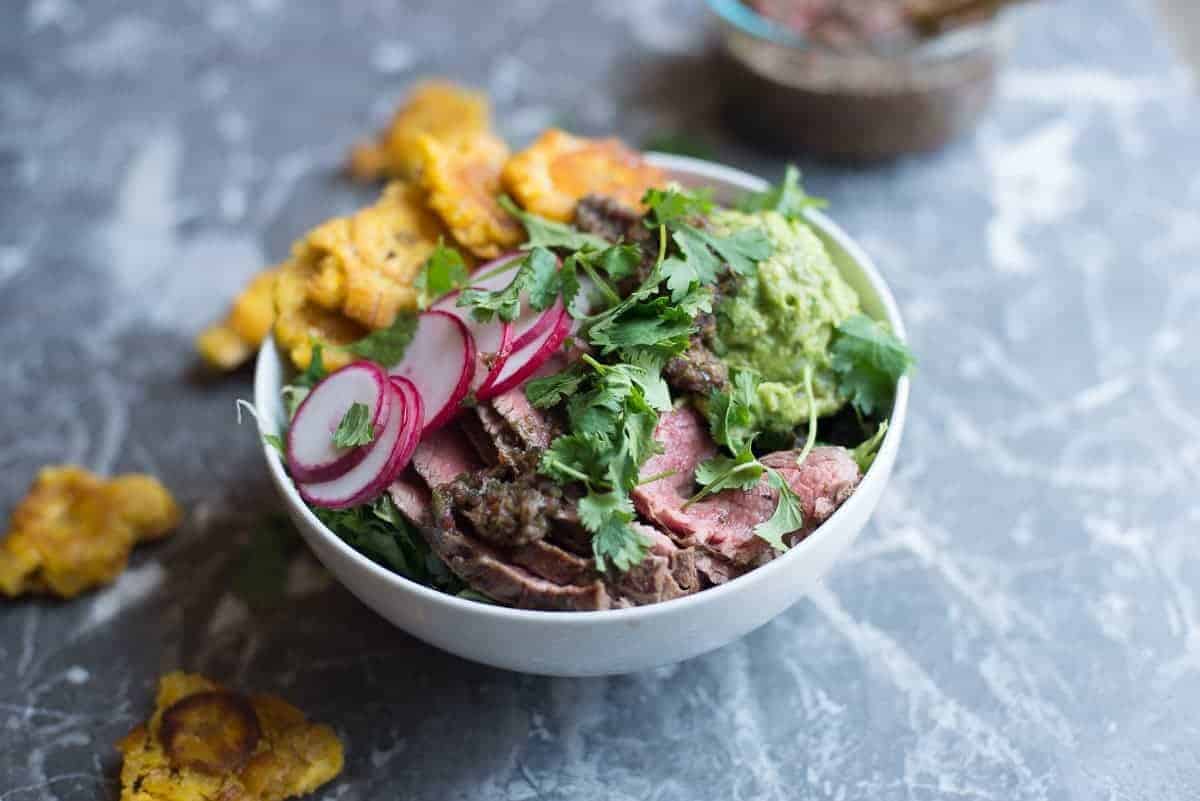 It's The Perfect Time To Start Another Whole 30
Clean eating and summer are the perfect partners. As you're shedding those comfy winter clothes you might be thinking – what the heck!? It must be time to do another Whole 30!
This Steak and Chimichurri Beast Bowl is the perfect addition to your Whole 30 recipe rotation. Sustainable healthy eating can be really easy if you find a few recipes that are easy to make, taste delicious, and keep you feeling satisfied.
That's Where This Tasty Beast Bowl Comes In
Super-easy and super-tasty are just what your Whole 30 ordered. Whole 30 compliant eats are all about getting back to eating whole food again. Grass-feed beef with fresh Columbian Guacamole and Chimichurri Sauce is a winning combination, especially with tostones on the side.
Chimichurri sauce is a delicious spicy Columbian salsa and is awesome on basically everything! Think eggs, grilled shrimp, chicken, pork, beef, you name it!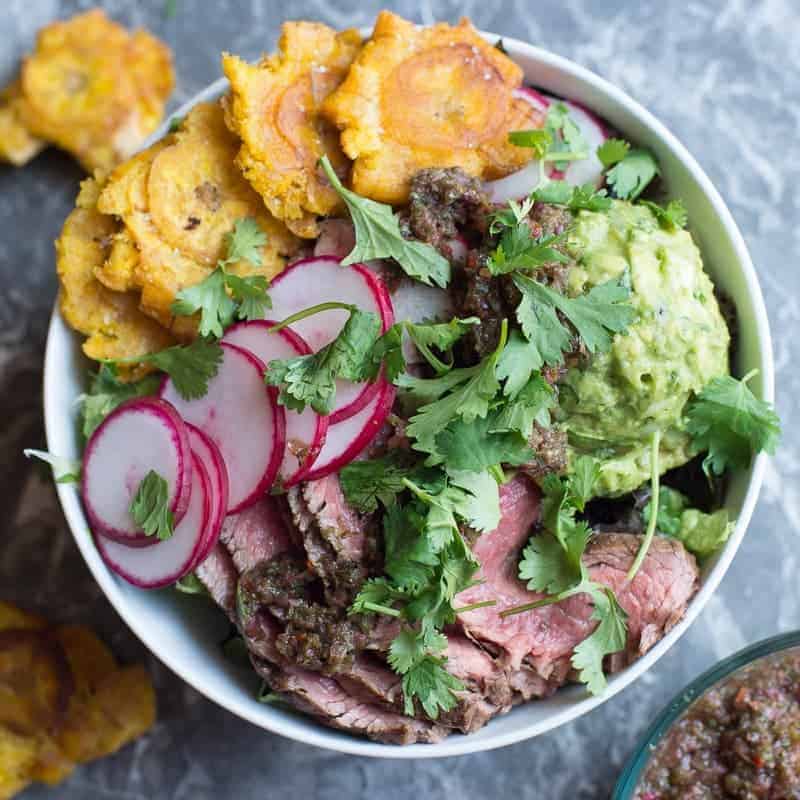 The Juicy Steak – Marinated and Grilled
Choose any cut of steak that you like here, but one of my favorites is a flat-iron cut – it's really flavorful and super tender, plus really affordable. Other excellent choices are London broil or chateaubriand cuts.
I usually grill 2 or 3 flat iron steaks at a time, this way I have enough for a dinner for four people, and then leftovers all week.
Columbian Guacamole
The recipe for Columbian Guacamole uses sweet Vidalia onions and serrano peppers, a delicious combo that makes it a little sweeter and a little spicier than the Mexican variety.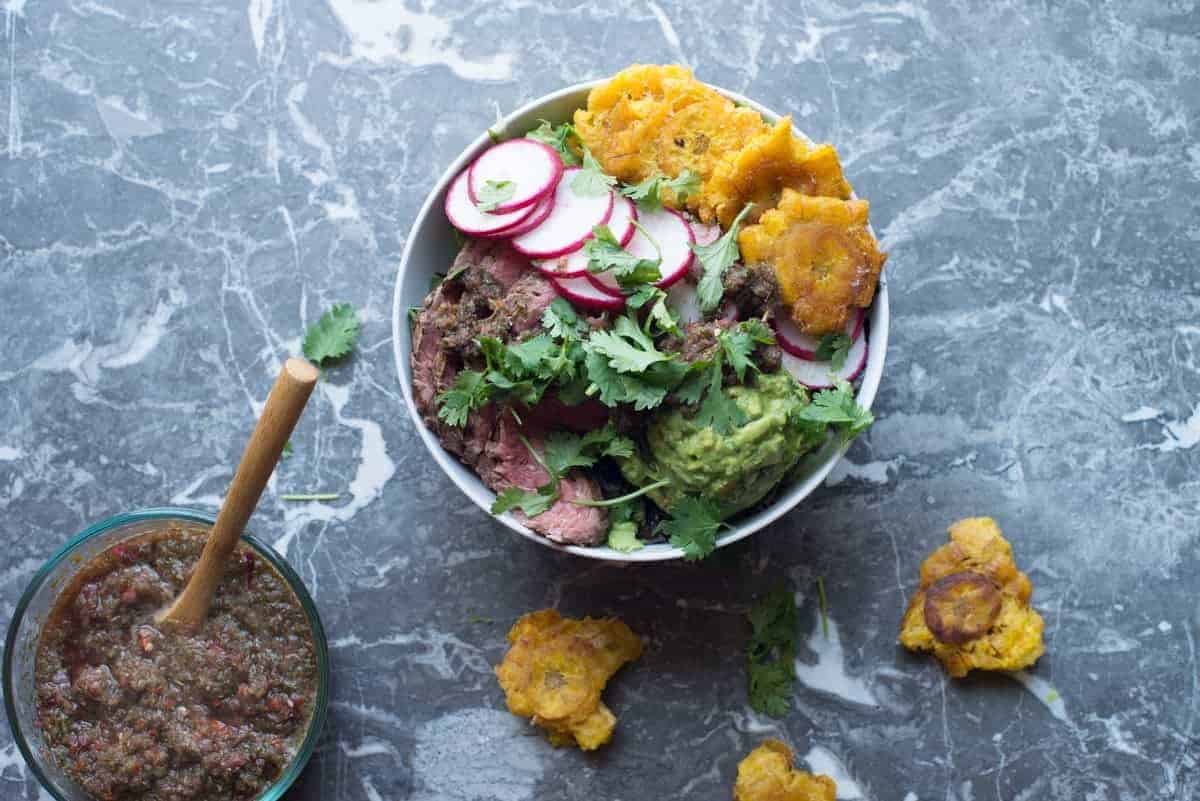 A Word On Tostones
Tostones are green plantains that are fried, then smashed, then fried again. They're absolutely fantastic – they take a little bit of work but are totally worth it. I highly recommend giving them a try, and they're awesome dipped in guacamole.
For a fast and easy substitute, prepared plantain chips are a quick stand-in. Trader Joe's has great pre-packaged roasted plantain chips. Check it out in your local store, or you can order online here if you don't have a Trader Joes near you.
Do You Want More Beast Bowls?
We have so many Beast Bowl recipes! Stop by FoodologyGeek.com and add a few to your Whole 30 recipe rotation. At Foodology Geek we believe that meal-prep should never be boring and doesn't have to be hard.
This post may contain affiliate links. Purchasing through them help support this website. Please see the disclaimer here.