It's really no secret that Thanksgiving is one of my favorite holidays of the year – actually, it is my number one fave. To me, it's the kick-off to all things holiday, and it starts with good food.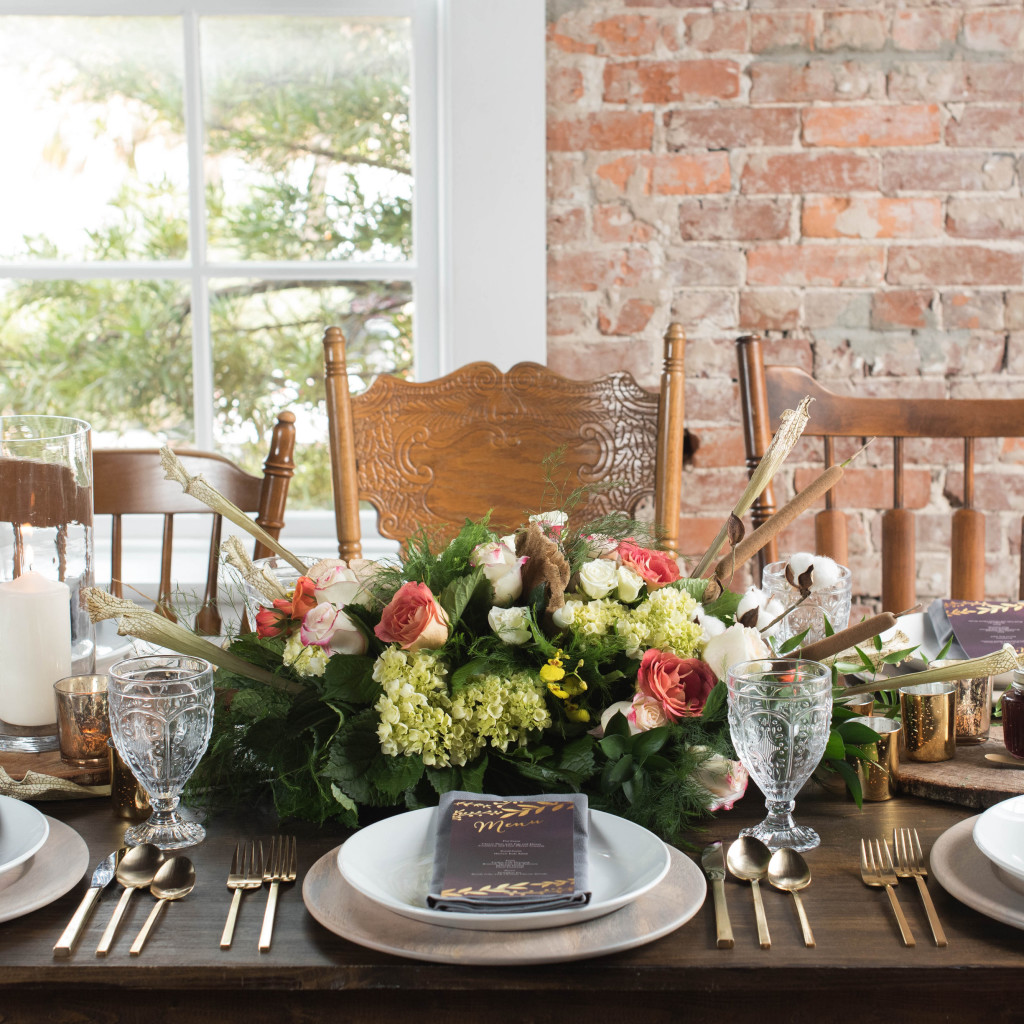 Since becoming the Mrs. at Casa de Crews, we've hosted Thanksgiving a few days prior, for my in-laws each year (and go to my parents on the day of); each time, I tend to stress because I want to do it all. I don't want anyone to bring a thing! I want our family and guests to show up hungry, and leave with full bellies (and hearts). It's how my mom does Thanksgiving, and it's how her momma did it, too.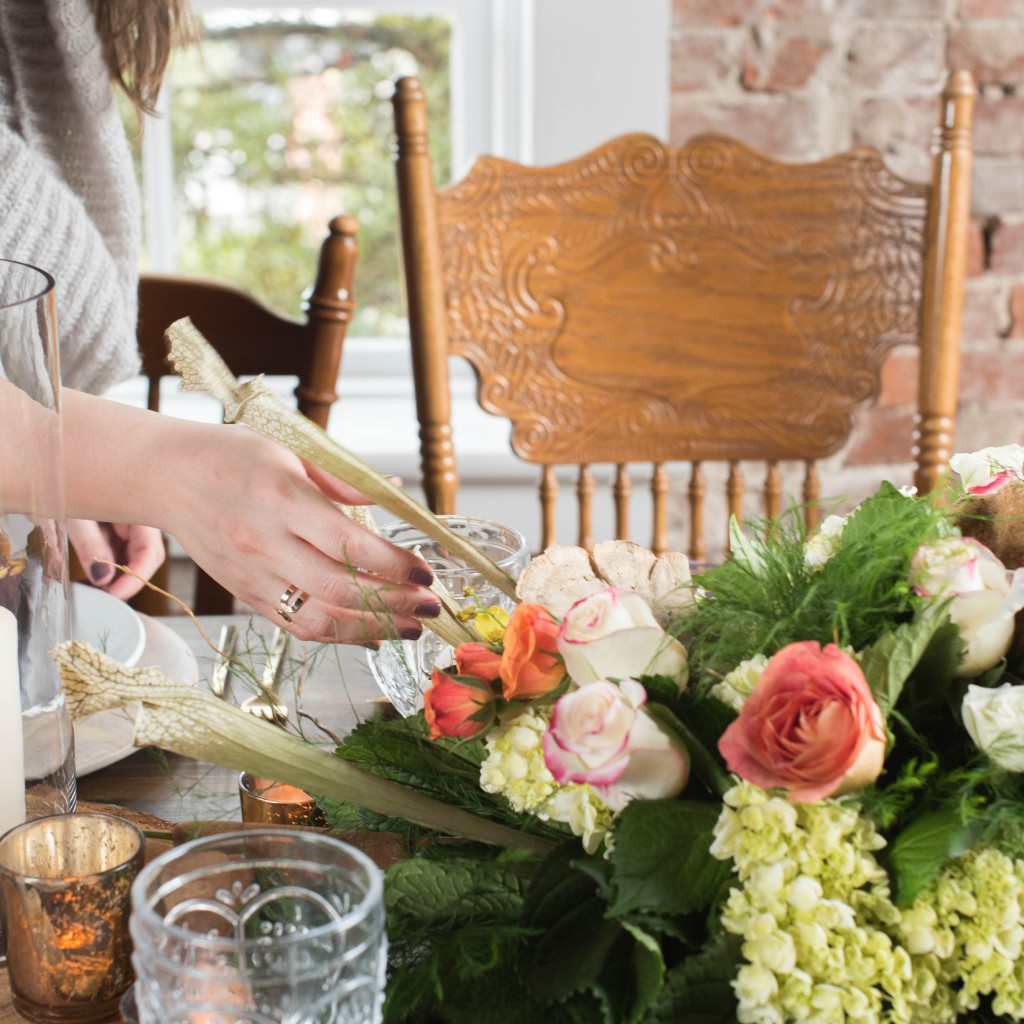 But there is something more relaxed about Thanksgiving with friends. Every one can bring a dish, drinks, décor, etc. Friendsgiving (to me) is choosing to spend the holidays with your fave peeps, because you want to, and not because you have to.
Soooo, I decided what better way to celebrate the upcoming season than with some of my fave gals from Tampa Bay and Orlando (#notbiased ;)), and host a little Friendsgiving of our own!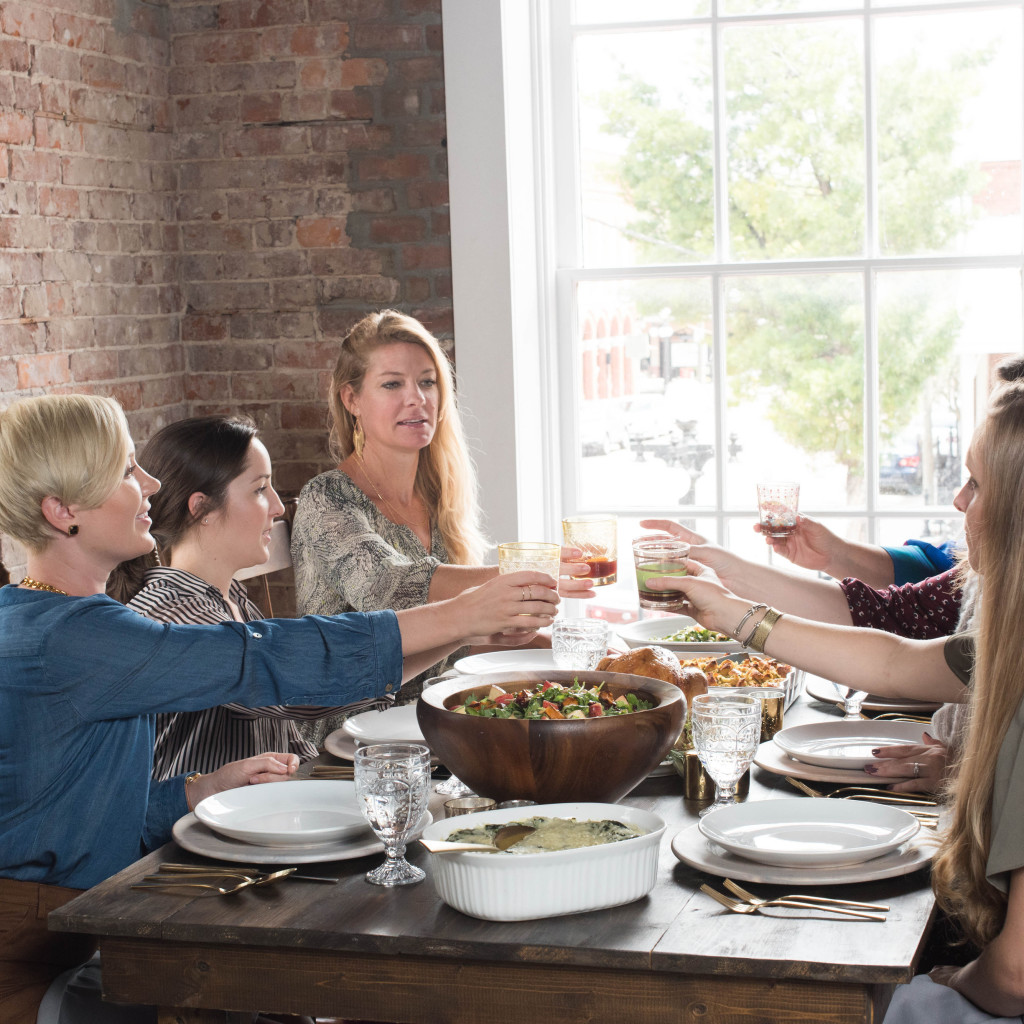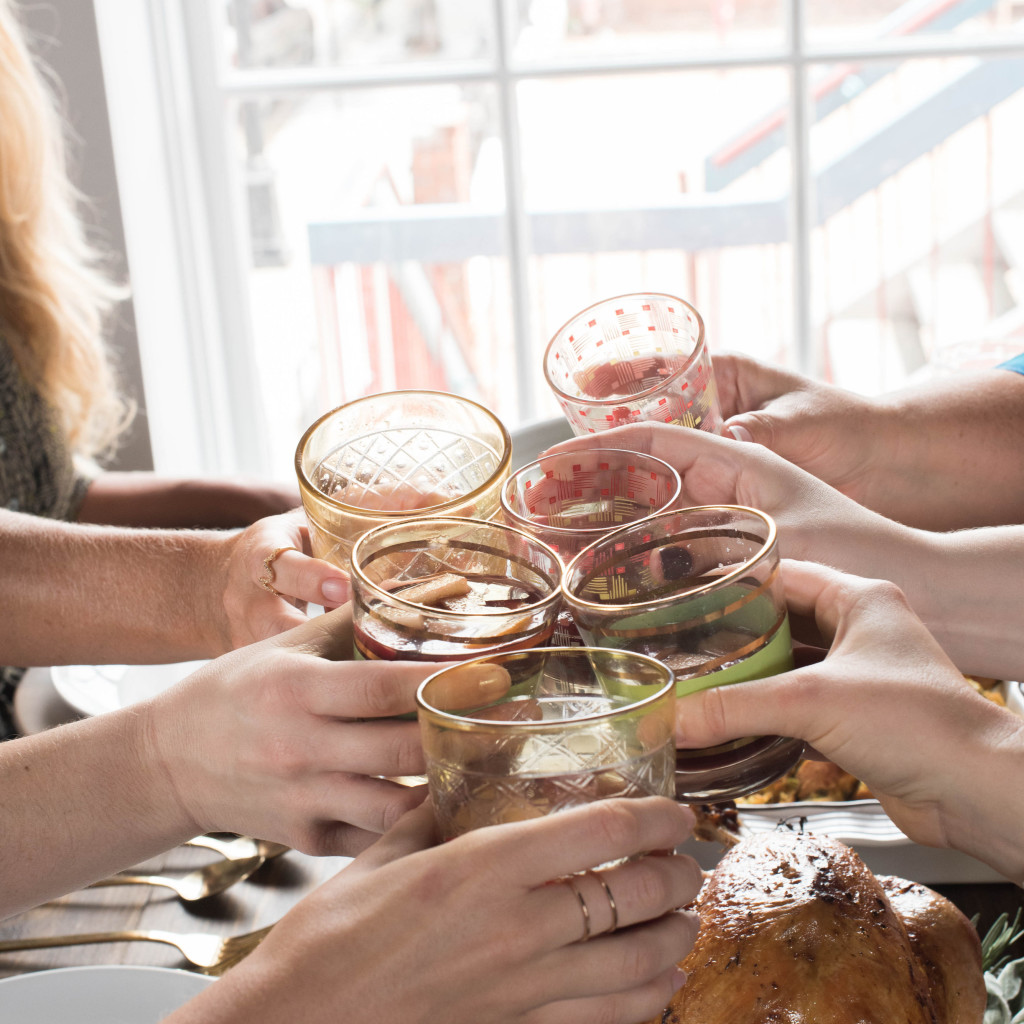 [bctt tweet="How to successfully host your Friendsgiving Dinner (menu included)!"]
Our gorgeous photos were taken by the super talented Caroline and Evan Smith (Caroline & Evan Photography), and because their insanely good at their job, these photos are stunning…but please don't feel any pressure when hosting your own Friendsgiving; celebrating Thanksgiving with friends should be a fun, and stress-free event. I mean it!
How to successfully host your Friendsgiving Dinner
Plan the menu in advance: Ask friends what they'd like to bring. Just because you're the host, doesn't mean you necessarily have to make the turkey (huge thanks to Robin King, owner of Three Birds Tavern, in St. Petersburg, FL, for making our tasty bird!). Someone else may be more willing (and excited) to do so. I like to base my menu around this guide. It helps to know how many sides, apps, cocktails, etc. you will need for your Friendsgiving feast.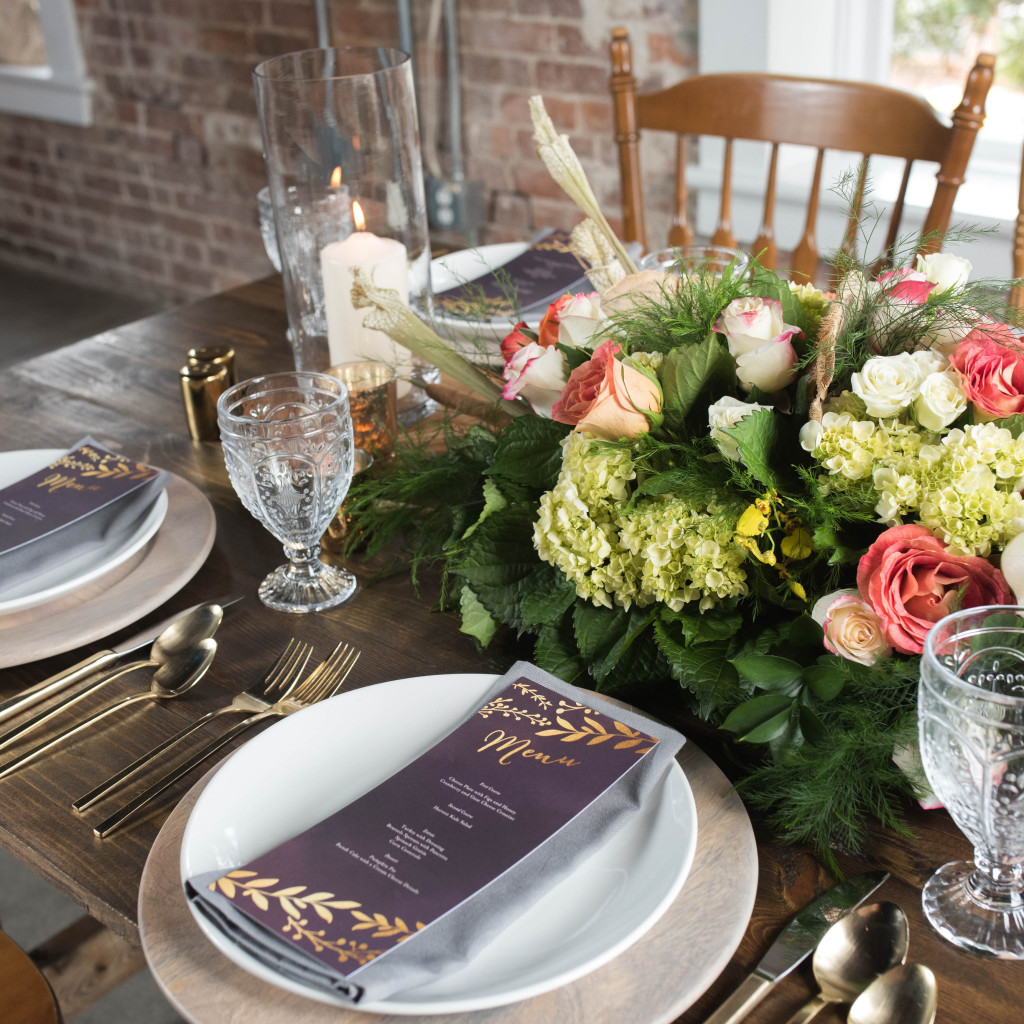 Keep the décor simple: With many thanks to both Set Event Rentals (with Amber Veatch Designs) and Belle Fleuer by Natalie Jane, our simple table is so welcoming, and beautiful! Set Rentals provided the awesome farm table, wood chargers, and gold flatware (annnnd with thanks to Amber, she set up the plates, napkins, and menu cards) The plates are from Target, the goblets from HomeGoods, and napkins from World Market – all these finds were extremely inexpensive, but looked so nice, once it all came together.
I love love love a good tablescape with place cards, but didn't want anything too formal. So instead of name cards (which I adore – for real, I have an entire Pinterest board devoted to them), we opted to place a menu card at each setting. I love the gold foil and purple against our gray napkins. These menu cards came from Tiny Prints, and were so easy to customize online. They're a great way to make your table pop with a bit of color without going overboard, or spending a ton of money. These purple and gold foil pretties were the main inspiration when I was designing our table.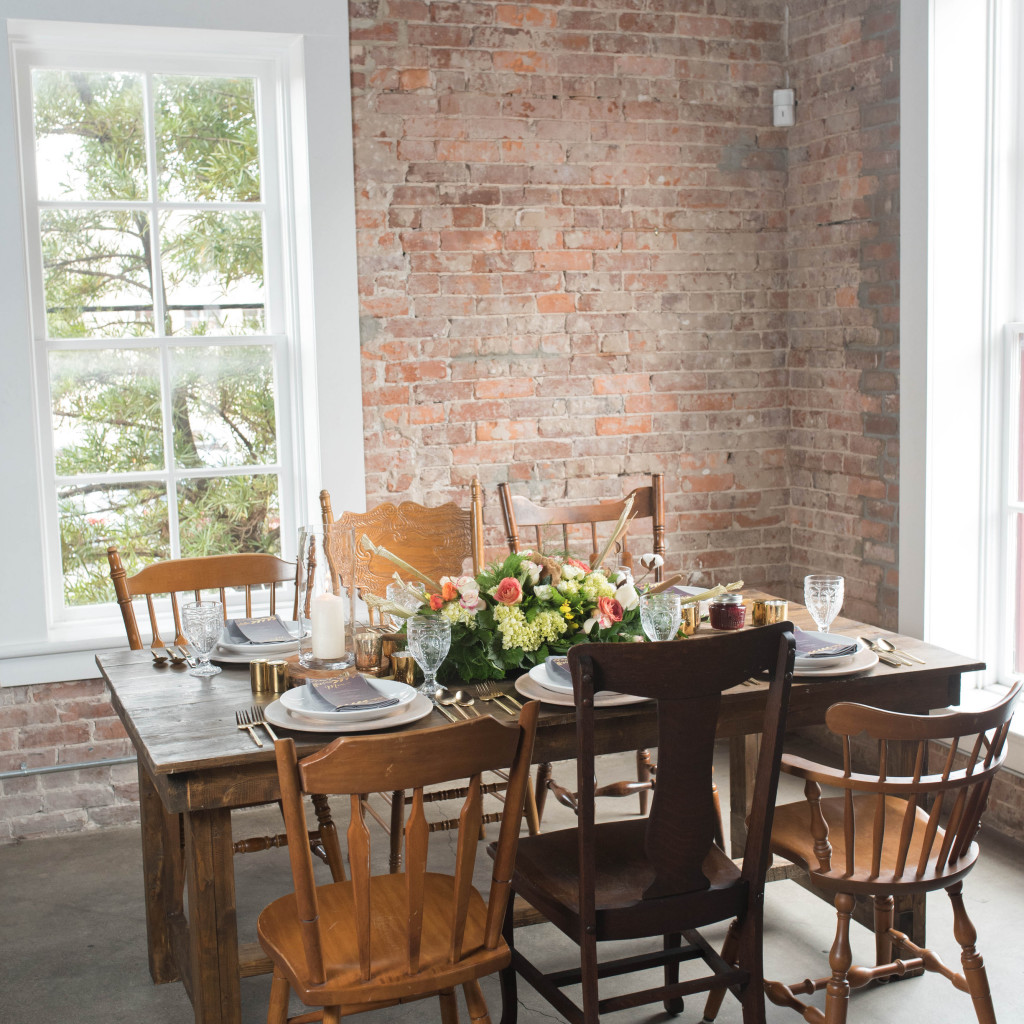 When I host my in-laws for Thanksgiving, I find myself worrying over the table and want everything to match perfectly. With friends, I still want a pretty table, but I'm not stressing. Everyone is pitching in, so it's not all on me, which is such a help. When Priscilla of Vintage Rentals agreed to contribute her mis-matched wooden chairs to our table, I knew we'd be fast friends. She loves Thanksgiving as much as I do.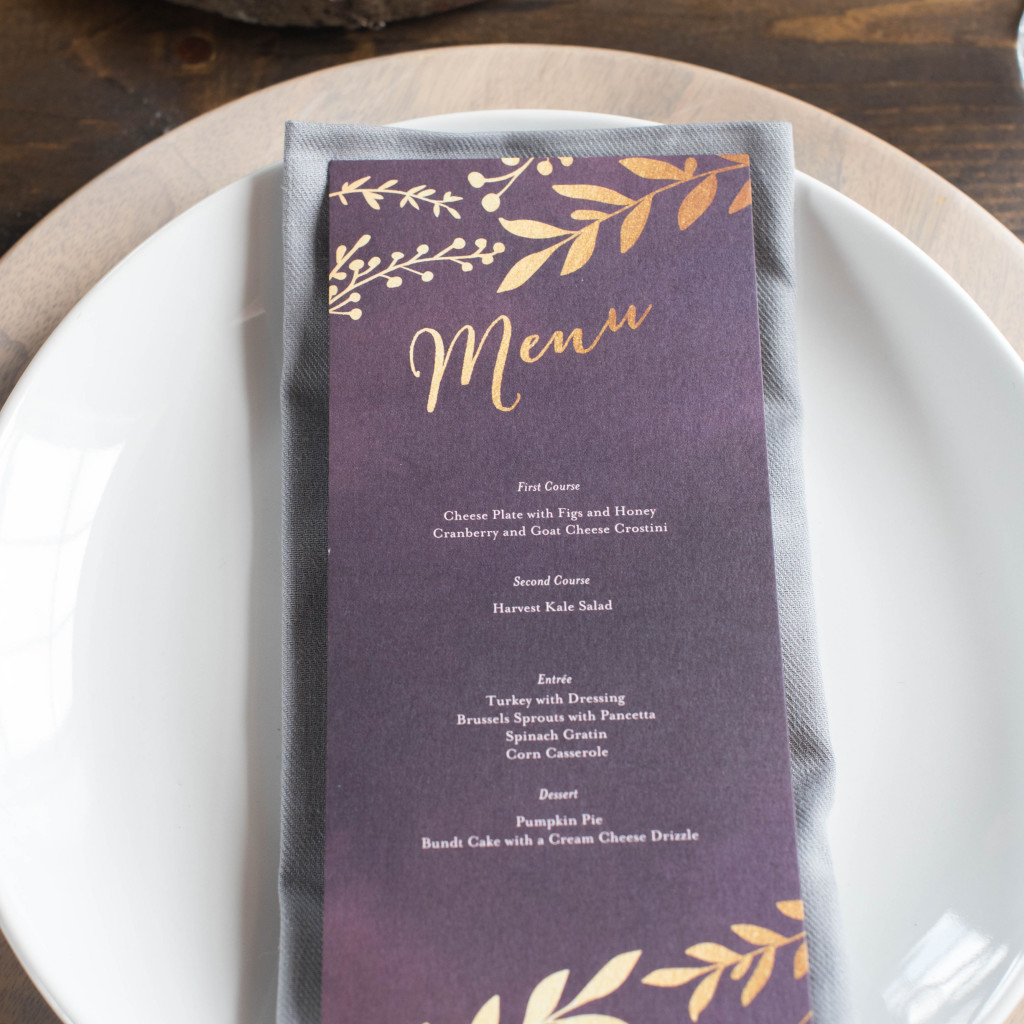 The menu: At mom's house, and also with my in-laws, our dinners are pretty traditional and rarely change. Friendsgiving allows you to try different dishes from everyone, and nothing is ever the same. Below you'll find our complete menu with links to each recipe. Enjoy!
First Course:
Cheese Plate with Figs and Honey by Casa de Crews
Cranberry and Goat Cheese Crostini by Casa de Crews
Second Course:
Harvest Kale Salad by Supper for a Steal
Entree:
Turkey with Dressing by Out of the Weeds
Brussels Sprouts with Pancetta Caesar Salad by An Appealing Plan by Krayl Funch
Spinach Gratin by Casa de Crews
Dessert:
No Bake Pumpkin Pie by Happily Audrey
Bundt Cake with a Cream Cheese Drizzle by Melissa Creates
Pear Sangria by The Flair Exchange
There is no way I could have successfully hosted Friendsgiving without the help of so many local Tampa vendors, and Florida bloggers who love this holiday as much as I do. Thank you, thank you, thank you! And a huge THANK YOU to the peeps at the Creative Loafing Space for letting us use their venue to host our beautiful, and tasty dinner.
Cheese Plate with Figs and Honey:
Ingredients:
1 wedge of brie cheese, about 12oz
toast points, toasted baguettes, or crackers
1/2 cup fresh figs, halved
1/4 cup grapes
2-3 tablespoons raw honey
To Make: Place cheese on platter. Drizzle with raw honey. Surround with bread, and fruit.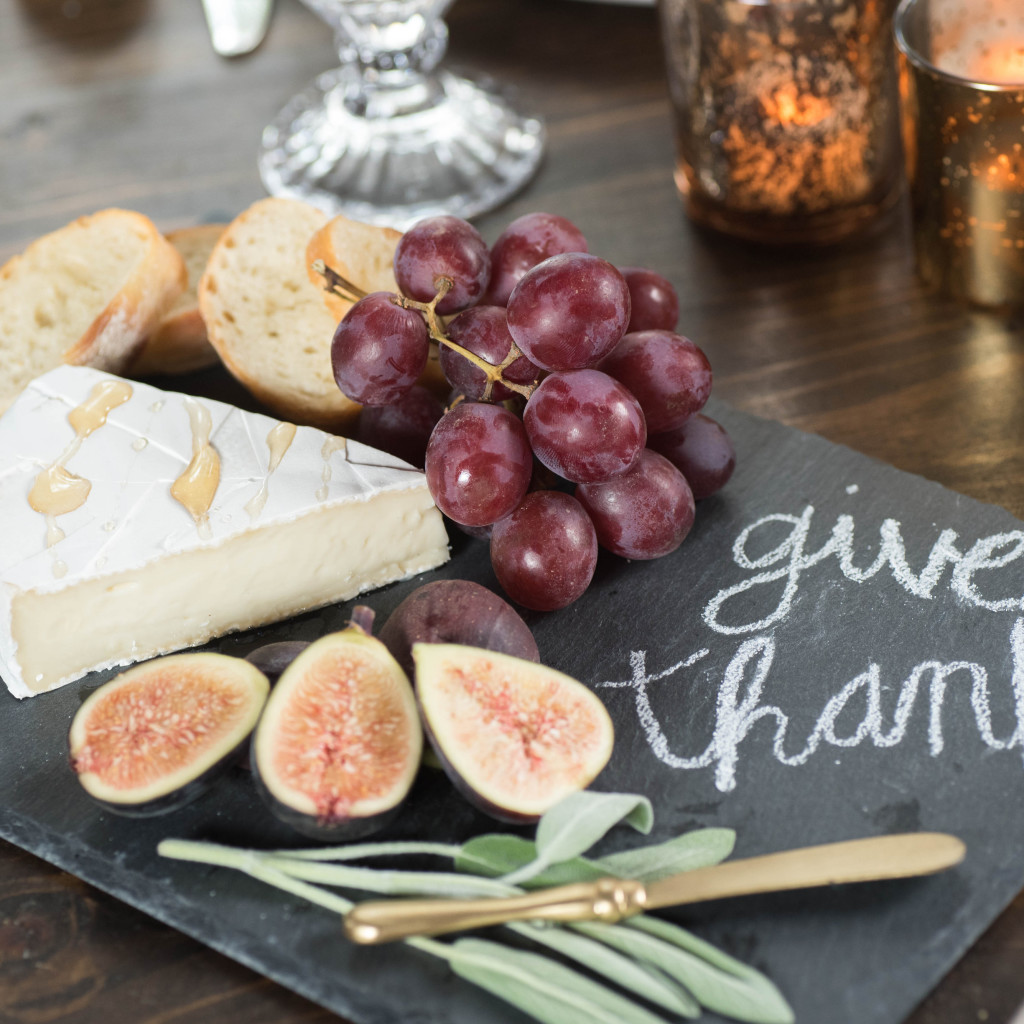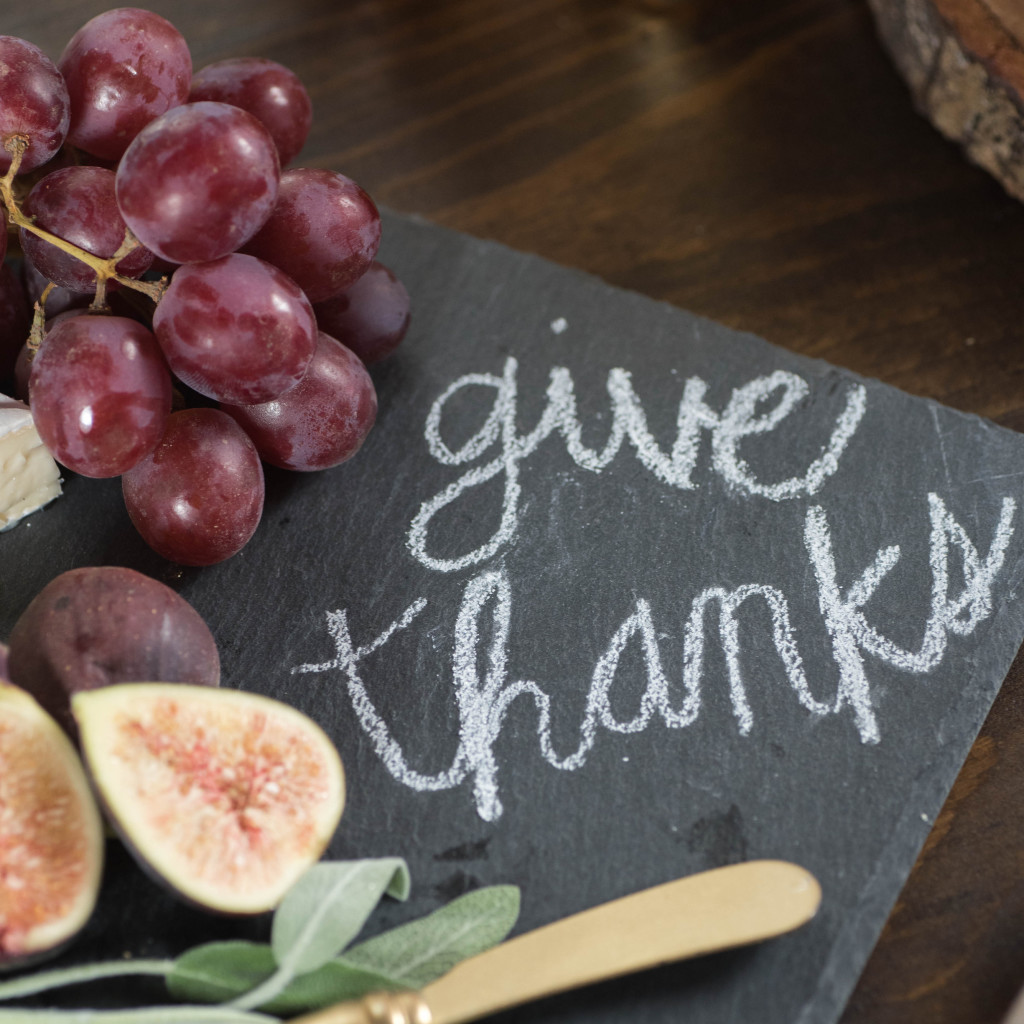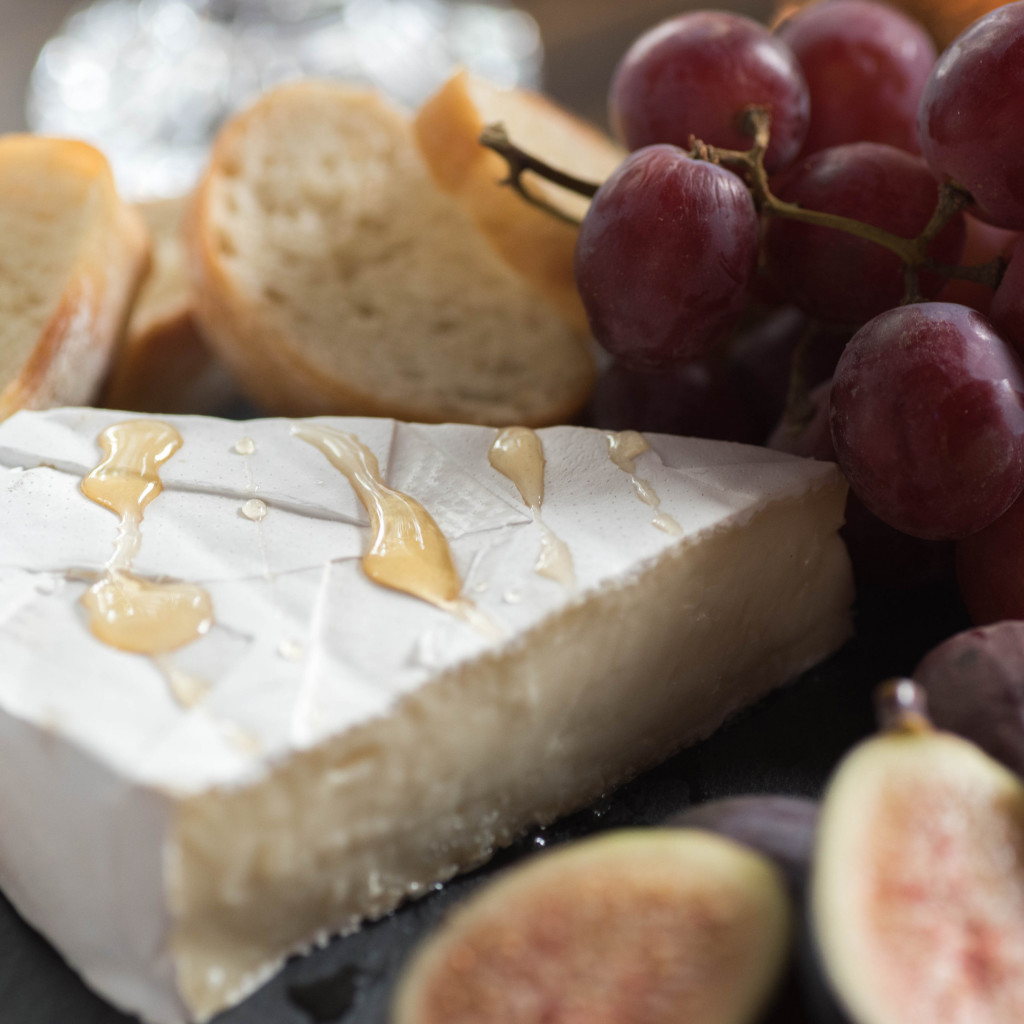 Cranberry and Goat Cheese Crostini:
Ingredients:
1 French baguette, sliced into 1/4 inch slices
2 tbsp olive oil
1/2 cup goat cheese, softned
12 ounce bag of fresh cranberries (approx. 3 1/4 cups)
1/2 cup honey or maple syrup
1 medium cinnamon stick
Zest of one large orange
1 cup water
To Make:
Put all ingredients from cranberries to water medium sized saucepan, and turn heat to medium-high. Cook over a medium-high heat for about 30-45 minutes. When most of the liquid has cooked out, turn heat down to a simmer. The longer you let this simmer, the thicker the sauce will get. Just don't let ALL the liquid cook out or it will burn. Stir more frequently near the end. Allow to cool.
Preheat oven to 350. Place sliced baguette into a baking sheet. Brush each slice with olive oil. Bake for 10 minutes to toast.
Spread goat cheese onto each slice of bread, followed by approx 1 tbsp of cranberry sauce. Add orange zest, if desired.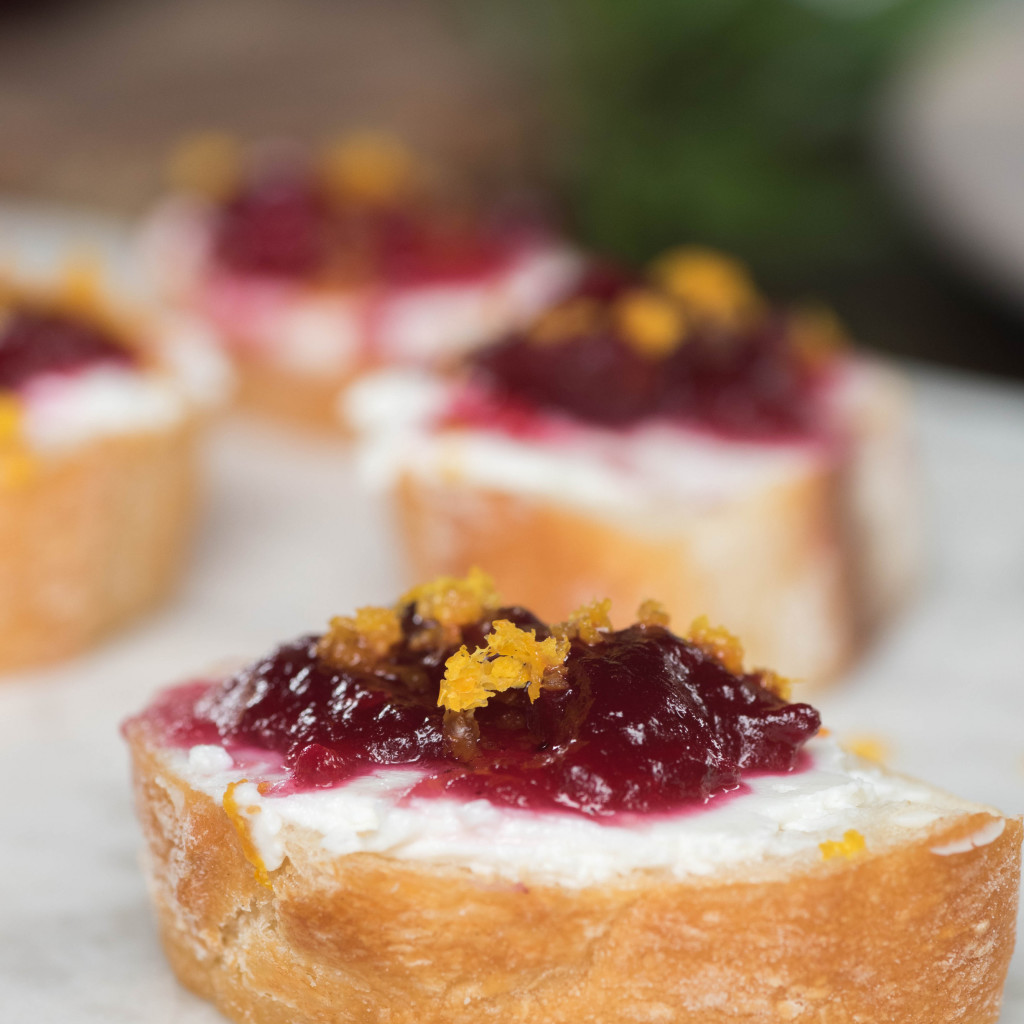 Spinach Gratin:
My fave Spinach Gratin is from The Barefoot Contessa, Ina Garten. Here.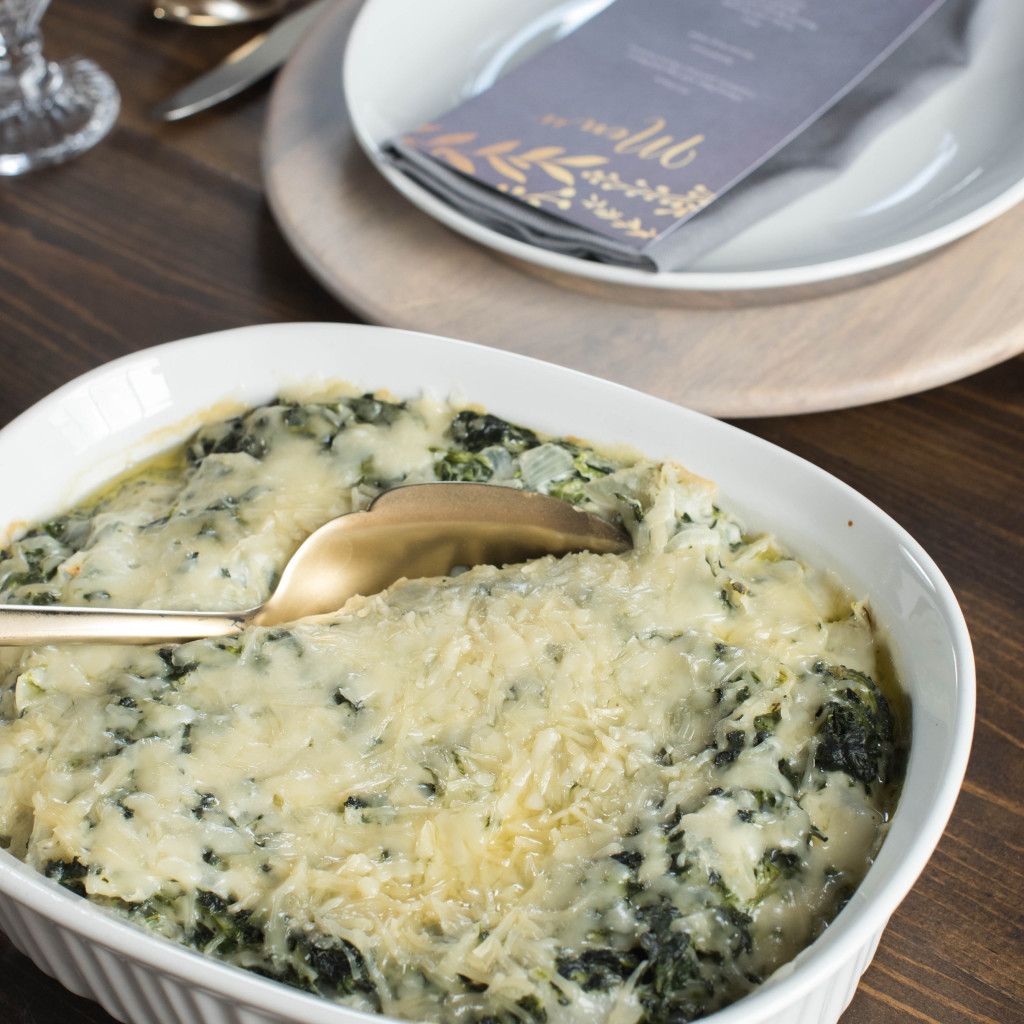 How do celebrate Friendsgiving?

* all photos by: Caroline & Evan Photography