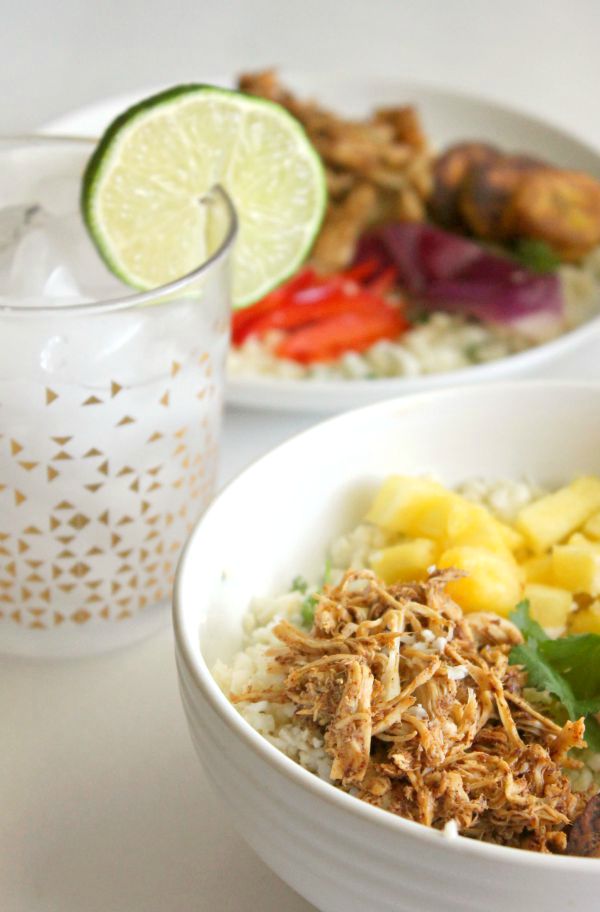 It's that time of year again. For parents, teachers, and wives of law students (haha) to get back into the swing of things. Summer was wonderful! We started off with a bang (two trips in May), house projects in June, socializing with friends, and soaking up the last bits of summer break in July/August (as well as the Food and Wine Conference, and another weekend trip with friends).
Jason and I hit a rough patch, as this was his first break from school in three years, but my busiest year blogging (and my blog time is weeknights/weekends since I have a full-time job). Sometimes though, you need these talks to move forward. And we did. We got into such a good groove in August, that I actually cried a bit when I realized Jason was going back to school this week. But we always make it through, and we always will. For he is my lobster!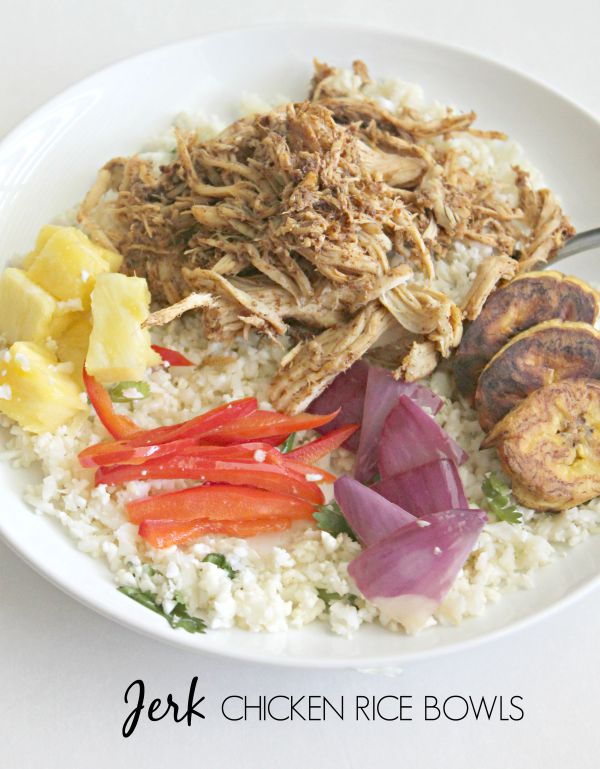 It's back to prepping meals on Sunday so we can both just grab and go, as I imagine most families are, as we all get back into a routine, right?
The trick is to make this Jerk Chicken in advance with your crockpot. Then, you'll  have Jerk Chicken all week, mon. Annnnnnd they can be thrown into bowls with other items made ahead (grains, cauli-rice, beans, pineapple salsa, etc) should you feel like it.
Since we're on the Whole 30 still (Day 23! One week to go), I used Cilantro-Lime Cauli "Rice" and omitted beans. Really, use what you and/or your family enjoy. These bowls will take less than 15 minutes to assemble.
[bctt tweet="Make ahead Jerk Chicken Rice Bowls for #WeekdaySupper"]
This week the #WeekdaySupper taste-makers are sharing all kinds of make-ahead meals to help get you back on track!
Monday – Pickled Purple Cabbage Salsa for Fish Tacos by Simply Healthy Family
Tuesday – Gluten Free Meatballs and Spaghetti by Gluten Free Crumbley
Wednesday – Chicken and Shrimp Stir-Fry by Cindy's Recipes and Writings
Thursday – Jerk Chicken Rice Bowl by Casa de Crews
Friday – Perfect Ceviche by Lifestyle Food Artistry
Jerk Chicken Rice Bowls
Ingredients
For the Jerk Chicken:
2 pounds boneless, skinless chicken breast or thighs
1½ teaspoon cumin
1 teaspoon curry
1 teaspoon chili powder
1 teaspoon allspice
1 teaspoon cayenne pepper
1 teaspoon cinnamon
Pinch of sea salt
For the Rice Bowl:
2 cups cooked white rice, or cauliflower rice
1 cup fresh pineapple, diced
½ large red onion, diced and sautéed
½ red bell pepper, diced and sautéed
1 bunch fresh cilantro, chopped
1 squeeze lime juice
plantain chips, optional
Instructions
For the Jerk Chicken
In your crockpot, combine chicken, and all spices. Cover and cook on low for 4-5 hours. With two forks, shred chicken on a cutting board. Mix natural juices with shredded chicken and add back to crockpot on low for 1 hour.
Rice Bowl
To a bowl add rice of choice, sautéed veggies, pineapple, cilantro, and lime juice. Top with shredded chicken, and plantains (if desired)
What is your go-to make ahead meal? You know I am always looking for ideas!