We're back from vacay, but I'm so not ready to come back to blog-land jussst yet. And my fave foodie friend [also a real life friend!], Jennifer, offered to post a yummy recipe while I was still in vacation mode. Bless her. Make sure to visit her at The Foodie Patootie!
As a food blogger (100% shameless plug to my blog here: The Foodie Patootie), it's hard to guest post. I want to have continual content on my site so when that content goes elsewhere, I have a small panic alert. It's the same reason I make my husband eat dinner at 3pm so I can make sure to capture the good, natural light for photos. It's the same reason I save a container of the dish I made if I absolutely have to cook after sundown (so I can take pictures the next day, of course!). Every single recipe is precious because, let me tell you, it's not fun to have a dish that didn't work out, or photography that didn't come out, and you realize that you've spent hours composing a recipe and food styling that, ultimately, you have nothing to show for it.
When Nichole asked if I wanted to guest post, there wasn't a doubt that I would, but it took me a while to decide on a recipe to feature that I was okay with letting go of and having live on someone else's site. Then, it was simple. My friend Brooke emailed me a quinoa recipe a couple of weeks ago, knowing I was trying to eat healthier since I spent 2014 cooking through the national food holidays (see for yourself) and I know that people come to Nichole's site for Whole 30 and healthy (or at least healthier) recipes. Perfect!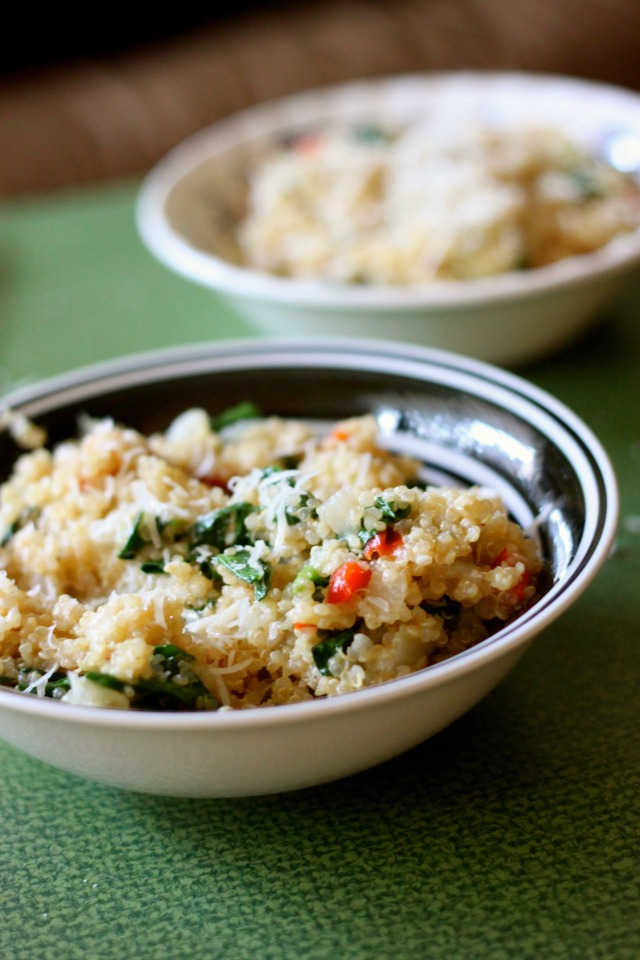 So let's talk quinoa, mmkay? This is what I know about quinoa:
It's fun to say.
It's healthy.
You're fuller longer after eating it.
It's a grain.
Do you need to know anything else? Probably not. If you're a quinoa lover, welcome to my world. If you aren't, make this recipe and turn into a believer in approximately 35 minutes.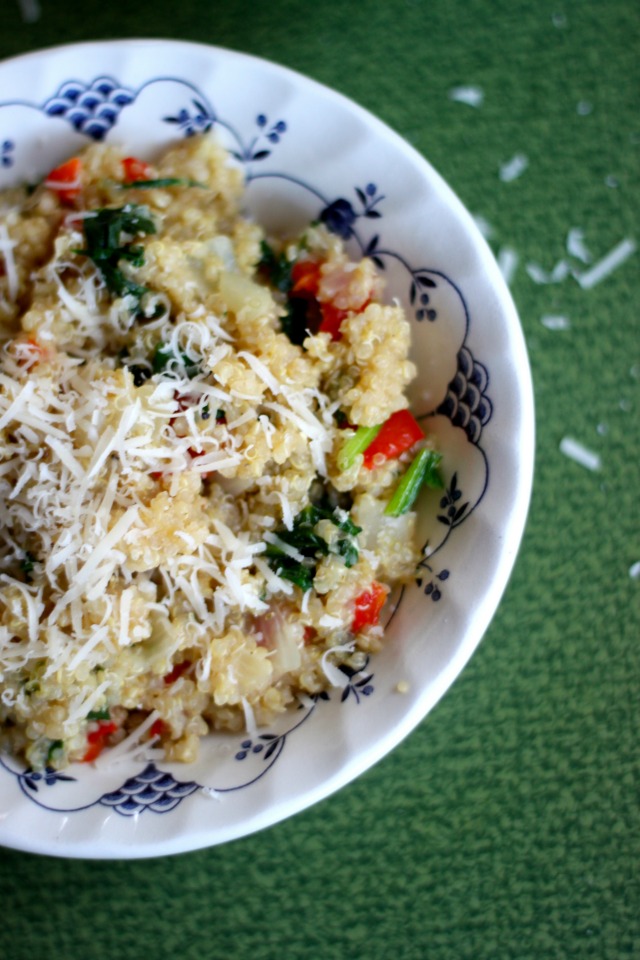 This recipe is super simple, representing my cooking style ON MY BLOG (the caps means you should visit me). I like to let ingredients shine. And it's amazing what a squeeze of lemon juice can do for you too, right? Oh, and cheese. Mmmm. This recipe makes about 4 servings, but don't be surprised if you have your serving and then continue to eat right out of the pot like I did. Whoops. Or, actually, no whoops. I make no apologies for lovin' up on some grains. Some dishes just aren't meant to be shared. 😉
Simple Quinoa Recipe
Author:
Prep time:
Cook time:
Total time:
Ingredients
1 tablespoon of extra-virgin olive oil
Half a yellow onion, chopped
Half a red bell pepper, chopped
1 cup quinoa
2 cups low sodium chicken broth (even better if you buy organic)
1 cup of fresh spinach, chopped
Juice of 1 lemon
1/2 cup + 4 tablespoons shredded Parmesan cheese (shred it yourself!)
Salt and pepper, to taste
Instructions
In a medium pot over medium heat, add olive oil and let heat up. Sauté onion in olive oil for one minute. Add red bell pepper. Season with salt and pepper. Sauté onion and red bell pepper together for about five minutes.
Add quinoa. Toast for about two to three minutes, but be careful not to let burn.
Add chicken broth and bring to a boil.
Reduce heat to medium low and cover. Simmer for about fifteen minutes, or until liquid is absorbed.
Uncover and add spinach, lemon juice, and cheese; cook for an additional minute until cheese is melted and spinach has wilted.
Season with additional salt and pepper, if needed.
Serve topped with an additional tablespoon shredded Parmesan cheese, if desired
Visit Jennifer: Blog | Facebook | Twitter | Instagram