This post is part of a social shopper marketing insight campaign with Weave Made Media®  Smithfield® and Farmland®, but all my opinions are my own. #weavemade #GetUpandGrill #GetFiredUpGrilling http://my-disclosur.es/RgFrEH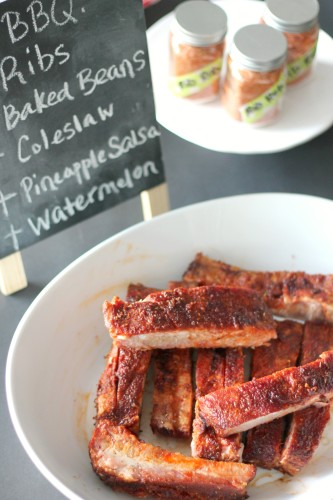 I'm not really sure how, but we've been in the new (to us) house almost a year now. Last year, I envisioned many shindigs at Casa de Crews…until I remembered I have a husband in law school, and the summer semester blows.
…but this year, Jason is taking a summer break! And while we have many a house project, we also plan to have our friends over as often as possible.
And what better way to celebrate summer than with a Backyard BBQ! Esquire bought a new grill a few weeks back and has been itching to use it. The first thing to make its way to the new grill were a rack of Smithfield St. Louis Style Pork Spareribs. I had never had St. Louis Style ribs, but after seeing all the comments on my Instagram photo while I was in Walmart, it was obvious St. Louis Style was the way to go!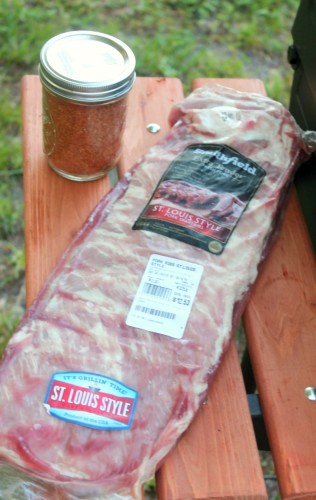 I love throwing parties in our home, but something like a BBQ shouldn't cause stress, and should be a laid back event. We're eating meat off the bone, after all. No need for much fuss, right?
I told friends we would provide the meat (and Pineapple Salsa – because I am obsessed), and asked everyone to bring a side. I wrote out the menu beforehand on an inexpensive chalkboard that I found for under $5 last year.
While I like the whole BBQ theme, I don't want it to look like gingham threw up in our house, so I had a lace overlay from a previous party that I threw over a gingham tablecloth.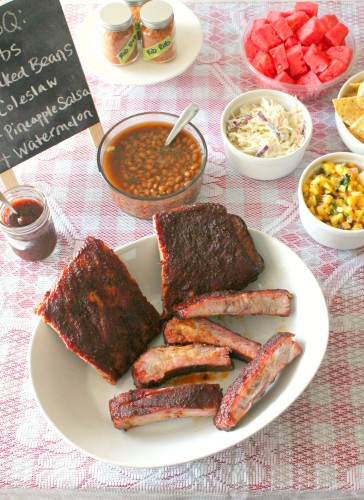 …and though I wouldn't usually give guests a party favor after eating at Casa de Crews, I thought a fun way to unofficially kick of summer would be to give everyone their own spice rub to take home. The same spice recipe that we used on our Smithfield Spareribs. That way our friends can not only enjoy their own Smithfield Spareribs this summer, but might remember to invite us when the make them too!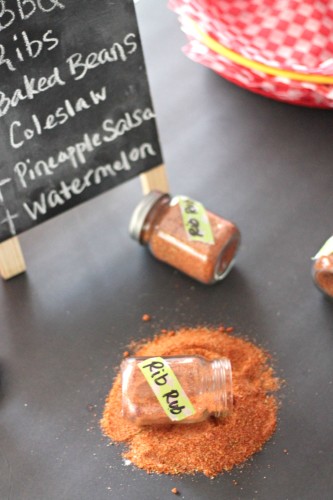 The rub, and ribs were both very easy to make (and this rub recipe is sugar-free!). If you think you'd also like to give a spice rub to friends this summer, double up the recipe (below) that way you have enough for your own rack of ribs, and enough to gift to guests. [Read more…]