Enjoy a sweet treat without guilt! These homemade chocolate fruit cups taste indulgent, but couldn't be any simpler to enjoy!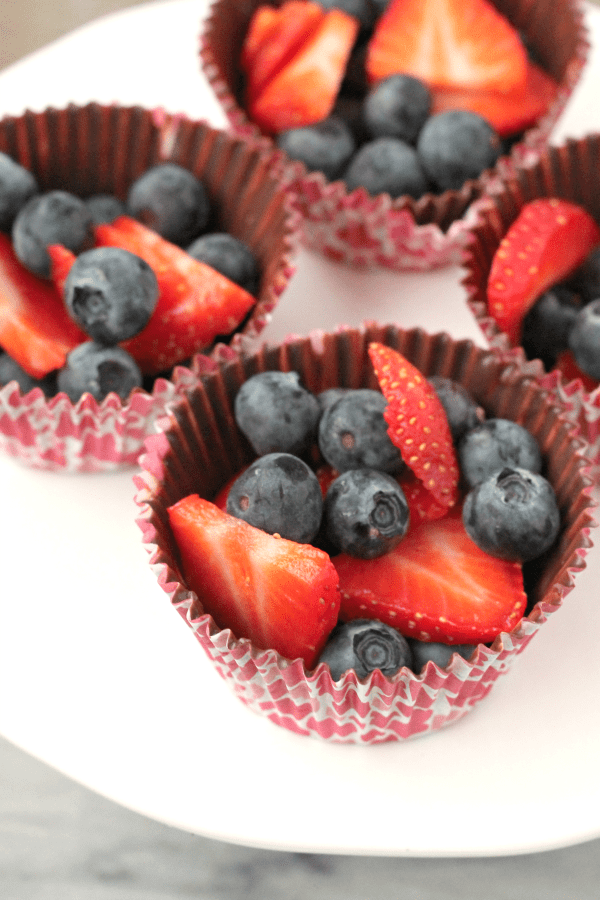 Valentine's Weekend is upon us, people! This month's theme for our girls supper club was all things red, white, and pink. I was so excited. I was going to make Moscow Mules with muddled strawberries. My sister was going to make my Chicken Caprese Skillet, a friend was planning to bring red-velvet brownies…I was way stoked for our monthly dinner. Except, slowly everyone started canceling, and we were down to four girls.
At the last minute, I made decision to cancel girls dinner at Casa de Crews, and instead meet up for margaritas at Casa Tina – I think I made the right call 😉
But that means I missed out on sharing my surprise dessert, which was healthier than tasty red-velvet brownies. I mean, I still got to enjoy them, and I have three more in the fridge to sample, but my friends missed out.
To me, anytime I can cook for someone is a labor of love. Whether it's for my girls, or my guy. I used Cacao Nibs, because I bought a giant bag on Amazon for a sweet fix (usually over yogurt, or in overnight oats), with less guilt. Cacao Nibs are just cacao beans that have been chopped up into edible pieces, just like chocolate chips without the added sugars and fats. But it's Valentine's Day, and I'm not judging you, any chocolate than can be melted will work. Saturday, I plan to make a fancy dinner at home (Jason is in study mode, so that's about all he can manage right now is a dinner date at home with me), and serve these cups for dessert – they're light, and sweet, and won't leave me feeling too crazy full after dinner (I am pretty sure I am making this meal for our romantique meal).
So! To make these cups of tasty chocolate, you will need to take cupcake/muffin liners, and spritz with non-stick spray (Pam, coconut-oil spray, etc). You'll then melt yo' chocolate of choice. Anytime a recipe calls to melt chocolate in the microwave, it never goes well for me. So I bring a medium saucepan to a boil with water, add a metal bowl to pan, and whisk chocolate. It will melt, very quickly.
The first time I made these, I didn't brush enough chocolate onto the sides and my cups cracked. The second time, they turned out perfect, except that I then needed to photograph in natural light (THE SUN!), and they started to melt a little bit. So mine are a tad cracked, but yours won't be if you follow the below steps. See, I told you cooking is a labor of love, friends.
Feel free to add fresh berries, ice cream, or a piece of small dessert. Customize these chocolate cups, however you like!
chocolate fruit cups
Enjoy a sweet treat without guilt! These homemade chocolate fruit cups taste indulgent, but couldn't be any simpler to enjoy!
Print
Pin
Rate
Ingredients
1

cup

dark chocolate

-

cacao nib, chips, etc

6-10

paper cupcake liners

1-2

cups

fresh berries

-

your choice

Non-stick cooking spray
Instructions
Melt chocolate, to a small bowl, slowly over another larger saucepan filled halfway with water, on low heat. It will melt quickly, so stir or whisk until completely melted.

Lightly spray cupcake liners with cooking spray.

Carefully brush the chocolate mixture inside the liner with a spoon, or a pastry brush if you have one. The layer of chocolate should be thin, but thick enough to hold up, about ¼″ or less. Take special care on the sides - make sure they are coated well.

Store in refrigerator for 30 minutes, to allow the chocolate to harden.

Once hard, add your fave berries and enjoy!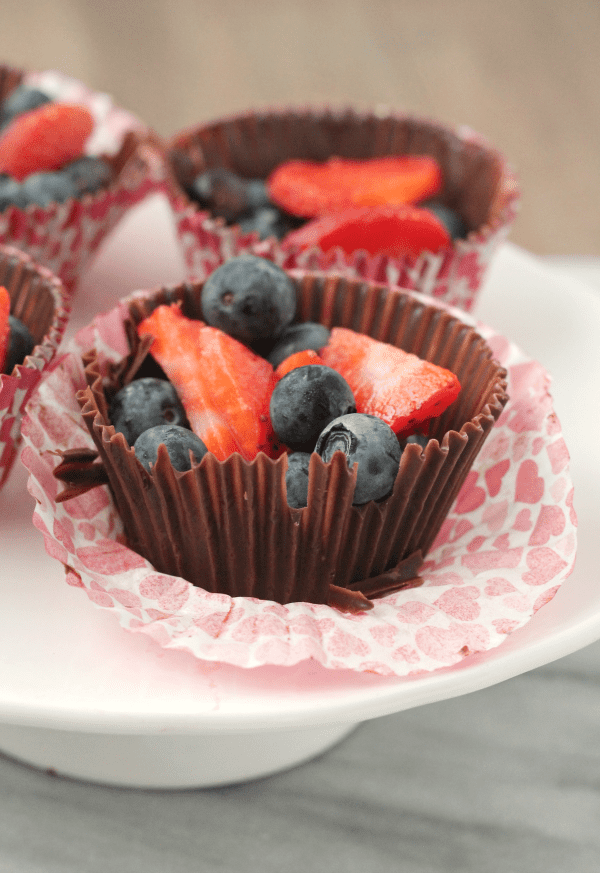 This post may contain affiliate links. Purchasing through them help support this website. Please see the disclaimer here.