Crispy Buffalo Chicken Wings that taste just like what you'd order at your favorite sports bar, minus the grease. The secret weapon to obtaining these healthier low-carb, crisped up Buffalo wings is with an air-fryer!
If our family had a crest, I can promise you, it would be of the beloved chicken wing. Buffalo wings. Hot. Saucy, and messy, with blue cheese and celery on the side. Don't ask for ranch, or we'll make fun of you. Wet Naps required. If you eat them with my parents, the hot sauce has to be on the side, to minimize the potential for soggy wings. At Casa de Crews, the messier, the better (and we allow ranch, if you prefer). Sauce me up. Regardless, Buffalo wings are in our blood, and we'll take them however we can get em'.
I've been somewhat absent online the last few weeks, and there's a reason for it; one month ago (tomorrow), my siblings and I lost our father, unexpectedly. My mother, her husband of thirty-two years. Dad was just fifty-one.
The week before his passing, we had the family over to celebrate my 34th birthday, and mom and dad's 32nd wedding anniversary. I made Pork Carnitas, we enjoyed adult bevvys, and played What Do You Meme? It was a great night, and I remember thinking the next day, how I felt like we were in a new chapter, as friends, and not just my parents. We've always been close, but truth be told, a game like that is not something my father would normally feel comfortable playing with his children, since it's definitely raunchy – but wouldn't you know he won the first round? We seriously laughed so hard, my mom was crying. It was a great night.
We're doing okay, though. As okay as we can. Some days are better than others, of course, and the grief comes in waves, but we're very close as a family, and I think together, we have laughed more than we have cried. I cried at first because if we ever have children, they'll never know him. And then I cried because I hope, and hope, and hope some more my three year-old niece will remember him. My sister has so many videos of them together. My favorite is my dad laying on the couch munching on a bag of chips, and niece goes in for a handful, and dad says to the camera, "I'm teaching her the art of lounging, and snacking." That was dad. Worked hard his whole life, and did what always needed to be done. And his reward was always a nap, and much deserved snackies.
I mourn mostly for my mother, who met my dad when she was fifteen (he was sixteen), and has to start a new chapter of her life without dad. She's strong AF, and I know she'll get through it, but it doesn't mean I don't sometimes cry at the end of the day worrying about her, because I do. She's my best friend, and she's lost hers.
I've talked about my family so much over the years on this site. Food and my family go together. Our favorite thing to do is eat together, and while there have been times I had wished we were more of like a family that did 5ks together, it just isn't in the cards. But laughing, and eating, and talking loudly over one another…that is US.
I've always been so proud of my parents. Anytime I had to write an essay for school about who or what inspired me, I always wrote about mom and dad. Even at ten years old, when I won an award, I wrote about them. I knew from a young age they worked hard to get where they did, and they never hid that from me.
My parents came from literally nothing. They had little emotional support, and zero financial support when they had me at sixteen years old. Their respective families never believed they could make it work (and why would they? They could never make any of their own relationships works, and my parents were babies, who had a baby, so admittedly the odds seemed against them), but they did it. And they did it well. They truly showed me how a good marriage should be, and I'm so grateful for it.
They worked their asses off. I remember my dad taking me to the computer lab on weekends at Buffalo State College so he could get work done, and I'd sit there with a coloring book, and would have to be very quiet. His classmates always asked if I was his little sister, and when he said I was his daughter, they always laughed, thinking he was joking with them.
When I was seventeen and bought my first car, one of the dealerships we went to thought dad was my older boyfriend (ew, on so many levels…but you get the jest. My parents are y o u n g) – we did not buy a car from said dealership, but went to another one up the road.
I can remember when my parents had nothing, because I was there. But no matter what we didn't have, love was always aplenty. I have friends who share their own childhoods, and ours weren't the same. Our house always had laughter, and food, and my mom found ways to make it fun. We oversay, "I love you!" in my family. My dad was the funniest, wackiest guy you would have ever met. Lots of dad-isms in our home. He was proud of his kids, son in-laws, and grandchild. He was a rich man, and he knew it.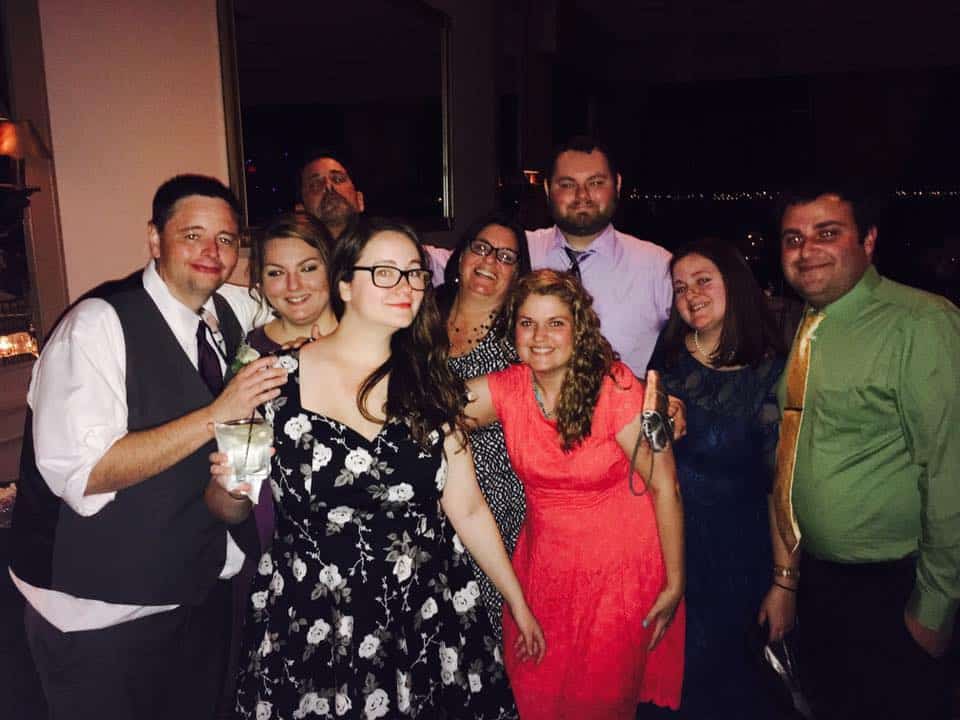 My parents are (were? that feels wrong to say) who they are. In my tween days, I was actually embarrassed that I had such young parents, and three younger siblings that I helped to take care of. I wanted older, boring parents who listened to the oldies, and let me do whatever I wanted, like all of my friends seemed to have. Not swift parents who were on to me at every turn when I tried to pull stupid teenager antics. They knew the game, and I never got away with a thing. I am so grateful as an adult, but those were some tough times for tween, and teen Nichole.
Dad taught me to drive, and I think that traumatized him for a bit. I was a mouthy teenager, you guys. He wouldn't help my sister after that, and my mom had to enroll her in driving school. But we got through it, and he ended up teaching my other sister to drive. He taught me to paint this house, while my husband was in law school, and had zero time to help me with house things in the first few years. In fact, the weekend we closed on our home, he wouldn't let us move anything in until he painted our master closet. He knew someday Jason would finally be an attorney, and would have nice suits to hang, and no way was he letting is son in-law move in without a freshly painted closet. My best friend's husband reminded me that dad also cleaned our back patio the weekend we moved in. He hosed it down, and swept, let it dry, and hosed again. He always took pride in the boring things I hated to do. But he taught us, that it's just got to be done.
He could never help me pay for college, but by the time I got married, he and mom were able to pay for almost all of my wedding, and he was so proud to do so. All of these little memories keep coming to me, and all of these experiences have helped make me who I am.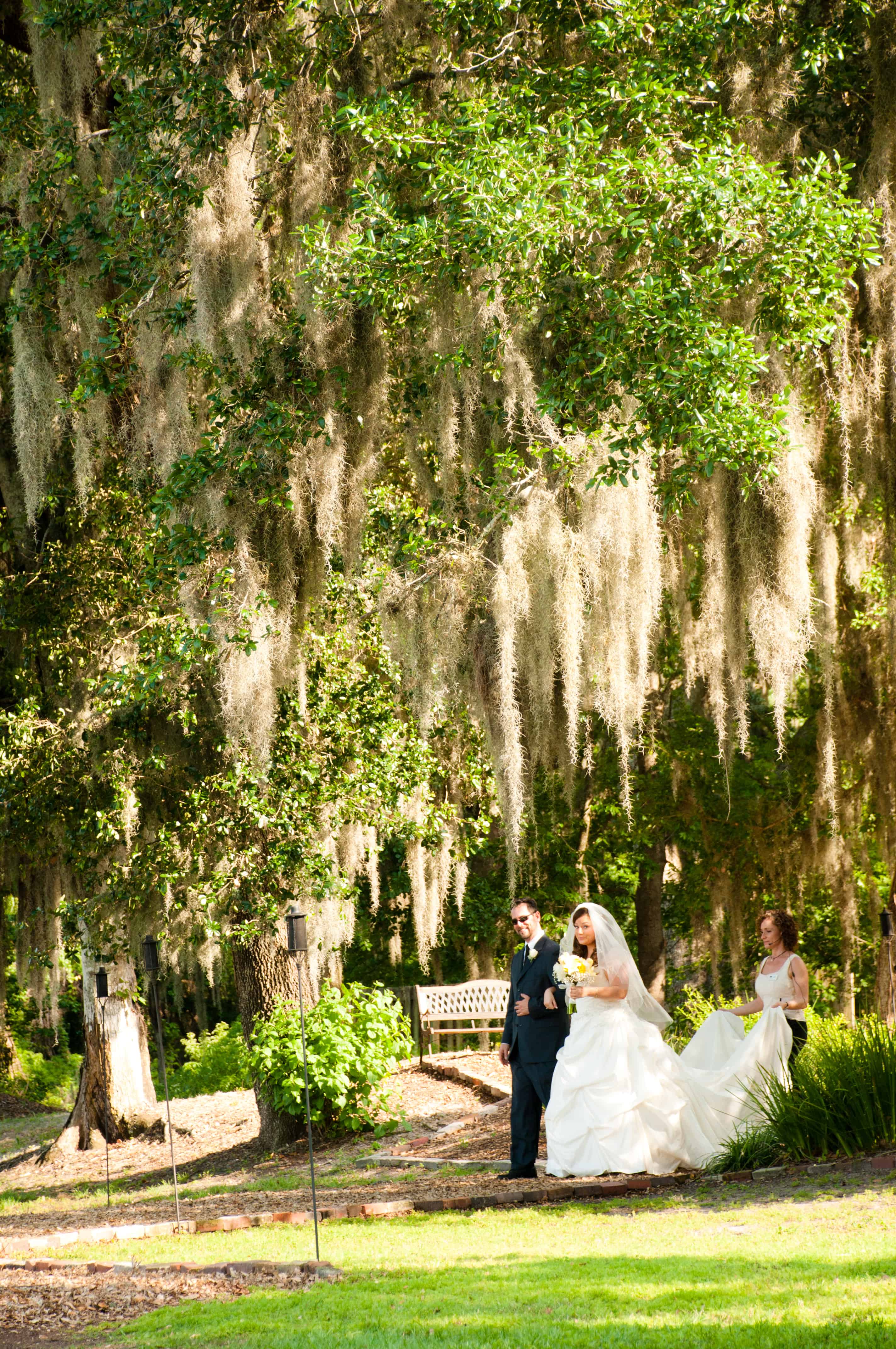 I remember my dad made me take my sister to her first concert. I was going with my high school boyfriend, and dad said I should take her too. But he didn't offer to pay, and I had to buy all three of us tickets, and I remember being so annoyed with my dad. But those little lessons molded me into who I am. Because of both of my parents, I over include everyone, pretty much all the time, lol. I like to hope the reason I turned out to be a giving person, is because of them. They had no examples of what it meant to truly be a good person, but they just are/were good people, and it shows in us. I will forever be grateful for that.
So, what does this have to do with Buffalo wings? My dad loved chicken wings. We're originally from Buffalo, New York, after all. You could bake them or grill them, and he'd eat them, but fried, extra crispy, was the way he liked em' (but honestly, who doesn't?) The night he passed, we were sad, and angry, but we still had to eat, and while we've had so many friends visit with meals, or send food, the first night we were on our own. We ordered wings (and tots) from a local sports bar, and toasted to dad. Cheesy, and silly? Yes. Weird? Maybe. But that's us as a family, and dad would have approved.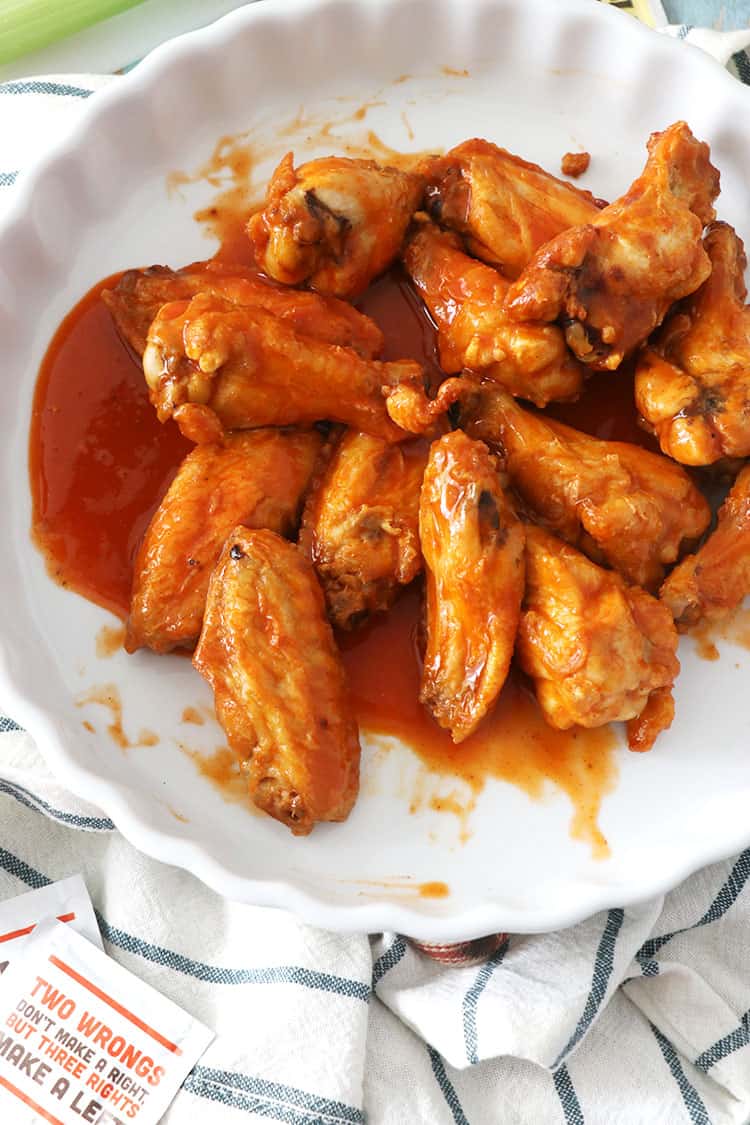 The night he passed is also when I heard the entire story of how my parents truly met. I thought I always knew it, but there was a small piece my parents never told me. So here it is: Mom, and her best friend were hanging out, at her house. My uncle, mom's brother, had "borrowed" mom's bike to go see his friend in the neighborhood (my dad). Mom needed her bike back, and went to find it. Thanks to my uncle's pocket phone book (ahhh, the eighties), mom found dad's address and went to find her bike. Dad and uncle were up the street at the local pizzeria. Mom took her bike back, and went to find her brother to yell at him. She found uncle and dad walking back to the house with a styrofoam container of…chicken wings that dad was eating as he walked back up the street. Mom and dad starting talking on the phone regularly after that first encounter, and the rest is pretty much history.
So chicken wings! They're for sure our family's love language, you guys. I can remember my mom deep frying them occasionally as a kid. In batches, so we had to wait – those were the days. Now, if we make them at home, we bake or grill them. But thanks to the Air Fryer, you can achieve the same crispness, and flavor as if they were deep-fried. These Buffalo wings are SO good. Bonus: They're paleo, whole 30, and obviously low-carb!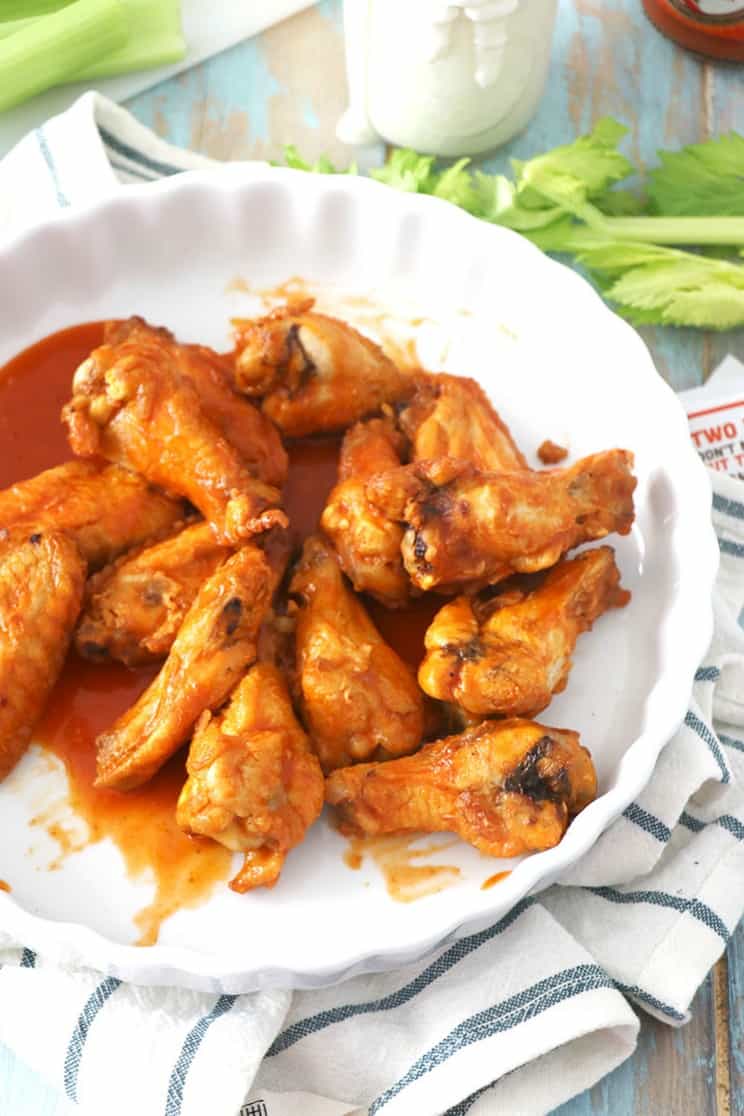 I like fresh wings, as they crisp up best, but have also tried these with frozen, when fresh weren't available (last weekend, for Super Bowl weekend, I could not find fresh wings, and had to improvise), and you just add time to thaw in the Air Fryer. The instructions below will include steps for frozen, but if you are using fresh, skip that step, and they'll come out perfectly!
These wings are dedicated to our daddy-man. I like to think he'd make fun of me for having an Air Fryer, but after eating these wings, he'd totally approve, and ask for more. With Wishbone blue cheese, on the side. Frank's Red Hot only, plz.
Items used to make this recipe:
Ingredients
2

lbs

chicken wings, tips removed and wings cut into drumettes and flats, fresh or frozen
Instructions
If using frozen, set air fryer to 360F.

Place half of the frozen chicken wings in the fry basket and insert into the air fryer. Cook 10 minutes to thaw. Open basket and shake. Return to air fryer, and increase temperature to 400F. Cook 18-22 more minutes, until skin is browned and crisp, opening the basket 1-2 times during cooking to turn the wings with tongs.

If making with fresh wings, skip the thawing process, and air fry starting at 400F.

Transfer to a bowl, add hot sauce sauce and toss to coat. Repeat process with the remaining wings and sauce. Serve hot.
This post may contain affiliate links. Purchasing through them help support this website. Please see the disclaimer here.