Happy Monday! We had such a great weekend. Jason and I attended a playoff game on Friday at Amalie Arena where the Tampa Bay Lightning killed it against the Red Wings. People watching was amazing, as usual. Sadly, last night, our team lost in Detroit, so we reallllly need to win the next two. I'm not the biggest sports fan (except for the food, haha), but I love attending hockey games!
Saturday, quality time with my sweet niece was spent. My sister's baby, was diagnosed with Cystic Fibrosis as a newborn in 2014, and we're lucky she is so healthy, for the most part. But we make sure to raise awareness, and funds for her annual walk.
Sunday was a day of meal planning to get back on track (#muchneeded). I make a pot of bolognese sauce quite often for the week. I top it over zoodles, with pasta/spaghetti squash, or sometimes, I'll just eat it with a spoon – I love it so much. As a kid, we ate a lot of spaghetti with meat sauce. We never called it bolognese – it was always "meat sauce", and that was fine by us.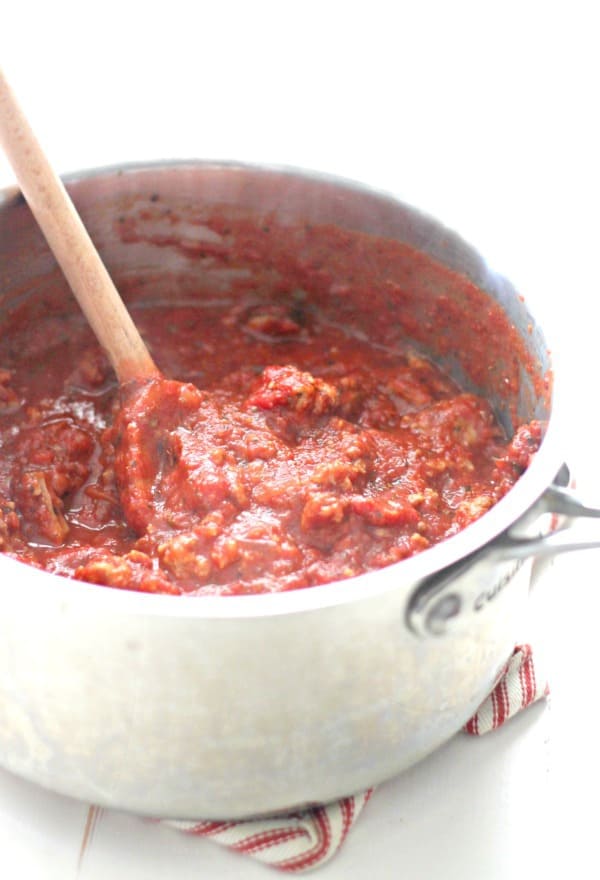 Making your own sauce is so easy, you'll never buy a jar again. It makes a lot of sauce too, which I like to freeze since it's just the two of us, and half the time, it's just me for dinner, since Jason has class.
I've seen recipes with carrots, onions, mushrooms, ground meat. Make it how you like. The base is the star. For sweetness, I like to add a bit of balsamic instead of sugar, which is what most recipes call for. If you don't eat meat, you can add more mushrooms, since they give off the same meaty texture. I swap between ground beef, and ground turkey – just depending on what is on sale that week.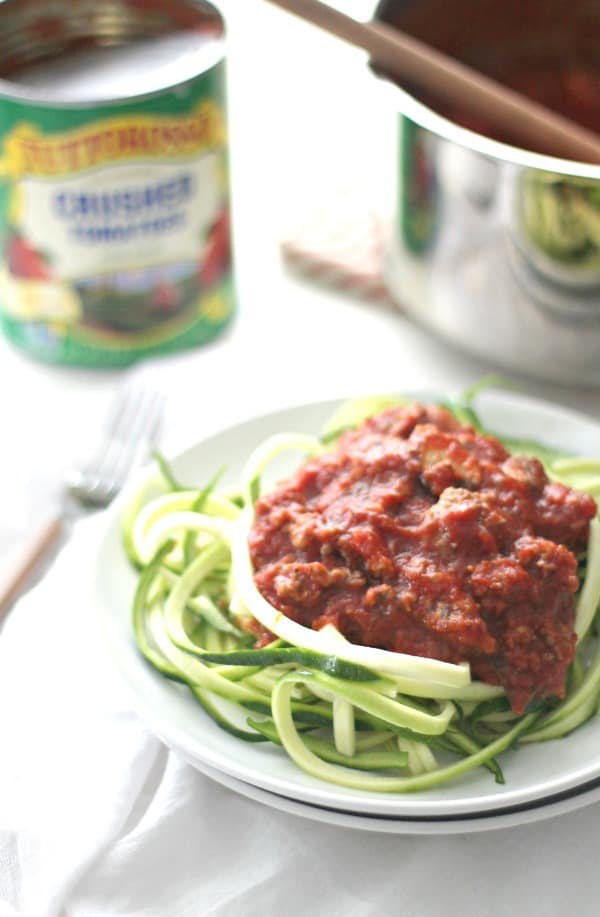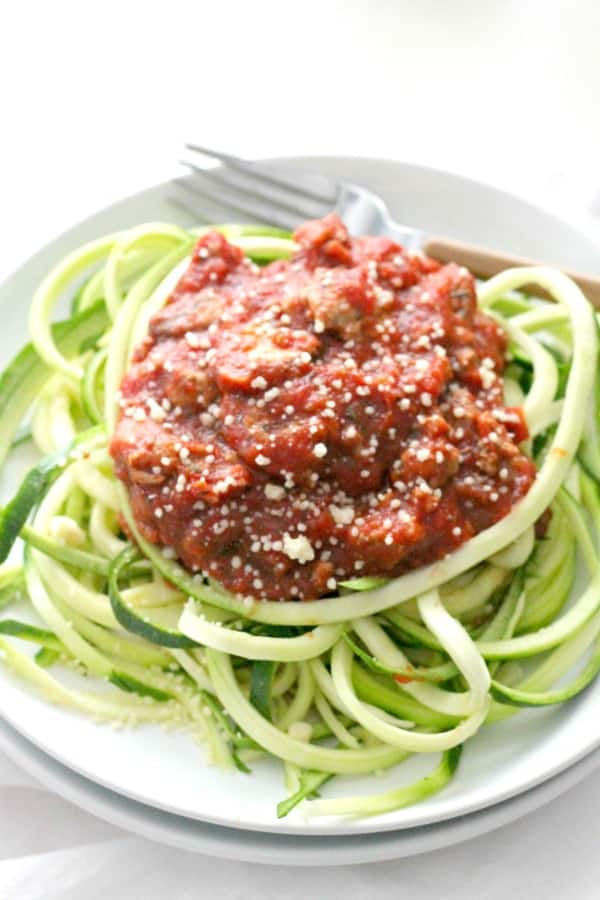 [bctt tweet="homemade bolognese sauce – rich, flavorful, and under 200 calories per serving. Mangiamo!" username="casadecrews"]
Homemade Bolognese Sauce
Ingredients
1 tbsp extra virgin olive oil
1 garlic clove, minced
1/2 yellow onion diced
1lb ground beef or turkey
salt and pepper, to taste
1/2 cup mushrooms (I like baby bella, but any is fine)
1 28-ounce can crushed tomatoes
1/2 can tomato paste (about 3 ounces)
1 tbsp oregano
1 tbsp basil (dried spice or fresh is fine)
1 tsp garlic powder
1 bay leaf
1 tbsp balsamic vinegar
Instructions
To a medium sized skilled at olive oil on medium heat. Once hot, add garlic and onion, and saute until fragrant about 2 minutes. Add meat, salt and pepper. Break meat into small pieces with a spatula, and brown until meat is no longer pink. Add mushrooms to skillet, and mix with meat mixture.
While meat is browning, to a large saucepan, add crushed tomatoes, tomato paste, oregano, basil, garlic powder, and bay leaf. Cover with lid (to avoid splatter!), and bring to a boil. Mix well, and reduce heat to low. Add balsamic vinegar, and meat from skillet.
Cook on low for 20 minutes.
Serving size:
6
Calories:
171
Fat:
6
Carbohydrates:
14
Sugar:
9
Fiber:
3
Protein:
17