"This shop has been compensated by Collective Bias, Inc. and its advertiser. All opinions are mine alone. #TFMEasterBasket #TheFreshMarket. This content is intended for readers who are 21 and over."
With just three ingredients, this pineapple glaze for ham is as easy as it gets; simple and straight forward, it's the perfect little touch for spring entertaining.
We are keeping things very easy this Easter as Casa de Crews. With everyone that happened personally this year, simple is our speed. And some years that will happen, and it's okay. The point is to all be together, right?
We tend to celebrate Easter one of two ways; either a more traditional route with a baked ham, and classic sides, or with a cookout (or do you call it, "BBQ"?) where dad manned the grill, and we brought bbq-type sides to the parentals house.
But since I'm hosting this year, we're keeping it simple, fresh and delicious with The Fresh Market Easter Meal Kit. It's nice to know I can fill our proverbial "basket" with fresh produce, premium meat and seafood, specialty candy and bountiful blooms for easter this year, without having to plan much on my end. It makes celebrating E A S Y this year!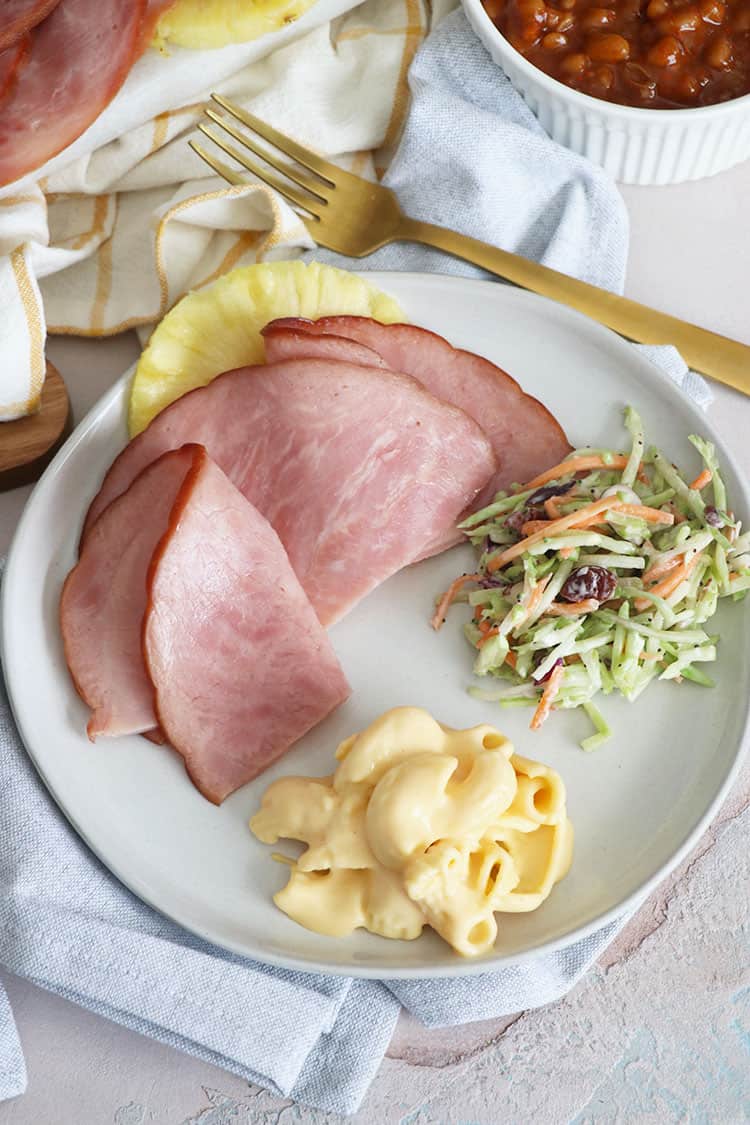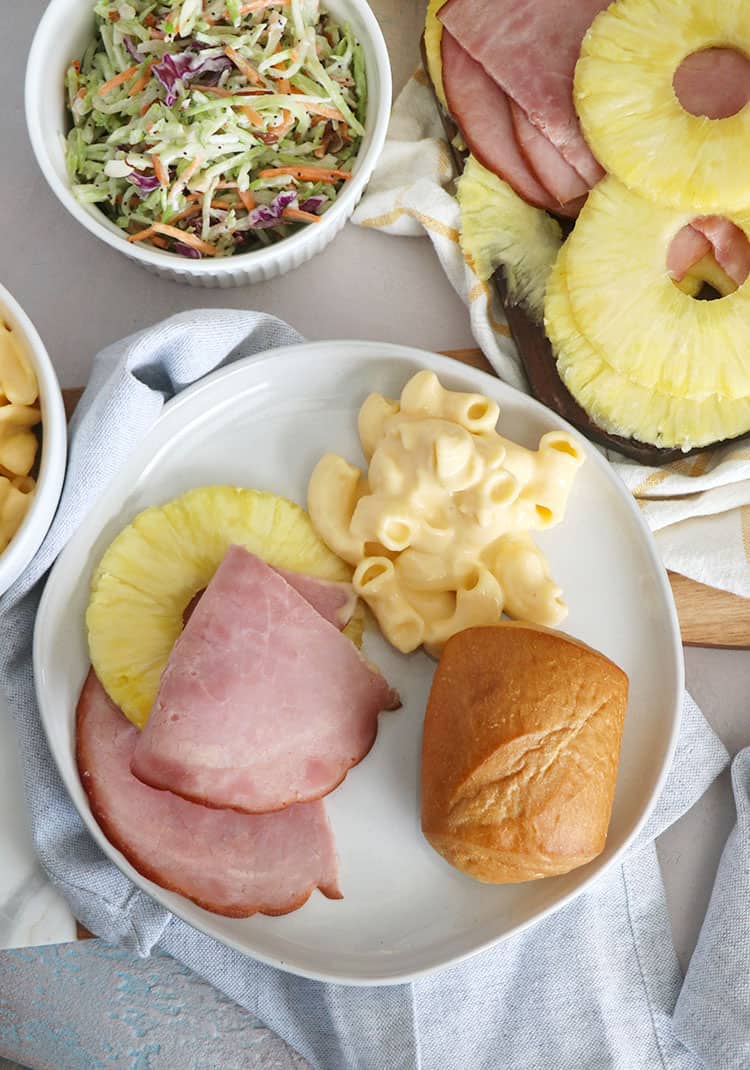 Ordering the Easter Meal Kit from The Fresh Market couldn't be easier; it includes enough food for 8-10 guests, and I love the options; the sides are a mix of what I deem traditional with sides similar to an outdoor shindig, so for my family, it's kind of the best of both worlds, and it comes in at just $59.99.
Each Easter Meal Kit ordered from The Fresh Market includes:
7-9 lb spiral sliced honey ham – gluten free double glazed with honey and brown sugar smoked over hickory hardwood
Sliced fresh pineapple – juicy, sweet and ready to eat
2 lbs smokehouse BBQ beans – tender baked beans in a rich, smoky BBQ sauce
2 lbs creamy macaroni & cheese – super creamy and made with real cheddar cheese
2 lbs broccoli cranberry slaw with almonds – shredded broccoli, dried cranberries and sliced almonds in a sweet poppy seed dressing
12 ct traditional dinner rolls
1 each fudge brownie tray – dense fudge brownies covered in a rich, fudgy icing
You can easily order this Easter Meal Kit online, or in-store (display below). Ordering in-store meant I added fresh tulips, and a few Lindt Easter Bunnies, to my basket. You can't celebrate Easter without a tasty chocolate bunny or two (and also because I mean, I have the perfect sign to go with said bunnies), and since fresh tulips are my favorite bloom in the spring, I had to add a fresh bouquet to the Easter table.
While the meal kit includes a double glazed honey and brown sugar smoked ham, I wanted to add my own small, and personal touch to it. So I'm making a Pineapple Glaze for my ham – with just three ingredients; pineapple juice, dijon mustard, and honey, this glaze goes great with the fresh sliced pineapple included in your meal kit.
This Pineapple Glaze comes together with three ingredients, whisked and brushed onto the ham before heating. I'm almost hesitant to even call it a recipe, because it's that simple.
Pineapple Glazed Ham
With just three ingredients, this pineapple glaze for ham is as easy as it gets; simple and straight forward, it's the perfect little touch for spring entertaining.
Ingredients
2 Cups 100% Pineapple Juice
1/4 Cup Honey
2 Tablespoons Dijon Mustard
Instructions
In small saucepan over medium heat, cook pineapple juice 20-25 minutes while stirring frequently, until juice reduces by half.
Whisk in honey, and dijon mustard.
Cook 5-8 minutes while constantly stirring. Once glaze has thickened to a syrup-like consistency, remove from heat and set aside until ham is ready to be glazed.
When it comes to an easy, and delicious Easter dinner, The Fresh Market has you covered. The Easter Meal Kit is available for orders until 2 PM March the 27th, and can be picked up in-store from March 29th to Sunday April 1st before 1 PM on April 1st. The kit retails for $59.99 and feeds 8 to 10 people. Order yours online, here!
PIN FOR LATER: