Thinly sliced pork tenderloin, topped with a quick and easy pickled pico de gallo with avocado, make for an easy and flavorful weeknight taco dinner!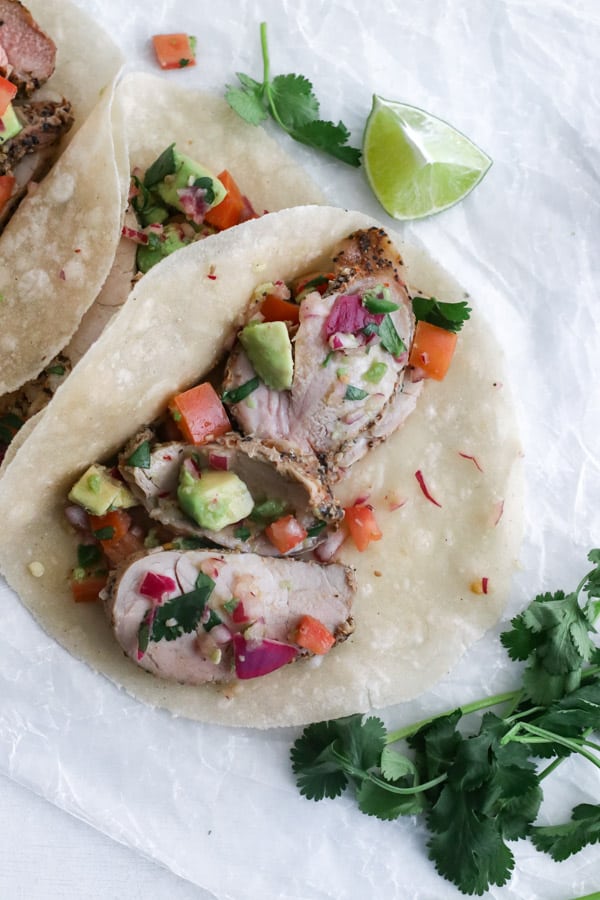 Anything can be made into a taco if you try hard enough, and I think that's why I love them so much; they're easy, flavorful and always customizable – bowls, wraps, corn tortillas, grain-free tortillas….Tacos are pretty much the perfect food.
There are so many taco recipes to choose from on casa de crews, but besides a standard carnitas recipe, I don't have any pork taco recipes, and I needed to change that. I'm a huge fan of homemade spice rubs and condiments, but sometimes during the week, you don't have time for both, and you know if you try and do it all, it's not going to happen so why even stress yourself out.
Enter: Pork Tenderloin Tacos! We love the dry rub and seasonings used in their Garlic & Cracked Black Pepper Fresh Pork Tenderloin, and since the loin is already seasoned, it cuts out a step for me, and I can make a very quick and very easy pickled pico de gallo with fresh avocado while it roasts in the oven.
Smithfield Marinated Fresh Pork recipes help me get dinner on the table in no time, without compromising flavor or adding a ton of extra prep for me. With real fresh ingredients, and real fresh flavor, the Garlic & Cracked Black Pepper is our favorite; so versatile it's perfect for a ton of dinner ideas.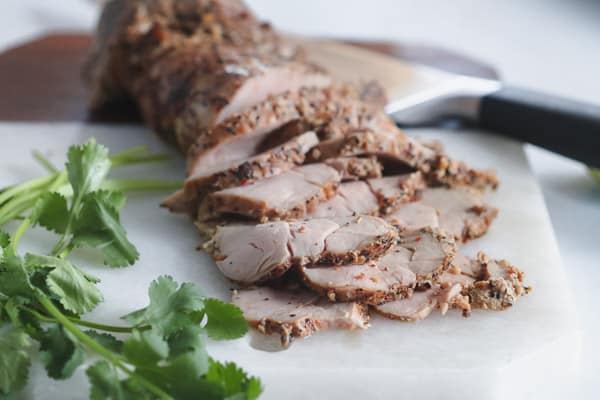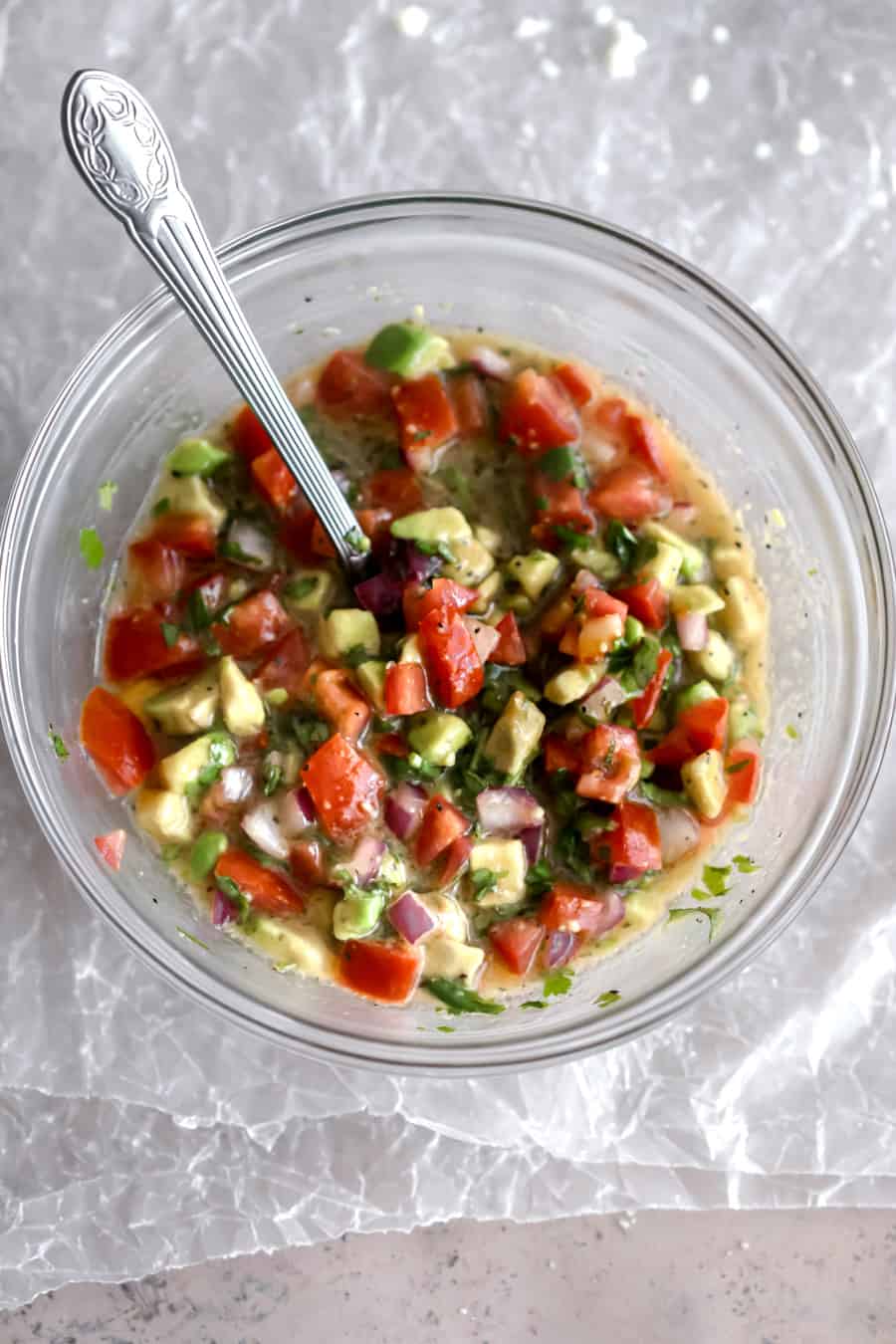 What makes this pico pickled?
Red wine vinegar is a fast and easy way to pickle veggies in a short amount of time. You can pickle just about anything overnight, but ten minutes is all it really takes – esp when you're in a rush for an easy weeknight taco dinner.
See also: I'm not a fan of raw onions, but pickle a red onion and I'll top it on anything – like a plate of Pork Tenderloin Tacos, obvi.
While your Smithfield® roasts, pickle your red onions for ten minutes, before adding fresh cilantro, diced jalapeno and tomato, with salt and fresh lime juice. And for healthy fat, I love to dice up an avocado and mix in with our pico. If you'd rather just slice fresh avo to top over these Pork Tenderloin Tacos, go for it. You do you.
I thought about preparing instant pot pork tenderloin, or even the slow cooker, but since it takes less than 30-minutes to roast, I opted to use the oven for this pork tenderloin taco recipe. Esp because this pork loin recipe only needs a shallow baking dish, and while it roasts, I can make my pico.
These Pork Tenderloin Tacos could not be easier!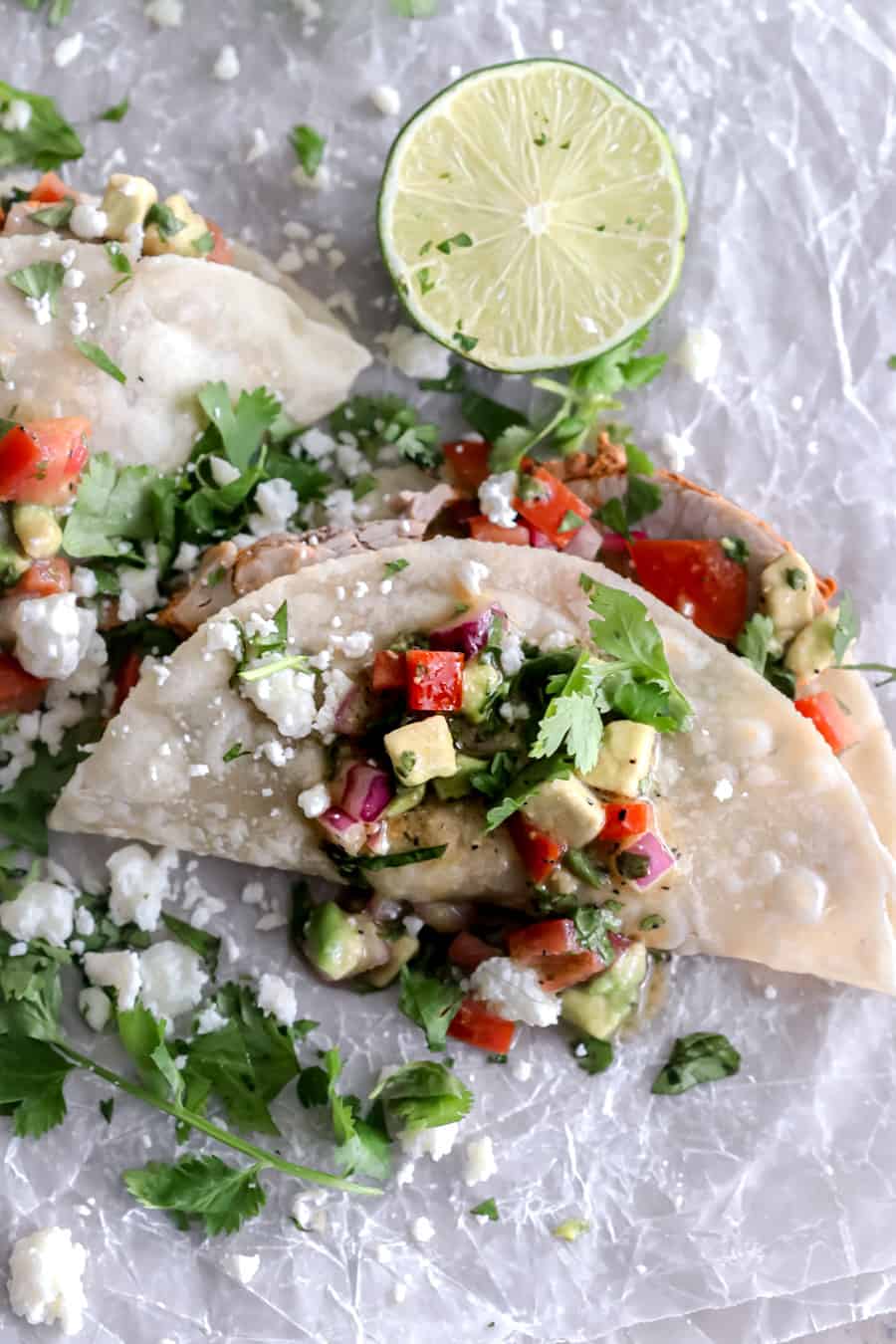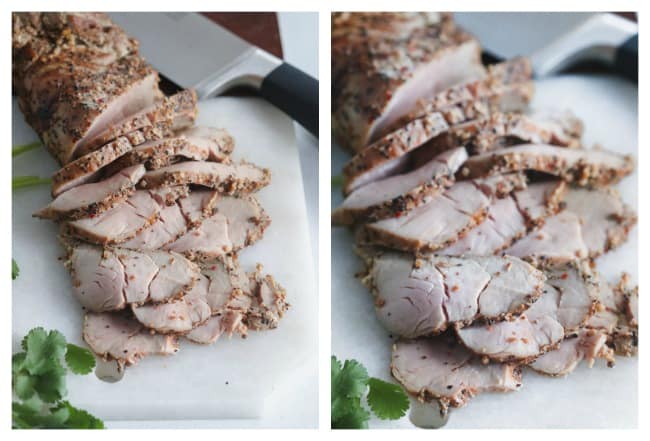 Taco Toppings:
Personally, to keep things simple, flavorful and most of all, easy for a weeknight dinner, I make these pork tenderloin tacos as is and call it a day. Jason was a huge fan with fresh pico topped over this pork tenderloin, but if you'd like to add a little something extra, cotija cheese, shredded cabbage or a drizzle of chipotle mayo would all be delicious.
Use whatever tortillas or lettuce wraps you like for these tacos. I'm coming off a whole30 and opted for grain-free tortillas, but any kind will do – use your favorite!
pork tenderloin tacos
Thinly sliced pork tenderloin, topped with a quick and easy pickled pico de gallo make for an easy and flavorful weeknight taco dinner!
Print
Pin
Rate
Ingredients
1

Smithfield Roasted Garlic & Cracked Black Pepper Fresh Pork Tenderloin

1/2

red onion

diced

2

tablespoons

red wine vinegar

2

roma tomatoes, seeded and diced

1

whole

avocado, peeled and diced

1/4

cup

cilantro, chopped

3

tablespoons

olive oil

juice of 1 lime

salt and pepper, to taste

tortillas of choice

-

can also use lettuce wraps
Instructions
Heat oven to 425 degrees F. Place pork on the rack of a shallow roasting pan. Roast 25-30 minutes, until pork reaches 145 degrees F Let stand 10 minutes before slicing thin, against the grain.

While pork cooks, pickle red onion: In a medium bowl, mix the onion with the vinegar and let marinate for 10 minutes.

Add the diced tomatoes, avocado, jalapeno, cilantro, olive oil, and lime juice. Season with salt and pepper, to taste and toss to combine.

Fill tortillas of choice with warm, thinly sliced tenderloin, and top with homemade pico.
Notes
will make 8 tacos (2 per person)
This post may contain affiliate links. Purchasing through them help support this website. Please see the disclaimer here.