Mashed cauliflower with roasted garlic and shaved parmesan makes for an indulgent sounding [and tasting!] side that couldn't be easier to make; ready in less than 30 minutes!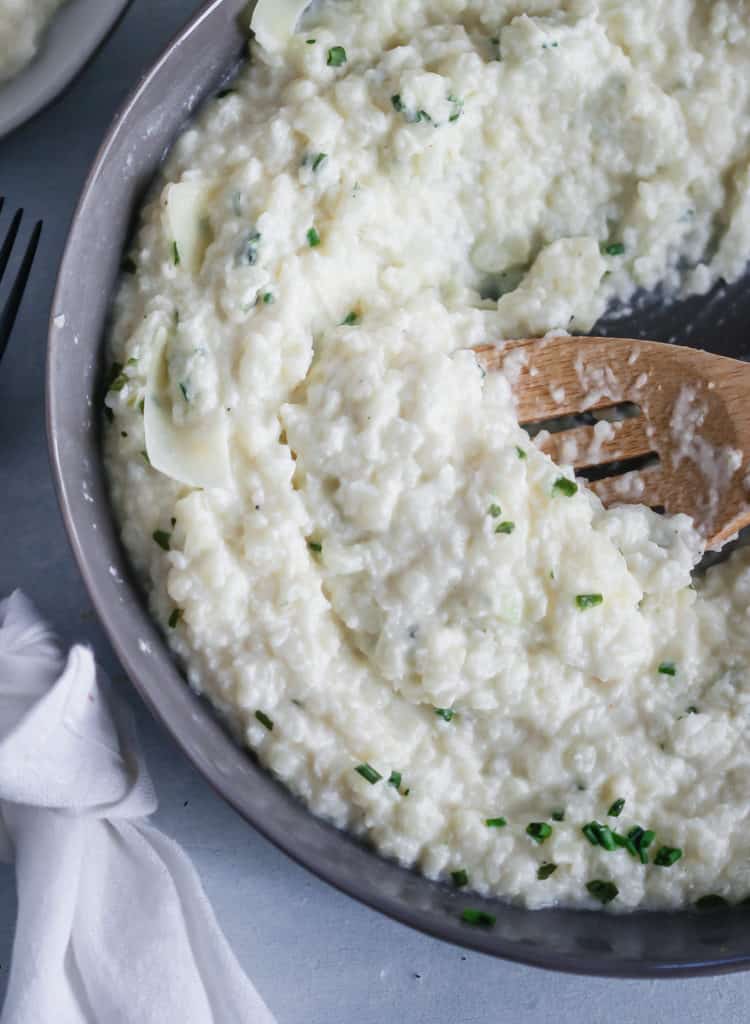 I seriously love this time of year so much; it's crazy chaos full of family, friends and food. But I've been out way too much this month, and I am feeling it.
When life gets a little too cray for me, I have learned I need to reel it in and slow down. For me, slowing down means cooking at home, and getting back to basics for a few days. But I also need easy because even though I'm trying to get back into a little routine [six days before Christmas – whaaat], I need simple right now. Anything complicated isn't happening. I know what I'm about.
This easy, and flavorful mashed cauliflower is the kind of low-carb side I need all week! And since it's just Jason and I at Casa de Crews, I can tell you I made a pan of this roasted garlic parmesan mashed cauliflower on Monday for dinner, we had it for lunch and dinner on Tuesday, and have just enough leftovers for lunch today. It's the side dish that keeps on giving!
How to make creamy mashed cauliflower: the trick is to use cauliflower rice!
Whether you make your own cauliflower rice in a food processor, or buy the pre-riced crumbles, it's taken me years to figure out that finely riced cauli is the trick to creamy cauliflower that rivals mashed potatoes.
Sauteeing the cauliflower first, and then boiling will soften your cauliflower, allowing for a creamy texture.
Using an immersion blender to 'mash' will give it a few lumps, but will smooth it all out, at the same time. If you prefer more of a pureed-like texture, you can use a blender instead. You do you.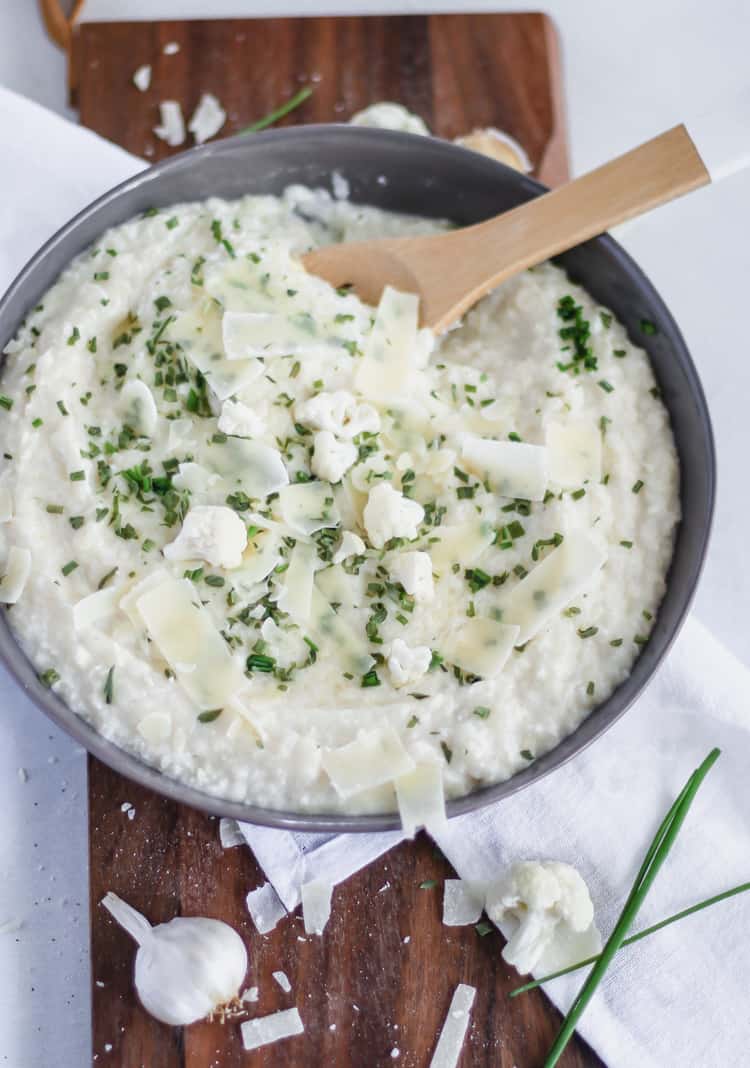 Admittledy, mashed cauliflower is easy and simple on it's own, packed with potassium and is a great low-carb option. And as-is, it's ready in 12 minutes!
If you want next level mashed cauliflower, add in roasted garlic and shaved parmesan; it's insanely good, you guys. Roasting garlic is a 30-ish minute process, but it's an easy one. While it's roasting, you can prep everything else for dinner, or get caught up on something else and then come back to it, and start dinner later. Easy af.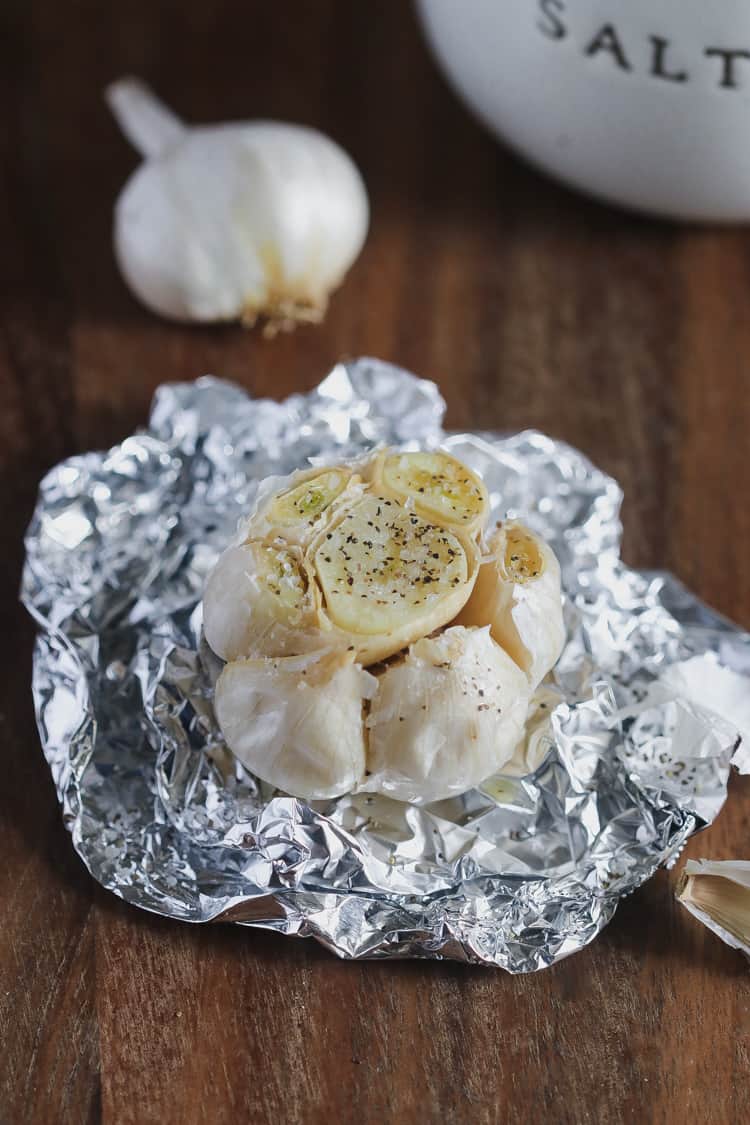 roasted garlic parmesan mashed cauliflower
Mashed cauliflower with roasted garlic and shaved parmesan makes for an indulgent sounding [and tasting!] side that couldn't be easier to make; ready in less than 30 minutes!
Print
Pin
Rate
Ingredients
Roasted Garlic
1

head of garlic

2

teaspoons

olive oil

salt and pepper
Mashed Cauliflower
2

12-ounce packages riced cauliflower

3

tablespoons

unsalted butter

2

cups

water

1

head roasted garlic; recipe below

2-3

tablespoons

parmesan cheese

-

shaved suggested, can also use grated

1

teaspoon

Sea Salt
Instructions
Roasted Garlic
Preheat your toaster oven to 400F (can also use actual oven)

Peel and discard the papery outer layers of the whole garlic bulb, leaving intact the skins of the individual cloves of garlic. Using a sharp knife, cut a ½ inch from the top, exposing the individual cloves.

Place the garlic heads in a baking pan, cut side up. Drizzle with olive oil. salt and pepper. Cover the bulb with foil. Bake 30 minutes. Allow garlic to cool before use.
Mashed Cauliflower
To a large saucepan, melt unsalted butter over medium-high heat. Add the cauliflower crumbles and saute, stirring occasionally, until the cauliflower is translucent in color, about 3-5 minutes.

Add the 2 cups of water and salt; bring to a boil. Cover and cook until the cauliflower is tender, approx 8-10 minutes. Remove from heat and drain, reserving approx 1/4 cup of water from cooking liquid.

Place the drained cauliflower and reserved cooking liquid back to saucepan. Add in roasted garlic, and salt. Mash using an immersion blender to desired consistency. Stir in Parmesan cheese and serve.
Last week, I attended the grand opening of Butcher's Mark in Sarasota, Florida – more locations, coming soon! Butcher's Mark is your modern day butcher's shop with fresh and tender, savory meats marinated like no other. But seriously, like no other. I was given a little tour at Butcher's Mark where their very-secret marinating process is kept, and while I can't share it with you [because then it wouldn't be a secret, duh], I can tell you that it makes all the difference in the flavor.
When I visited last week, I ordered their Garlic Supreme Steak Tips, marinated using salt, garlic powder, natural butter flavor and parsley flake. All I had to do on Monday was pan sear and serve. Butcher's Mark made a Monday night dinner incredibly easy and indulgent in no time.
To be honest, I envisioned steak tips similar to chopped beef tips my mom used to make, that she simmered in gravy to tenderize all day, before serving over rice. I couldn't have been more wrong. First of all, these steak tips were so tender; I'd compare them to the tenderness you get from sous-viding all day. But I didn't have to sous vide. I just had to pick up and go.
Second, they were not chopped small. They are pretty generous in size and serve as their own portion as-is. You will not go hungry, and you definitely won't be bored. You can prepare these marinated steak tips however you like [which is why I did not include in today's recipe – whatever is easiest for you, esp since these steak tips are already tenderized and marinated] – See all of the marinade flavors, here.
Butcher's Mark offers a variety of marinated proteins, from tender steak tips, to chicken thighs and breasts to chicken wings. You know how much we love chicken wings at Casa de Crews, and I'll definitely be back to visit Butcher's Mark next month for chicken wings and playoffs [I care about the food way more than the game – but you already knew this about me.]
The Garlic Supreme Steak Tips with a side of roasted garlic parmesan mashed cauli [and wine, obvi] is such an easy meal that tastes super indulgent without much work. Butcher's Mark saved us from boring meal prep this week, for sure.
quick + easy green sides that would go well with this meal:
Thank you to Butcher's Mark for sponsoring today's post! All opinions are my own. See my full disclosure policy, here.