Happy, Happy FRIDAY! I'm so ready for the weekend. I've been fighting a cold all week, and I'm kind of just ready to chill out, and not worry about being anywhere, which is rare, but totally welcome this weekend.
I thought it'd be fun to start sharing a fun treat on Fridays at Casa de Crews. I believe in good food, and homemade over processed, but I also believe in enjoying treats with friends. Or good cocktails with friends. Or good pizza with friends. Haha…the weekends are for friends! Unless you're not feeling great like me, then THIS weekend is probably for watching Netflix in yoga pants and asking your husband to go to the grocery store for you. P.S. I'm thinking we'll finally start Friends from College.
For these Friday Treat Yo' Self recipes, I'm not including nutrition information, like my everyday recipes. None of us need that kind of negativity in our lives RN.
But last weekend, we had our peeps over for a movie, and pizza. Okay, we watched Sharknado. Judge away. It's more Jason's thing than mine (obvi), but I am not going to pass up the chance to make margaritas at home with friends, and order pizza to watch from my couch and die at the awful plot, and acting. I mean, they're so bad, but every year Sci-Fi makes a new one, and we watch for some reason.
I decided at the last minute, we needed something sweet! I have no idea why, but I wanted Rice Krispies. I didn't even grow up eating them, so why I was craving them, I had no idea. But after finding this recipe, I knew what I had to do. Melted marshmallows with creamy peanut butter, and melted chocolate; I mean…if that isn't how to Friday, we're not doing it right, guys.
These are probably one of the easiest treats you could make for a crowd. I used an 9×9 pan because I like em' thick, but a 9×13 dish will give you more bars. You could use chocolate melts, or chocolate chips. Usually, I'd use melts and a double boiler method, but it's Friday, and we want easy, so I just microwaved my chocolate chips in 10 second increments until melted, and that worked just fine.
Cheers to the weekend!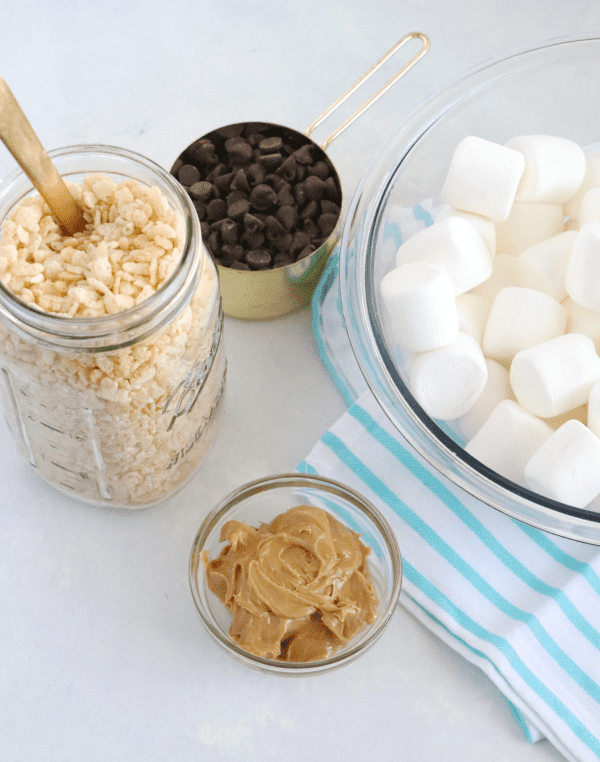 Tools I used to make this recipe:
Salted Chocolate Peanut Butter Krispie Treats
Prep time:
Cook time:
Total time:
Sweet, and salty and perfect for a crowd! This no-bake sweet treat is ready in 15 minutes, and can be made ahead of time.
Ingredients
2 tbsp butter
5 tbsp smooth peanut butter
10 ounces plus 1 cup marshmallows
5 cups puffed rice krispie cereal
1 12-ounce bag semi-sweet chocolate chips
Super flaky salt flakes, for garnish
Instructions
Prepare a 8×8 or 9×13 inch baking dish with non-stick cooking spray topped with layers of parchment paper that hang over the sides.
Pour the krispie cereal into a large bowl for mixing.
Melt the butter in a large, high sided fry pan or sauce pan over low heat and stir in the peanut butter until combined. Add the marshmallows and stir until they've melted into the peanut butter mixture. Remove from the heat and pour over the krispie cereal. Grease your hands with butter or non-stick spray and mix the krispie mix with a spoon and/or your hands until fully incorporated. Press into the baking dish until it's flat. Set aside to cool.
Pour the chocolate chips into a glass dish and microwave for 30 seconds then stir. Repeat 3 to 4 times, stirring after each time you heat until the chocolate has melted and is smooth.
Spread the layer of melted chocolate over the top of the cooled krispies. Sprinkle with flaky salt or other seasonal toppings. Cool or chill until firm. Slice slice into bars. Go crazy with chocolate.
recipe via
This post may contain affiliate links. Purchasing through them help support this website.