Flaky puff pastry filled with homemade strawberry sauce, over savory goat cheese and thyme, and baked to a golden brown; these Strawberry, Thyme, and Goat Cheese Hand Pies are the perfect way to enjoy Florida Strawberry season all year long!
This post is sponsored by Florida Strawberry in conjunction with a social media campaign through Sunday Supper LLC. All opinions are my own.
A baker, I am not. A baker, I will never be. It's okay, I know what I'm about, and making from-scratch desserts will never be my thing. Semi-homemade baking is something I can do, however. And I can do it well.
One of my father's favorite snacks to hide from us when I was young, were those little hand pies you could find at the check-out; he loved the cherry, and strawberry pies, and he had a secret stash of treats just for him, but somehow one of us kids, would always find them, and he'd give in and let us each take something. Sorry, dad.
With our Florida strawberry season coming to an end in April, it felt like the perfect time to recreate dad's favorite store-bought hand pies with my own little twist.
These homemade Strawberry, Thyme, and Goat Cheese Hand Pies are sweet and savory with fresh sprigs of thyme, tart dollops of goat cheese, and frozen Florida Strawberries, that are so naturally sweet.
Frozen fruits is best for any homemade hand-pie filling, and at the end of season, I always freeze a ton of Florida Strawberries to use throughout the year.
The reason I love to preserve my Florida Strawberries this way, is because it's not only ridiculously easy, but frozen berries can be the base of so many other recipes later; smoothies, jams to later be canned, sauce to pour over pancakes for brunch, compotes, pickled recipes, etc.
If you've never preserved fresh strawberries in the freezer, it couldn't be easier. First, make sure to pick firm, fully ripe strawberries. The firmer the berry, the sweeter the taste. Make sure to wash your berries (only in water, and only right before preserving to retain moisture), and remove the caps – then slice or dice into bite-sized pieces. 2/3 cup fresh berries, will give you one full pint of frozen ones. I like to store my Florida Strawberries in portioned out Ziploc baggies for easy grab and go. You can also use glass canning jars to freeze your strawberries – I just have a small freezer and plastic bag save space for me.
I've made similar hand pies with cream cheese, but for these Strawberry, Thyme, and Goat Cheese, I knew I wanted to elevate the taste; as these are great for spring entertaining; showers, brunches, or BBQ's. P.S. I actually had one for breakfast on Friday with my morning coffee, and this hand pie tasted like a grown-up Toaster Strudel. O M G, it was worth it!
But they're also great for summer, long after our Florida strawberry season has ended (season runs December-April), and the thought of enjoying these juicy berries in the summer makes me ridiculously happy. Pretty sure they'd make my dad happy too. Though, I think he'd turn his nose up at the thought of goat cheese and thyme in this hand-pie, but I know he'd still try it, if he were here. He'd love them, but he'd definitely tease me first for "frou-frou" extras (his words).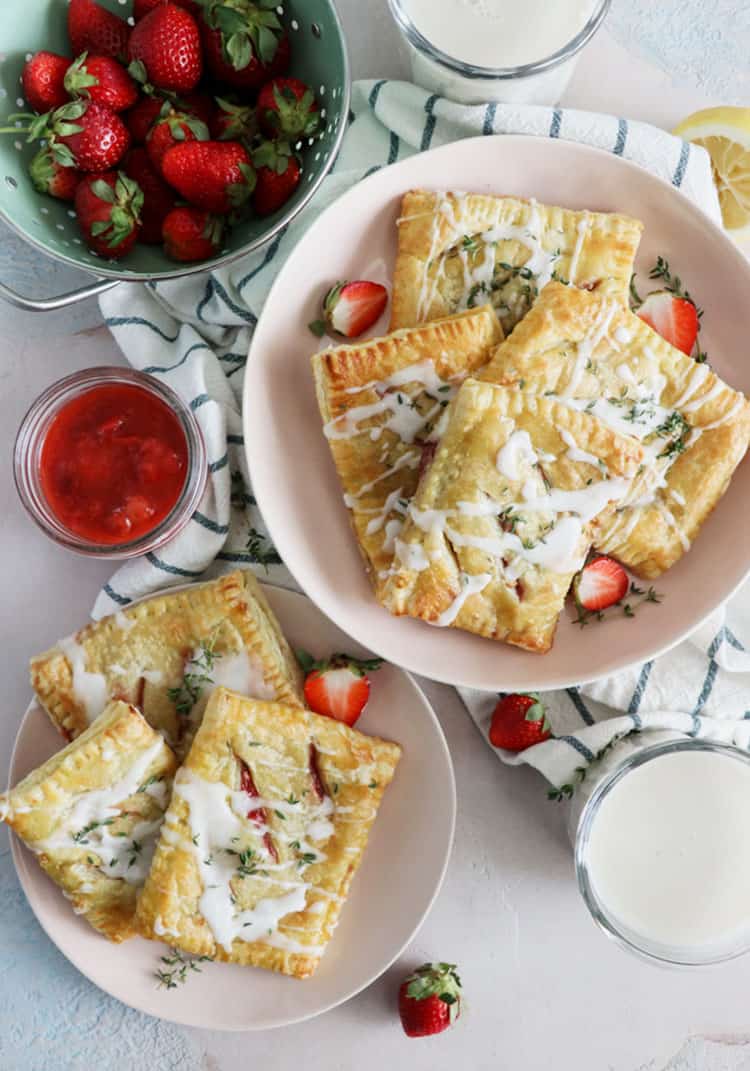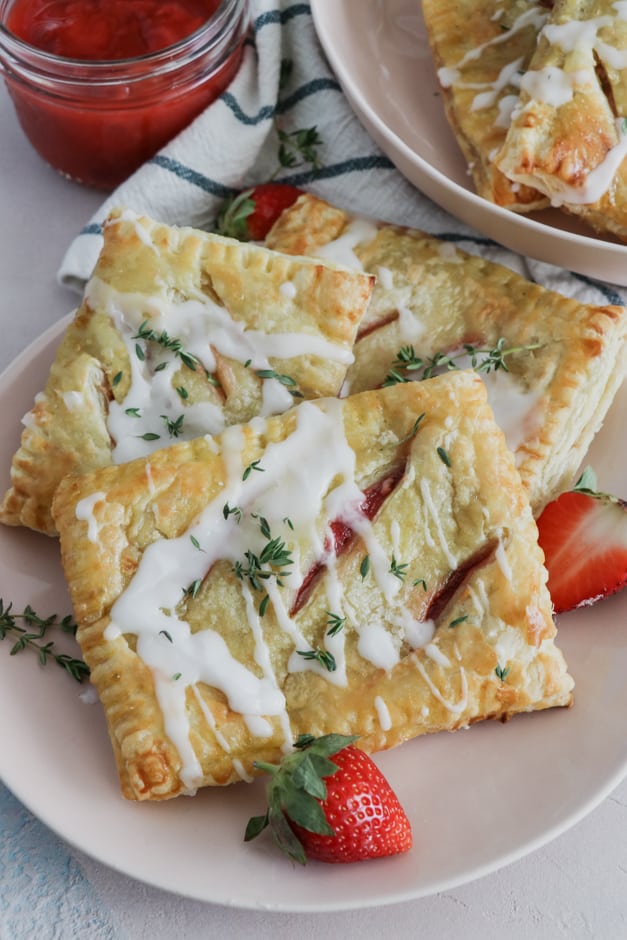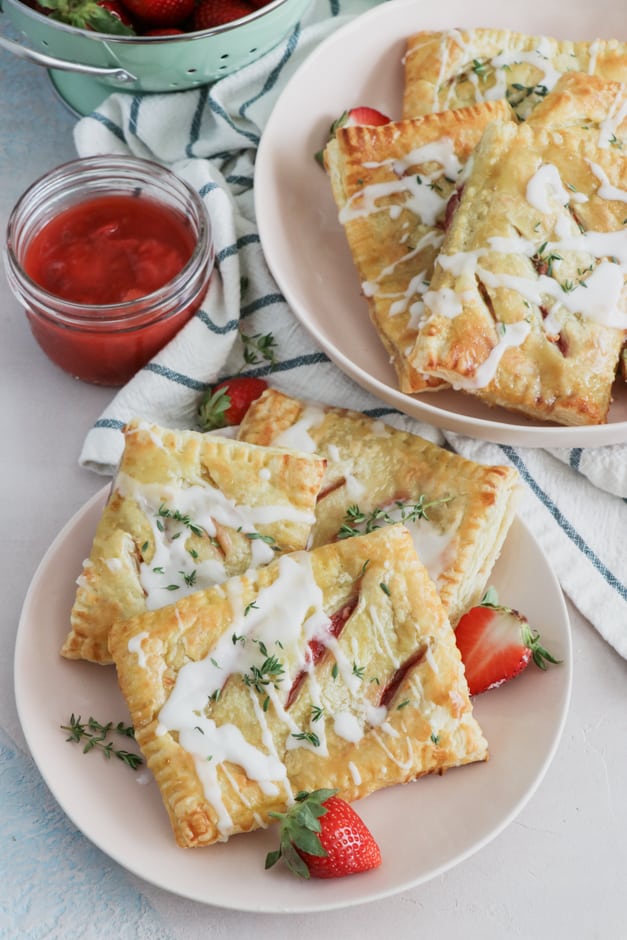 I like to use pre-made puff pastry for my Strawberry, Thyme, and Goat Cheese Hand Pies. You can use your own pie crust recipe if you have one, but the puff pastry is pretty much foolproof, which means I can handle it. Just make sure to include several slits with the hand pie to avoid too much puffing within the pie. I also rotate my baking sheet every 5-7 minutes. This method has worked for me several times to avoid an over-puffed pie!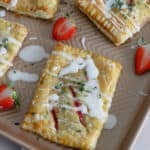 strawberry, thyme, and goat cheese hand pies
Flaky puff pastry filled with homemade strawberry sauce, over savory goat cheese and thyme, and baked to a golden brown; these Strawberry, Thyme, and Goat Cheese Hand Pies are the perfect way to enjoy Florida Strawberry season all year long!
Print
Pin
Rate
Ingredients
crust
1

box

(2 sheets) frozen puff pastry, thawed in the refrigerator

-

do not thaw at room temperature

egg wash: 1 large egg beaten with 2 teaspoons milk or water

coarse sugar, for garnish
pie filling
1 1/2

tablespoon

cornstarch

1 1/2

tablespoon

room temperature water

12

oz

frozen strawberries

1/2

cup

sugar

-

granulated or coconut sugar

1

teaspoon

fresh lemon juice

1/4

teaspoon

salt

1

teaspoon

vanilla extract

6

ounces

goat cheese, softened

2

tablespoons

thyme leaves, plus more for garnish
Instructions
Make the filling: Mix the cornstarch and water together in a small bowl until combined and milky. Set aside. In a medium saucepan, combine the frozen strawberries, sugar, lemon juice, and salt. Stirring occasionally with a rubber spatula, cook over medium heat until the berries begin to release their juices, about 4-6 minutes. Stir in the cornstarch mixture, then bring to a boil while stirring often. Once boiling, remove from heat then stir in the vanilla. Allow to cool completely at room temperature.Filling should be thick, and sweet.

Line a large baking sheet with parchment paper. On a lightly floured surface, roll out one pastry sheet. Using a sharp paring knife, cut sheet into 6 rectangles. 3 of these rectangles will be the bottom pastry pie crust, 3 will be the top. Transfer the 3 bottom rectangles to the prepared baking sheet. Using a pastry brush, brush the edges of the bottom rectangles with the egg wash. Divide the goat cheese evenly among half of the squares, then top with a heaping tablespoon of strawberry filling. Sprinkle each with thyme, reserving some for the tops. Crimp the edges with a fork to seal shut.

Repeat this entire step with 2nd pastry sheet so you have a total of 6 pastry pies. Slice 3-4 slits in the tops for air vents (use a super sharp knife to do that – the better the vent, the less each pie will puff up). Brush the tops of the pastry pies with remaining egg wash, then sprinkle with coarse sugar. Chill the pies in the refrigerator for at least 1 hour, up to overnight.

When ready to bake, preheat oven to 375F. Bake the pastry pies for 30 minutes. At 5-7 minutes into baking, check on pies and rotate baking sheet. Do this 2-3 more times, for a total of 30 minutes, or until tops are golden brown. Once golden brown, remove pies from the oven. Transfer to a cooling grid after 2 minutes; allow to cool until ready to handle and serve.
Notes
These hand pies can be made ahead of time, but are best served warm. Reheat before serving, if making in advance.
This post may contain affiliate links. Purchasing through them help support this website. Please see the disclaimer here.