Tomorrow is National Chicken Wing Day! As a girl from Buffalo, NY, who also happens to love the chicken wing, I knew I had to celebrate accordingly.
Fact, I had no idea it was declared a 'holiday' in 1977, until I did a little research. We lived in Buffalo, until I was ten, and I was unaware of this much deserved day (haha).
I love a traditional wing, tossed in hot sauce (Frank's Red Hot is our fave). But I'm also a fan of dry rubs (like these Chipotle-Ranch wings, or my Salt and Vinegar rub) – plus, they're less messy.
If I'm being honest, give me a fried ol' wing tossed in a rub, or sauce, with a side of dip, and I'm a happy kid. But a) I'm not frying anything at home b) I can't eat fried chicken wings whenever I want.#tryingtoloseweight
…when I first attempted this rub, I mixed equal parts of the main spices (cayenne, garlic, onion powder). Turns out, that's way too much cayenne pepper, which is what makes this recipe truly, "Buffalo". My mouth was on f.i.r.e.
So if the first time you try this, you want more heat, toss a teeeeeny bit of cayenne afterward. Your mouth will thank me later. I promise.
[bctt tweet="Homemade Buffalo Dry Rub – low-carb, paleo, healthy…spicy!" username="casadecrews"]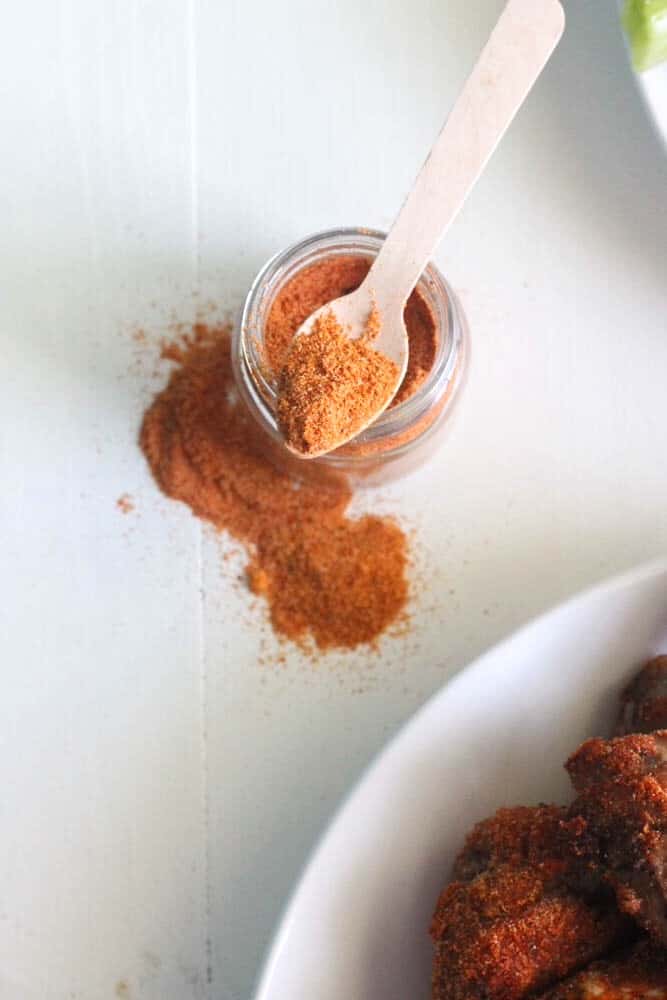 I love baking wings, though. Sometimes, I can get Jason to grill a batch too. Either way, chicken wings at home, with a classic rub is THE way to celebrate National Chicken Wing Day!
[amd-zlrecipe-recipe:99]
[bctt tweet="Celebrate #NationalChickenWingDay July 29th with Buffalo Spice Rub Wings!" username="casadecrews"]