These fresh and flavorful Chili Lime Shrimp Tacos with cabbage slaw and baja sauce are quick to make, and will be the tastiest shrimp tacos you've ever had. For a tropical twist, make a batch of grain-free plantain taco shells to stuff all of this flavah into!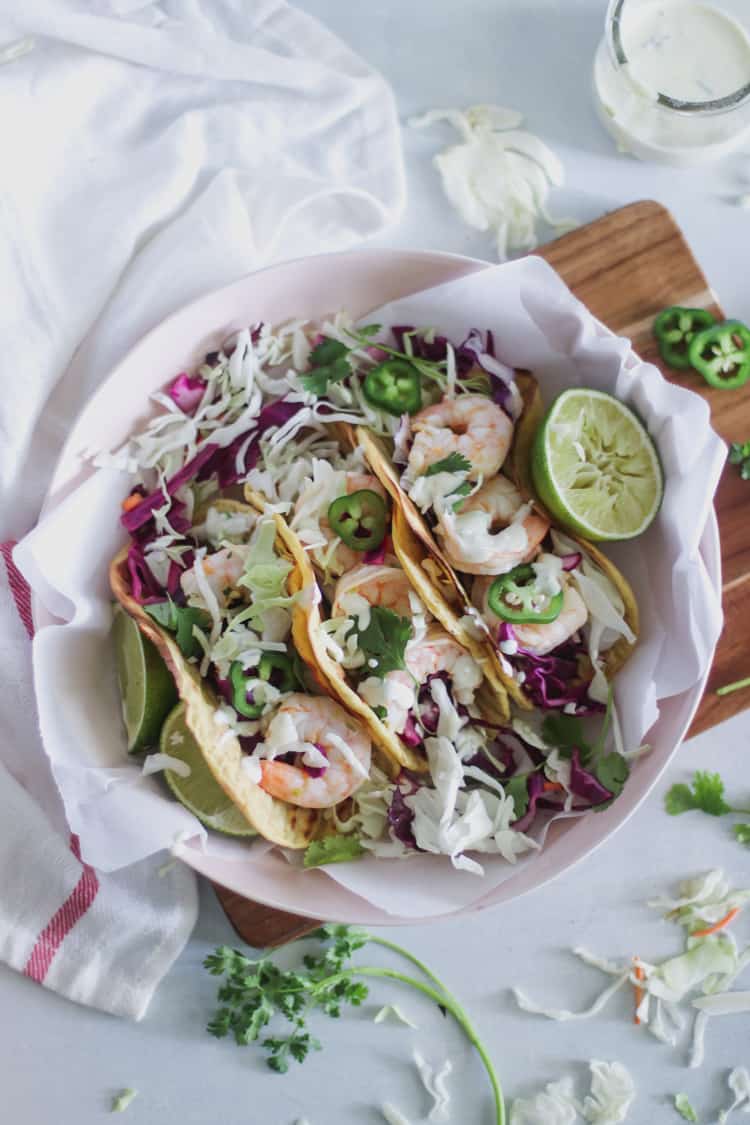 My Whole 30 is over, my Whole 30 is over! I learned a ton this time around, and very soon I'll share a post on my feelings, but know that my journey, or re-journey (is that a word?) into the world of unprocessed is only beginning (re-beginning?) and it will absolutely reflect in the recipes I create for you, my friend.
But! Until then let's discuss these shrimp tacos. They're packed with loads of fresh lime juice, chili powder and cilantro. Truth: for the longest time I bought frozen shrimp that was precooked. I thought they looked prettier than the raw, gray variety. But after shopping at Sprouts, and trying their frozen, raw, deveined shrimp, I'll never buy pre-cooked again for dinner. Like…ever. The raw shrimp are so much more plump, and hearty and filling. Which means a little goes a long way.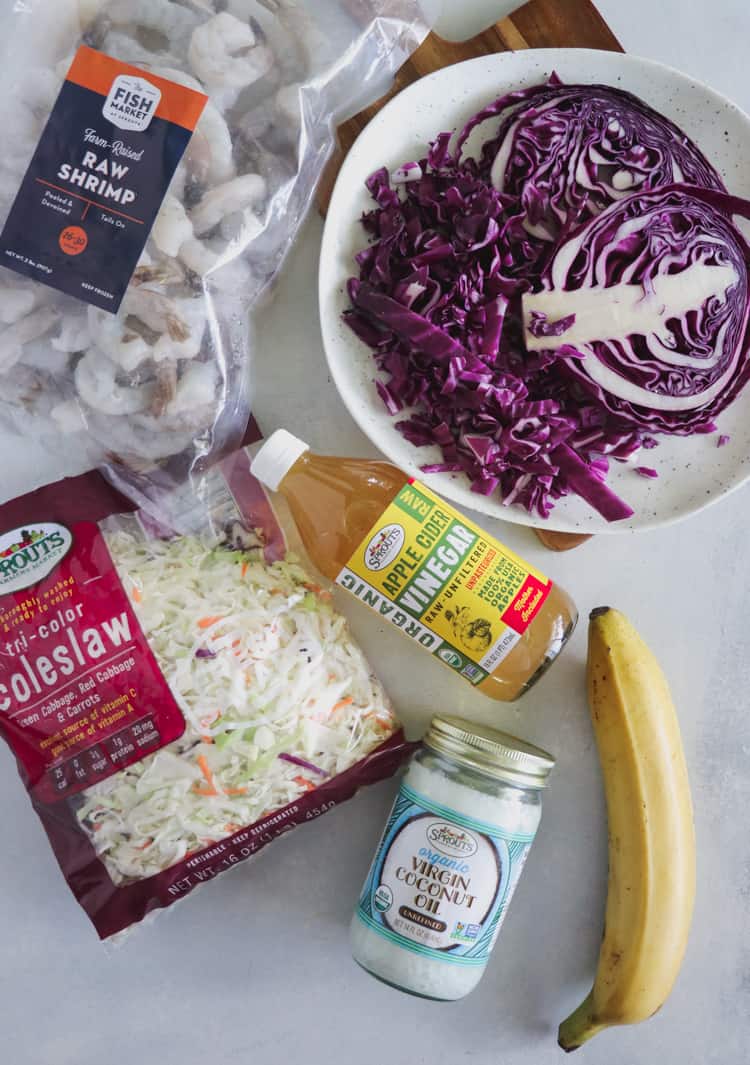 Similar to my Lobster Tacos, I made a quick slaw with cabbage and apple cider vinegar – if you've never done this, I promise it's not only easy af, but also simple and flavorful, and so fresh tasting! The slaw is a perfect accompaniment to these Chili-Lime Shrimp Tacos.
These tacos with slaw, and a quick baja-style sauce come together in less than 20 minutes. Which I am all for. The homemade plantain taco shells are a little more time consuming. I know you come here for my quick and easy, uncomplicated recipes but I'm telling you these grain-free tortilla shells are worth a try! But that's also why I'm sharing this recipe on a Friday: so you can practice your tortilla making skillz. Once you got it, you got it and you'll be able to make these tortillas in 15 minutes! But if you're like me, it will take a few tries.
So! Once you master the plantain tortillas, and you make the shrimp and slaw, with sauce, this whole meal will take all of 25-30 minutes! You just can't beat that. Plus, a plate of shrimp tacos dining out will be a lot more expensive than making at home, plus hello all you leftovers (plus, make your own margs at home, and you're ready for the weekend, friend)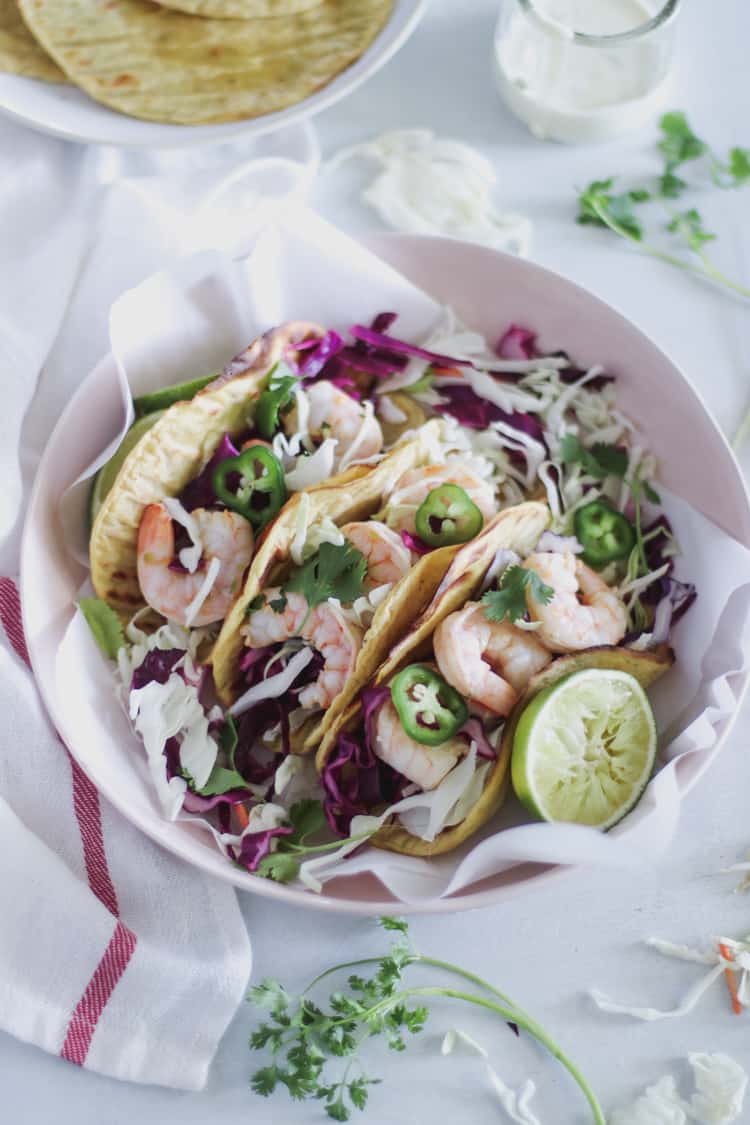 These Plantain Taco Shells are technically Whole 30, but if you read the book, you know they're also kind of a no-no, so if you're starting out, I wouldn't make these shells. But if you can't have grains, or live that paleo life, these tortillas are for you! See also: if you just like unprocessed, fresh and whole flavors, these plantains lend a tropical, sweet taste to tangy shrimp and slaw. Plus, they hold up well with everything we have going on in these tacos. If you are doing a Whole 30, and have no idea where to begin when you're shopping at Sprouts, save this super helpful Whole 30 approved shopping list from Melissa Hartwig!
Most likely to make these plantain tacos shells, you have everything on hand already except the plantains. You can use any type of fat (oil, ghee, etc), but I recommend coconut oil because it's sweeter and goes well with sweet and starchy plantains. You do Y O U.
These plantain shells can be made in advance, but only by a day (should make 8 shells). Then store in an air-tight container or resealable bag. I did not do this my first time, and they dried out. But storing properly will give them a little more time. I made a batch to test and went three days before using and they were still pliable, but not as fresh or delicious tasting so that's why I personally recommend no more than 1-2 days in advance.
You can use ripe or overripe plantains. I've done both, and the overripe were easier to peel and since it's all getting blended up, this recipes is a great way to use up any plantains you have.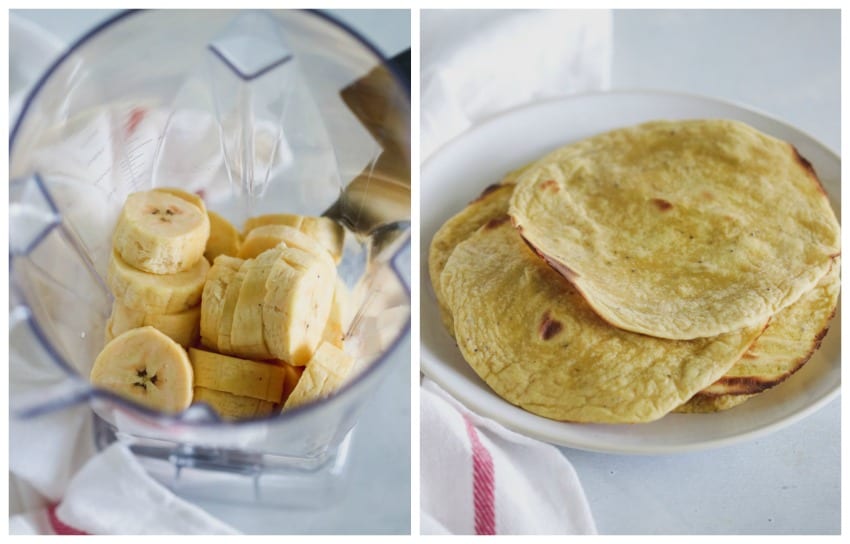 I'd recommend a high powered blender or food processor for this recipe. If you have a Vitamix or Blendtec, that will work. This is my blender and I love it! I think a Ninja would also work based on friends suggestions, but I don't have one to testify to that. You know your ish better than me.
For the baja sauce, I legit want to put it on everything. It's a mayo based sauce. I either make my own (you can get my recipe for homemade by subscribing here) or I use Primal Kitchen's brand, which you can also find at Sprouts.
Make a batch of these Chili Lime Shrimp Plantain Tacos, and let me know how they turn out!
Items used to make this recipe: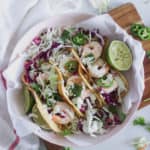 Ingredients
For the plantain taco shells:
3

large

plantains. peeled and diced

1

large

egg, whisked

2

tablespoons

melted coconut oil (can sub in avo oil or ghee)

1

teaspoon

sea salt

2

tablespoons

water
For the shrimp tacos:
1

tablespoon

avocado oil

1

lb

raw shrimp, peeled, deveined with tails removed

1

tablespoon

chili powder

Juice of 2 fresh limes. divided

2

cloves

garlic, minced

1

cup

shredded cabbage

-

either red cabbage or slaw mix (or a combo of both)

1

tablespoon

apple cider vinegar

1/4

cup

mayonnaise

cilantro, for garnish

-

optional

jalapeno, sliced, for garnish

-

optional
Instructions
For the plantain taco shells:
Preheat oven to 425F. Line a baking sheet with parchment paper.

In a high-powered blender or food processor, add diced plantains, egg, coconut oil, and salt. Blend until combined. Add water in teaspoon increments, until a smooth batter-like mix remains.

Using a spoon, spread the plantain batter into an even round circle. Bake 5-6 minutes, remove from oven and flip (if sticks to parchment, bake 1-2 more minutes). Flip and bake 3-4 more minutes. May need to do this in batches. Remove and cool.
For the shrimp tacos:
In a bowl, combine cabbage and vinegar. Mix well to combine and set aside.

Combine shrimp, chili powder, lime juice and garlic. Mix well.

To a skillet, add oil on medium heat. Once hot, add shrimp in a single layer. Sear for 2-3 minutes per side, until shrimp is no longer pink.

Combine mayonnaise and lime juice in a small bowl.

To each plantain shell, add a handful of slaw, shrimp, and mayo-lime sauce. Garnish with fresh cilantro and jalapeno, if desired.
*This post is sponsored by Sprouts Farmers Market (how I love thee). All opinions are my own. Thank you for supporting the brands that support Casa de Crews. Please see the disclaimer here.