I pretty much used all my vacation time up with our spring break cruise in March, and our trip to DC in May. That means no summer getaways for this kid. But I can pretend I took a trip to Key West over the summer with Lobster Tacos!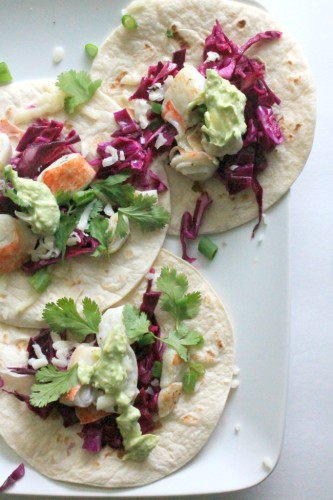 We have several groups of friends that take an annual trip to The Keys for Lobster Season, and lucky for me, they bring us back lobstah – which may actually be better, because while I love KW, I have like zero desire to dive for lobsters. I do have a strong desire for pub crawls, bike rides, and Key Lime Pie, but I digress.
These tacos are fresh, light, and indulgent! They sound fancy, but are easy to make, and can be on your table in less than 3o minutes. If you're going on a summer vacay, you could wow friends and family with these tacos. If you're stuck at home, you can 'pretend' like me, and always pick up lobster from your local seafood counter.
Both the cabbage, and aioli can be made ahead of time. I was watching an episode on the Cooking Channel when I saw the recipe for this Cabbage Slaw; purple cabbage, apple cider vinegar and salt. Let it sit for a while, and helllllo flavah. It is seriously so good, you guys.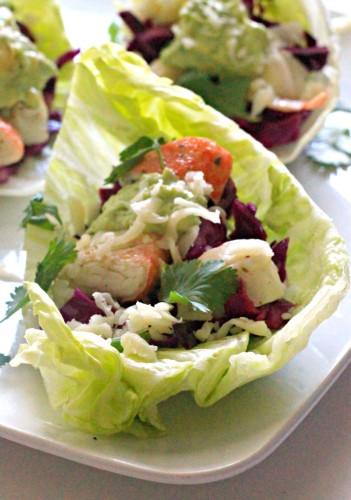 Make these tacos with your standard tortilla, or throw em' in lettuce cups. Either way, they're insanely tasty. I promise it!
[amd-zlrecipe-recipe:39]
Make sure to visit all our other summer vacation inspired dinners from this week for #WeekdaySupper:
Monday – Balsamic Burgers with Bourbon Peach BBQ Sauce by The Redhead Baker
Tuesday – Llescas – Catalan Bread Pizza by Caroline's Cooking
Wednesday – Shrimp Salad Rolls by Grumpy's Honeybunch
Thursday – Lobster Tacos with Avocado Aioli by Casa de Crews
Friday – Shrimp Scampi over Linguine by Planet on a Plate