This post is sponsored by The Beef Checkoff in conjunction with a social media campaign through Sunday Supper LLC. All opinions are my own.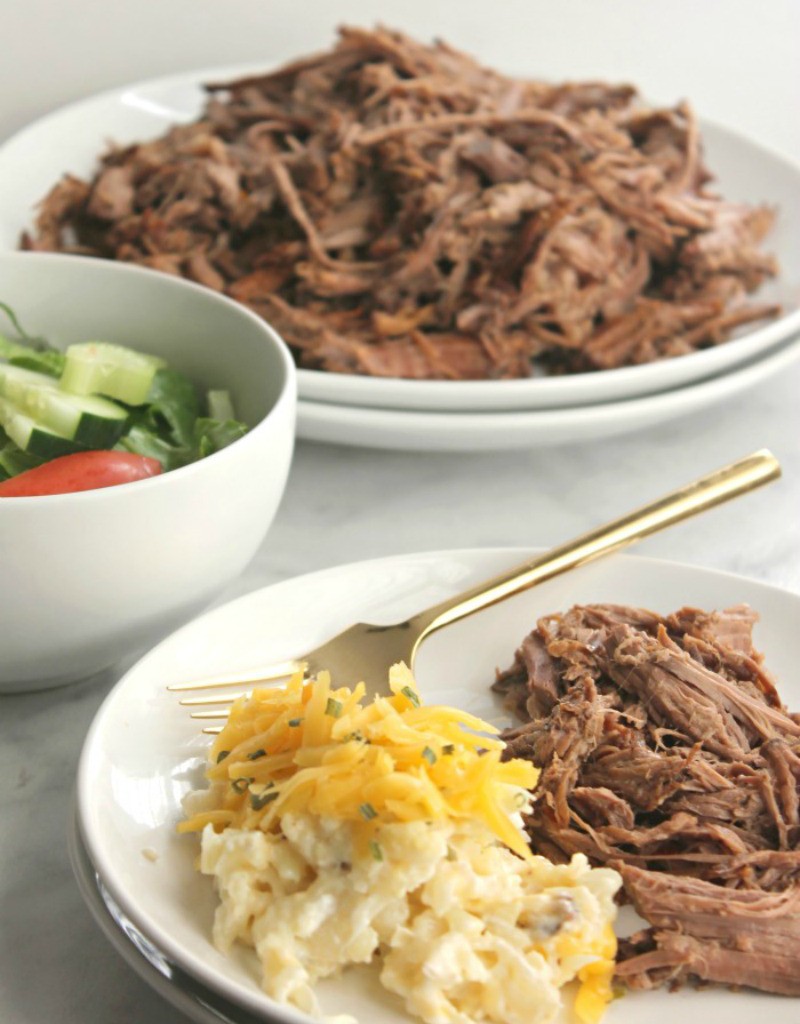 I don't know if it's because fall is in the air, or what, but I am craving some serious comfort food, this past month. Which, if you're in Florida, is kind of silly since our temps are in the 70s-80s, but for us, that is Fall. So we take what we can get.
I'm always, always, always, trying to watch what I eat (story of my life, you guys), and it's just the beginning of the season, so no need to blow it this early in the game.
As a kid, one of my favorite comforting dinners my mom made was a pot of beef tips, simmered in gravy all day long on the stove, with mushrooms; served over rice, and a side salad. In fact, she still makes this dish several times a month, and every now and then I am lucky enough to dine at the parentals during the busy work week and enjoy with the fam.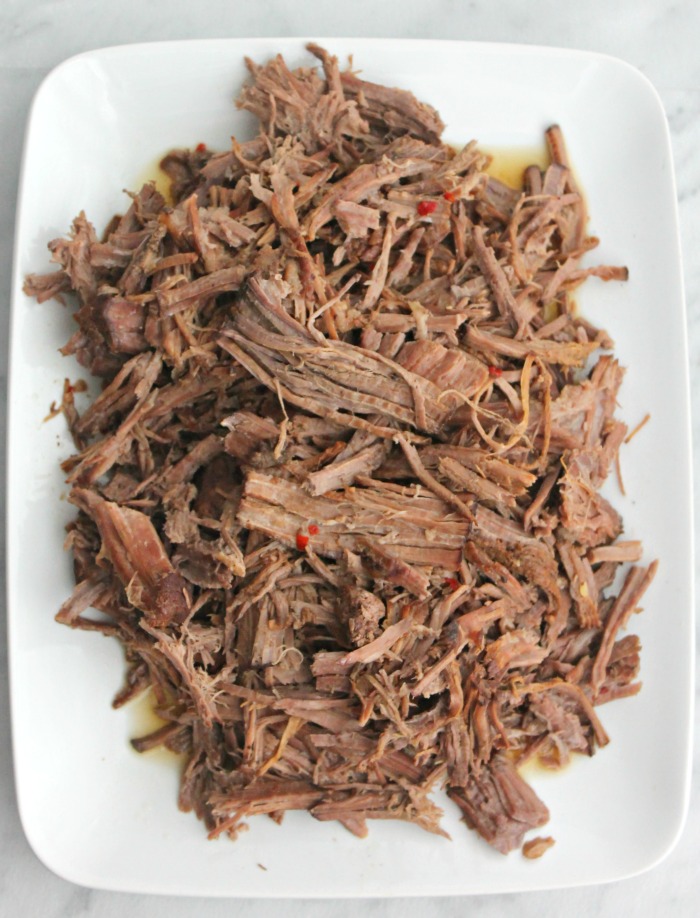 We don't really discriminate against any proteins for dinner at Casa de Crews, or at mom and dad's, where I learned to help get dinner on the table (the struggles of being the oldest. I digress), growing up. Beef is a staple in our meals 1-2/week.
But mom doesn't work full-time anymore, so she can start this meal a few hours in advance, and have dinner ready when everyone gets home. I do not have such a luxury.
I also in no way want to recreate my momma's tasty dinner, because well, it's better at her house anyways. That's the secret to comfort food, isn't it? The warm fuzzies you remember from a certain dish.
Nope, my go-to comfort food from my own kitchen is a Crockpot Balsamic Roast Beef. Should we ever have kids, I want them to crave this roast, the way I yearn for mom's Beef Tips and Gravy dinner. This roast cooks allllllll day in my crockpot, and has insane flavor with just six ingredients (eight if you count spices – I do not). It's healthy, minimally processed, and by using a lean cut of beef; I used a bottom round roast, I have zero guilt over supper. Bonus: the house smells a-may-zing, when we get home from work.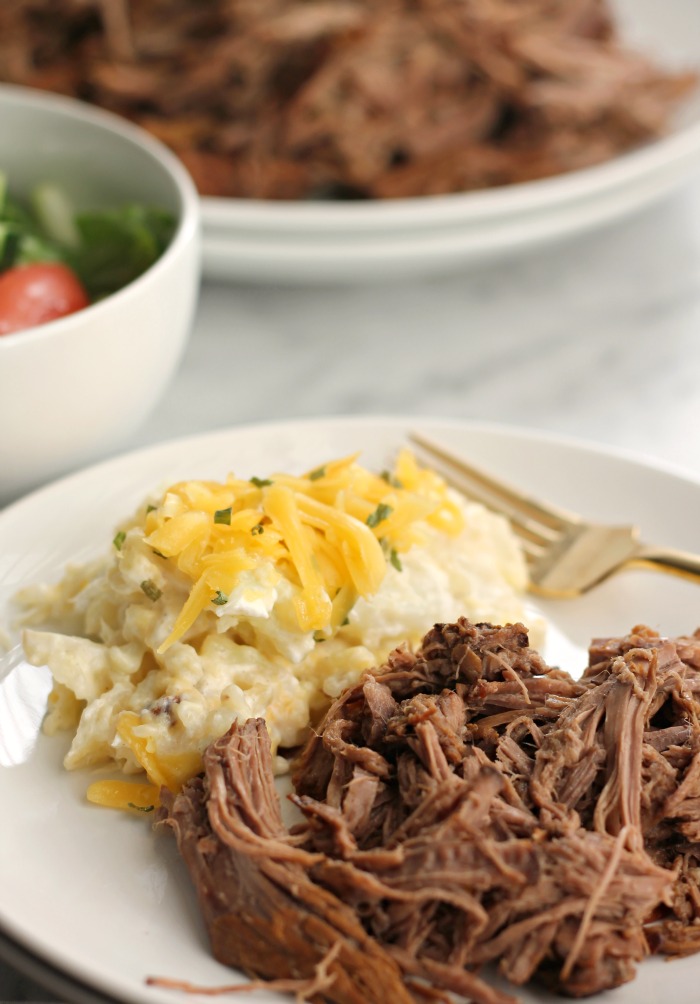 Making beef part of your healthy meal choices is very easy. When it comes to choosing healthy proteins, lean beef is a delicious and healthy choice. It's also a perfect partner for fruits, vegetables and whole grains, making it even easier to enjoy a balanced diet. I serve this roast with a side of Smoked Gouda Cauliflower Casserole, which is ready in 30 minutes.
[bctt tweet="With just six ingredients, this Crockpot Balsamic @Beef Roast is the perfect comfort dinner without any guilt! #WeekdaySupper"]
[amd-zlrecipe-recipe:56]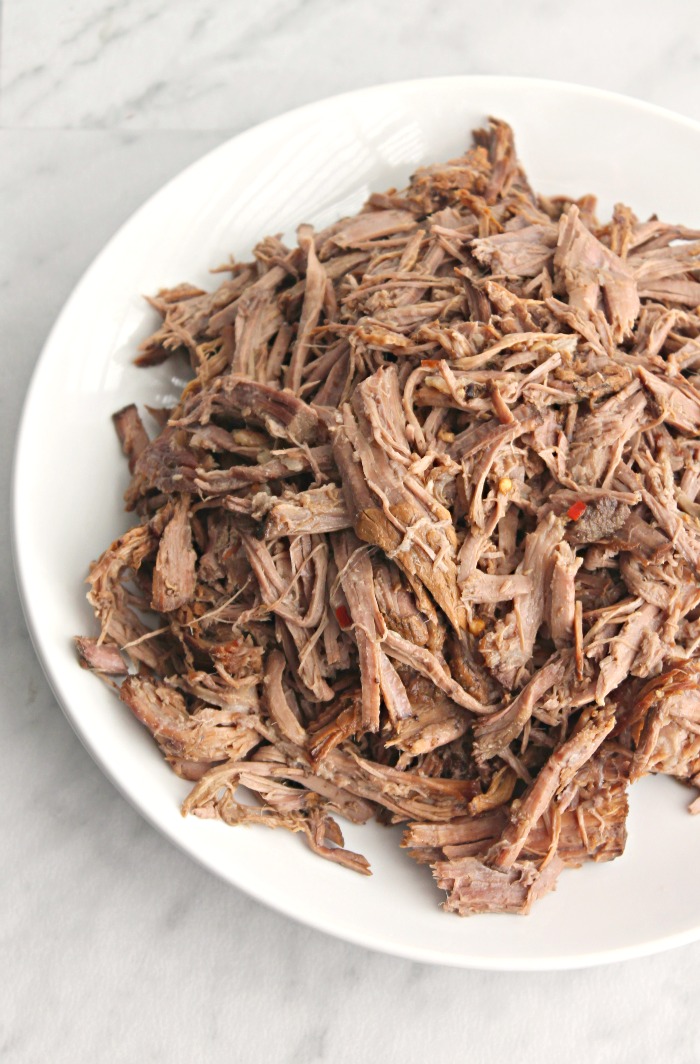 For more ideas for healthy beef recipes, make sure to follow the Beef Pinterest board
Keep up with Beef Checkoff through their other social media.
| Website | Facebook | Twitter | Pinterest |
See what other tasty, easy, recipes we're sharing using beef this week for #WeekdaySupper
Monday – Beef and Quinoa Soup by Feeding Big
Tuesday – Steak Chevillot by Cosmopolitan Cornbread
Wednesday – Crockpot Balsamic Roast Beef by Casa de Crews
Thursday – Bake Flank Steak Fajitas by That Skinny Chick Can Bake
Friday – Easy Beef Marsala Bowls by Family Foodie