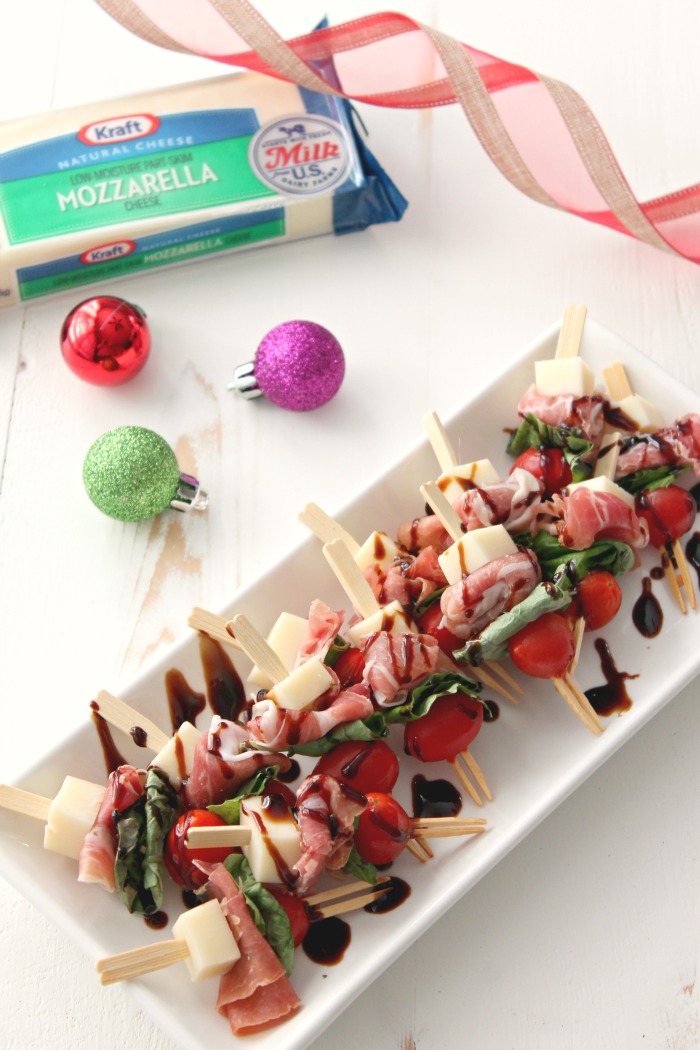 I love this time of year for a number of reasons. I have my husband back for a whole month in-between semesters; we see everyone we know, and love, annnnd we throw our annual Ugly Sweater Party! Things have been hectic, and busy, in the best way possible.
This weekend, we hosted our fifth annual Ugly Sweater Party (more on that later), and purposely started it at 8 pm to serve light bites, versus a full spread. We asked friends to bring a batch of cookies, and everyone would vote for their favorite at the end. This also helped to take care of sweets for our shindig.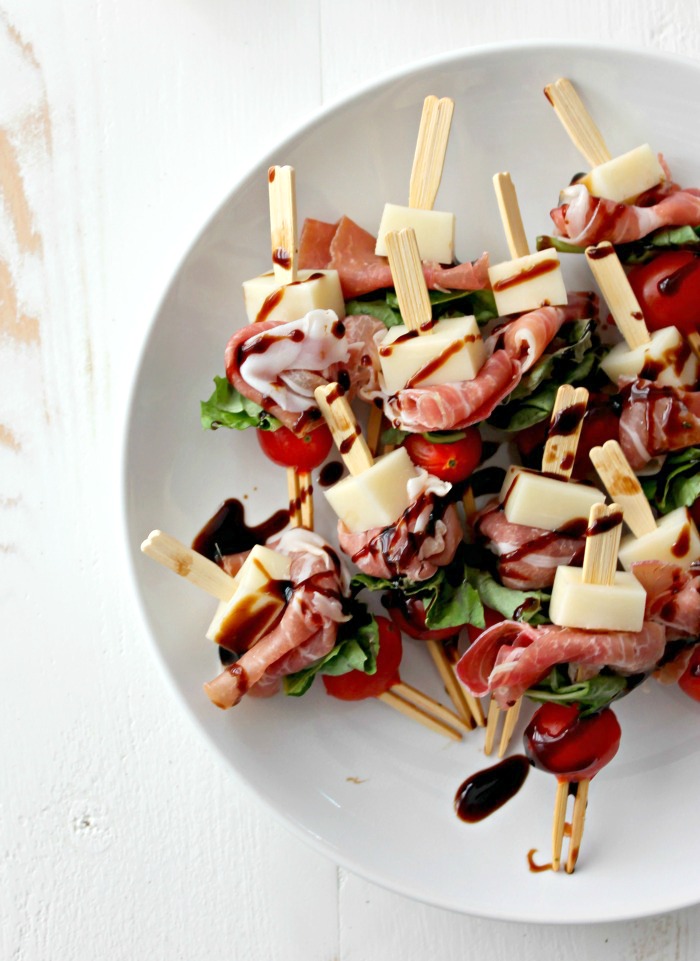 That left me to prepare just a few party dishes for guests to munch on. I wanted appetizers, that could be made ahead of time, so I wasn't stuck in the kitchen all night. #sorrynotsorry
Enter Prosciutto & Mozzarella Skewers. These little bites are packed with freshness, flavor, and cheeeese. Oh how, I love thee.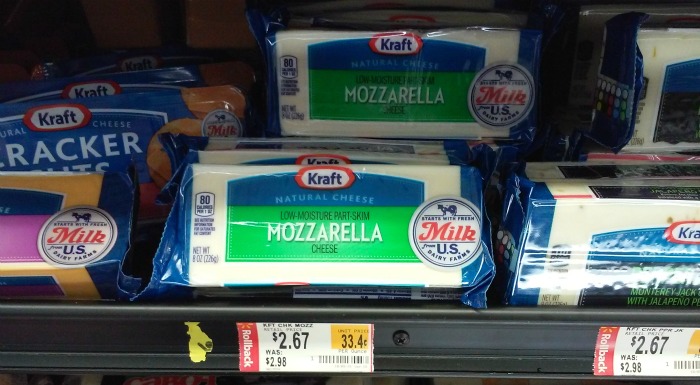 I'm also a huge fan of balsamic…anything (though Jason is not (weirdo)), so half of these skewers were drizzled in a balsamic glaze, and half were not. Either way, they were a hit at our party, and were gone within an hour. You can easily make your own balsamic glaze by reducing balsamic vinegar over the stove top (think low and slow), or find store-bought as I did for this recipe.
These Prosciutto & Mozzarella Skewers took me under 30 minutes to make! A quick, tasty appetizer like this is my kind of bite. Especially when I'm too busy trying to live in the moment with friends and family. Make these skewers for your next holiday shindig – I just know they'll be a hit!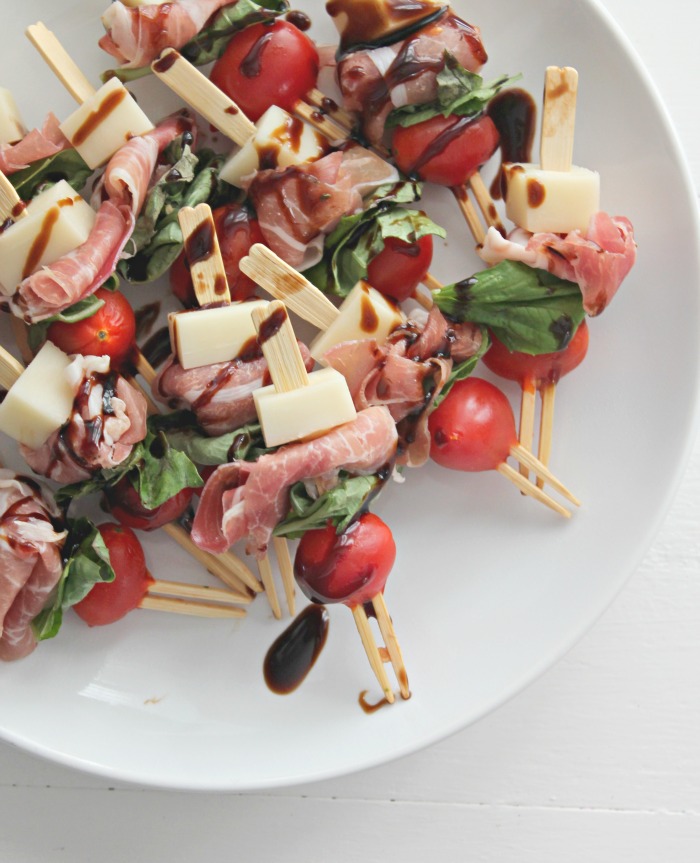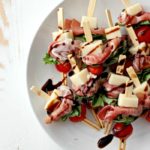 Ingredients
16

slices

prosciutto, sliced lengthways

8

ounces

block mozzarella cheese

-

diced into 32 cubes

16

cherry tomatoes, halved

16

fresh basil leaves, halved

balsamic glaze, to drizzle
Instructions
Assemble each skewer in the following order: mozzarella cube, proscuitto, basil, and tomato.

Once all the skewers are complete, place on a serving tray (or plate) and drizzle with balsamic. Chill until ready to serve.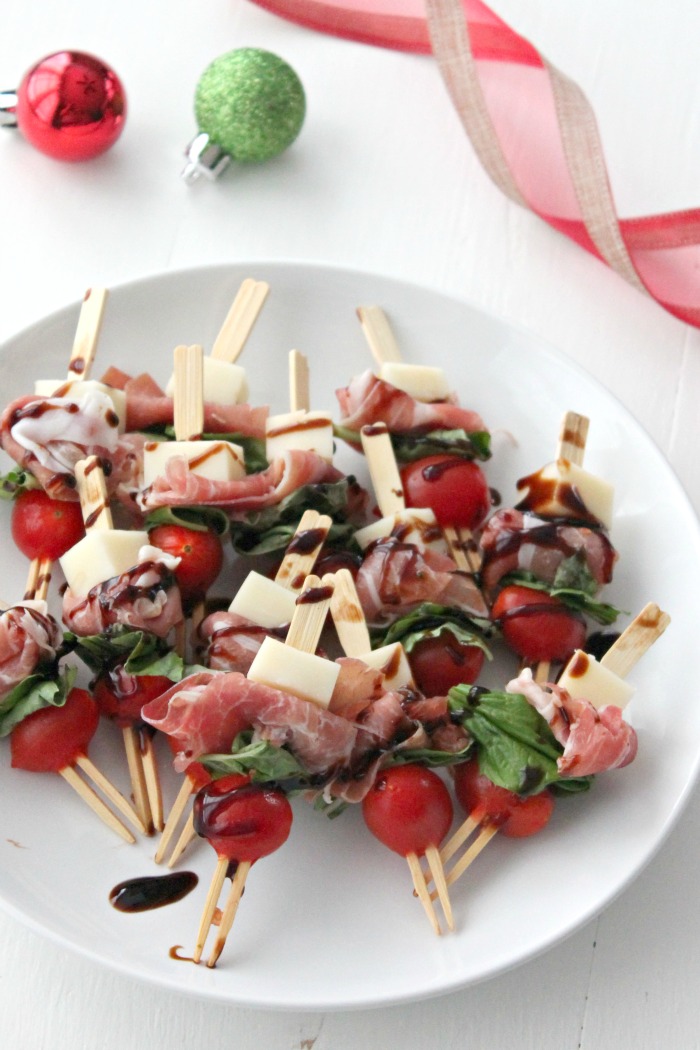 PIN FOR LATER: