Grilled Turkey Burgers schmeared with a salty, savory whipped feta cheese spread. So much flavor to take your burger recipe to the next level!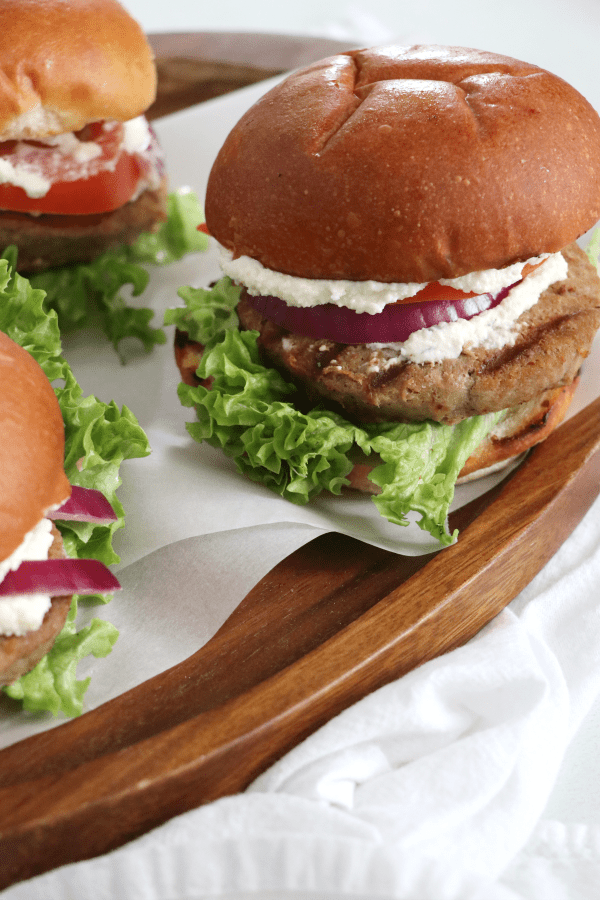 I think my favorite thing about summer is that Jason grills a ton of meat for the week, and I'm just in charge of sides. Not that I can't grill, but we have a charcoal grill, and I'm just not about fanning flames, and smelling all charcoal-y for the sake of dinner. If we had a gas grill, I'd be all over it, but the one thing my husband has a strong opinion on is our grill, which means he plays outdoor grill master, which is more than fine by me.
Burger time any day of the week is fine by me; a beefy burger, chicken burgers, turkey burgers. So when Jennie-O sent me two boxes of their Seasoned Turkey Burgers to try out, I wanted to challenge myself. Because to be honest, I'm fine with a patty with the classic ingredients when I'm in a hurry – esp for weekday lunches. I wasn't sure if I'd like these turkey burgers as much as I like making my own from ground turkey. But I did! They are insanely easy to make, and if you don't have a grill, or a grillmaster named Jason, you can pan fry or even broil, and they're just as good.
Since turkey is more lean than beef, I wanted a light taste with fresh, crisp flavors for my burger. I have two words for you: WHIPPED FETA. Holy flavor, friends. I love that I can whip this spread up on Sunday in the food processor, and use it all week long for Whipped Feta Turkey Burgers. I have always wanted to whip feta into a cheesy, creamy spread, but never got around to it. Most recipes I could find called for feta cheese, and cream cheese. I love cream cheese, but I wanted my fat to come from the feta and maybe a healthy oil, like olive oil. So I drizzled in olive oil a tablespoon at a time, until I found the consistency that I liked. OMG, it's so so good! You could use avocado oil too, and it'd be just as tasty.
Most weekdays, I like to enjoy this Whipped Feta Turkey Burger as a lettuce wrap, but a toasted bun (or grilled – so much tasty, smoky flavor) is also amazing, and worth the extra carbs every now and then – trust me. I like to use a brioche bun if we're going that route.
If you love a good turkey burger, but don't have a ton of time, these patties are the way to get your fix, and enjoy grilling season, all summer long!
whipped feta turkey burgers
Grilled Turkey Burgers schmeared with a salty, savory whipped feta cheese spread. So much flavor to take your burger recipe to the next level!
Print
Pin
Rate
Ingredients
Whipped Feta
8

ounces

feta cheese

3-4

tbsp

extra-virgin olive oil

fresh lemon juice

-

from ½ fresh lemon

1-2

tbsp

dill
Turkey Burgers
4

Jennie-o Seasoned Turkey Burgers

4

tbsp

whipped feta

lettuce

-

tomato, onion, buns. etc
Instructions
To a food processor, add in feta cheese, 2 tbsp olive oil, and lemon juice. Pulse into creamy. Slowly add in 1-2 more tablespoons of extra-virgin olive oil if a creamier texture is desired. Top with dill, if desired. Feta spread can be made 1-2 days in advance.

On preheated grill over medium heat, place burgers 4 inches from heat source for 9-10 minutes per side (turning twice) and until fully cooked to 165 F.

Remove burgers from grill. Top each burger with 1 tbsp of whipped feta, and your favorite burger toppings!
This post may contain affiliate links. Purchasing through them help support this website. Please see the disclaimer here.