Bite-sized and full of flavor, classic southern deviled eggs are both tangy and sweet, making them the perfect appetizer for Easter, summer cookouts, and family get-togethers anytime of the year!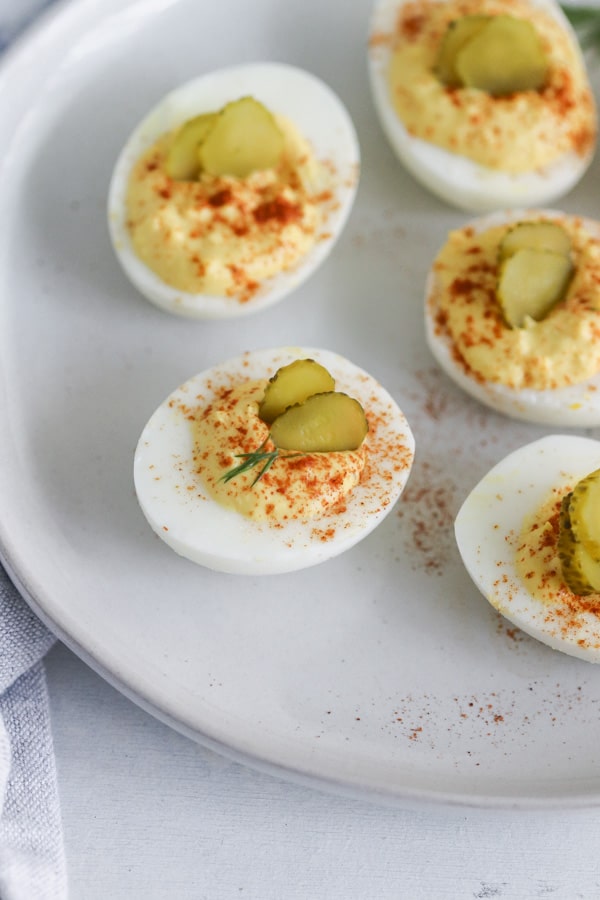 Growing up, classic deviled eggs were always a staple in my family. I can't remember a time we didn't have deviled eggs for any and all family events. And then as I got older, I always volunteered to make deviled eggs for work potlucks and get-togethers with my own friends. Deviled Eggs are always a good idea in my book.
After I started dating my husband, I quickly learned his mother was the queen of deviled eggs in their family. But having grown up in New York and not being a true, 'Southerner', I didn't know there was a difference. But if you live in the south, or have family from the south, you know there's a difference between classic deviled eggs and southern deviled eggs.
What makes southern deviled eggs…southern
The only difference is adding relish to your deviled egg recipe. That's it. But it makes a world of difference in taste.
I've read tons of recipes on southern deviled eggs and some call for vinegar like my classic deviled eggs, and then relish, and some call for pickle juice instead. I like to garnish these southern deviled eggs with thinly sliced sweet mini gherkins, so I use a teaspoon of pickle juice over vinegar for this recipe. Either will work though.
What kind of relish is the best relish for this recipe?
I'm partial to my mother-in-law's version with sweet relish from the grocery store. Do we like to keep it clean at Casa de Crews? Yes, for the most part. And I did find a few paleo relish recipes out there, but the beauty that is a deviled egg recipe is that it should be easy and nostalgic (and delicious!) so why mess with a good thing? I suggest the real deal sweet relish that will have sugar in the ingredients.
How to make hard-boiled eggs for deviled eggs?
You can either boil on the stove like my mom always has (here are step by step directions)
Or by using your Instant Pot (my personal favorite!) with directions, here.
Whether you boil on the stovetop, or use the instant pot, I highly suggest using eggs anywhere from 3-7 days old. Slightly older eggs are easier to peel.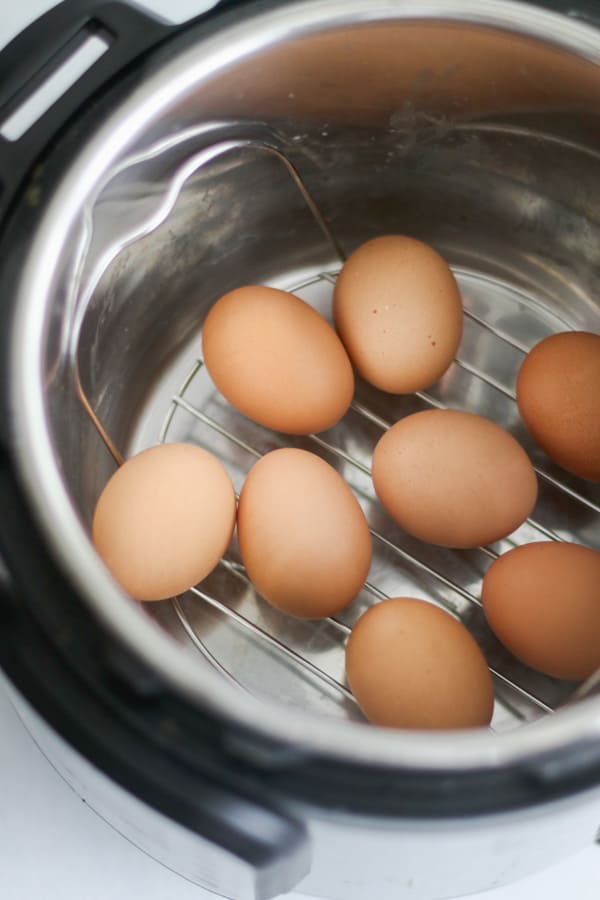 What makes these the same?
Love and nostalgia. That's really all any good deviled egg recipe is. Did your mother or your mother's mother pipe their deviled eggs, or did they just plop it back in with a spoon? Chances are whatever they did, you do now. Did she use paprika, or no?
I love taking classic comfort foods that I grew up eating and cleaning them up or modernizing them for today. But deviled eggs are one of those classics that I want to always do like my mom did, or in this case like my mother-in-law, a third generation Floridian (Jason is fourth and he has great nieces and nephews who are sixth generation – which you don't see a ton of where we live!), does. Because sometimes, you just don't mess with a classic and this is one of those times, friends.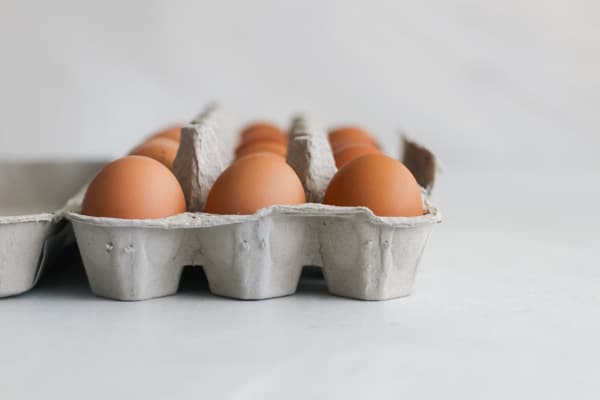 southern deviled eggs
Creamy and sweet, and full of flavor, classic southern deviled eggs are the perfect appetizer for Easter, summer cookouts, and family get-togethers.
Print
Pin
Rate
Ingredients
6

eggs, hard boiled and peeled

-

and peeled

¼

cup

mayonnaise

1

teaspoon

pickle juice

-

or white vinegar

2

teaspoons

yellow mustard

½

teaspoon

salt

Freshly ground black pepper

1 1/2

tablespoons

sweet pickle relish

paprika, for garnish

-

optional

sweet gherkin pickles sliced, for garnish

-

optional
Instructions
Slice hard boiled eggs in half and remove yolks to a bowl. Set aside whites.

Add mayonnaise, mustard, pickle juice, mustard, salt, pepper and relish to the yolks.

Stir with a fork until well combined. Spoon mixture back into egg whites. Top with paprika and sliced sweet gherkins and serve. Can be made in advance.
Notes
nutrition info is for one whole deviled egg
Nutrition
Serving:
1
egg
|
Calories:
168
kcal
|
Carbohydrates:
3
g
|
Protein:
9
g
|
Fat:
13
g
If you're looking for a twist on deviled eggs, try these:
Have you made southern deviled eggs before? Do you use sweet relish or dill relish?
This post may contain affiliate links. Purchasing through them help support this website. Please see the disclaimer here.