Tender potatoes smashed, then roasted until crispy, tossed in savory duck fat, infused with whole cloves of garlic. A delicious party appetizer or snack!
Thank you The Fresh Market for sponsoring this post. Visit a store near you to get everything you need for a memorable and delicious holiday!
It's the most wonderful time…of the year. It's also the busiest time of the year. I love it so much, but I also kind of sort of feel like I'm running in fifteen different directions at any given time this month.
Although nothing compares to last year, hosting three parties in three weeks, there are still so many family traditions we celebrate in December, plus a few good ones with just Jason and I, and then of course, the annual viewing my girlfriends and I have, to watch Love Actually.
Movie nights in with your girls on a Wednesday means we're all going to be hungry for dinner, but we're all tired from work. Snack-y foods are a definite must. I like to make a little cheese board with specialty cheeses, cured meats, crackers, etc. with 1-2 small homemade bites, and a few deli sides from The Fresh Market (<- find your local store here!)
Less Prep, More Party: Delicious Ready-Made Appetizers and Specialty Cheese from The Fresh Market is exactly what I need to pull of a stress-free night in with friends. The Fresh Market could easily be your one-stop shop for holiday entertaining– Visit your neighborhood store for gorgeous gifts, stand-out sides, inspiring ingredients and more!
For movie night in this past week, I made a quick batch of Garlic Smashed Potatoes Roasted in Duck Fat. This sounds frou-frou, but it's really just an elevated crispy potato, and who won't love that?
Fries, or tots cooked in duck fat has always been a guilty pleasure of mine when I'm out with the same girlfriends who come over for our annual Love Actually night. Duck fat isn't a cooking fat you'll find at most local grocers, but you will absolutely find it at The Fresh Market, when you're picking everything else up for an easy and delicious night in, to entertain.
So it will go like this: Boil one-bite potatoes (found in the produce section of The Fresh Market), assemble a small charcuterie board. Melt duck fat, and add fresh garlic to infuse. Cover charcuterie and refrigerate. Gently smash boiled potatoes, and toss in melted garlic-infused duck fat. Bake 'taters for 25 minutes. While potatoes roast and crisp up, pull out deli sides from The Fresh Market, I love the lemon orzo salad, and smokey mozzarella pasta salad for this spread, plus olives from the olive bar. Remove crispy smashed potatoes, and toss in extra melted duck fat, fresh lemon, and parsley. Pull charcuterie from refrigerator. Change into movie-watching clothes (bless you, athleisure wear), pour yourself a glass of wine, and get ready to eat, drink, and be merry with your favorites all from the comfort of your couch. The end.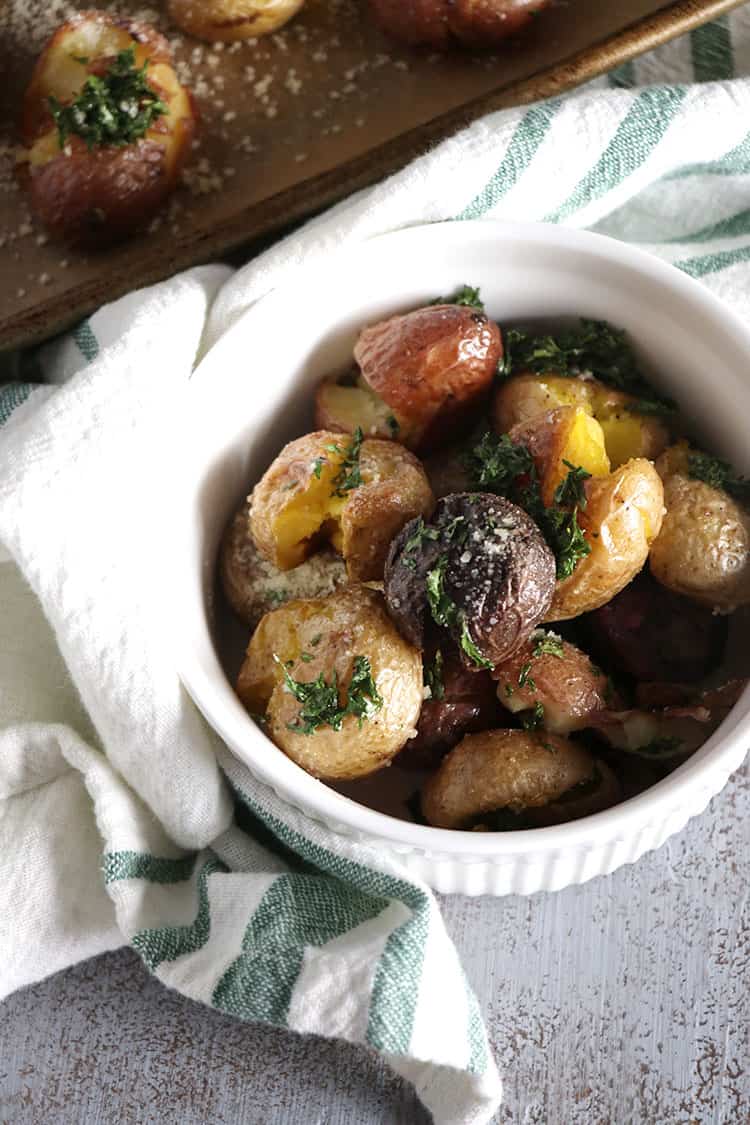 garlic smashed potatoes roasted in duck fat
Tender potatoes smashed, then roasted until crispy, tossed in savory duck fat, infused with whole cloves of garlic. A delicious party appetizer or snack!
Print
Pin
Rate
Ingredients
1.5

lbs

One-Bite Potatoes

4

tbsp

Aux Délices des Bois Duck Fat

-

divided

3-4

garlic cloves smashed

freshly ground black pepper and salt to taste

lemon juice from ½ a fresh lemon

2

tbsp

flat-leaf parsley

-

finely chopped

3

tbsp

Parmesan cheese

-

grated (optional, to garnish)
Instructions
Heat oven to 450F.

Place the potatoes in a large pot of cold salted water and bring to a boil.

Cook for approximately 8-10 minutes or until just fork tender.

Drain and place the potatoes back in the hot pot.

Add 2 tablespoons of duck fat, and the smashed garlic cloves and combine with the hot potatoes. Allow to cool down, and for fat to infuse, for 15 minutes.

Drizzle baking pan with about 1 tablespoon of duck fat.

Transfer potatoes on baking sheet and with the help of a potato masher,or a fork very gently smash each potato.

Drizzle another tablespoon of duck fat over the smashed potatoes and add freshly ground black pepper, and salt.

Bake 20-25 minutes, turning them over at the half way mark.

Once they are golden brown, and crispy, remove from the oven, toss to coat with lemon juice, fresh parsley, and Parmesan cheese, if desired. Serve immediately.
This post may contain affiliate links. Purchasing through them help support this website. Please see the disclaimer here.