This shop has been compensated by Collective Bias, Inc. and its advertiser. All opinions are mine alone. #SousVidePerfection #CollectiveBias
Sometimes tough, this juicy flank steak becomes tender, melt-in-your-mouth delicious with the a little help using the sous-vide method. Never have tough steak again!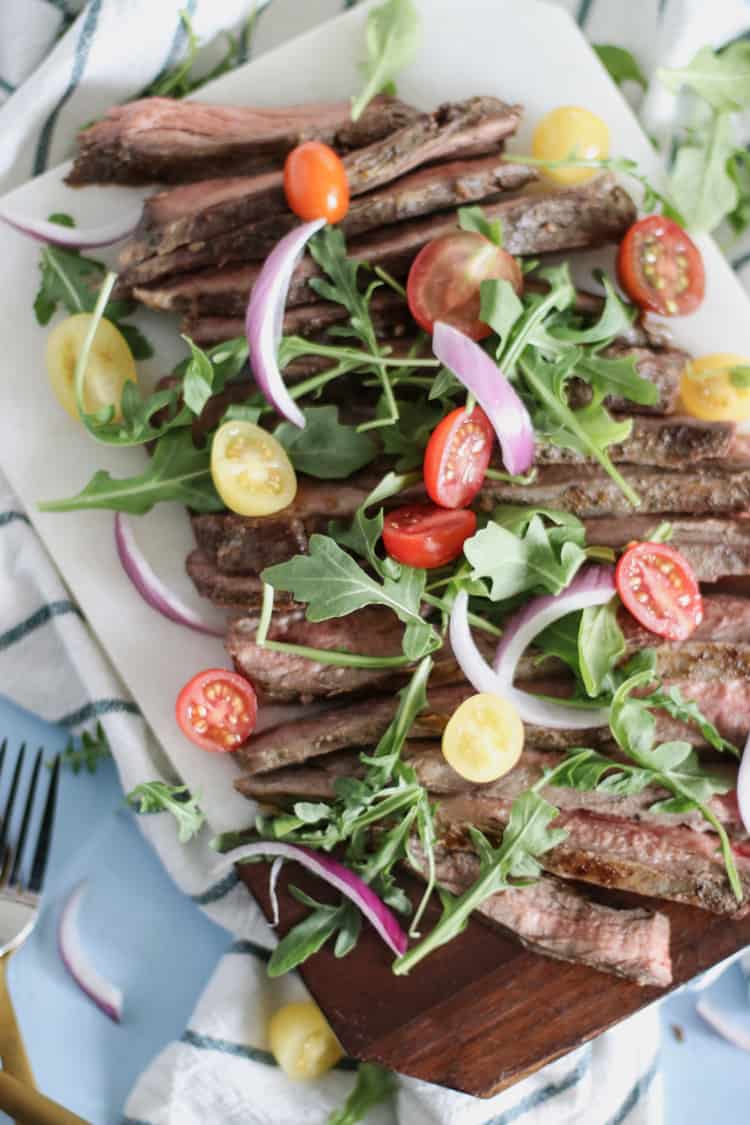 Flank steak and skirt steak are some of my favorite cuts of beef; normally I marinate them in some sort of citrus (lemon, lime, etc) to help break down this tough, but super flavorful cut, and when I say, "marinate" it's like 8-10 hours time. The result is worth it, and it's not terribly hard to prep a flank steak in advance with said marinade, but do you know what's even better? Cooking your flank steak using the sous-vide method.
I didn't know what it meant to sous-vide for a long time. Actually it wasn't until our friend had their wedding three years ago that I even knew what it was. At their wedding they served the most flavorfully, buttery, melt in your mouth beef tenderloin and that's when they told me it was cooked using the sous-vide method. Mind B L O W N. It still took me another two years to jump on board, and buy a sous-vide. It was worth the investment.
What is sous-vide?
sous-vide cooking is a method of cooking where you immerse a food item in very specific temperature controlled water (or a, "bath" as I like to call it) for a long period of time. The constant and steady temperature cooks your protein very evenly, and in a more gentle manner. So if you have a problem getting your beef's doneness just right, sous-vide is a great method to achieve it! Plus, seriously it's tender and buttery, and just all around amazing.
You will need a sous-vide to cook this way, but beyond that it's pretty simple. When we first ventured into the world of sous-vide cooking, I used BPA free plastic bags that were resealable, but always worried I'd possibly get bacteria into the bag, because while they were sealed, they were not airtight vacuum sealed, and while it always worked out, I still always worried a little bit about contamination.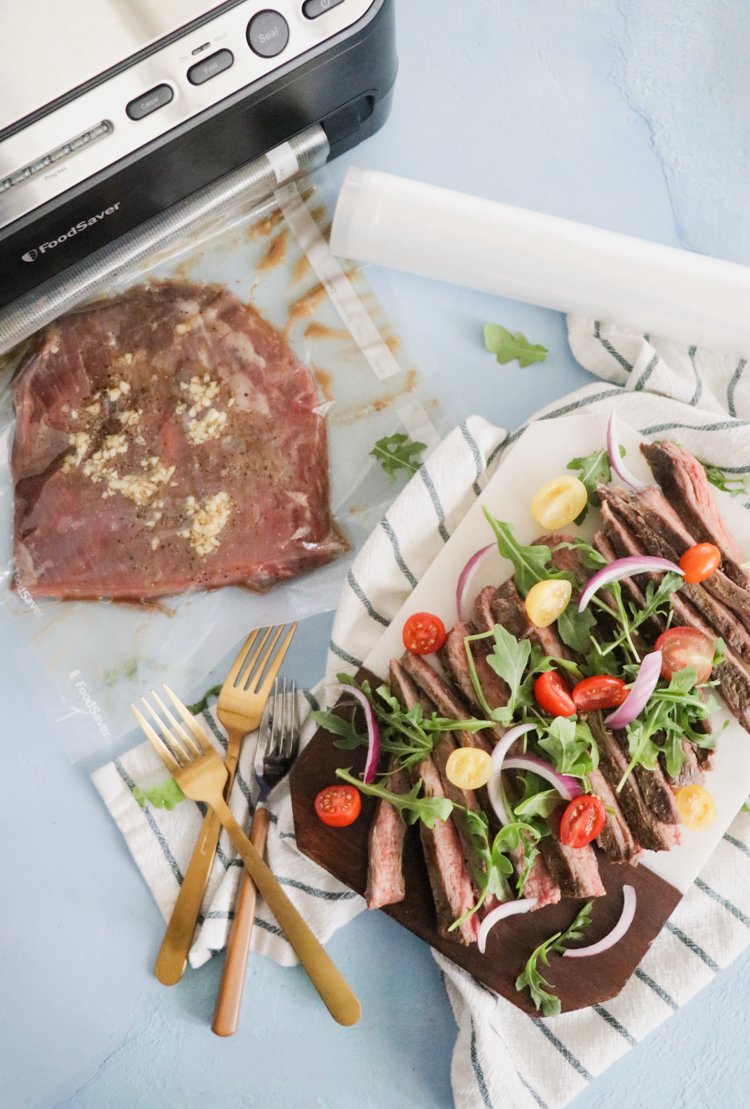 Click on the image above to shop for your own
After using our sous-vide a handful of times, we finally opted to invest in the FoodSaver® V4440 2-in-1 Automatic Vacuum Sealing System. I'd been wanting a FoodSaver® V4440 for a while to help with meal prep, but also knowing my FoodSaver® is the number 1 Vacuum Sealing System in the US and FoodSaver® is the ideal solution to bag foods for cooking sous-vide means it's basically two hacks in one. The system creates an airtight seal to lock in freshness and protect food from spoiling – which also means I know I am safely cooking my meals without worry of contamination (my biggest concern Pre-FoodSaver®).
I just use a deep stock pot, filled with water. Beyond that, you can season your flank steak however you like. We tend to prefer medium at Casa de Crews, at about 140 degrees. The first time I prepared a flank steak this way, I set the timer on my sous-vide for four hours, and it was good but not tender, juicy, worth it good. So then after some research, I opted to cook flank steak for ten hours, and it was amazingggg.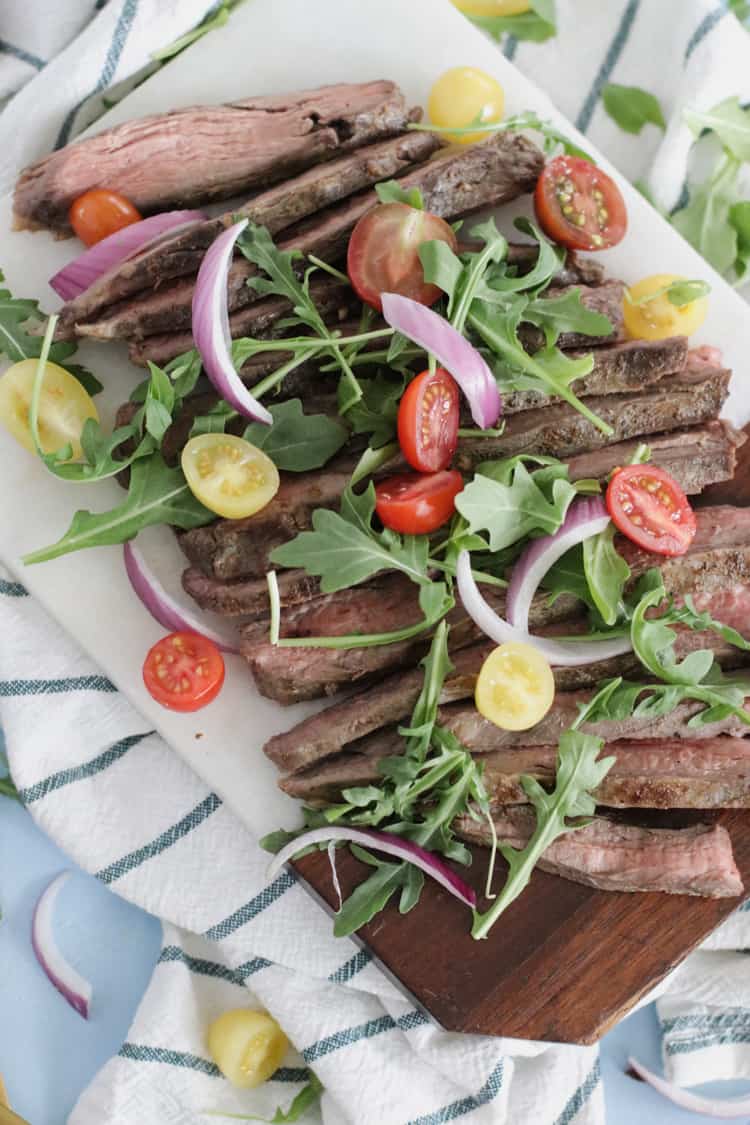 A few tips using your sous-vide:
You don't need to sear before or after, but if you like a little char, I highly suggest it! The recipe below calls to sear after cooking sous-vide.
Similar recipes suggest cooking 1-4 hours, or up to 24 hours. After testing juicy flank steak several times (life is so hard), we found ten hours to be perfect for us. Feel free to experiment!
You can use your favorite marinade you like! For this recipe, I kept easy to get you started.
You could prep the marinade or simple seasoning in advance, vacuum seal in your food saver, and refrigerate 1-2 days in advance if you like.
Once finished, make sure to cut flank steak against the grain for perfect, juicy steak.
This Sous-Vide Flank Steak is so flavorful as is, and since we're about to hit summer (or if you live in Florida, it already feels like summer) I like to add fresh tomatoes and arugula tossed in a little bit of olive oil to garnish this beautiful flank steak before digging in. BONUS: This Sous-Vide Flank Steak is low-carb/keto, paleo, and whole 30 compliant. Enjoy!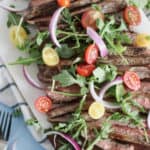 sous-vide flank steak
Sometimes tough, this juicy flank steak becomes tender, melt-in-your-mouth delicious with the a little help using the sous-vide method. Never have tough steak again!
Print
Pin
Rate
Ingredients
1 1/2 - 2

lbs

flank steak

2

tablespoons

olive oil

-

for searing

2

cloves

garlic

-

minced

1

tablespoon

Kosher salt

1

tablespoon

fresh ground pepper
Instructions
Set your sous-vide temperature to 140F (anywhere 133-140 is medium), and place in a tub of water (or stock pot)

While water warms, season flank steak. Using FoodSaver® 3PK 11" Vacuum Seal Rolls, create a bag with the FoodSaver® V4440.

Drop airtight flank steak into warm water, and cook for 10 hours.

Once done, remove from bath and bag, and sear on medium high heat for 2-3 minutes/side. Allow beef to rest 10 minutes before slicing against the grain.
Nutrition
Calories:
400
kcal
|
Carbohydrates:
2
g
|
Protein:
40
g
|
Fat:
22
g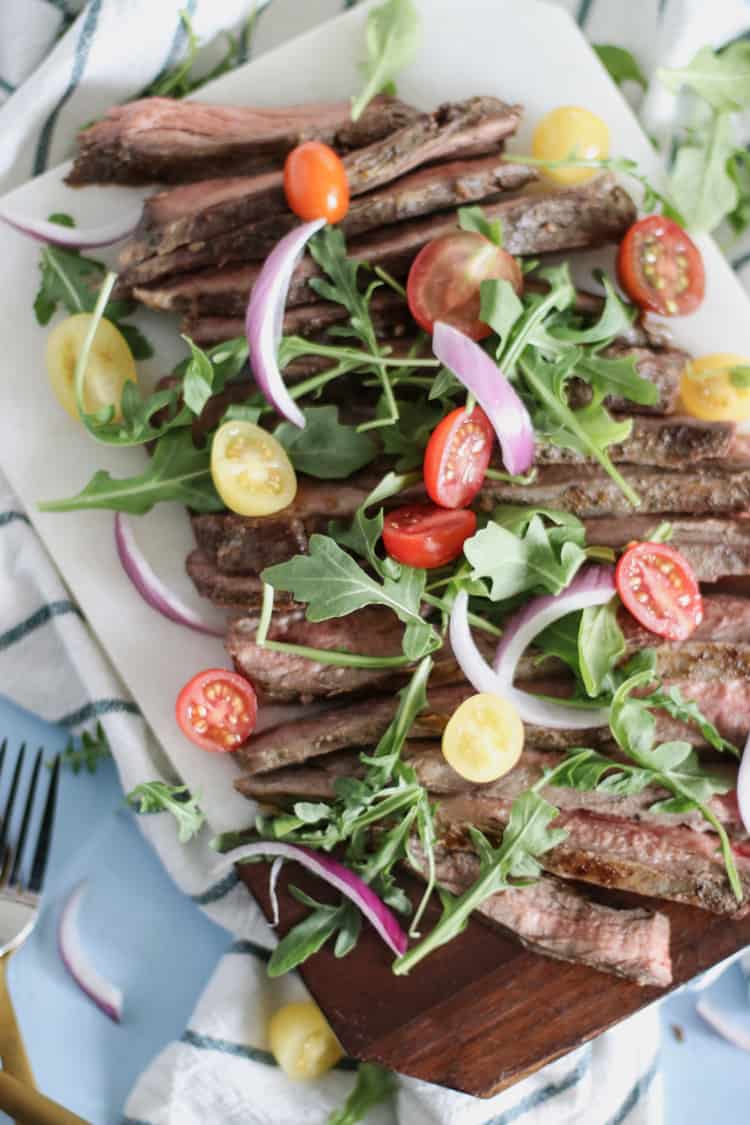 This post may contain affiliate links. Purchasing through them help support this website. Please see the disclaimer here.