Strawberry S'mores Skillet Dip, no need to build a fire. Enjoy the flavors of a classic s'more, with sweet, and juicy Florida Strawberries!
This post is sponsored by Florida Strawberry in conjunction with a social media campaign through Sunday Supper LLC. All opinions are my own.
I absolutely love s'mores! But during what most would think of as "s'more season", in the summer, it's way too hot in Florida for me to want to pull out the fire pit, and wood to satisfy a craving. Also, that's a lot of work for just the two of us. Also, also…I'm not really a camping type of gal, so you won't find me outdoors in the summertime either. No thanks.
I've tried a few different ways to get the same result s'mores taste sans actual fire. The microwave was my first method, and ehhhh, they were okay, but not what I was going for.
I just started to assume, I'd have to do it in the winter, when we usually enjoy the fire pit at Casa de Crews. This past December, we hosted our annual Ugly Sweater Christmas party, and the ol' fire pit made its appearance – obviously s'mores were a must! But since it was also Florida strawberry season, I thought it'd be fun to add sliced berries to the s'more tray for friends to try. Major game changer, right here.
Have you ever mixed fruit into yo' s'more? Do IT! The fresh Florida Strawberries get warm, and toasty, and sandwiched in between fluffy, melty marshmallows with chocolate, and graham crackers; your life will never be the same.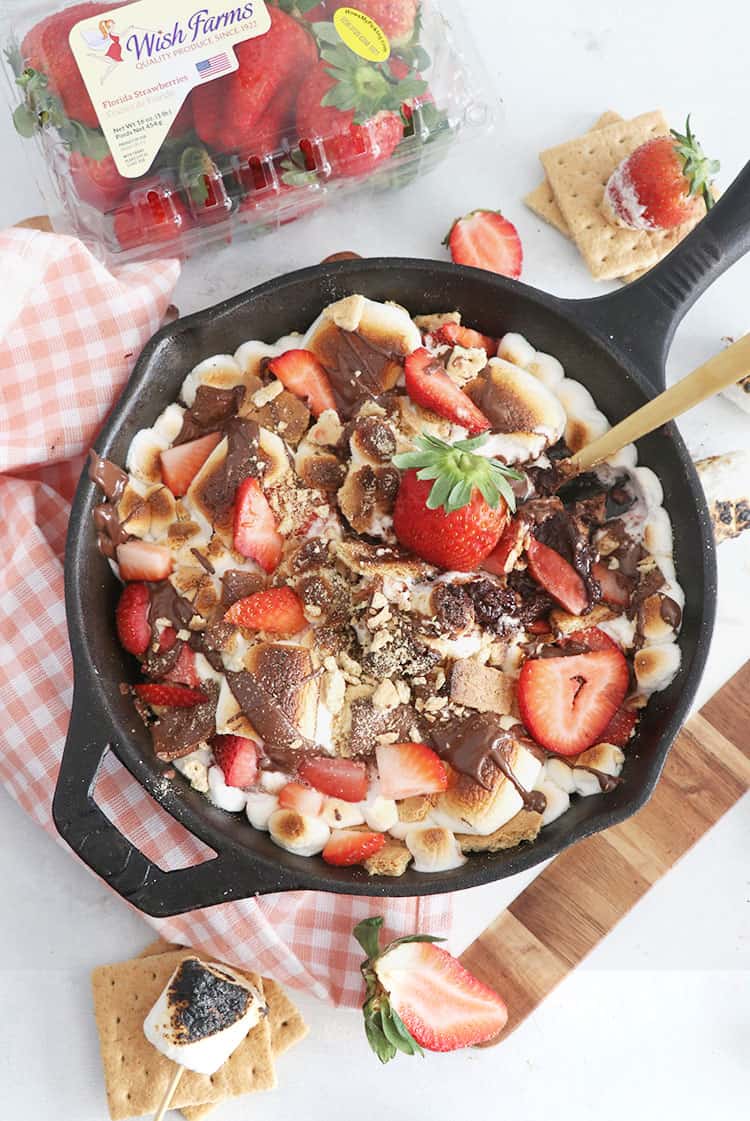 But we're not making s'mores today. Because again, fire (and I'm lazy). No, today we're making a dip. A no-bake dip that is so easy, you may never need to build another fire just to enjoy a s'more again.
Since Florida Strawberry season runs from December-April, now is the perfect time to enjoy this dip! A little melty, and a lot of sweet, with the tart, fresh, sweetness from juicy strawberries, this is the perfect no-bake dessert for any weekend, or if glamping is more your style – I'd totally go on a glamping trip, but I digress.
I know they're local to me, but Florida Strawberries really are so sweet, and you can taste the difference of these winter berries all season long. If you can't find Florida Strawberries, make sure to ask your local grocery to stock up.
I've followed similar s'mores dip before, that you bake in the oven, or broil, but the chocolate doesn't always completely melt for me, so for my s'mores skillet dip, I melted chocolate ala the double boiler method for a smooth chocolate base, which is then layered into a skillet, with crushed graham crackers, sliced fresh strawberries, and a mix of marshmallow sizes (because this is what I had on hand – use whatever size you like). I then used a kitchen torch to toast the marshmallows and Florida Strawberries. From here you can dip with more graham crackers to get your fill – enjoy!
Strawberry S'mores Skillet Dip
Ingredients
16 ounces milk chocolate candy melts (chocolate chips, or a finely chopped chocolate bar will also work)
1 1/2 cups chopped strawberries
2 cups small marshmallows
3-4 sheets of Graham crackers, crushed
extra Graham crackers, for dipping
Instructions
Use a double boiler or microwave to melt chocolate. If using microwave, stir the chocolate every 20 seconds to help avoid clumping.
Pour 3/4 of the melted chocolate into the bottom of a skillet. Top with crushed graham crackers, strawberries and marshmallows.
Use a kitchen torch to toast the top layer. Drizzle with remaining chocolate; serve with graham crackers.
Get social with Florida Strawberry: Facebook | Instagram | Pinterest | Twitter | YouTube
See what other no-bake strawberry desserts we're sharing below:
No Bake Strawberry Cakes and Pies
Tasty Strawberry Layered Desserts
Special and Delicious Strawberry Treats
The Sunday Supper Movement is committed to bringing our readers delicious recipes that encourage them to gather and eat together around the family table. Search for your favorite ingredients on our Sunday Supper website. Also check out the Sunday Supper Pinterest boards for plenty more ideas and inspiration.
PIN FOR LATER: