Cocktail meatballs slow-cooked in a homemade cranberry bbq sauce that's both spicy and sweet, make for the perfect party appetizer!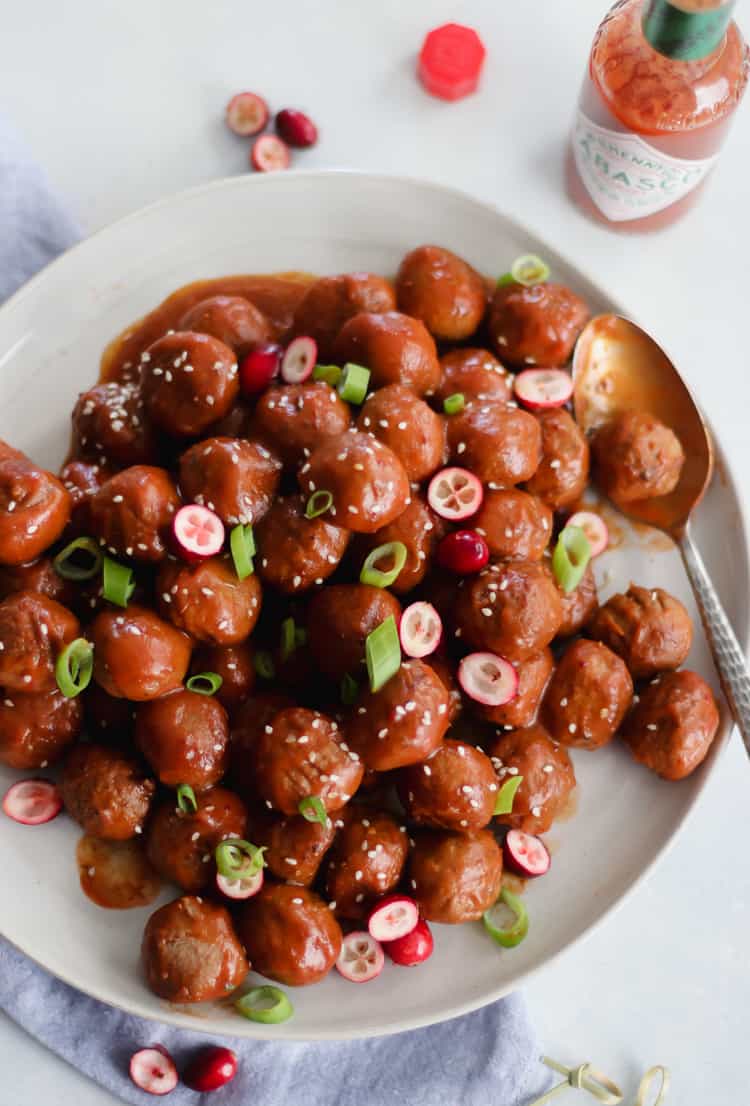 I feel like Halloween ended, and we hit the ground running. Thanksgiving came and went, and it's been party after party, after party. In the best way possible. But also, it's kind of overwhelming, right? Like we're only ten days into the month and I can't wait to slow it down.
But that's because we've had something going on the last three weekends where we hosted something here at Casa de Crews. But next week? Next week things slow a bit. We're going to a party, but not hosting anything, and I for one, could not be more thrilled about it! It's a potluck, so I am bringing one dish. I don't have to worry about having my home, "company ready." and I don't have to plan an entire menu. Just one dish; Sweet and Spicy Cranberry Meatballs.
And I'm making these meatballs in my slow-cooker! So like, even easier, right? And the Sweet and Spicy Cranberry BBQ Sauce can me made in advance, and then poured over homemade meatballs, or store bought 'balls. So as far as entertaining goes, this is an easy meatball recipe that anyone can make!
How to make a Sweet and Spicy Cranberry BBQ Sauce:
Making a homemade BBQ sauce is insanely easy. You need a solid tomato base, and from there you can use whatever you like. To keep this meatball recipe festive, I thought cranberries would be perfect, and I was right. Cranberries are full of antioxidants, and are pretty tart (like you don't know this already), so there's a few ways to play with the flavor.
To sweeten up this bbq sauce, use 1/2 cup of honey over sugar. Maple syrup would also work! And you can make this sauce to taste so if you need to add a little more honey, you certainly can.
The spice can also be customized by adding a few generous dashes of TABASCO® Sauce. TABASCO® brand Original Red Sauce is made with just three ingredients: aged red peppers, salt and distilled vinegar. Its simple ingredients and simple processing make it the most versatile hot sauce that can be used in just about any food or drink. It is Non-GMO, Gluten free and has zero calories, making it the perfect condiment to add in to our sweet and spicy cranberry bbq sauce.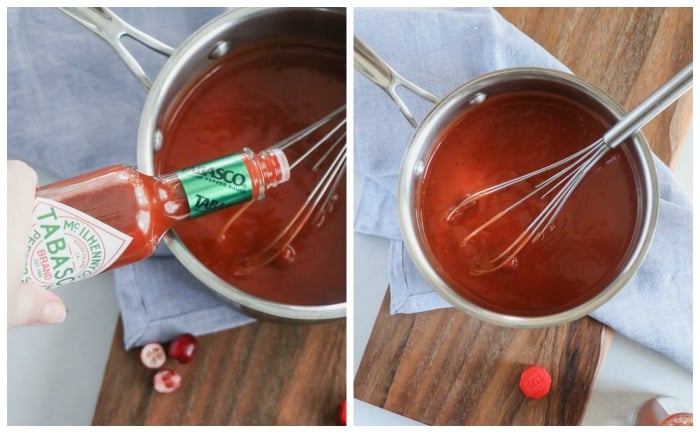 Whether used as an ingredient in a dish, or as a condiment, TABASCO® Sauce is the a sauce that can be found anywhere in the world, adding flavor to pretty much any type of cuisine. TABASCO® Sauce is a staple in our pantry, but it's also a condiment at Jason's desk. I don't remember how, but somewhere he received a small bottle of TABASCO® Sauce that he keeps at his desk at work for a little spice at work.
The recipe below uses TABASCO® brand Original Red Sauce, but if you'd like to play with spice ratios, here are a few ideas:
If you like a spicy flavor, but the red is too much for your palette, I'd recommend the green sauce. It won't affect the color, but will change the taste for you. Green Sauce is made with Jalapeño peppers, for flavor that's not too wild and not too mild. It is the TABASCO® Sauce flavor with the lowest Scoville Heat Units.
On the flipside, if you love more flavor, try the Chipotle Pepper Sauce: Made with smoke-dried jalapeno peppers, this sauce brings a rich balance of smoke and heat.
No matter which TABASCO® Sauce you use, I'd recommend starting with two tablespoons, and going from there when making your Cranberry BBQ Sauce.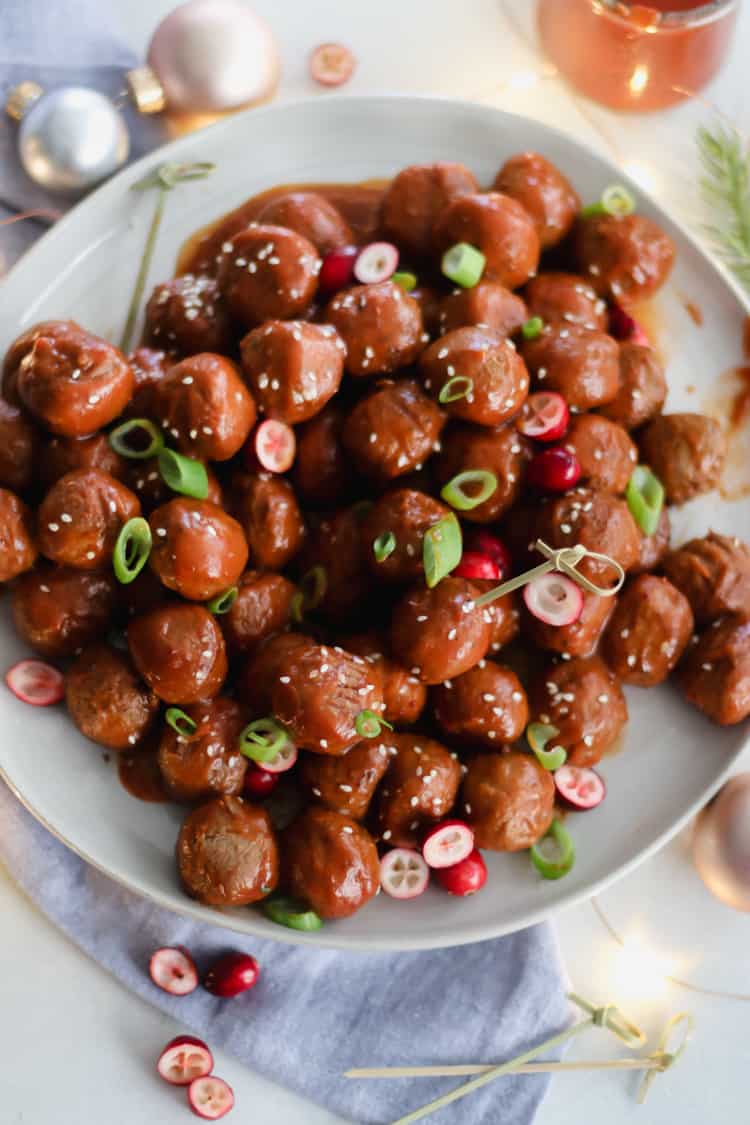 These Sweet and Spicy Cranberry Meatballs are the perfect party appetizer not just for the holidays, but also for Sunday Funday football. But honestly aren't crockpot meatballs good anytime there's a party anywhere?
Soooo, okay we're all insanely busy this time of year. We already know this. If you want to use a bag or two of frozen, pre-cooked meatballs, I'm not judging you. Take the wins where you can, and move on. No need to stress over it all. There are several meatball recipes on the blog – feel free to use any of them for your meatball recipe. But in full disclosure, this weekend, I am definitely using frozen balls to save my own sanity. If I were to make these Sweet and Spicy Cranberry Meatballs during the week for dinner with a healthy side, I'd recommend making my own 'balls. But for weekend parties, let's keep it simple!
I used an immersion blender to smooth the bbq sauce. If you don't have an immersion blender, or would rather use an actual blender, that will work as well! Enjoy.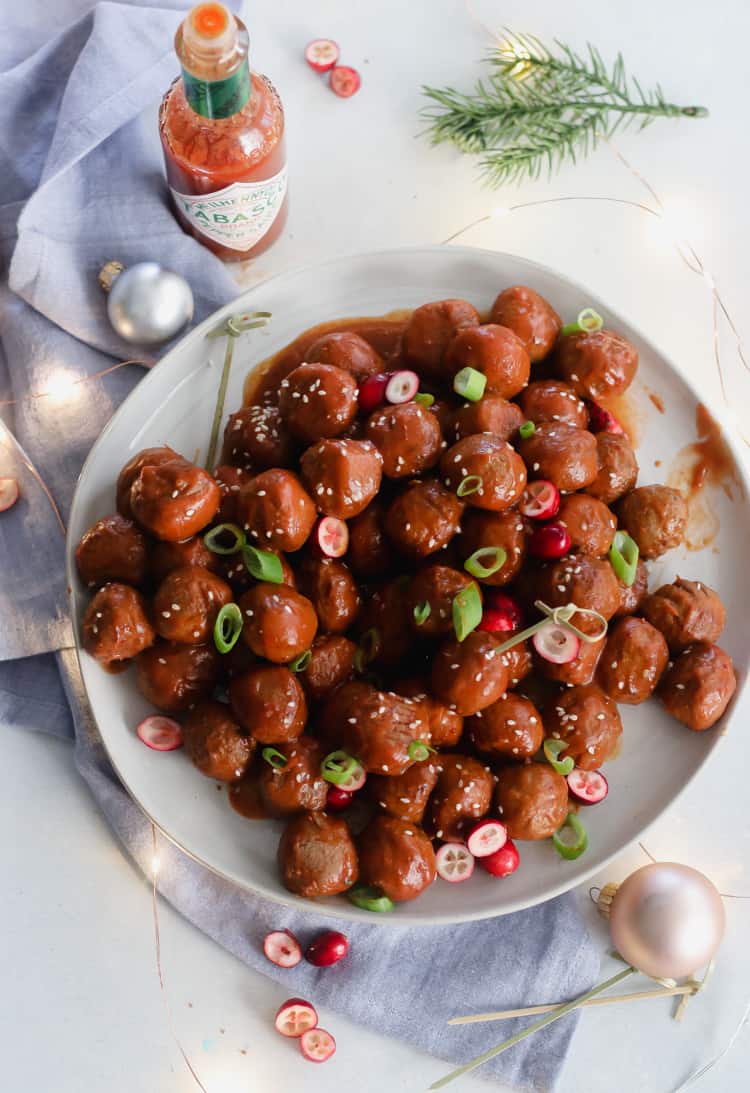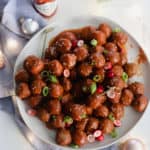 sweet and spicy cranberry meatballs
Cocktail meatballs slow-cooked in a homemade cranberry bbq sauce that's both spicy and sweet, make for the perfect party appetizer!
Print
Pin
Rate
Ingredients
2

tablespoons

olive oil

1

large

yellow onion, diced

4

cloves

garlic, minced

12

ounce bag

fresh cranberries

2

cups

tomato sauce

2

tablespoons

coconut aminos -

or soy sauce or tamari

1/2

cup

honey

1

tablespoon

paprika

1

teaspoon

onion powder

2

tablespoons

TABASCO® Sauce

2

tablespoons

apple cider vinegar

salt and pepper, to taste

1-32

ounce

bag of frozen meatballs

green onions, sliced for garnish
Instructions
To a medium saucepan, heat olive oil. Add minced garlic and onion. Cook until the onions are translucent, about 8-10 minutes.

Add whole cranberries, tomato sauce, honey, soy sauce, spices, and TABASCO® Sauce; bring to a boil. Reduce heat to low and simmer until sauce thickens slightly, about 20 minutes.

Stir in the apple cider vinegar; and add salt and pepper to taste.

Using an immersion blender, mix until all ingredients are smooth. You can also use a blender, or food processor. Can be made in advance.

When ready to make meatballs: add meatballs to slow-cooker. Add in BBQ sauce; Cook on LOW for 5-6 hours, or HIGH 2-3 hours.
Notes
makes approx 50 meatballs; nutrition facts are for 1 meatball
Nutrition
Serving:
1
meatball
|
Calories:
50
kcal
|
Carbohydrates:
5
g
|
Protein:
2
g
|
Fat:
3
g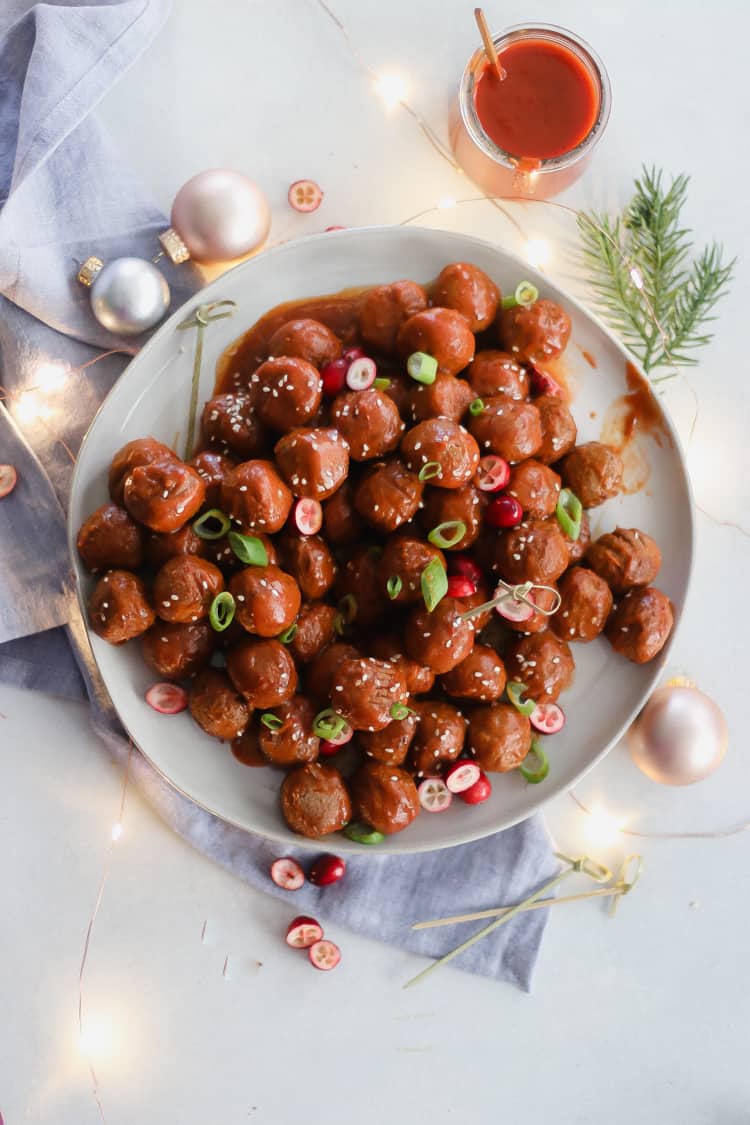 This post may contain affiliate links. Purchasing through them help support this website. Please see the disclaimer here.