I kept seeing this meme pop up last week at the beginning of the new month about how January was a practice month. I am right there with it, you guys. I took on way too much, and while I can pride myself on eating well most of the time in January, I didn't get quality sleep, I was stressed out more than I liked to admit, and my FitBit didn't see much action.
Butttttt, it's a new month, and I feel like I'm already doing much better. I turned down a few side hustles, which pained me at the time, but I can tell already that I made the right decision. I also took my first yoga class last week. It felt much easier than my attempts at Pure Barre, but also a lot harder than I thought it would be. Then, I decided to take a hot yoga class. Um, I'm going back to beginner for a while. kthanks.
I can always do better at meal-planning though. For me, I've learned I get bored if I over-prep. Does that make sense? I like variety, but need to prep for only 2-3 days at a time. So batches of protein I can add a quick side to seem to work well for me.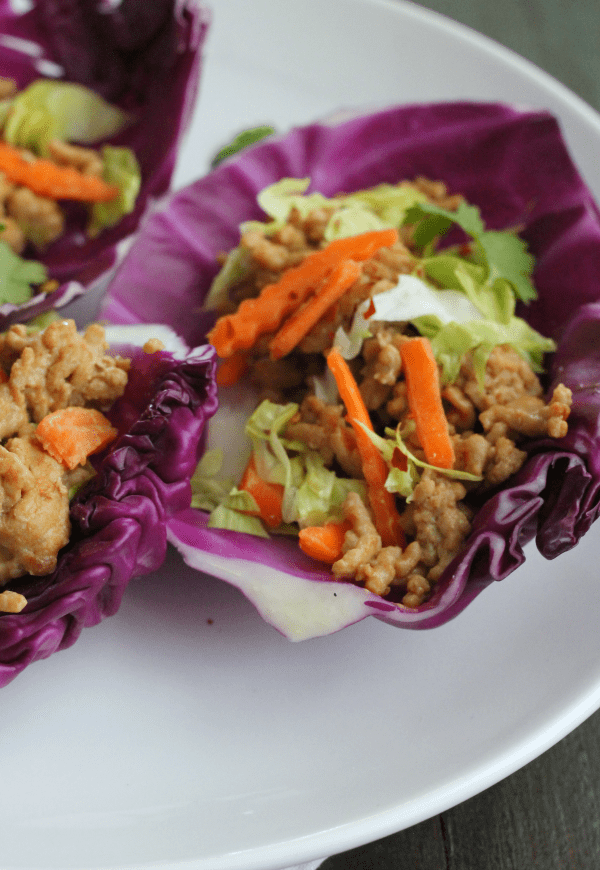 Enter: Thai Turkey Tacos with Peanut Sauce! I'm new to Thai food, but absolutely love it; fresh, light, and filling with spice I get to control. These Thai Turkey Tacos are a great way to get yo' Thai food fix without spending too much eating out (another 2017 goal of mine: cut costs a bit (after all we have an unemployed law student at home studying for the bar right now)).
These Thai Turkey Tacos are insanely easy to make. Typically, I'll use romaine or iceberg for lettuce wraps, but when I made this batch, I had more red cabbage on hand, than lettuce. Really, you can use what you like. Stuff this mixture in tortillas, or toss in a bowl with rice. Lean protein like turkey, with a little heat from red pepper flakes (Um, I use my sparingly, as I am a wimp with heat), and your fave fresh veggies, and February is looking like a good place to start over…again.
Do you have a favorite Thai dish? I'm looking for new recipes, friends!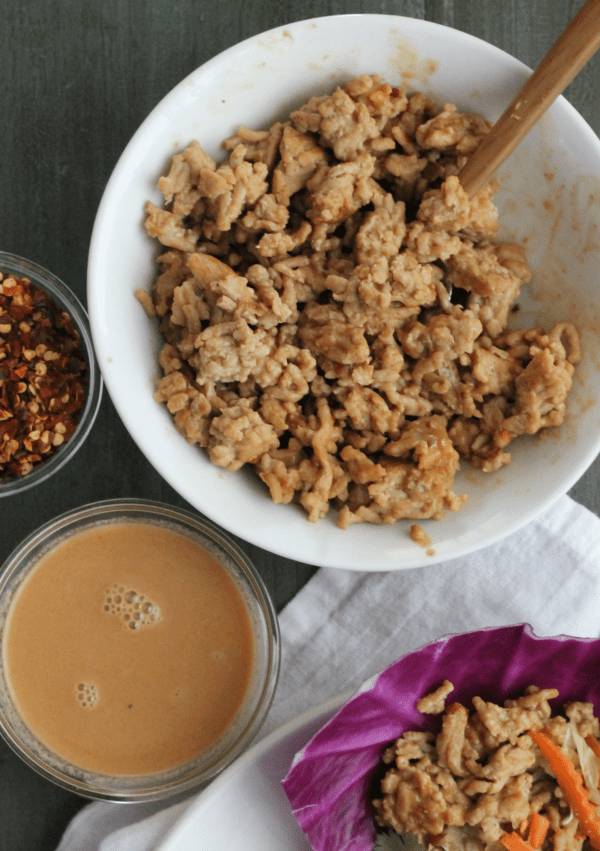 Thai Turkey Tacos with Peanut Sauce
Ingredients
Peanut Sauce:
1/2 cup reduced-sodium chicken broth (or water)
2 tbsp peanut butter, creamy
1 clove garlic, crushed
1/2 tablespoon Sriracha chili sauce
1 tbsp honey
1 tbsp soy sauce (GF, or coconut aminos)
1/2 tbsp freshly grated ginger (ground ginger spice will also work)
Turkey:
1 tbsp olive oil
1 lb ground turkey
1 tbsp Sriracha sauce
4 cloves garlic, crushed
1 tbsp fresh ginger, minced
1 tbsp soy sauce
1/2 cups shredded carrots
1/2 cup shredded red cabbage
cilantro leaves, for garnish
8 lettuce leaves to wrap
Instructions
Make the peanut sauce; in a small bowl combine chicken broth, peanut butter, 1/2 tablespoon sriracha, honey, 1 tablespoon soy sauce, 1/2 tablespoon fresh ginger, and 1 clove minced garlic. Mix well.
Heat a large non-stick skillet medium until hot. Add oil.
Add turkey to skillet, and break apart with wooden spoon or a spatula. Heat until cooked through and browned. Add the sriracha, remaining garlic and ginger and saute 1 minute. Add the tablespoon of soy sauce, cook 1 minute. Add peanut sauce to turkey mixture and turn heat to low. Let peanut sauce simmer, 6-8 minutes. This will allow the sauce to thicken with the ground turkey.
Divide the turkey equally between 8 leaves, top each with shredded carrots, and cilantro. Dig in!