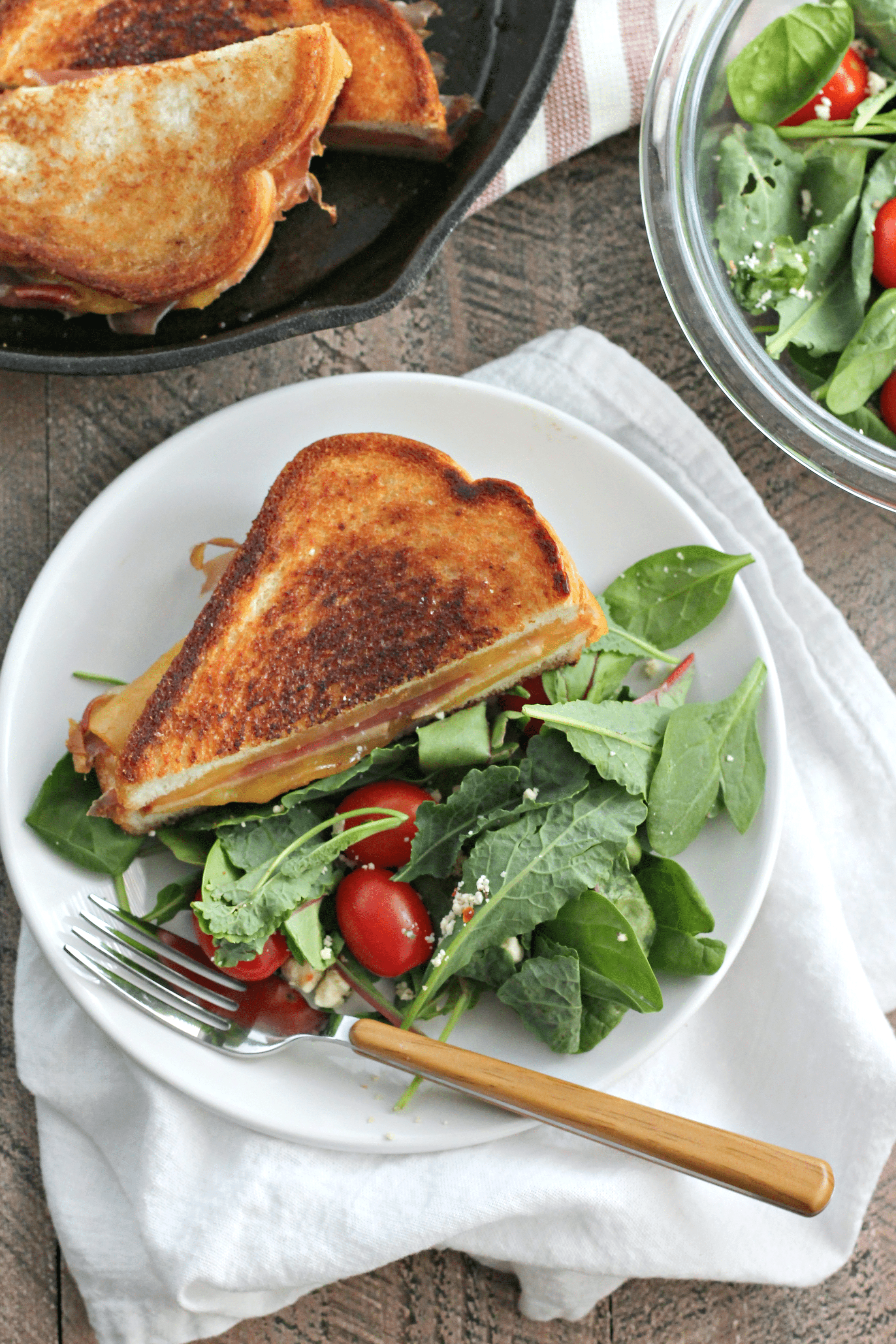 Once a week, my mom babysits my two year-old niece, and on those days, we get no less than 1,000 snaps from her. At lunchtime, you can see Maddy enjoying a sammie by grammy, with chips or fruit.
At thirty-three years old, seeing my niece eat lunch made by my mom brings me back to my own pre-school days when I was the kiddo, and mom made me a sandwich to enjoy with chips, an apple, or soup. It's the epitome of comfort food, with the best food memories attached to it!
As an adult, I try hard to omit starchy carbs, like bread, from our daily eats. I'll turn anything into a lettuce wrap when I can, but sometimes you just need a really good sandwich. Like lettuce as the 'bread' just won't cut it.
And since April is National Grilled Cheese Month (a whole month!!), we have to celebrate….right?
My Gouda, Prosciutto & Apple Grilled Cheese Sandwich is a grown-up version of mom's classic grilled cheese with ham. Or as my mom would call it, "Hot Ham and Cheese." I love Gouda cheese, you guys. If I say that it's, "so Gouda!", will you totally judge me? It's okay, I know what I'm about 😉
Crispy, thin prosciutto with melty Gouda is such an amazing combo. But it's an incredibly savory sammie. So instead of having an apple on the side, like my mom used to give me, I added (very) thinly sliced apples for sweetness, balance, and crunch.
Lots of butter in a cast iron skillet, and THIS is how to enjoy a grilled cheese sandwich as a grown up. Sorry Maddy, this one is for Auntie Nichole.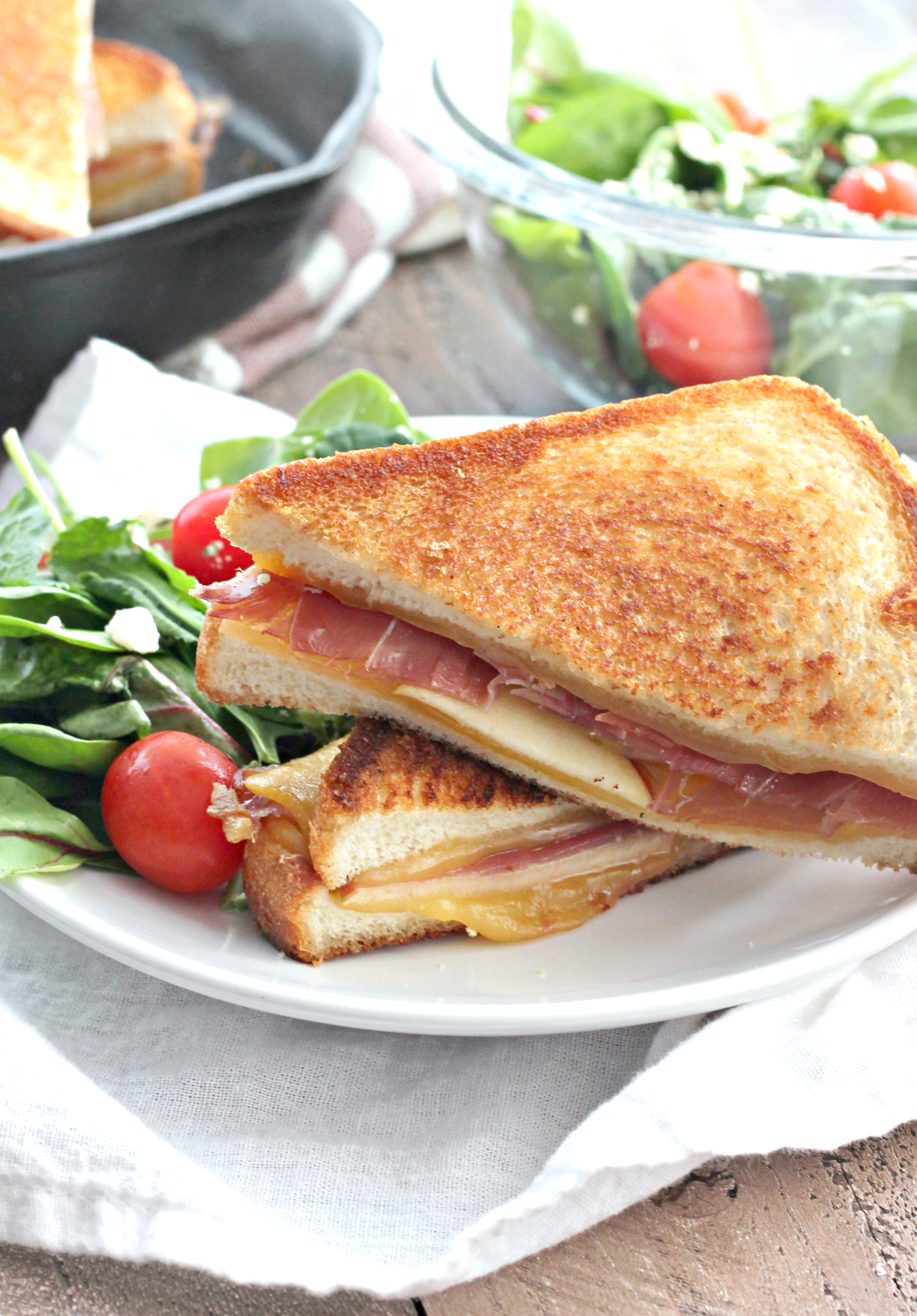 Gouda, Prosciutto & Apple Grilled Cheese
Ingredients
1 tablespoon butter for the skillet, plus more for spreading on to bread slices
2 slices bread, any kind
2 slices Gouda cheese (or ¼ cup shredded)
2-4 slices prosciutto
3 slices of of your favorite apple, thinly sliced using a mandolin slicer or by hand
Instructions
Butter one slice of bread on both sides and set aside. Using a cast iron skillet or non-stick skillet, heat one tablespoon of butter in your skillet over medium heat. Let the butter melt completely and then lay your slice of buttered bread into the skillet and top with a a slice of Gouda cheese. Cover the skillet with a lid and let the cheese melt until it's almost entirely melted, for about 2-3 minutes.
Next, lift the lid and top the melted cheese with the prosciutto and apple slices and cover again with the lid for a minute or two. Add second slice of Gouda cheese (or remaining half of shredded cheese).
Butter one side of the second slice of bread. Place the bread, buttered side up, onto the second cheese layer, and flip your grilled cheese to begin toasting the other side. No need to cover the pan again since most of the cheese has already melted. Toast in skillet 3-4 more minutes, until bread is a golden brown.