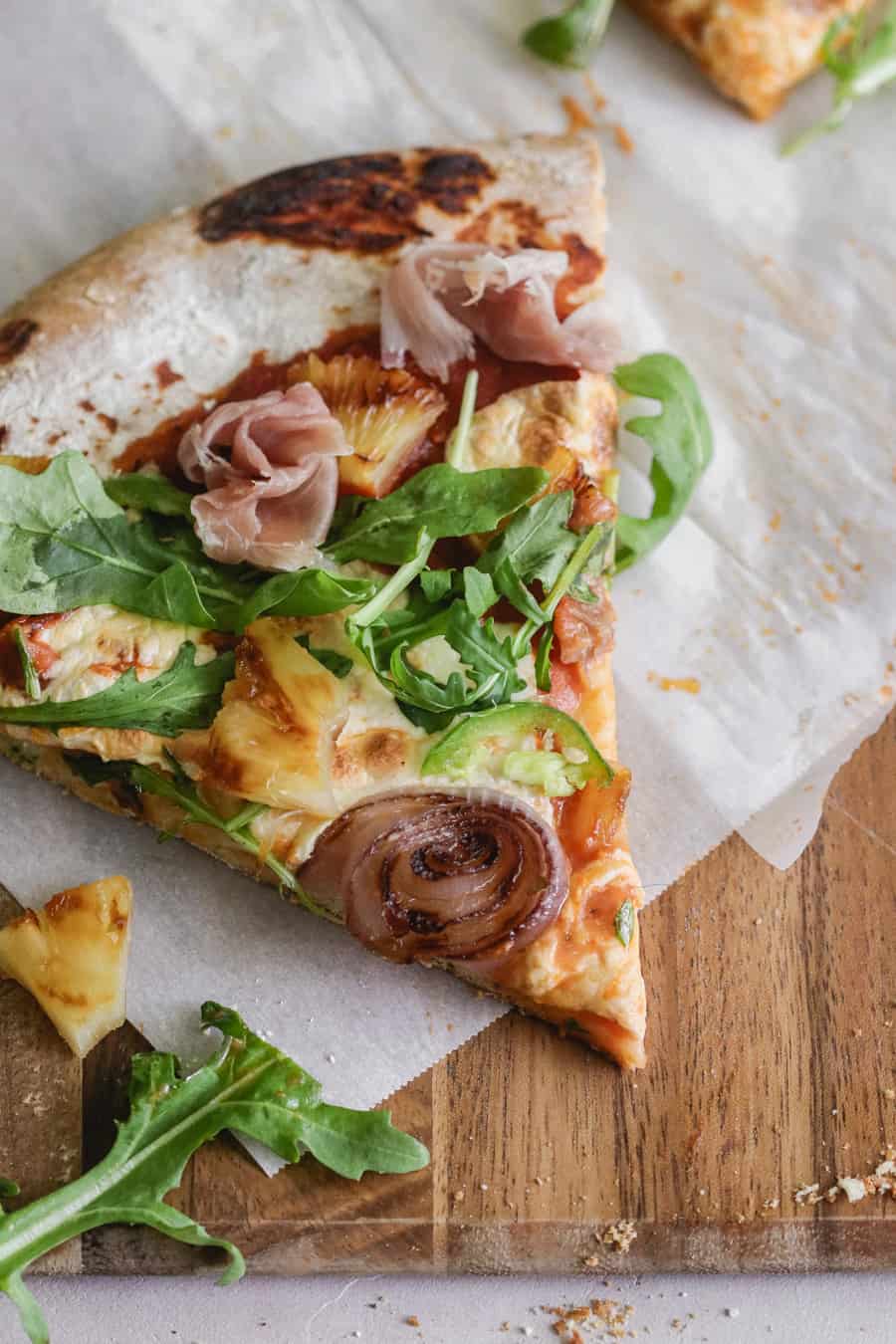 Grilled Pineapple Pizza with Prosciutto and Jalapenos is a mouth watering combo of sweet and spicy, smoky flavors – hot off the grill!
*This post is sponsored by and CK Mondavi and Family. All opinions are my own. Thank you for supporting the brands that support Casa de Crews. (MSG 4 21+)
Before I met Jason, I was not a fan of Hawaiian Pizza – I didn't hate it, but I also didn't love it. Meh. Plus, I like ham enough, but I don't lurve it, so it was like whatever. But I'm a changed woman after my guy showed me the way; Hawaiian Pizza is now a favorite pie at Casa de Crews. Also, does anyone still say, "meh" anymore, or am I just getting old?
But what's even better is elevating the ingredients of a classic Hawaiian Pizza more than any pizza delivery near you could. I like to use thinly sliced prosciutto, and a creamy burrata over straight up mozz, but of course both cheeses are obviously amazing (I like all the cheese, plz). And if you can grill your pizza, the smokiness is a serious game changer. Like but really, give me all the grilled pizza.
Fridays call for grilled pizza with a glass of your favorite CK Mondavi and Family wine. You know how I feel about pairings; they're great and have their place (esp dining out somewhere nice, then I want to pair and taste) but in my opinion, sip what you like and don't judge anyone who isn't pairing the way you would.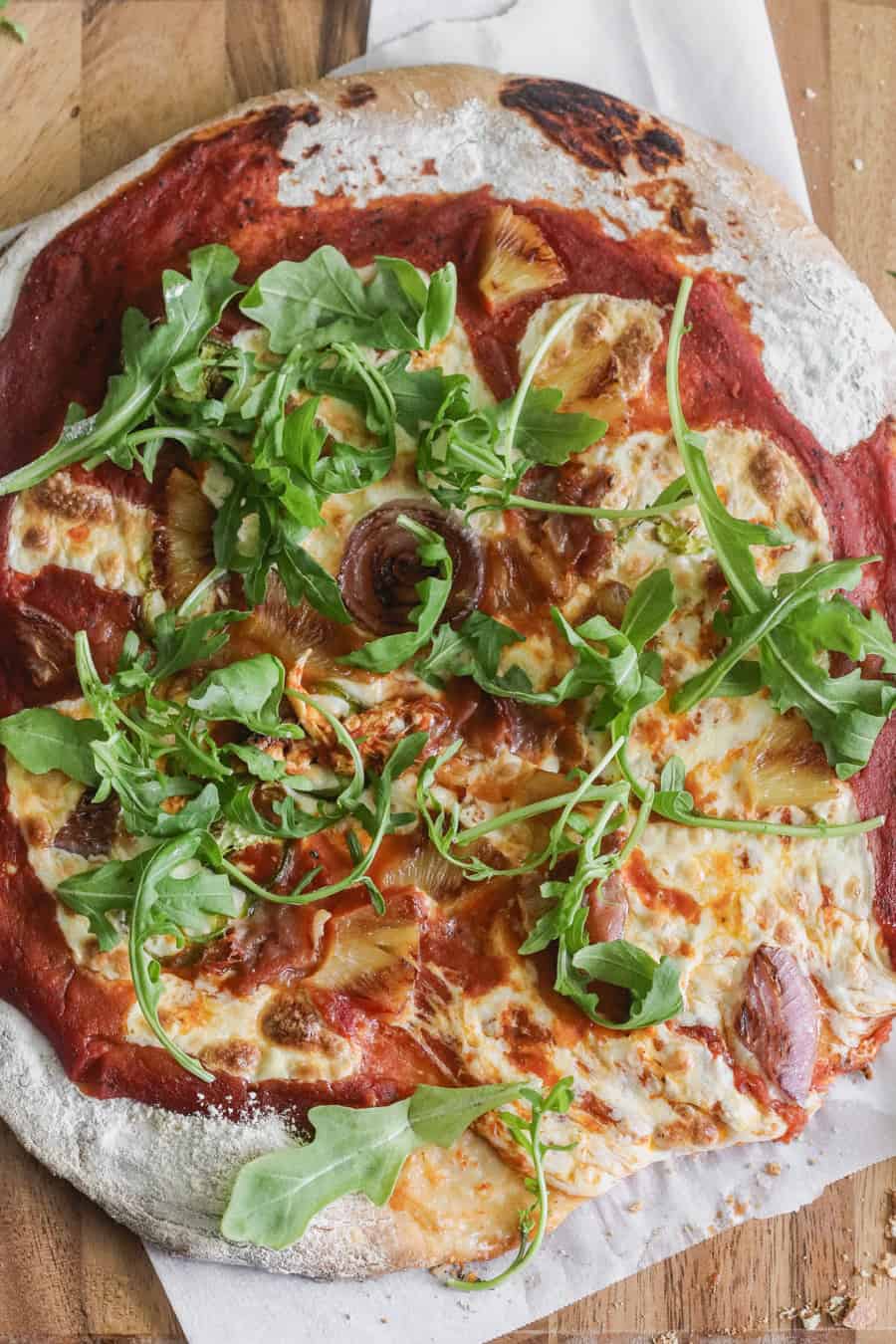 Personally, in the summer, I love a chilled Pinot Grigio with anything. Because um it's summer, and I live in Florida which means basically, I live in Hades, you guys so I'll drink what I want to cool off and celebrate the weekend. Of course, Cabernet Sauvignon is also a favorite of mine too, no matter the time of year, but that's one varietal I'm for sure sipping inside where there is A/C.
This Grilled Pineapple Pizza with Prosciutto and Jalapenos is about as healthy as you can get when it comes to pizza at home – and will taste to much better than pizza places nearby. I like prosciutto over ham because it's still salty, but if you read your labels, can have just two ingredients (pork + salt) versus sugar and other preservatives that you really don't need.
I like to make this homemade sauce, along with my spelt pizza dough. Both the dough and the sauce can be made in advance, which means, okay so it's Friday and you worked all week and you want 'za (do kids still call it 'za?) and all you need to do is add some burrrrata (or mozz), and top some toppings, and sip your drink, while you wait for the grill to get hot. This Grilled Pineapple Pizza with Prosciutto and Jalapenos could not be easier!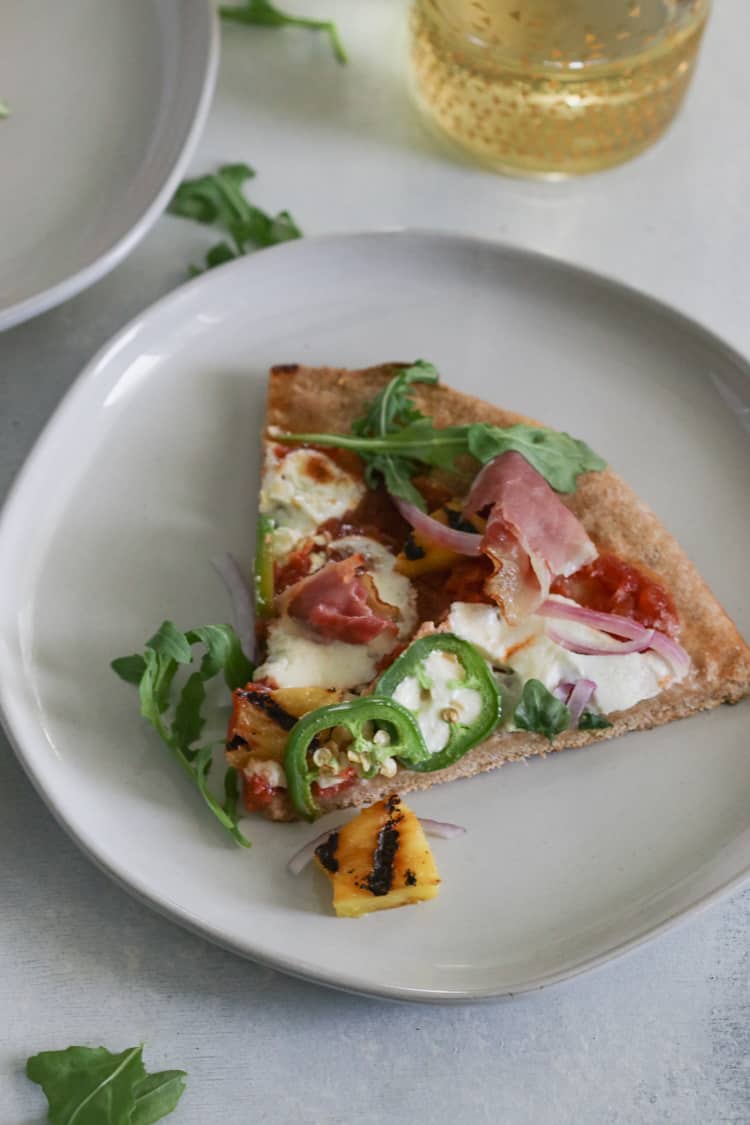 I like to top with a little fresh arugula for some spice to balance out the sweetly grilled pineapple, and while I detest raw onions, I do also add a handful of red onion to grill on top of my pie (more for Jason than me). If you don't care for onions or jalapenos, or even the arugula, omit it and you're still getting all the amazing flavors of a Hawaiian Pizza, but for way less than delivery pizza.
Also, it's the weekend so if you don't want to make your own sauce or dough, no judgment here at all! Just giving you options if you want to clean up the ingredients a little bit.
We like to grill our pizza using a pizza stone at Casa de Crews – which is so discolored, it's not in photos for today's recipe, but it makes a world of difference. Plus, I've killed many a pizza by grilling directly on the grill. I just can't get it right.
If you're using a pizza stone: make sure to preheat your grill (or oven when summer is over) with the pizza stone. If you add a cold stone (annnd now I want ice cream) to a hot grill, it may crack and that's no fun. And when it's time to clean your pizza stone, just like a cast iron pan you don't actually wash it w/ soap or the soap will permeate into the stone, and just no. These are both things I've learned the hard way, and hopefully these two small tips will help you with your pizza grilling game.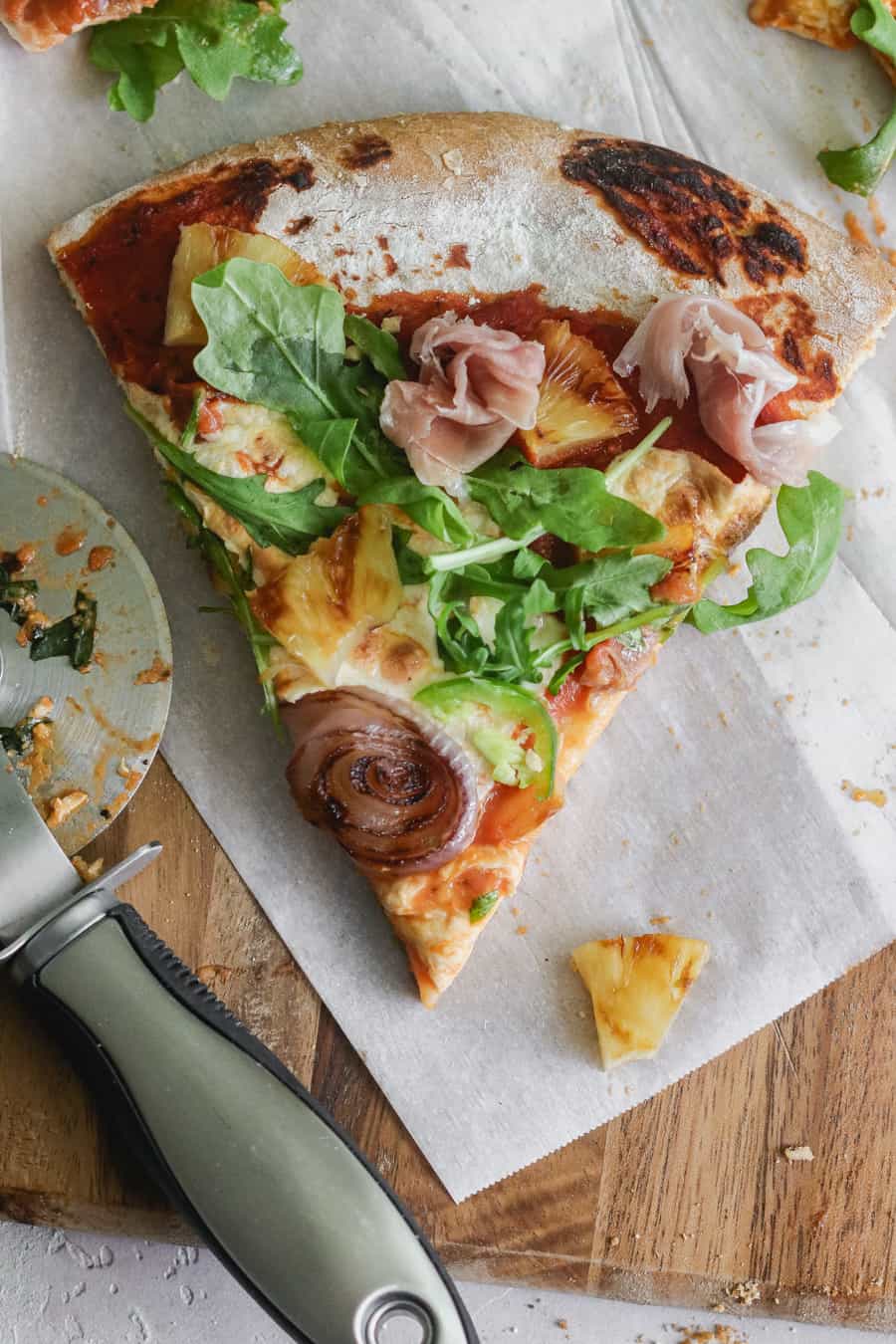 Items used to make this recipe:
Grilled Pineapple Pizza with Prosciutto and Jalapenos
Grilled Pineapple Pizza with Prosciutto and Jalapenos is a mouth watering combo of sweet and spicy, smoky flavors - hot off the grill!
Print
Pin
Rate
Ingredients
1

ball homemade or store-bought pizza dough

-

at room temperature

pizza sauce

-

about ¼-1/2 cup

1

ball burrata cheese

-

or ¾ cup mozzarella

1½

cups

pineapple spears grilled and cut into chunks

¼

pound

prosciutto. roughly chopped

red onion

-

thinly sliced

½

jalapeno

-

thinly sliced into coins

handful fresh baby arugula
Instructions
Preheat your grill (or oven) and pizza stone, if using to 450F.

Roll pizza dough out, and spread pizza sauce. Top with cheese, pineapple, prosciutto, red onion and jalapenos (if using).

Once grill or oven is hot, bake for 5-7 minutes, or until cheese bubbles/crust is browned.

Remove from heat, and top with arugula, if desired. Cut and serve!
This post may contain affiliate links. Purchasing through them help support this website. Please see the disclaimer here.