We were out of town last weekend for a friend's wedding in Gettysburg, PA (OMG, a real fall!), and so when we came home late on Monday, my meal prepping was way out of whack. Luckily I had a ton of packaged white tuna to use up. When we thought our world was ending, and we were stocking up for Hurricane Irma, I bought extra canned goods in case we were without power for days. Luckily, we never lost power. My sister was without for a week, but was able to stay with my parents (and her three year-old, and two dogs #full house), which was great.
Also in the pantry were dried cranberries, and walnuts (walnuts were leftover from this salad, not from the hurricane prep), and I knew I could throw together a quick tuna salad for lunch on Tuesday while planning out the rest of the week's eats. But I loved the tuna salad so much, and had a ton to use, that I made it all week long for lunches. I love when things work out like that.
This Harvest Tuna Salad has diced apples and celery, for crunch, dried cranberries, and walnuts. It's naturally sweet, and crunchy, and filling. When I was a kid, I loved tuna salad sammies on toasted bread. For the most part, as an adult, I stay away from bread, for everyday meals, so I used a few crackers instead. Currently obessed with these Cheddar Nut-Thins. If you're on a whole 30, compliant plantain chips would also be good!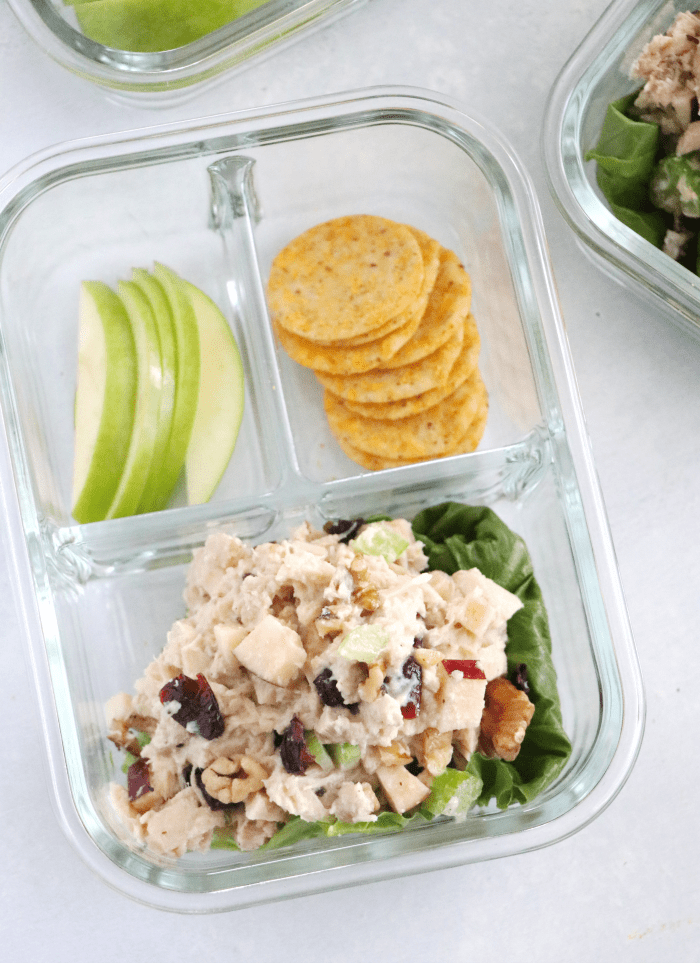 This is such an easy recipe, that I have to ask if it's really a recipe worth putting out into the internet, or not. But seriously, I craved this again on Wednesday, and again on Thursday, so here we are, kids. It IS worth a blog post. Plus, it's one easy lunch to prep this week. And it's cheapppppppppp. And filling, and depending on the cranberries, walnuts, and mayo you use, it's also paleo, and whole30 compliant. I used Primal Kitchen Mayo – it's pricier than other mayonnaise, but I like the ingredients. It's the same as making your own. I'm not mayo-shaming you, though. Please use what you like!
harvest tuna salad
The easiest meal prep you'll make for lunch; clean tuna, avocado mayo, tossed with fall-inspired fruits, and nuts. High protein, low calorie!

Print
Pin
Rate
Ingredients
1

can

White Albacore Tuna

-

about 112g can

1

tablespoon

mayonnaise

½

tablespoon

onion powder

1

teaspoon

garlic salt

1

stalk celery, diced

¼

red or green apple, chopped

2

tablespoon

dried cranberries

1

tablespoon

walnut pieces, chopped
Instructions
To a mixing bowl, add tuna fish, mayo, and spices. Gently combine. Stir in remaining ingredients. Top over greens, or between your favorite bread!
Nutrition
Serving:
1
serving
|
Calories:
315
kcal
|
Carbohydrates:
18
g
|
Protein:
25
g
|
Fat:
19
g
|
Fiber:
5
g
This post may contain affiliate links. Purchasing through them help support this website. Please see the disclaimer here.