This shop has been compensated by Collective Bias, Inc. and its advertiser. All opinions are mine alone. #StartWithJifPowder #CollectiveBias
Here we are again. New month and new year – for me, it's literally a new year as I celebrated my birthday over the weekend. It's a double whammy. There was a lot of celebrating in December and this first weekend in January, and while I did exercise some restraint, I am so ready to get back on the clean-eating train. One way to I plan to get back on the train is with a filling breakfast smoothie using Jif Peanut Powder!
Now that it's a new year, I'm determined to also up my running game (again. I know). These last two or so years, I've started running more, but I start and stop, and start and stop again. I've yet to actually run an entire 5k, instead of just completing in intervals. Not that there is anything wrong with that, it's just for me, it's time to go farther.
On the mornings when I run before work, I need an extra meal or snack after the run, but before actual breakfast. I've learned that if I don't, I get extremely hangry by lunchtime or just feel extra tired.
My husband, who continues to improve his running game (so so proud of him!), always makes a quick protein shake post-run. Honestly, his shakes are so boring to me; with ice, and protein powder. That is it. I need so much more than that. He and I are seriously so different. But I do love the idea of a tasty smoothie post-run!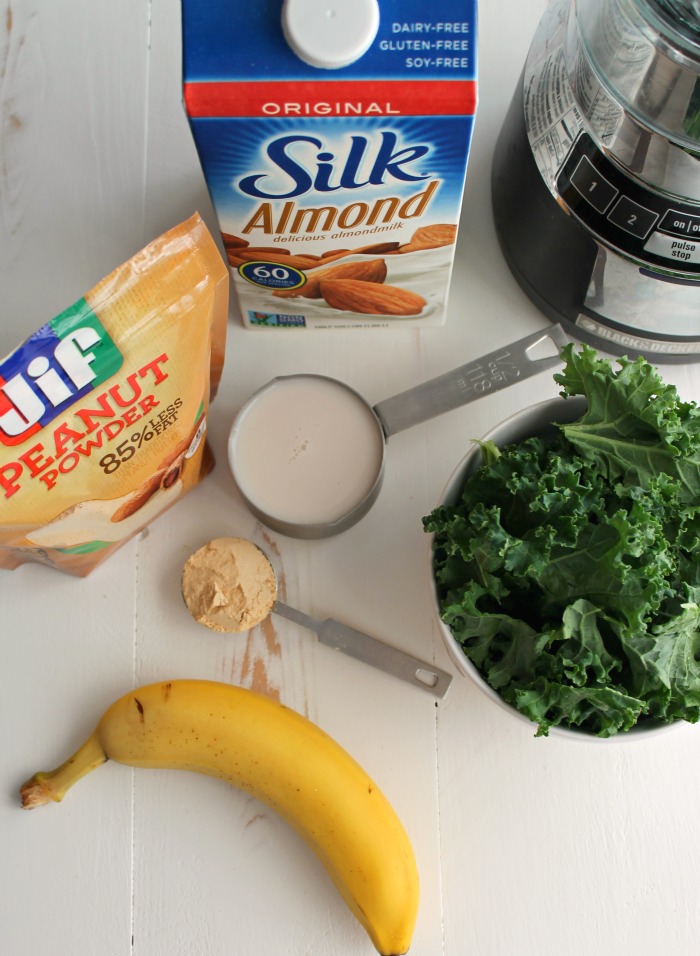 I love peanut butter (all nut butters, really) but most have extra sugars I don't want or need (we try and eat as unprocessed as possible – unless you were here in the month of December. I digress). And sometimes the natural peanut butters we buy, are oily and I have to stir a few extra times. And I am fine with that…except when I am already crunched for time to get a run in, and get ready for work in the morning. Then, I need something e.a.s.y.
Enter Jif Peanut Powder – the same taste of peanut butter from a jar, with less fat and just one ingredient – fresh roasted peanuts! And with the same amount of protein as regular peanut butter, I'm saving time and not really losing anything.
Sometimes, I love kale, and sometimes I loathe it. But when I add it as a smoothie, it is goooood. This Kale, Banana, and Peanut Powder Smoothie is packed with protein, potassium, and tastes just like Jif Peanut Butter. Jif Peanut Powder is available at Walmart and other retailers.
No more hunger after a run (I almost said a "quick" run, but then let's be honest – I'm not a fast runner…yet), and I feel fuller longer. It's a new year, friends. And I'm already feeling pretty good about it!
[bctt tweet="Kale, Banana and Peanut Powder Smoothie – with just 4 ingredients! Start the new year off right #StartWithJifPowder"]
[amd-zlrecipe-recipe:75]
Do you have a favorite smoothie recipe? Snag more tasty smoothie recipes using Jif Peanut Powder, Jif Peanut Powder!