Classic risotto seasoned with Greek-inspired flavors like fresh lemon, dill and crumbled feta cheese – all made in one pot for easy cleanup!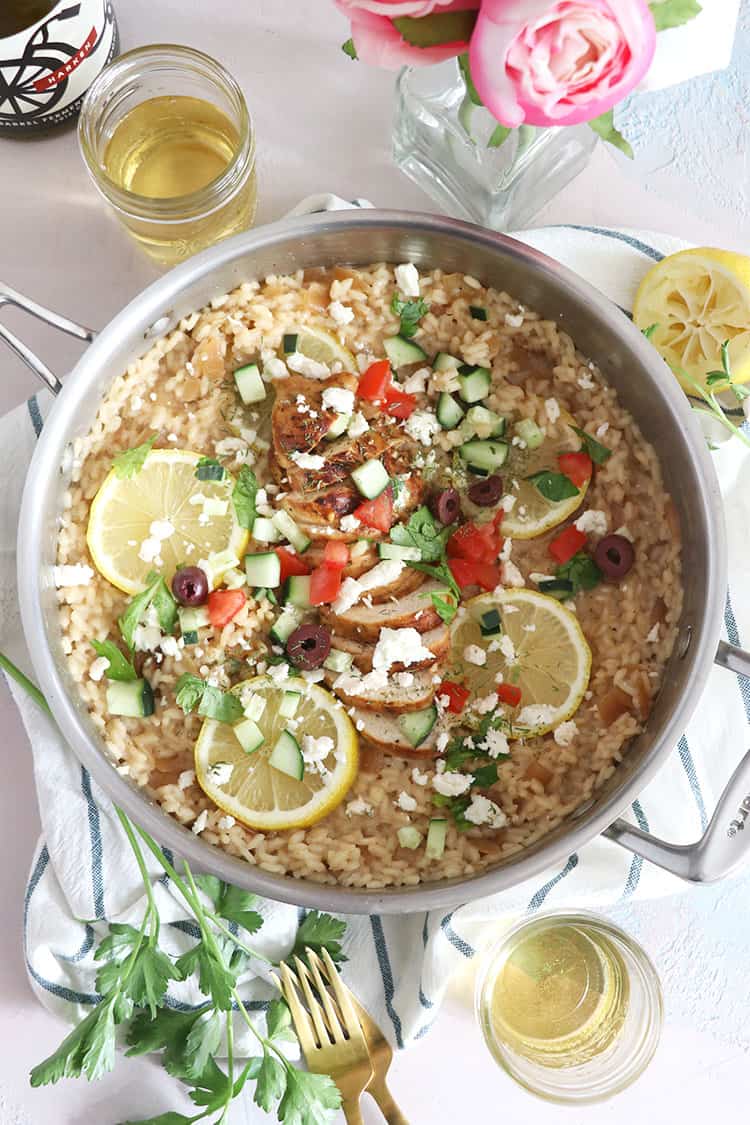 With Valentine's Day around the corner, there are so many ways you could go to celebrate. And by, "celebrate", I am obviously referring to food! Gifts are always welcome, but my love language is about the meal we'll eat to celebrate the day.
You all know I'd prefer to stay in and cook, than go out on the big night with everyone else. But I also hate doing the dishes. So normally, on the nights I cook, I can count on my Valentine (Jason) to clean up after we eat. But like, who wants to clean up after dinner on VDay? Especially when it falls on a Wednesday this year? *This post is sponsored by Sprouts Farmers Markets. As always, all opinions and recipe are my own.
Enter One-Pot Greek Chicken Risotto (!!!) You know my love for Greek flavors is endless, so adding it to a comforting pot of risotto; arborio rice lovingly stirred with white wine, chicken broth, and Parmesan cheese – what could be better? How about a marinated chicken breast, feta cheese, and kalamata olives? Hell-o. This risotto is a great weeknight dinner any day of the week, but since it's also an indulgent tasting meal, with little clean-up, it's perfect for Valentine's Day. This is true love, my friends.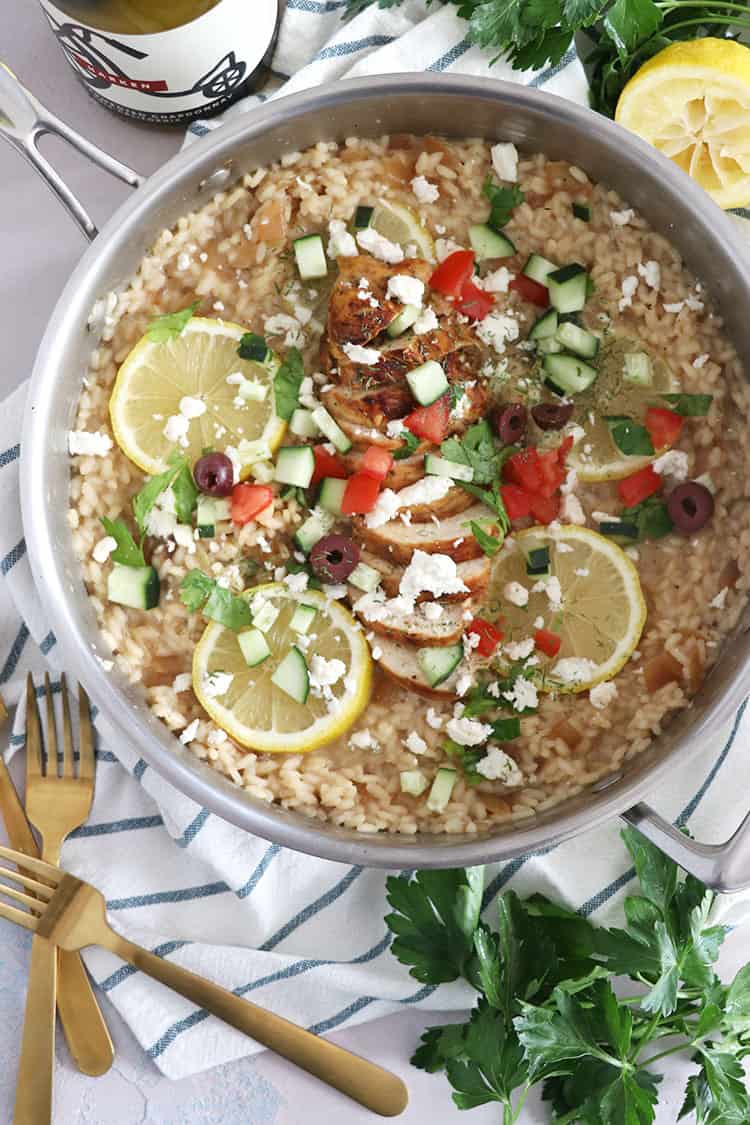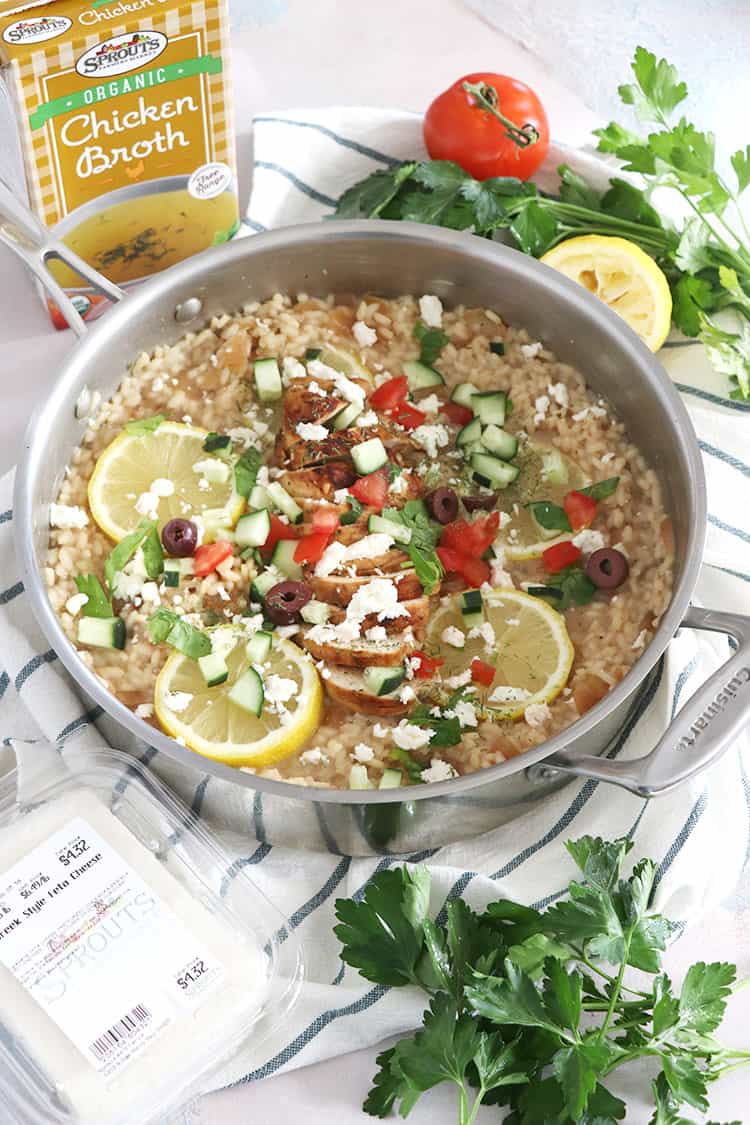 I know people complain about all the stirring that comes with risotto, but I've never really found it to be all that bad. Normally, I like to stir, clean as I go, come back and stir, clean something else up, stir, pour myself a little wine while I wait, and stir some more. It is a bit of stirring, but also I can get other things done in between.
This One-Pot Greek Chicken Risotto will make A LOT of food. It's perfect for leftovers, or a great one pot meal for the whole family, if you've got offspring in the house. If you plan to enjoy leftovers, I'd recommend reheating on the stove, with a little water as to not dry out.
One pot, a cutting board, and knife. That's all you'll have for clean-up!
Items used to make this recipe: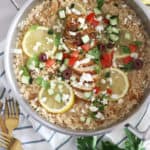 one pot greek chicken risotto
Classic risotto seasoned with Greek-inspired flavors like fresh lemon, dill and crumbled feta cheese – all made in one pot for easy cleanup!
Print
Pin
Rate
Ingredients
2

teaspoon

garlic powder

1½

teaspoon

dried oregano

1

teaspoon

dill

1

teaspoon

onion powder

1

teaspoon

paprika

4

tablespoons

olive oil

-

divided

1

tablespoons

balsamic vinegar

1

tablespoons

lemon juice

Salt and pepper

-

to taste

1

lb.

boneless skinless chicken breasts

1½

cups

arborio rice

3

garlic cloves

-

minced

1

cup

dry white wine

-

such as Chardonnay

4 to 5

cups

chicken or veggie stock or broth

-

warmed

⅓

cup

freshly grated parmesan cheese

¼

cup

feta cheese

-

crumbled

To garnish

-

optional: Fresh parsley, chopped tomatoes, freshly grated Parmesan cheese, extra feta cheese, chopped cucumbers, kalamata olives and lemon slices
Instructions
Whisk all of the spices together. In a mixing bowl, add 3 tbsp olive oil, 1 tbsp balsamic vinegar and 1 tbsp lemon juice, with spices. Whisk to combine then add chicken. Marinate at room temperature for 30-45 minutes or refrigerate up to overnight.

Heat 1 Tbsp olive oil in a large saute pan with high sides, or a Dutch oven. Once skillet is very hot, add marinated chicken breasts to skillet. Cook undisturbed for 3-4 minutes, or until nicely browned on one side. Turn chicken over, cover and reduce heat to medium. Cook for approximately four to six more minutes, or until chicken is cooked through at 165 degrees.

Transfer chicken to a cutting board and let rest five minutes. Chop into bite size pieces. Do not clean pan.

Using the same saute pan, heat over medium-low heat and add ½ tbsp olive oil. Add the arborio rice and stir. Toast the rice until the pieces are translucent and just fragrant. Stir in the garlic and cook for another minute.

Stir in the white wine, constantly stirring or at least stirring every minute or so, until the rice absorbs the wine.

Once the wine is absorbed, add in 1½ cups of the chicken broth, stirring until the rice absorbs the liquid like it did with the wine.

Repeat this two to three more times, until all broth has been added and the rice is al dente, just firm. You want it to appear a little wet – and want there to be some liquid left when serving. We don't want a dry risotto. The entire stirring process will take about 15 to 20 minutes.

Once the rice is cooked, stir in the chopped chicken breast, and ¼ cup feta cheese.

Garnish with additional toppings, if desired. Serve immediately.
This post may contain affiliate links. Purchasing through them help support this website. Please see the disclaimer here.