Shrimp Spinach Artichoke Dip that's light, creamy, and baked until warm and bubbly. Topped with Parmesan Cheese. Perfect for a party!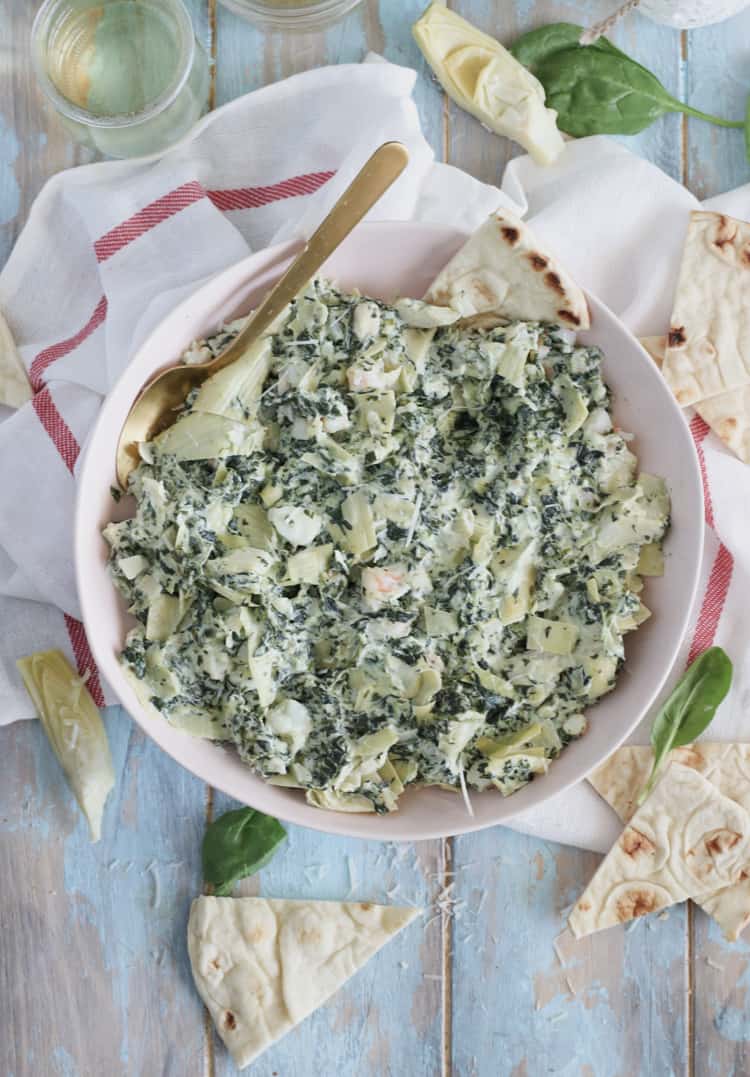 Anytime there's Spinach Artichoke Dip at a party, you can pretty much expect I'll be by the bowl all night; snacking, dunking, dipping, pigging out.
In fact, at Christmas-time, Jason makes an amazing Spinach Dip in the slow-cooker that's addictive, and gone in minutes. He has to double the batch every year because it's always a hit. But his version calls for mayonnaise and sour cream, which whatever, tis the season. and all that, and also it really does go so fast, you're not eating enough to really do any damage (unless you're the wife/taste tester). *This post is sponsored by CK Mondavi and Family, but all opinions are my own (MSG 4 21+)
I'd been craving his dip for weeks, but heavy dips over the spring just aren't as fun as over the winter (I use the term, "winter" loosely as a Floridian). I initially thought about lightening up a Spinach Artichoke Dip up with homemade mayo, and Greek yogurt, but there seem to be a lot of recipes like that already. So I used cream cheese. Neufchâtel, actually. Neufchâtel is really just a lighter, French version of cream cheese. Most of the time, when something claims it has less fat, I can guarantee it will also have less taste, but Neufchâtel tastes just like cream cheese, with a little less guilt. We always used Neufchâtel to schmear over bagels growing up.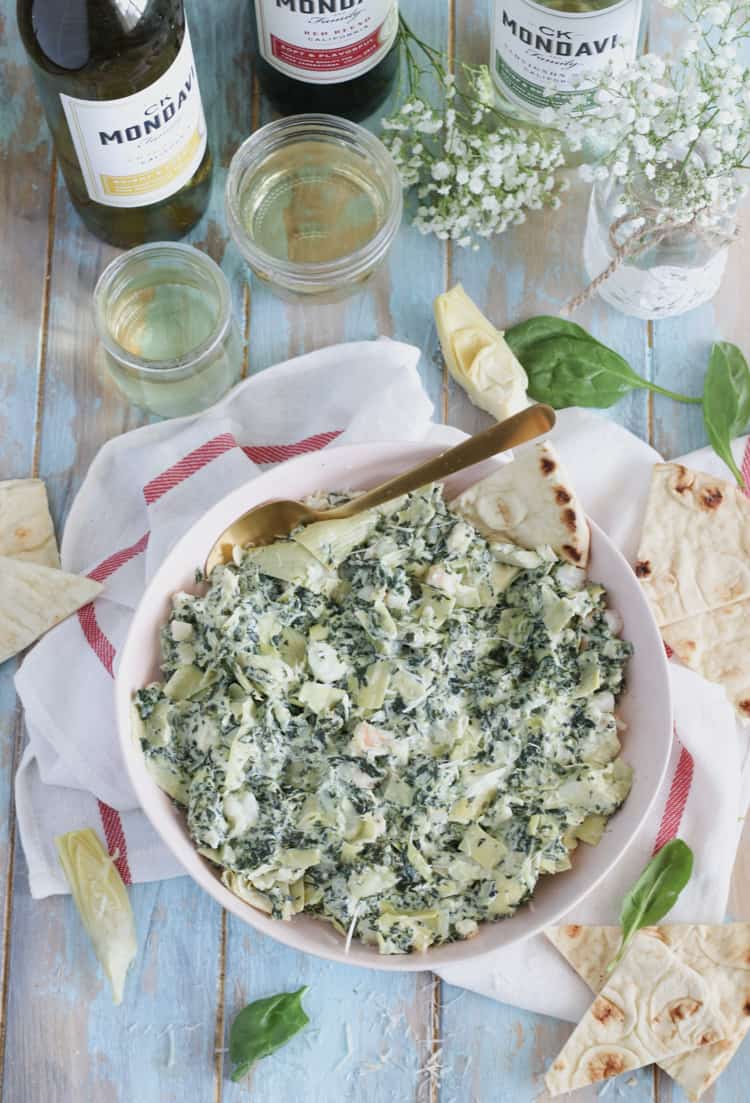 Plus, it's easy to spread, and bakes well in a dip. Yep, Neufchâtel was the way to go (also called 1/3 less fat sometimes in the grocery store (always next to the cream cheese)). I had frozen shrimp on hand, so in went chopped shrimp to my Spinach Artichoke Dip. There is so much flavor baked into this Spinach Dip, that it will be hard not to eat it before having friends over for a little weekend hang.
But while you wait for friends to arrive, pour yourself a glass of CK Mondavi and Family wine, instead. As a brand ambassador, CK Mondavi and Family sent me three delicious varietals to showcase this spring; my two favorites to pair with this Shrimp Spinach Artichoke Dip are the Sauvignon Blanc, and Chardonnay. CK Mondavi and Family also sent me their Red Blend to try, and that's my go-to on a weekday when I just want to hang at Casa de Crews. All three would be great with this dip, though. You know how I feel about pairings; pair if you can, but don't stress it. If you like a red blend, drink it! If you only like chilled whites, sip and repeat, friends. You do you. [find your next bottle, here]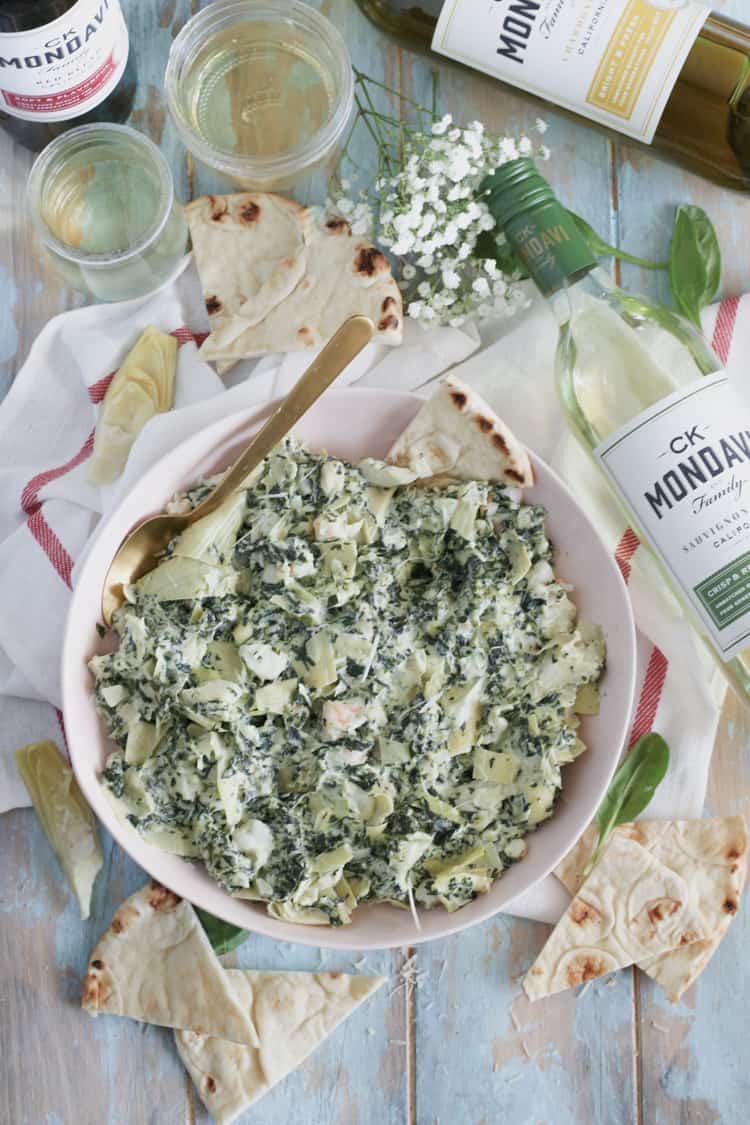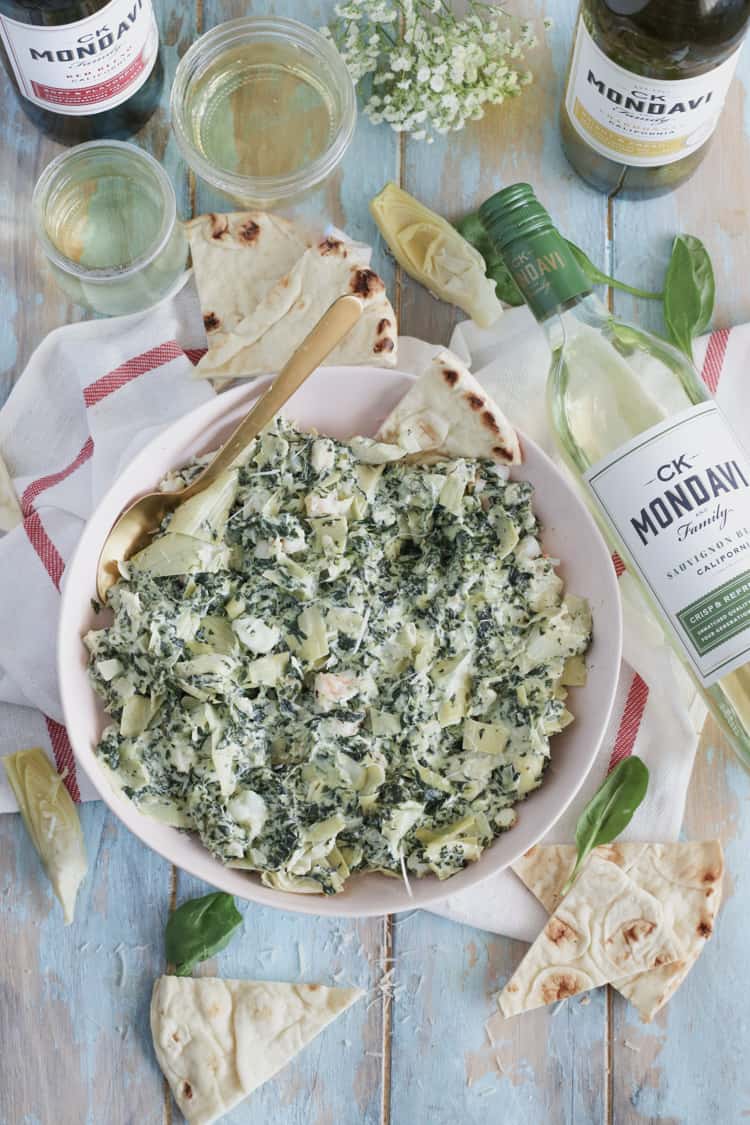 I really enjoy working with CK Mondavi and Family; they are fourth generation winemakers (G4), and I don't know how often you visit wine websites, but I like little things like family history (brands, or otherwise), and you can peak a little more about them online, which again, I enjoyed.
For this Shrimp Spinach Artichoke Dip, I sauteed chopped shrimp, garlic and onion in a little butter (you can use ghee as well) before combining everything else together, to bake until warm and bubbly. You could also mix and heat in one skillet, or add everything together, and use the slow-cooker, if you'd rather. Just like wine pairings, you do you. Though, the recipe below calls for baking 😉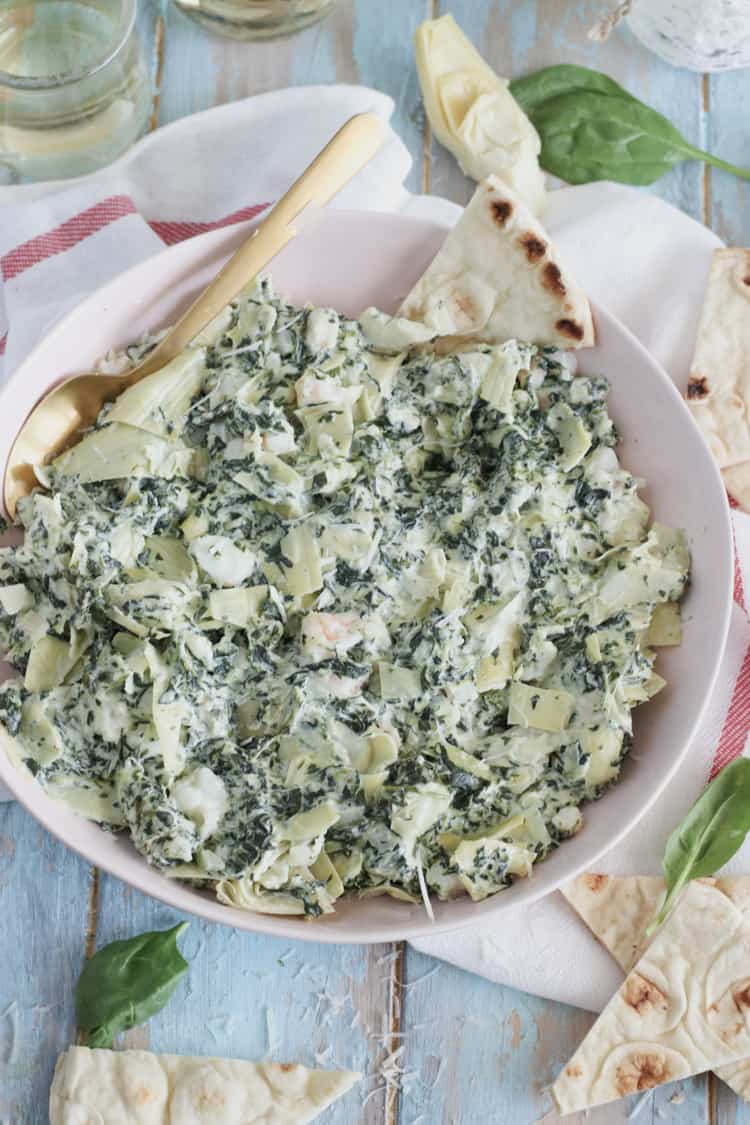 I like to dunk fresh veggies, and toasted pita bread into this Shrimp Spinach Artichoke Dip. If you're watching carbs this weekend, this is a great low-carb party app – enjoy!
Items used to make this recipe:
shrimp spinach artichoke dip
Shrimp Spinach Artichoke Dip that's light, creamy, and baked until warm and bubbly. Topped with Parmesan Cheese. Perfect for a party!
Print
Pin
Rate
Ingredients
½

lb

raw shrimp

-

peeled and deveined, chopped

1

tablespoon

unsalted butter

½

cup

onion

-

diced

3

cloves

garlic

-

smashed and minced

1

teaspoon

sea salt

1

teaspoon

pepper

10-

ounce

package frozen chopped spinach

-

thawed and drained

12-

ounce

jar

-

artichoke hearts, drained and chopped

8-

ounces

Neufchâtel cream cheese

-

softened at room temperature

1

cup

Parmesan cheese

-

shredded (plus more for serving)

Sliced veggies

-

tortilla chips, and/or pita wedges, for dipping
Instructions
Preheat oven to 350 degrees F.

To a medium skillet, melt butter on medium-high heat. Sauté onion and minced garlic until fragrant, about 2-3 minutes. Add in chopped shrimp. Mix to combine. Remove from heat.

In a baking dish, combine spinach (drain first), artichoke hearts, cream cheese, Parmesan, shrimp mixture from skillet, and salt and pepper.

Bake for 15-20 minutes until dip is hot and bubbly. Remove from heat, and top with extra Parmesan, if desired.

Serve with an assortment of veggies, tortilla chips, and/or pita wedges for dipping.
This post may contain affiliate links. Purchasing through them help support this website. Please see the disclaimer here.