I think I am the last person on the face of the earth that has tried pesto. I had it sometime last week when Jason and I found a new breakfast spot in our 'hood. I ordered an omelet that came with a side of pesto, and my life was forever changed. Now, I pretty much want pesto on all the things. Well, all the food things, anyway
You know what else I love? FETA (but seriously, look how many recipes I have posted that include feta, I'm not even kidding right now).
…and do you know what else I love besides pesto, and feta cheese? Pizza, Pizza! Who doesn't love pizza though, right? If you don't at least like pizza, we probably can't be friends. #sorrynotsorry
Feta cheese is a cheese we use often at Casa de Crews; in salads, meatballs, omelets, I could keep going. I did make it on a Greek Pizza once that was loaded with flavor, but had too many toppings and was messy to eat.
Then I remembered I could use naan – oh naan. Thin crust, smaller portions (so I don't eat alllll the pizza) and less toppings. Less toppings means I need better ingredients and lots of fresh flavors, right?
While I suppose any feta would do for this recipe, I really like Nikos feta, specifically their Tomato Basil Feta – because when you think flatbread pizza, you probably don't think of feta, but why not? Nikos Tomato Basil is zesty, flavorful and perfect for my pizza!
Plus, Jason doesn't love fresh tomatoes like I do, so I still get my tomato-y goodness from a food I love, cheeeeese. I always win in the end, my friends. Feta + Pesto = heaven in my mouth.
[amd-zlrecipe-recipe:34]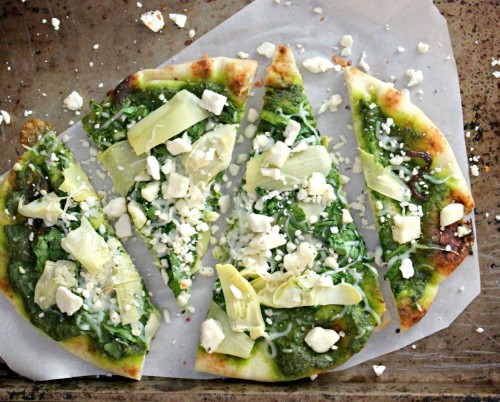 Connect with Nikos Feta Cheese: Facebook | Pinterest | Instagram <— their IG has me drooling over feta food pics, p.s.
P.P.S. Nikos Feta is hosting a giveaway this June/July! One lucky contestant will win a seven-day, six-night trip to Honolulu, Hawaii, during the 2015 Hawaii Food & Wine Festival (August 29 – September 13, 2015).
For more details on how to enter, visit: www.NikosFeta.com or or the "Hawaii Trip" tab on their Facebook page!
What is your favorite feta cheese recipe?