Filling, fresh, and naturally sweet. The perfect mid-morning meal made with fresh strawberries, a kick of caffeine, and protein packed Greek yogurt!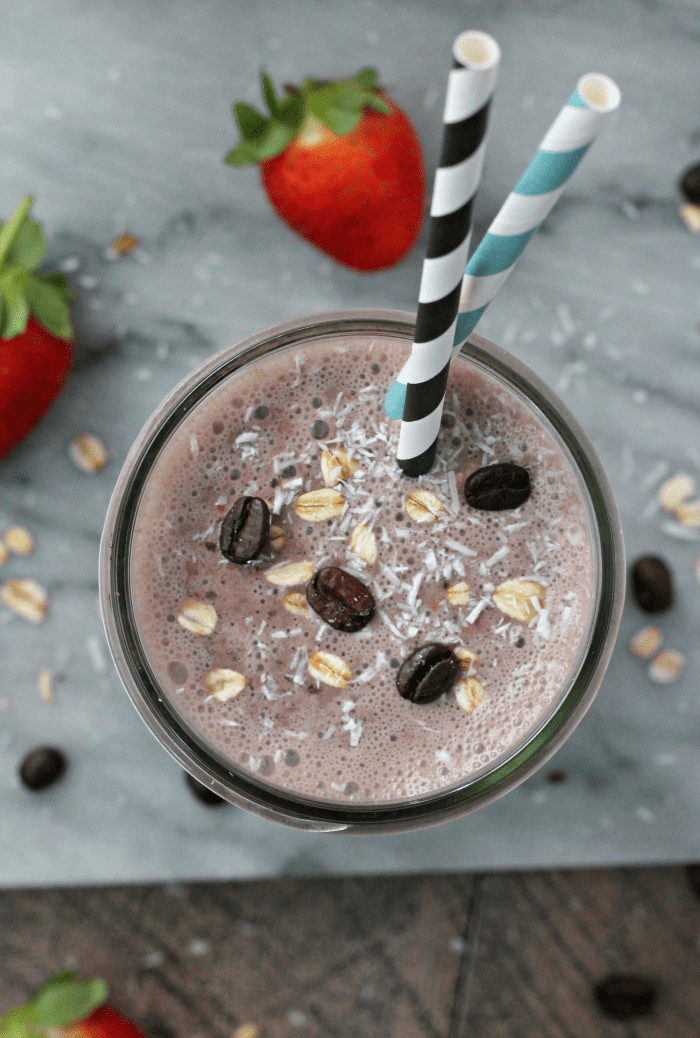 I've been trying something new this year. For the first time in a reallllly long time, I'm eating 5-6 small meals a day. Eating this way has made me less HANGRY, which makes me a happy kid. To each their own, but this method has been working really well for me so far.
I generally start the day with a slice of avocado toast, or overnight oats. Then mid-morning, I love to make a smoothie. This is also when I generally will also have a cup of coffee. For the longest time, I'd make my smoothie with fresh fruit, almond milk, ice, and protein powder or Greek yogurt. It was tasty, but after a while my smoothie felt watered down from the ice. Until I realized I could freeze my fresh fruit; nothing against pre-sliced, already frozen fruit, but fresh and prepped in my own kitchen just makes me feel better overall. My latest smoothie obsession is a Strawberry Mocha Yogurt Smoothie.
Since we're currently in the thick of Florida Strawberry season, I am stocking UP. Though since season runs November – April, I plan to freeze a ton of individual bags to enjoy sweet Florida strawberries even when the season ends. I'll definitely stock up with pints from the grocery store, but also since we don't live too far from a U-pick farm, we'll be going there too! Most local U-pick farms don't require an appointment, but make sure to double check and find your closest farm, here.
Now…how do you preserve yo' berries? It's incredibly simple, you guys. First, make sure to pick firm, fully ripe strawberries. The firmer the berry, the sweeter the taste. Make sure to wash your berries (only in water, and only right before preserving to retain moisture), and remove the caps – then slice or dice into bite-sized pieces. 2/3 cup fresh berries, will give you a pint of frozen ones. I like to store my Florida Strawberries in Ziploc baggies for the portion I will need when it's time to make my smoothies. You can easily use glass canning jars to freeze your strawberries – I just have a small freezer and plastic baggies save space for me.
Since Florida Strawberries are naturally so sweet on their own (and is one of the many reasons why I enjoy them so much) I don't preserve my berries with any sugars or juice. I love to grab a bag, add in other frozen fruits, and I am good to GO. Whole, frozen strawberries will stay fresh for up to eight months. Sliced berries will last five months in the freezer.
This Strawberry Mocha Yogurt Smoothie is blended with Greek yogurt for added protein, and fresh brewed coffee for caffeine. You don't really taste the coffee, but you'll know it's there. What's not to love?!
Ingredients
¼

cup

almond milk

-

any milk will do

½

cup

Greek yogurt

-

plain

½

cup

coffee

-

chilled

¼ - ½

cup

frozen Florida strawberries

1

tsp

cocoa powder

coconut shreds

-

granola, chia seeds, to garnish (optional)
Instructions
To a blender, add all ingredients (besides optional garnish ingredients) and mix until smooth. Add toppings, if desired.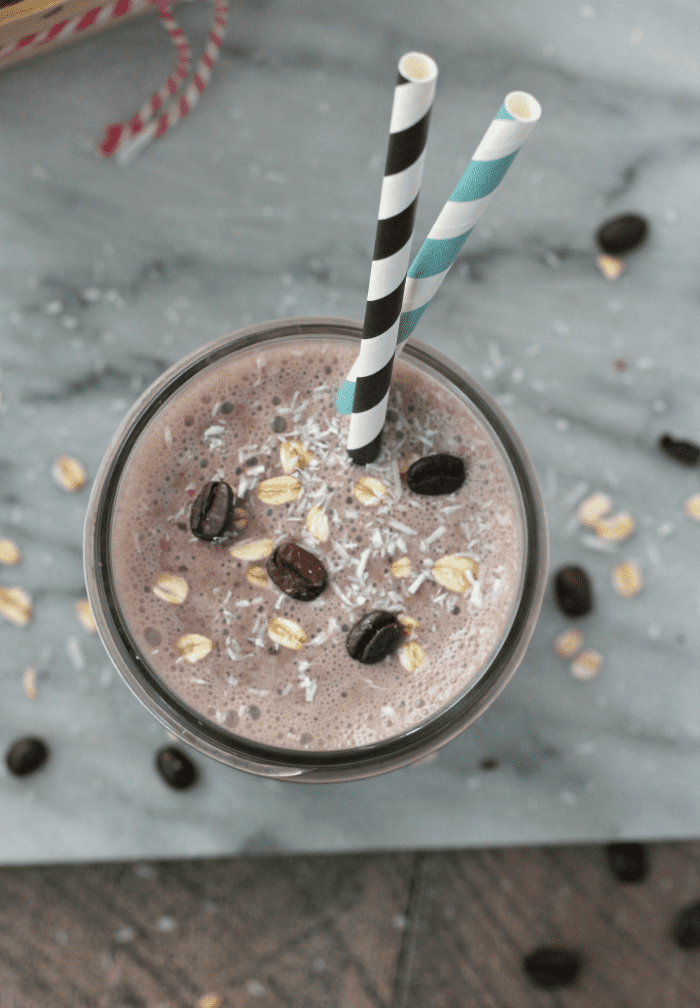 This post is sponsored by Florida Strawberry Growers Association. All opinions are my own. Please see the disclaimer here.