Learn how to use a charcoal grill. There's no need to feel intimidated – this method couldn't be easier and you'll be a grillmaster in no time!
How to Use a Charcoal Grill
For years I wanted a gas grill (propane) because it seemed easier to handle. My husband, the unofficial grillmaster at Casa de Crews, vetoed that idea as soon as I suggested it. And so for years, I just let him man our charcoal grill in the summertime.
But then I realized that I didn't want my dude to have all the fun, and I learned how to start our charcoal grill and now we're both pretty great grillmasters. It did take me a few times before understanding how to control the heat better, what direct and indirect heat meant, and why it's important to have a really solid thermometer when handling the grill. This is the grill we currently own (affiliate link).
Don't be intimidated! Follow these steps below and you'll be an awesome grillmaster in no time!
Tools you'll need:
chimney starter: Every charcoal griller should have this tool! A chimney starter helps to measure out your charcoal before lighting your briquettes without having to use lighter fluid.
charcoal: We're fans of the Kingsford Professional (though I can only find at my Tampa Costco or on Amazon) and Kingsford Original Charcoal but use any charcoal brand you want.
crumpled newspaper: or a crumpled brown bag (from the grocery store) or lighter cubes – also called fire starter cubes.
lighter: you want a long reach lighter like you'd use to light candles. One like this is just fine.
heat-resistant insulated gloves: Make sure you have a pair of heat-resistant insulated gloves to avoid burning or injuring yourself.
long-handled metal tongs: This is more if you need to move the hot coals around or redistribute said coals. But it's not 100% necessary and simply a suggestion.
How to Start a Charcoal Grill
Step 1: Measure out your charcoal
You want to make sure you have a close to accurate amount of charcoal briquettes before you start grilling.
Step 2: Fill a chimney starter with charcoal
Place the empty chimney starter onto the lower grate of the grill (sometimes the bowl of your grill depending on the type of you own)
Fill the chimney starter with charcoal.
Place wadded-up newspaper or one or two fire starter cubes onto the charcoal grates and place the chimney starter on top.
Step 3: Light the coals
Light the newspaper or fire starter cubes with a long lighter and place the chimney on top of them. Keep the grill lid open during this time.
When the charcoal is lightly covered with ash, after around 12-15 minutes, use a pair of heat-resistant insulated gloves and carefully pour the hot coals onto the lower grate/bowl of your grill.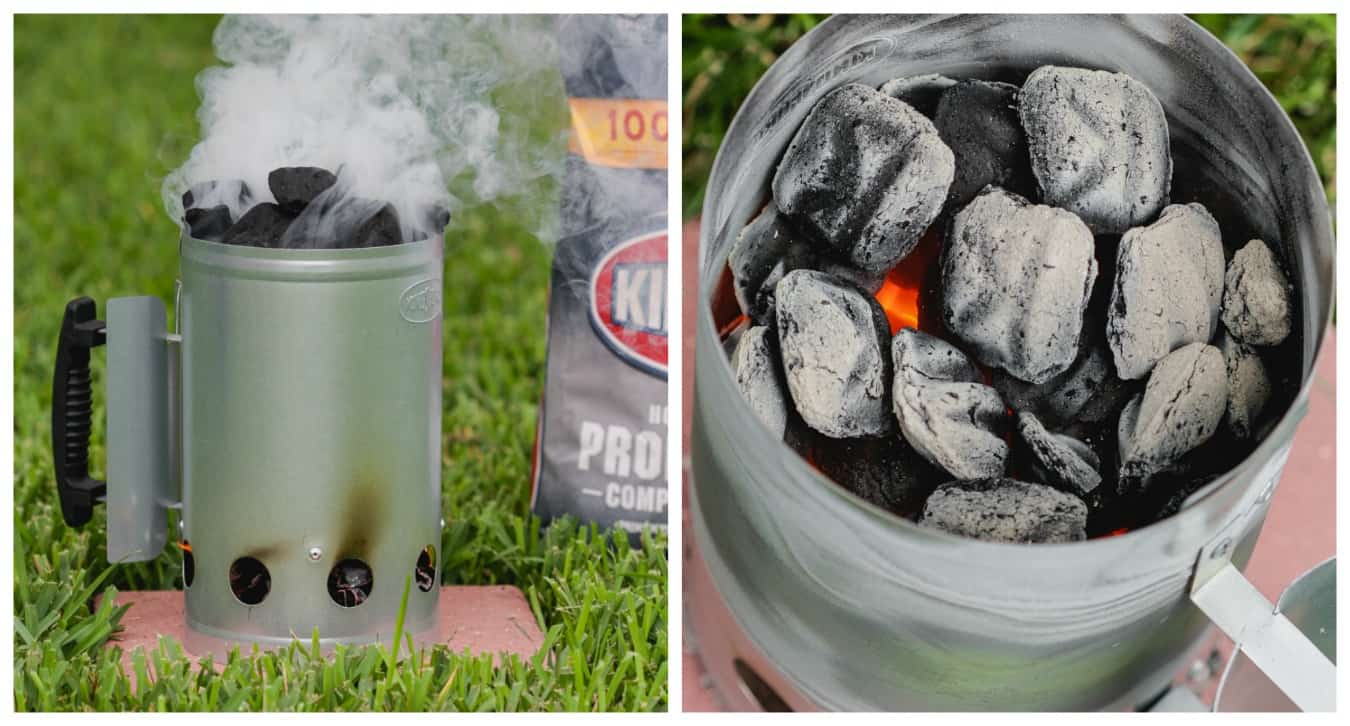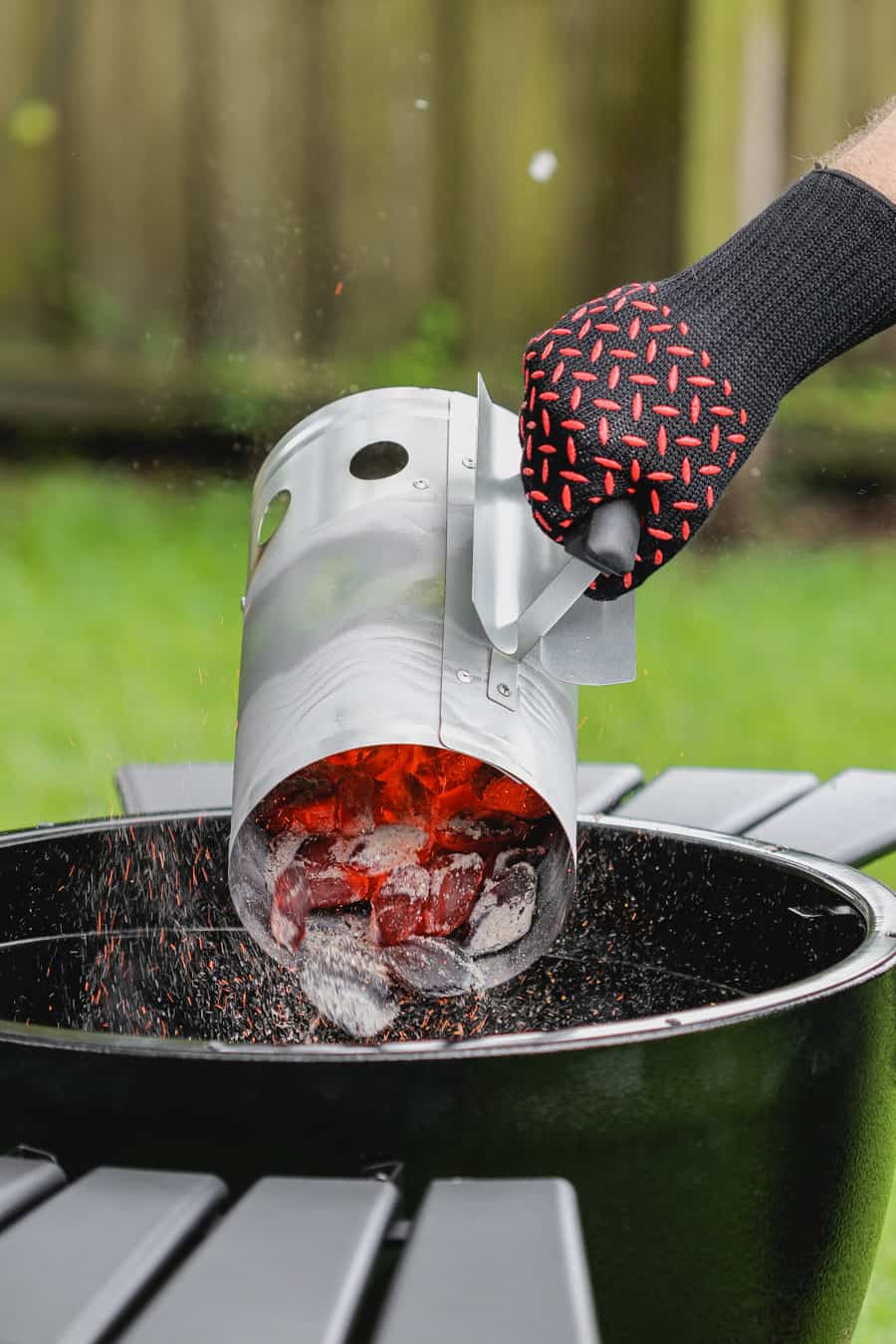 Grilling with charcoal
After you've poured the hot coals onto the lower grate/bowl of your grill, spread out the hot coals in an even layer for direct heat grilling, or in one half of the grill for indirect heat grilling. Carefully place the cooking grates back on, close the lid, and let the grill heat up to your desired temperature (see guide above for desired temps).
Grilling directly over hot coals (direct heat) will sear the outside of the food and make instagrammable grill marks. Thicker cuts of meat usually need more time to be thoroughly cooked. To accomplish this without having the food dry out or become too charred, create a two-zone fire.
To cook with direct heat, arrange the lit coals on roughly half of the charcoal grate for the hot zone. Sear the food over the coals and then move the pieces to cool area for slower indirect cooking.
Regardless of the charcoal arrangement, place the cooking grate into position.
Close the lid.
Make sure the grill vents are open.
Wait 10-12 minutes as the grill heats up to your desired temperature.
Make sure your grates have already been cleaned and oiled to prevent food from sticking.
Place food onto the cooking grate and follow recipe instructions.
To make sure you maintain consistent temperature while cooking, you'll want to regulate the airflow. To regulate the airflow and temperature, you will use the vents located at the top and bottom of the grill.
To increase the temperature, open the damper beneath the fire.
To lower the heat, open the upper damper and close the lower damper.
If the temperature isn't increasing, and you need additional heat, add more coals using long handed metal tongs.
And that is it! You're ready to master your charcoal grill!
GRILLING RECIPES TO MAKE
This post may contain affiliate links. Purchasing through them help support this website. Please see the disclaimer here.