This butternut squash risotto recipe is a comforting meal, that includes crispy sage, savory bacon, and white wine. A wonderful dish in the fall or winter!
This risotto is lyfe, you guys. This is THE perfect side for your Christmas table! It's got a little bit of everything delicious; comforting arborio rice, bright and healthy, butternut squash, crispy bacon, wine, and fresh sage fried in bacon grease for jusssst a minute to crisp ever so slightly to top over your risotto. Oh, and lots of Parmesan cheese that melts so well in a warm pot of Butternut Squash Risotto.
Every year, at Christmas, we host my in-laws for dinner a week before the actual holiday. Jason's family did this long before I was around (his sisters are much older than him, and had their own families to stress over on the day of major holidays), and it's nice to not have to all run to several dinners in one day. We get to really just be in the moment, and not worry about being anywhere else.
With my own family, I have hosted Christmas Eve dinner for-ever, and I also love it, but we tend to stick to my lasagna rolls, or a roast. With Jason's family, we're a little more traditional, and enjoy turkey, that Jason smokes, ham, and a plethora of sides. And every year I play around with sides, and his family never complains, which is nice because it gives me a chance to try a few new recipes in the kitchen!
Like this Butternut Squash Risotto with Bacon and Fried Sage. So here is how this happened; I have had a bag of arborio rice in the pantry for months now, and my youngest sister and I have talked about making a Butternut Squash Risotto for probably a year, and so I finally made it happen. And it does not disappoint! It's so creamy, and comforting, and tastes decadent. This risotto is cooked with 4-ish cups of chicken stock, so it's definitely not dry at all.
This Butternut Squash Risotto with Bacon and Fried Sage is honestly a meal in itself, but it's also just the perfect side to complete your Christmas menu. It has starch, and veggies, so it's kind of like two sides in one!
Plus, at the last minute I decided to use the bacon grease to crisp up sage leaves, and holy hell, it is amazing! It gives it the earthy flavor you get from fresh sage, but it's crispy, so hello texture. If you have non-meat eaters at your table, you can omit the bacon altogether, and crisp the sage in olive oil, avocado oil, or just serve fresh, tossed in.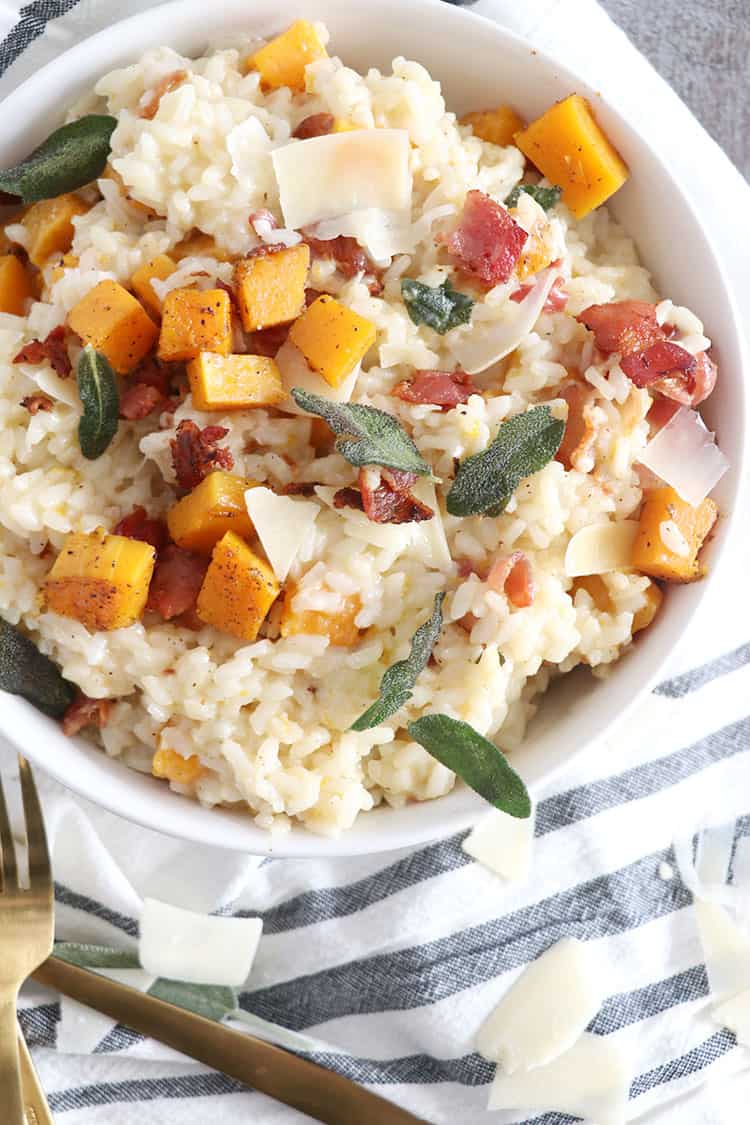 Items used for this recipe:
butternut squash risotto with bacon and fried sage
This butternut squash risotto recipe is a comforting meal, that includes crispy sage, savory bacon, and white wine. A wonderful dish in the fall or winter!
Print
Pin
Rate
Ingredients
6

slices

bacon

-

cooked and chopped

1½

cups

butternut squash

-

cubed

salt and pepper

-

to taste

¼

tsp

freshly grated nutmeg

1½

cups

arborio rice

3

garlic cloves

-

minced

1

cup

dry white wine

-

I used Chardonnay

4 to 5

cups

low-sodium chicken or veggie stock

-

warmed

⅓

cup

freshly grated parmesan cheese

fresh sage leaves

-

for garnish, for garnish
Instructions
To a large skillet, such as a saute pan with high sides, cook bacon. Heat pan over medium-low heat and add the bacon. Cook until the fat is rendered and the bacon is crispy. Once crispy, remove it with a slotted spoon and place it on a paper towel-lined plate to drain any excess grease.

Remove approx 2 tablespoons of the bacon grease from the skillet and reserve it for the sage. Add the butternut squash cubes to the skillet with a sprinkle of salt and pepper, and nutmeg. Cook, stirring occasionally, until the squash is just fork tender, do not overcook, about 4-6 minutes.

Using the same saute pan, heat over medium-low heat and add ½ the reserved bacon grease. Add the arborio rice and stir. Toast the rice until the pieces are translucent and just fragrant. Stir in the garlic and cook for another minute. Stir in the white wine, constantly stirring or at least stirring every minute or so, until the rice absorbs the wine. Once the wine is absorbed, add in 1½ cups of the chicken stock, stirring until the rice absorbs the liquid like it did with the wine. Repeat this 2 to 3 more times, until all stock has been added and the rice is al dente, just firm. You want it to appear a little wet – and want there to be some liquid left when serving. We don't want a dry. The entire stirring process will take about 15 to 20 minutes.

Once the rice is cooked, stir in the butternut squash cubes, grated Parmesan cheese and almost all over the bacon, leaving some for the topping. If desired, take remaining reserved bacon grease, and heat over medium heat. Toss in fresh sage leaves, and allow to crisp, this will only take about 1 minute.

Serve immediately.
This post may contain affiliate links. Purchasing through them help support this website. Please see the disclaimer here.