Simply seasoned, and packed with flavor, treat your family to a roasted beef tenderloin with a homemade white wine cream sauce that acts as a decadent gravy.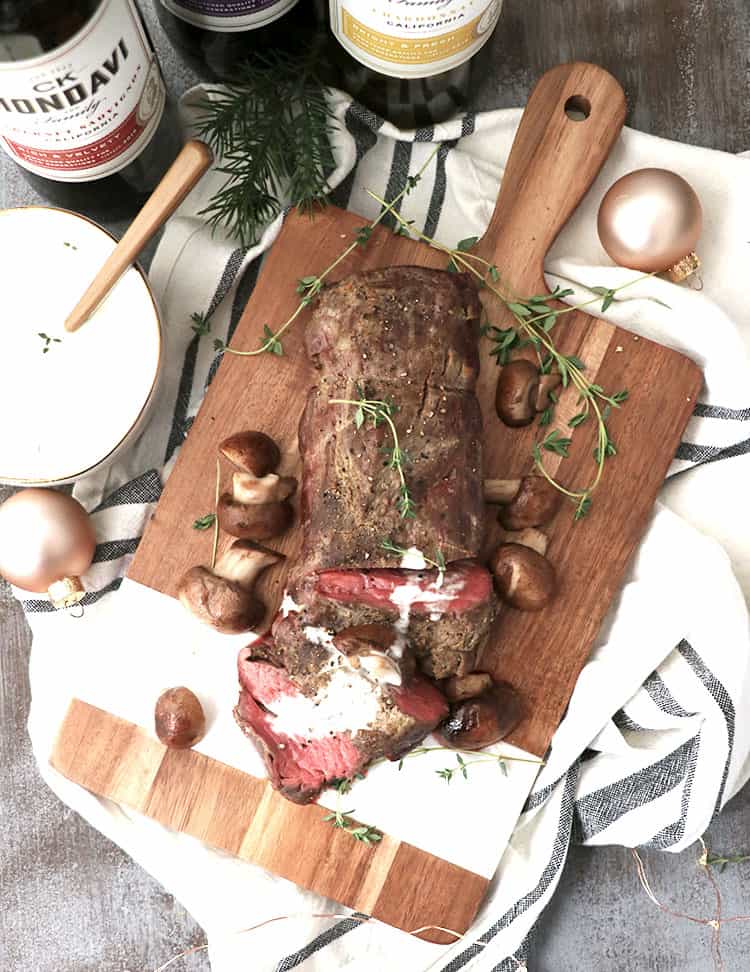 There is just something so special to me about a beef roast – any roast. This weekend we'll host my in-laws for dinner, and Jason will smoke a turkey (really a work of art in its own right), and I'll make a small ham, with all the sides. And it will be delicious, and will remind me of a very traditional Christmas meal, and that's lovely.
Except on my side of the family, we always celebrate any special occasion with beef, and it isn't truly Christmas to me without it. Some years I prepare a roast at Christmas for my immediate family, and some years it's my mom. It just depends. And to me, you cannot go wrong with a juicy beef tenderloin. This post is written in partnership with CK Mondavi and Family. As always, the opinions here are all my own – cheers!
I'll be honest, this cut of meat can be a tad pricey – but it's the same cut that filet mignon comes from, and it's incredibly indulgent, and totally worth it in my opinion. Beef Tenderloin is also extremely easy to prepare. I love the idea of a rib roast, or a prime rib during the holidays, but everyone in my family likes their doneness a little different than the last person, and I can better control the temperature with a beef tenderloin.
Plus, I like to save a generous quarter of the roast to cut into filet steaks to enjoy later on. My birthday is in January, so treating myself to filet at home is a no-brainer, and I make Jason cook up the sides, haha.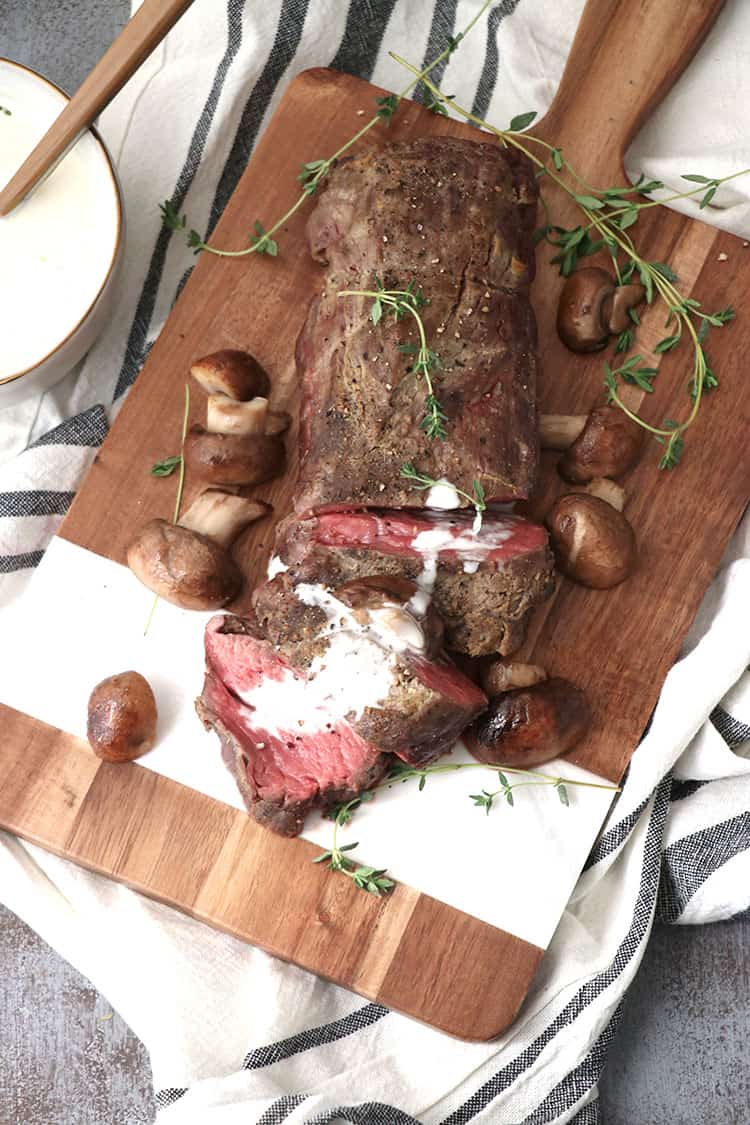 So! This Roasted Beef Tenderloin with a White Wine Cream Sauce? It's simply seasoned with salt and pepper, but first it gets a generous coat of dijon mustard, to make it all stick. My mom always adds mushrooms to any roast, and so even though I'm thirty-three, I like to do it like mom, and add button or cremini mushrooms to roast alongside my beef tenderloin.
I initially planned to make a red wine cream sauce using CK Mondavi and Family's Merlot as the base, but I had an open bottle of CK Mondavi and Family Chardonnay (from a batch of Butternut Squash Risotto <– but seriously, make this as a side to this Roasted Beef Tenderloin, you won't regret this decision!), and a new idea was born. Either varietal would make for a great cream sauce, so you do you.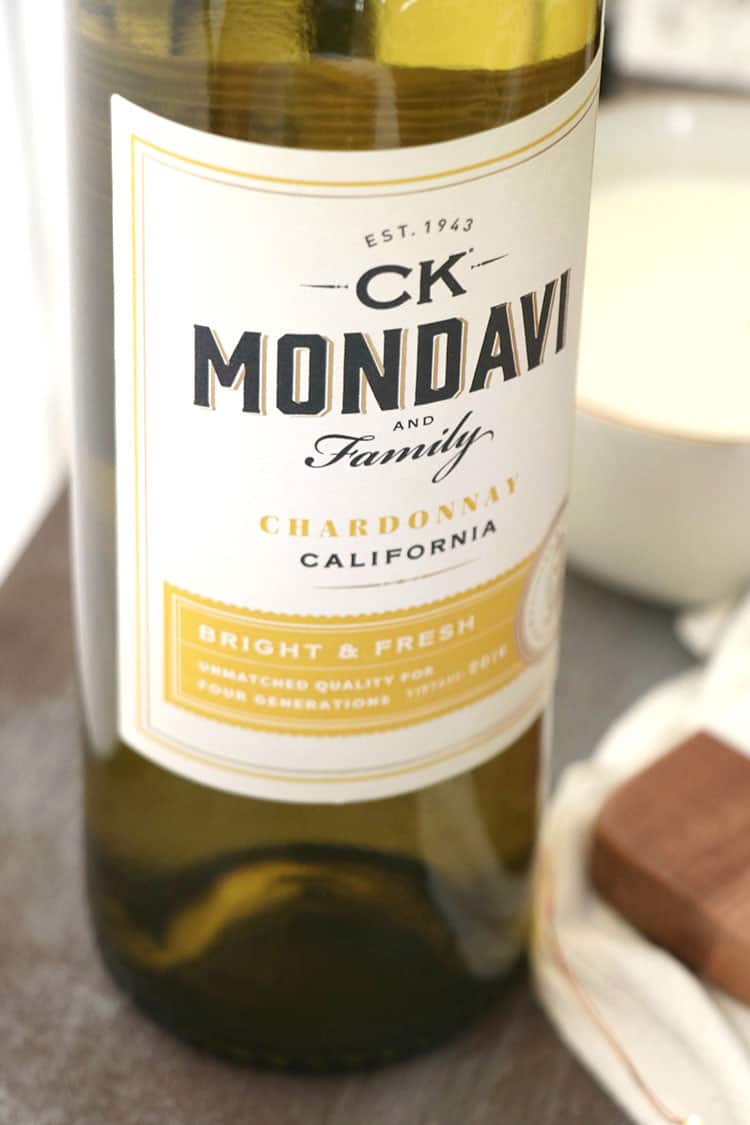 The white wine cream sauce has a rich, gravy-like consistency. It's not as thick as gravy, but it gets the job done, and you can ever so slightly taste the wine, and the cream, and butter (tis' the season, and all that), and dijon; that we also used on the roast, I dare you not to just want to slurp this sauce through a straw. But don't. Obviously. 
The white wine cream sauce can be made for any roast you're preparing this year, so if a tenderloin isn't for you, you can still whip up this white wine cream sauce, and call it a day.
If you have no idea how to prepare a beef tenderloin, the biggest challenge I personally face is trimming the fat, and tying it up. And I've practiced my knife skillz for a few years now, and I still get worried. But it always comes out beautifully, so if this is also a worry of yours, don't be scared! YOU CAN DO IT! That, or this time of year, ask your butcher to trim it up and tie it all pretty for you. They should do it, without any issues. Tying the roast ensures it will roast evenly, which is what you want in any roast.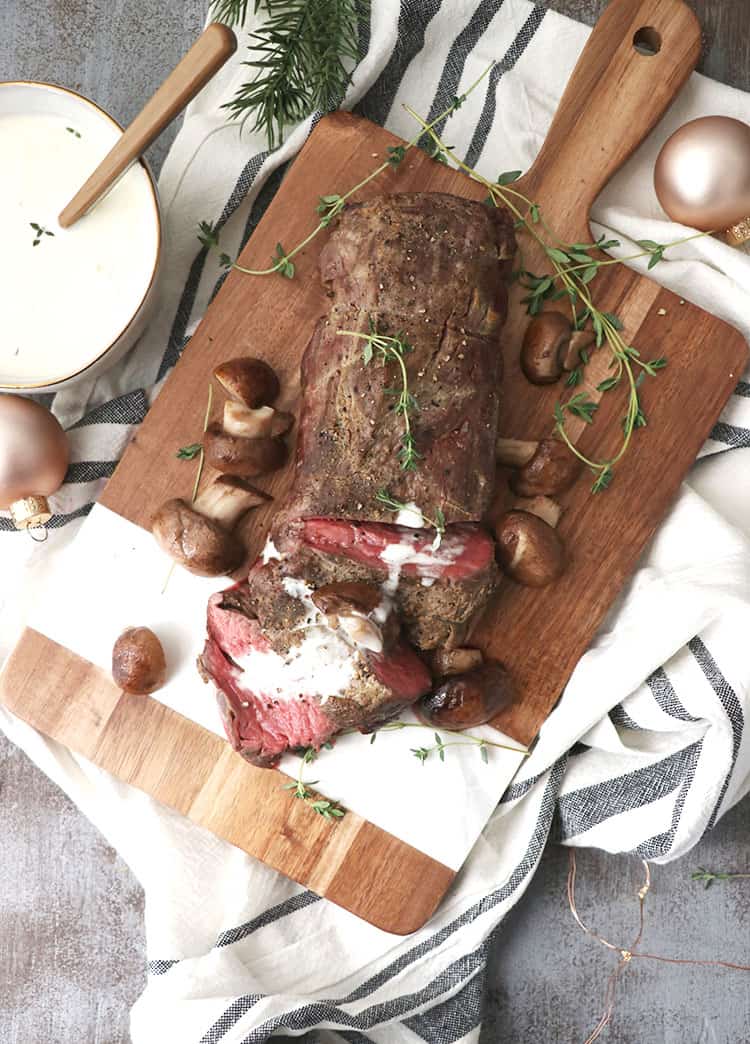 You know how I feel about wine pairings. There is definitely a time and place for it, but holiday shindigs aren't going to be it. Most would recommend CK Mondavi and Family's Cabernet Sauvignon or Merlot as a good red to pair with beef. But maybe your aunt/cousin/neighbor won't drink a red, and you don't want wine shame anyone, and since we have a dry Chard (can we call it chard? Is that rude?) in the white wine cream sauce, you can pair this tenderloin with the Chardonnay instead, and all is right in the world. P.S. Yes, this is sponsored, but I was never a huge fan of Chardonnays until I sipped CK Mondavi and Family. I promise. Since then, it is my favorite white. P.P.S. If you have the Ibotta app (or you could download it) earn cash back with any qualifying purchase of CK Mondavi and Family wine. Look for wine tags in stores for more info!
This roast will take less than an hour to cook. While it's doing its thing in the oven, you'll make the the cream sauce, and use fresh thyme. For a festive garnish, I also added fresh thyme sprigs to the Roasted Beef Tenderloin – you obviously don't have to do this, but I just love how it all came together. If you need a good salad to pair with this roast, I'm digging this Winter Salad with Fig Jam Vinaigrette – happy holidays, friends!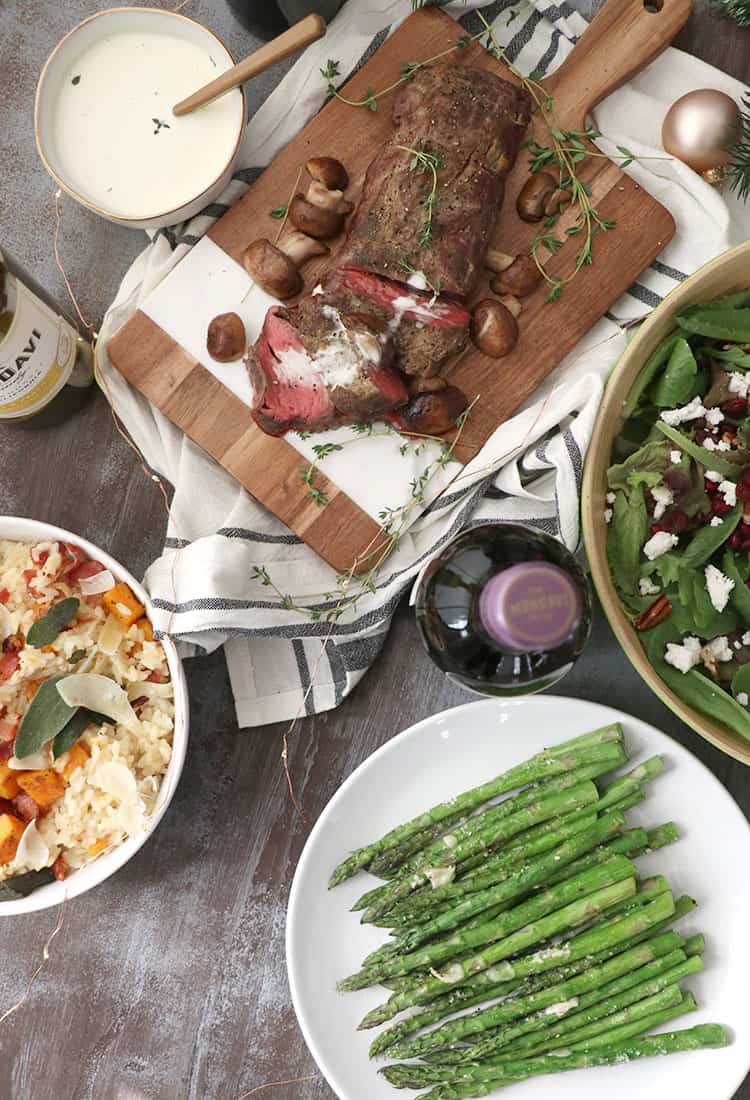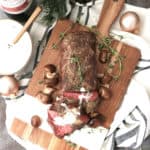 roasted beef tenderloin with a white wine cream sauce
Simply seasoned, and packed with flavor, treat your family to a roasted beef tenderloin with a homemade white wine cream sauce that acts as a decadent gravy.
Print
Pin
Rate
Ingredients
Roasted Beef Tenderloin
1 3-

pound

beef tenderloin roast

2

tablespoons

Dijon mustard

2

tablespoons

Kosher salt

1

tablespoon

coarsely ground fresh black pepper

2

tablespoons

ghee or butter

16

ounces

cremini or button mushrooms, halved
White Wine Cream Sauce
½

cup

white wine

-

chardonnay suggested

2

tablespoons

ghee or butter

2

teaspoons

chopped fresh thyme

2

cups

heavy cream

½

cup

grated parmesan cheese

Kosher salt and pepper

-

to taste
Instructions
Roasted Beef Tenderloin
Rub the beef with mustard and season generously with salt and pepper. Cover and refrigerate for at least one hour; up to overnight.


Preheat oven to 450F and place tenderloin in a roasting pan, top with halved mushrooms and ghee or butter; roast for 15 minutes. Lower heat to 325F, and roast for an additional 30-35 minutes until tenderloin reaches an internal temperature of 125F for medium rare doneness, or 145F for medium doneness. Make sure to use a meat thermometer to test.

Allow roast to rest for at least 10 minutes before slicing.
White Wine Cream Sauce
To a medium saucepan, pour in wine; simmer 3-5 minutes or until the wine has reduced by about half. Add in the butter and fresh thyme, whisk and cook until butter has melted into wine.

Slowly pour in the heavy cream, and bring the sauce to a boil.

Reduce the heat to low, and simmer until the sauce slightly thickens, about 5 minutes. Remove from the heat and stir in the Parmesan. Season the sauce with salt and pepper, to taste. Serve warm.
This post may contain affiliate links. Purchasing through them help support this website. Please see the disclaimer here.