This no-bake healthier peanut butter pie is made with just four ingredients and is free of refined sugars; this pie couldn't be easier to make!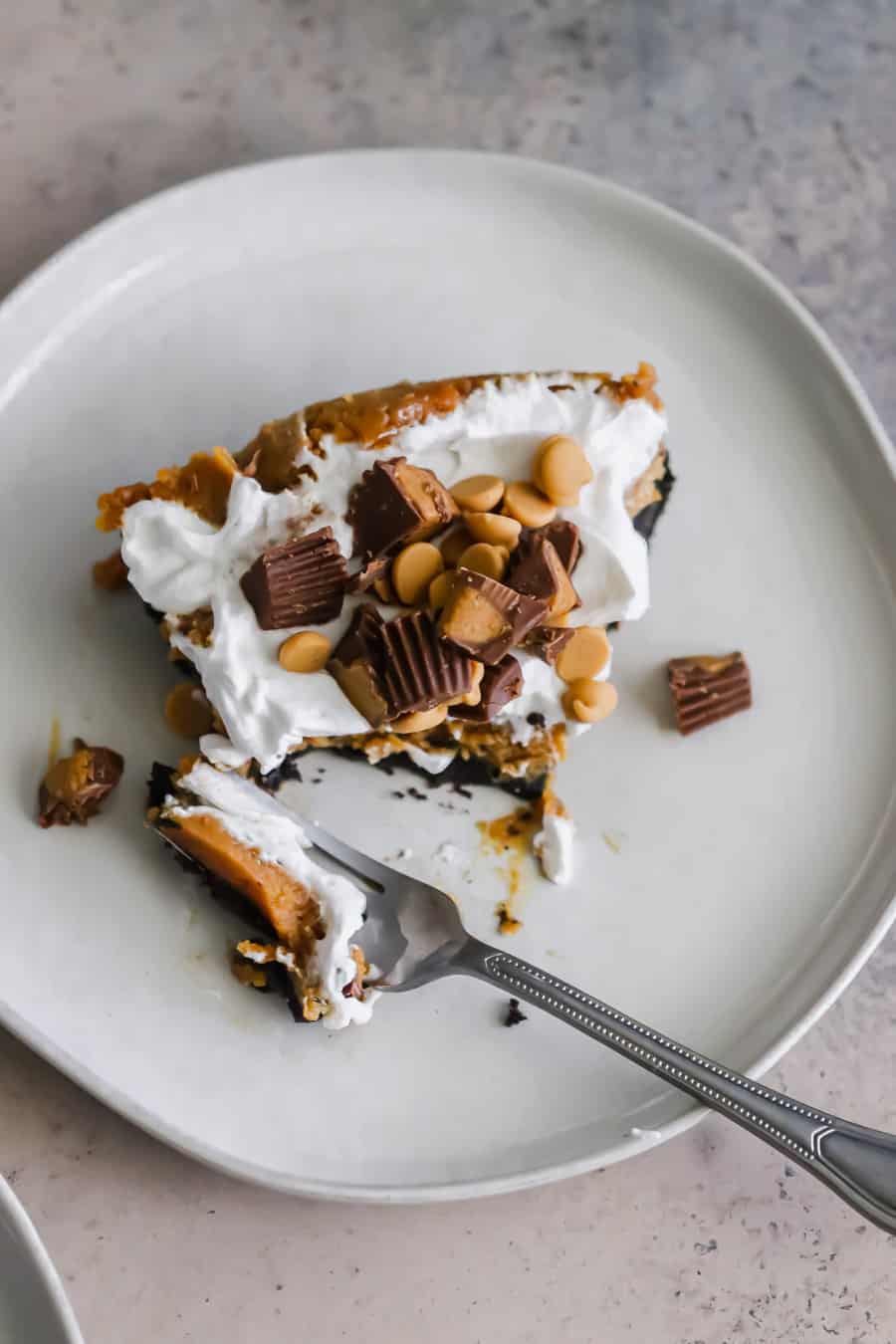 Healthier Peanut Butter Pie
After much request from my instagram friends, I'm finally starting a new series at Casa de Crews; pie of the month! I am so excited to share a new monthly pie recipe for you, dear friend.
I try not to get too wordy in blog posts like the old days, because that's just not how things are done anymore (I get very talky on social media though) but today, today this pie comes with a story. If you're new here and don't care about the backstory, I feel you! Scroll or skip to the bottom for the recipe.
But this Peanut Butter Pie recipe is special to me. I knew I wanted the first pie in this new series to be peanut butter, because I wanted it to be for my dad.
May is his birthday month, and so even though he's not here anymore, he's on my mind a lot. Almost daily still, two and a half years into losing him.
Here's the thing about my dad: he loved snacks! Which okay, what dorky dad doesn't? But what always made it funny was that he was a dietitian who happened to believe in chicken wings, overcooked steak, salt and vinegar potato chips, and most desserts. Also, he loved Slim Jims.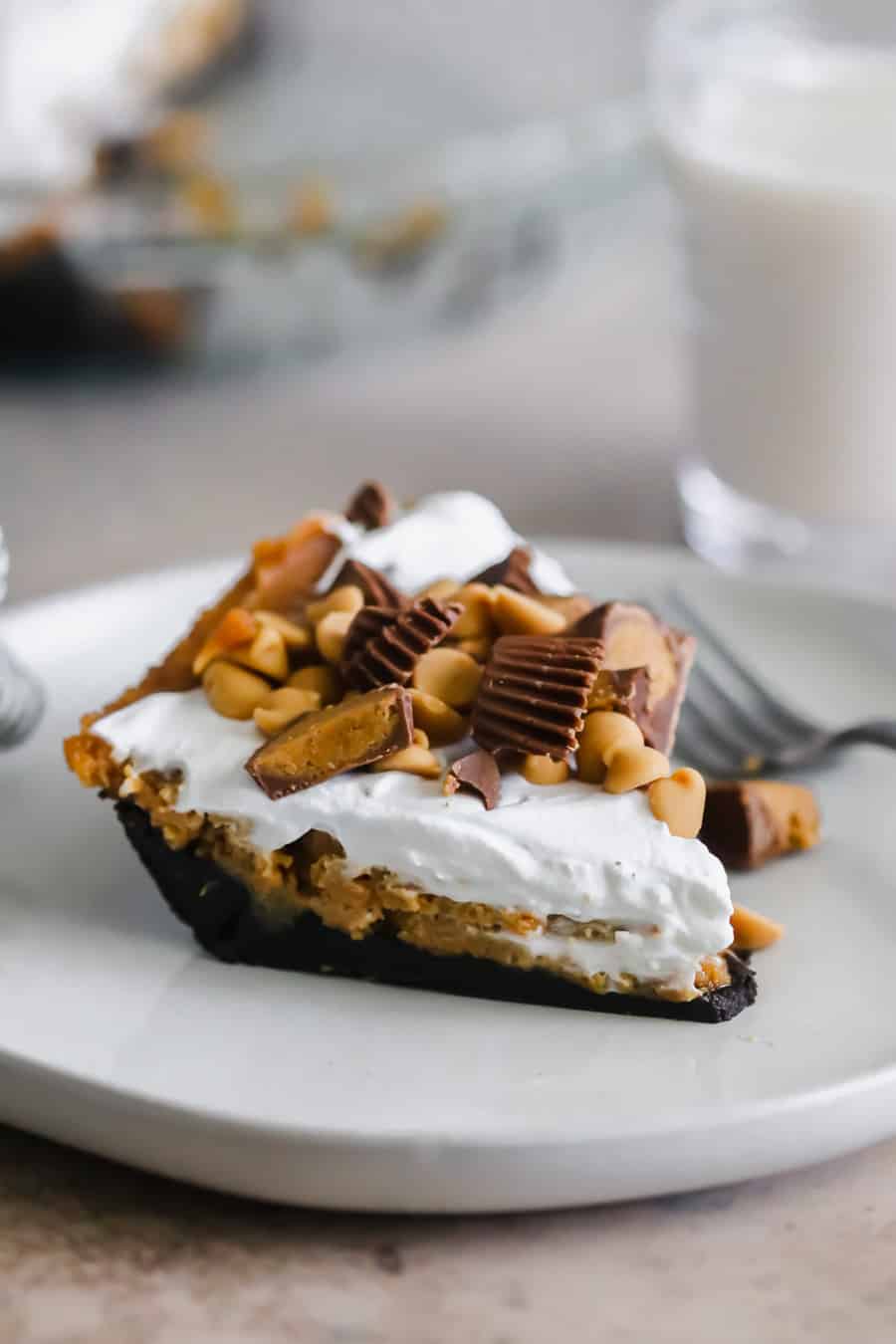 In my early twenties, as a very broke kid, I'd go to my parents house on the weekend to wash my car. Without fail, if you visited my parents house on the weekend, my dad would ask if you brought doughnuts or a pie with you. Because that man could always go for a snack and if you were coming to use his car wash supplies (and water) then you better have a treat with you (90% of the time, I did not bring a treat. If I could do it over, I'd bring that man doughnuts or pie every Sunday whether I washed my car or not).
And so I knew my first pie recipe had to be for dad. But also for you and for me. This Peanut Butter Pie is pretty fail proof, and with a lot of uncertainty in the world right now, I think we could all use a win with an easy, healthier dessert that anyone can nail.
Why this Peanut Butter Pie is healthier
This easy no-bake pie recipe has just four ingredients and zero refined sugars (only honey)! I'm so proud of how delicious and sweet and light this filling tastes with a small amount of ingredients.
The pie filling in this peanut butter pie calls for: creamy peanut butter, Greek yogurt, raw honey and almond milk.
Sadly, I do not suggest natural peanut butter. Because it separates easily, it's not ideal for making the pie filling. I like an organic creamy peanut butter that contains no sugar and palm oil (palm oil is not something I usually suggest as it's high in saturated fat, but it is healthier/less processed than big brand name peanut butter). But please use any brand of creamy peanut butter you like (Jiff, Skippy, etc).
Similar pie recipes call for cream cheese, condensed milk, heavy cream and/or powdered sugar. And while delicious, if we can achieve similar flavors with less ingredients, why would we not?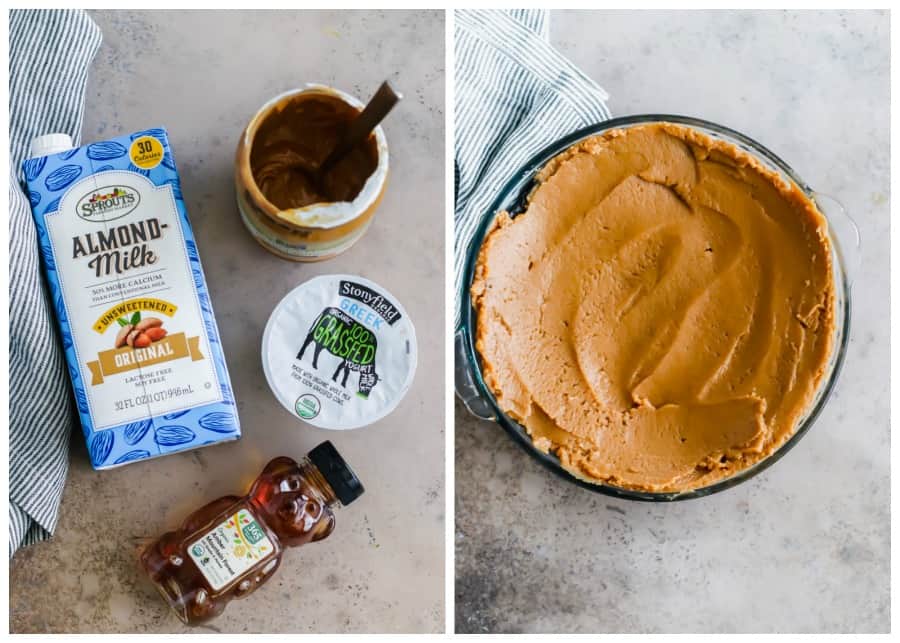 What kind of pie crust to use
I debated testing a pie crust that's keto or paleo for you. But in the end I decided that I want you to make this pie your own for the peanut butter lovers in your life, so first I'm going to say use any pie crust you like. Store-bought or homemade is fine.
Traditionally, a graham cracker crust is the way to go. If you have a go-to keto crust you like, use that. If you have a solid recipe using raw cashews, that'll work as well! Here is a good keto crust if you need one.
For today's pie, I made a chocolate cookie sandwich crust (like oreos, but I did not use oreos) and will include the instructions below.
I've used the same method below with graham crackers as well. The pie crust recipe is also no-bake.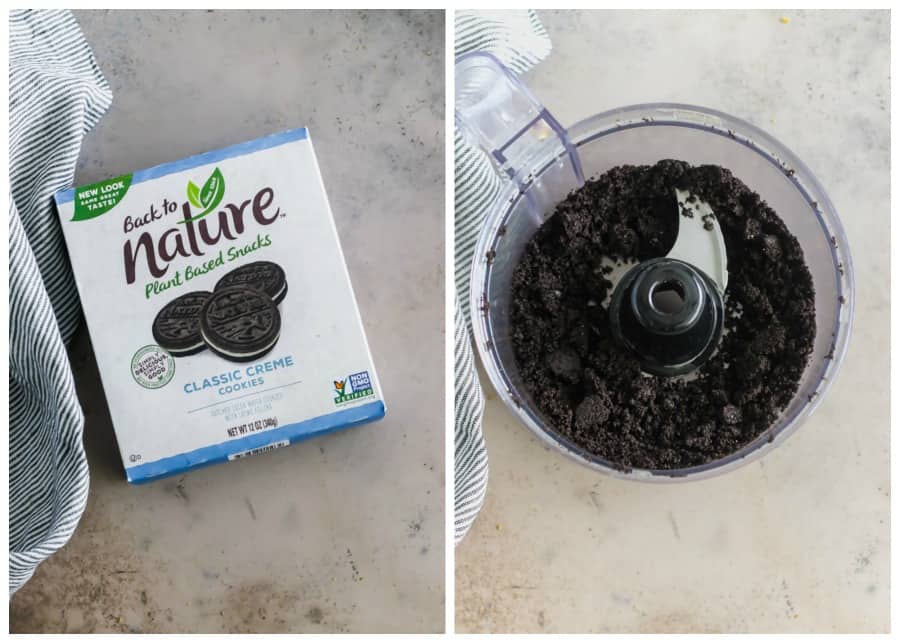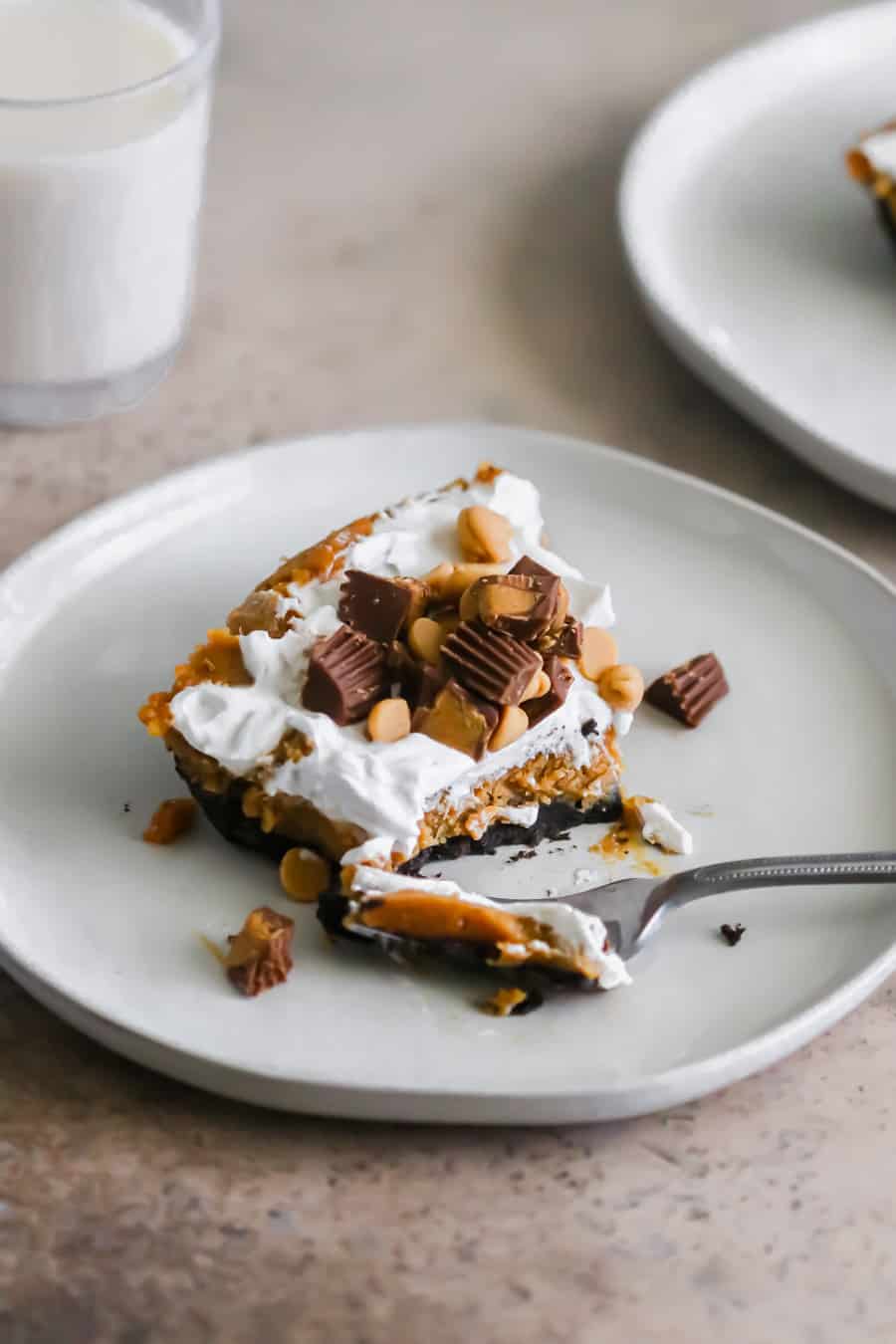 Optional Toppings
100% this Healthier Peanut Butter Pie is perfect as-is, but whipped cream is a really good way to cover up any imperfections after your pie has chilled.
I like to use my dairy-free coconut whipped cream, but any whipped cream (homemade or store-bought) will work.
I know I keep saying that this is healthier and then I've garnished with peanut butter candies, but that's because I know my dad would have loved it like that.
whipped cream
chocolate shavings
chocolate chips
peanut butter chocolate chips
peanut butter candy (Reese's Pieces, PB cups, etc)
Life is really weird right now, but most days I choose to find the good going on and seeing how creative people are getting to still "see" each other! Social distancing-style birthday parties for kids, zoom happy hours for adults, small virtual weddings, etc.
This Healthier Peanut Butter Pie is a great pie to bring to a friend whose had a rough week, or a family member whose having a birthday in quarantine. It's also great to have for yourself when you just need a little comfort and need a break.
And if you have a dad like mine, make him this pie. He'll love it. He may critique it like mine would have, but he'll also really love it.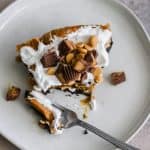 Healthier Peanut Butter Pie
This no-bake healthier peanut butter pie is made with just four ingredients and is free of refined sugars; this pie couldn't be easier to make!
Print
Pin
Rate
Ingredients
Peanut Butter Filling
1 1/2

cups

creamy peanut butter

-

avoid brands that are labeled as natural/oily

1 1/2

cups

Greek yogurt

3/4

cup

raw honey

1/4

cup

almond milk

-

any milk will do

1 9-

inch

pie crust

-

your own or recipe below
Chocolate Cookie Crust
1 12-

ounce

package chocolate sandwich cookies

-

such as Oreos

5

tablespoons

butter, melted
Instructions
Peanut Butter Filling
To a large bowl add creamy peanut butter, Greek yogurt, honey and almond milk. Using a hand mixer, mix until well combined and filling is smooth.

Pour into the crust and smooth over the top. Freeze for 4-5 hours until solid, up to overnight. See notes if making in advance.
Chocolate Cookie Crust
Pulse cookies in a food processor until crushed into fine crumbs. Add the melted butter and stir to combine. Press into a 9-inch pie plate. Freeze while you mix the filling.
Notes
Make Ahead + Freezing Instructions:
You can keep this pie in the refrigerator overnight and add whipped cream/any additional toppings right before serving. Cover tightly and store up to 3-days before serving.
This pie can be frozen up to 3 months. It's very refreshing when it's frozen or you can let it thaw overnight in the refrigerator before serving.
If freezing, do not garnish with whipped cream or toppings (if using) until ready to enjoy.
Peanut Butter:
Use a non-natural peanut butter that contains palm oil for a less processed version, or a large brand like Jif or Skippy. I do not suggest using natural style as the oil from the peanut butter will cause the filling to separate and/or turn greasy.
Nutrition Info:
This pie will serve 8-10 slices. Because the brands you use may vary, this recipe does not include nutrition info. This is a recipe that's more for your soul than your macro tracker.
This post may contain affiliate links. Purchasing through them help support this website. Please see the disclaimer here.