Boxed Chocolate Cake Mix, layered with homemade sweet coconut and pecan filling, give this classic cake a more modern look!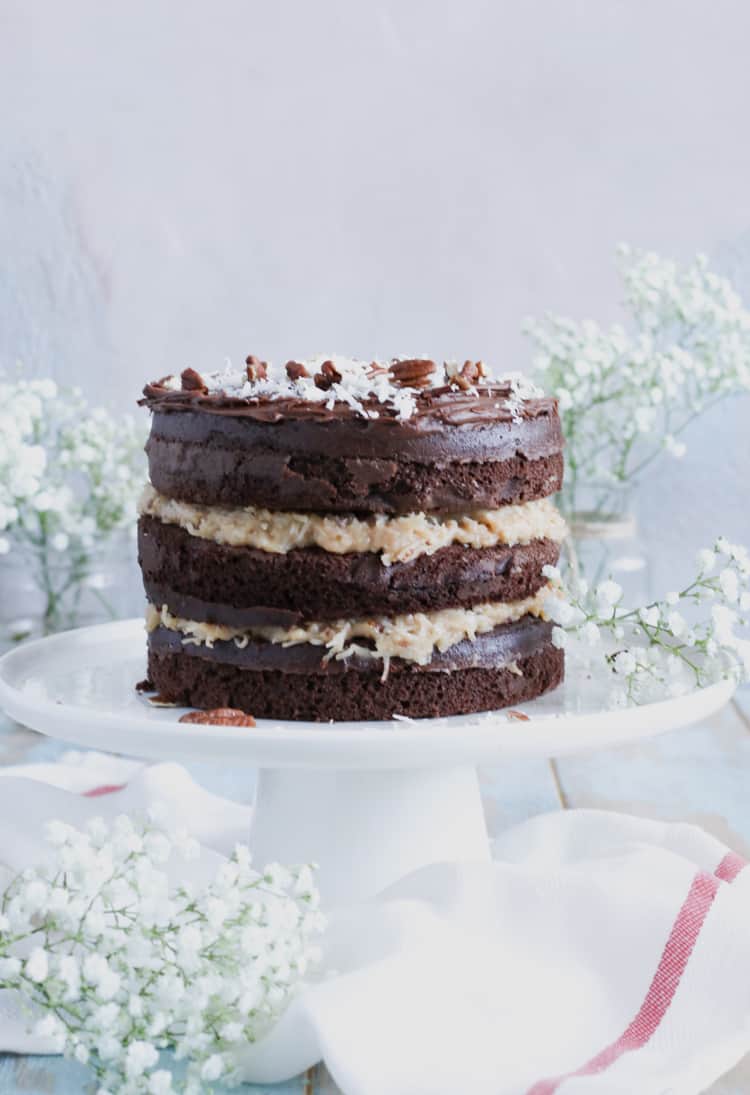 Rarely, if ever, will you find a cake recipe on this site. Baking has never been something I've had much patience for. It's definitely more of my sister's love than mine, and I am more than okay with that! But a few years back, I started hosting (most years, maybe not every year) Dad's birthday and Mother's Day together, which meant I was also in charge of a birthday cake for dad.
One year I attempted to layer a German Chocolate Cake to celebrate. My dad loved German Chocolate Cake; the frozen Pepperidge Farms version you have to thaw before you can eat were always his favorite. So this one year, years ago, I tried to make it from scratch.
I had no idea at the time you had to level round cakes before you layered it. So you can guess the outcome, right? It crumbled, and split, and was incredibly awful to look at. After that I started making chocolate cupcakes (from a box, thankyouverymuch) with a homemade frosting similar to the filling in a German Chocolate Cake. It did the trick, tasted deliciously sweet, and no cakes were harmed in the making of the event.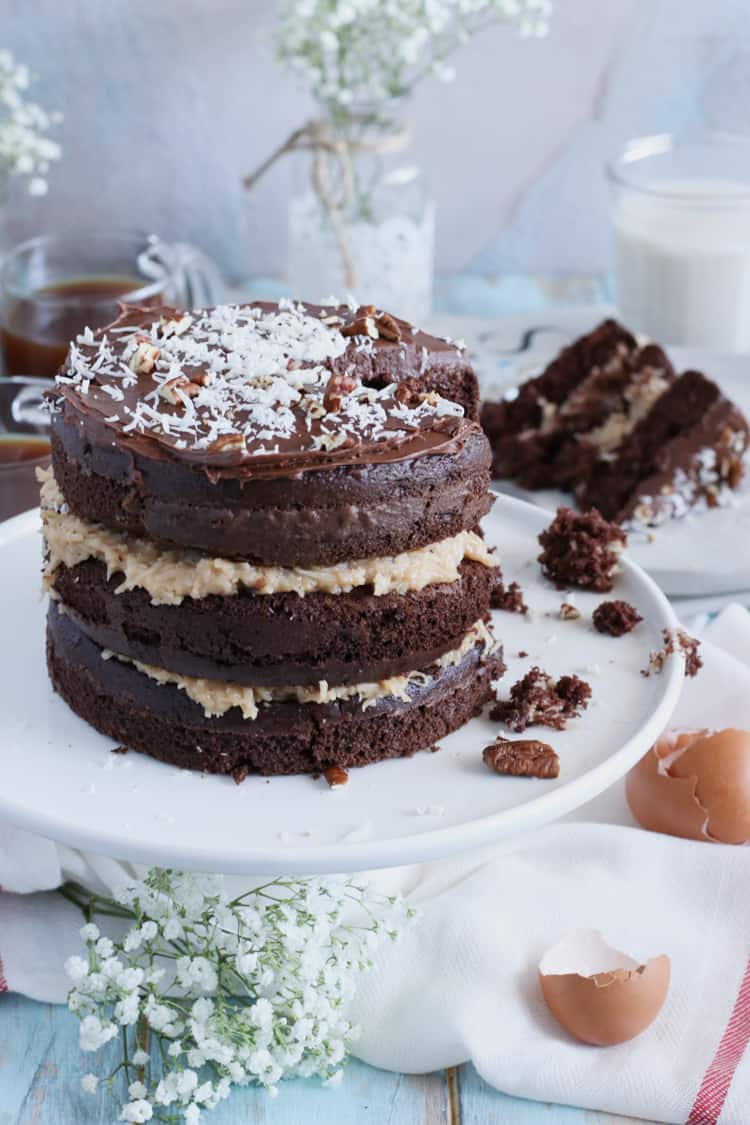 To honor my dad, I finally got the layering down! Today is his birthday, and it's the first one without him (he passed away suddenly in January), and I'm not going to lie you guys, it's hard. Harder than hard. But as a family, we'll always celebrate his birthday.
Before this all happened, I had actually planned a trip for a blog conference, and I hate that I am not home to be with my family. But I made this cake for everyone to enjoy, and remember our father.
When I look at this Naked German Chocolate Cake, I see the flaws; I didn't let it cool long enough for a styled photo, and I got a tad lazy with the filling. But you know what? It tastes fantastic, and my dad would be impressed. Sometimes, I think we're all a little too hard on ourselves.
If dad were here, we'd celebrate this Sunday. Most likely, Jason would grill something, and I'd work on sides and this cake. And because it'd be a Sunday, the paper would be a must (even though, like who still gets the Sunday paper anymore?) – if we didn't have a paper, dad would ask why we didn't pick one up for him (this applies for the Thanksgiving paper as well. Somewhere along the way, I was deemed paper picker-upper).
I know my limits, and if you like making cakes but homemade from-scratch baking stresses you out more than it soothes you, then take the easy way out. Those boxed cake mixes are there for a reason!
I used a box of Duncan Hines Devil's Food Cake with ::gasp:: vegetable oil! Could I have cleaned this up? Sure, but this is a treat for the soul, and for a birthday! So no, I followed the box, and made a homemade filling (here is the recipe), and wanted the layers to show through, so I went naked with this cake, and instead schemered a generous helping of [store bought] chocolate frosting on the top layer, and called it a day.
If you're a lover of German Chocolate Cake, but H A T E to bake, try making my semi homemade version, and see what you think!
Naked German Chocolate Cake
Boxed Chocolate Cake Mix, layered with homemade sweet coconut and pecan filling, give this classic cake a more modern look!
Ingredients
Coconut Pecan Filling
4 egg yolks
1 12-ounce can evaporated milk
1 1/2 teaspoon vanilla
1 1/2 cups sugar
3/4 cup butter
1 7-ounce package shredded coconut flakes
1-1/2 cups chopped pecans
Chocolate Cake
1 box cake mix, prepared according to package directions
1 cup chocolate frosting (homemade or store bought)
extra pecans and coconut shreds, to garnish (optional)
Instructions
Cake
Preheat oven to 350 F.
Prepare cake mix according to package directions.
Divide batter evenly between 3 pans (I used 6″ round pans). Bake for 21-25 minutes. Insert a toothpick into the center of each cake, and if it comes out clean, it is done.
Remove the cakes from the oven and set on a wire rack. Allow to cool completely in the pan.
Coconut-Pecan Filling
As the cakes cool, prepare the coconut pecan filling: Beat egg yolks, milk and vanilla in large saucepan with whisk until blended.
Add sugar and butter; cook on medium heat 12 min. or until thickened and golden brown, stirring constantly. Remove from heat.
Add coconut and nuts; mix well. Cool to desired spreading consistency. Can be made ahead of time.
Assemble
First, level the cakes if needed: Place first cake layer on a cake plate. Evenly cover the top with 1/2 of the coconut pecan filling. Top with 2nd layer and evenly cover the top with remaining filling. Top with the third cake layer. Spread the chocolate frosting into a thick layer on top. Garnish with extra pecans and coconut, if desired. Refrigerate for at least 45 minutes before slicing or else the cake may gently fall apart as you cut (may have learned this the hard way).
Happy Birthday, Daddy-Man! Today would have been your 52nd birthday. I'm missing you like crazy. We're all missing you like crazy. "Missing you like crazy." doesn't even seem to really justify how I'm feeling. But today we'll celebrate you with your favorite cake <3.
Join my Facebook Group to keep the convo going!
This post may contain affiliate links. Purchasing through them help support this website. Please see the disclaimer here.