Tart and refreshing, this Boozy Backyard Lemonade hits the spot on a hot afternoon when you want something cold to drink with a vodka twist!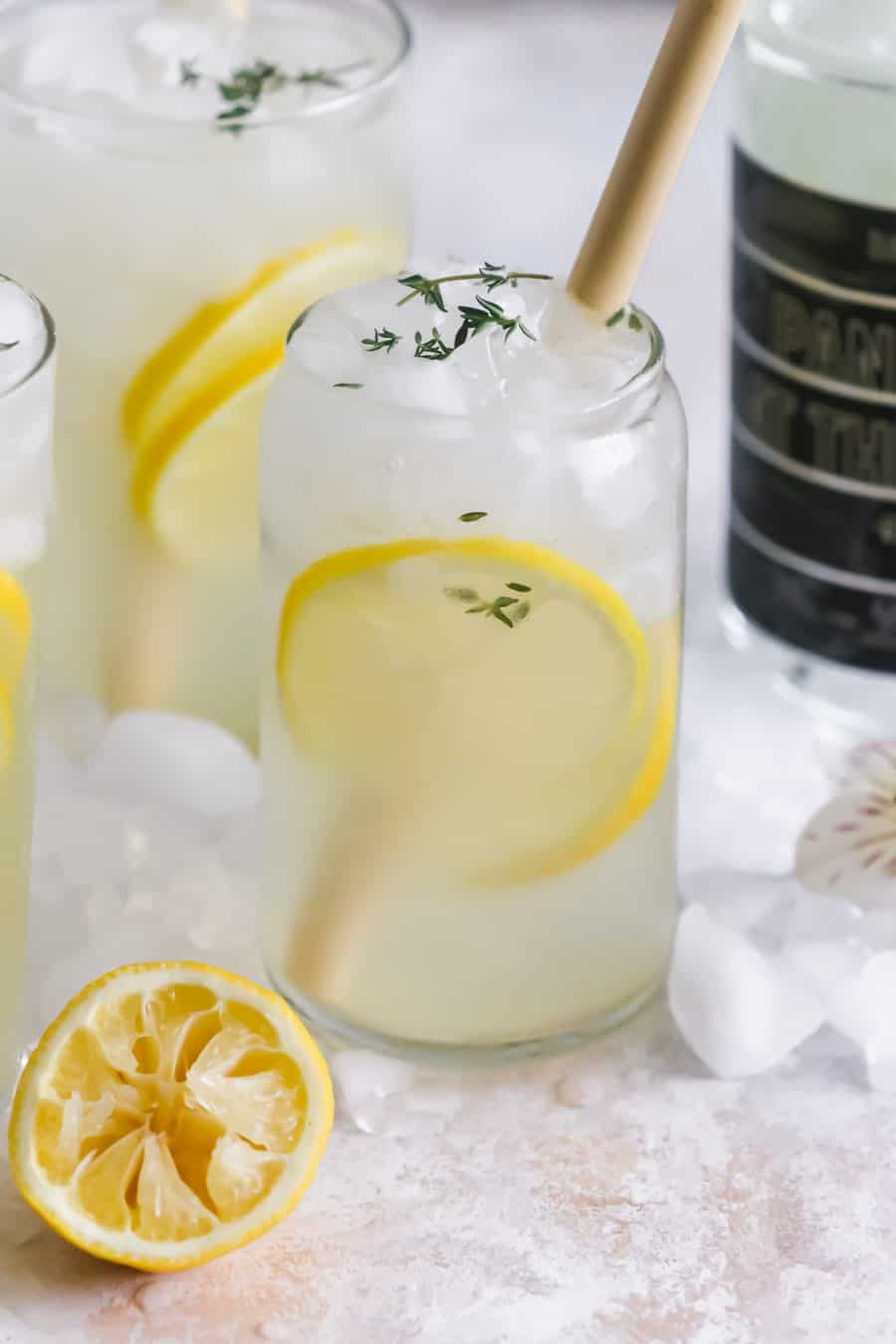 Boozy Backyard Lemonade
This spiked lemonade is incredibly refreshing – and besides that, it's also so easy to make. Since we're celebrating happy hours at home more these days (hi, 2020) we're sipping bevs on the patio a lot more than normal and this Boozy Backyard Lemonade is the perfect spiked drink to sip.
If you're looking for other vodka-inspired cocktails, make yourself a Celery Salty Dog or a Pumpkin Spiced White Russian.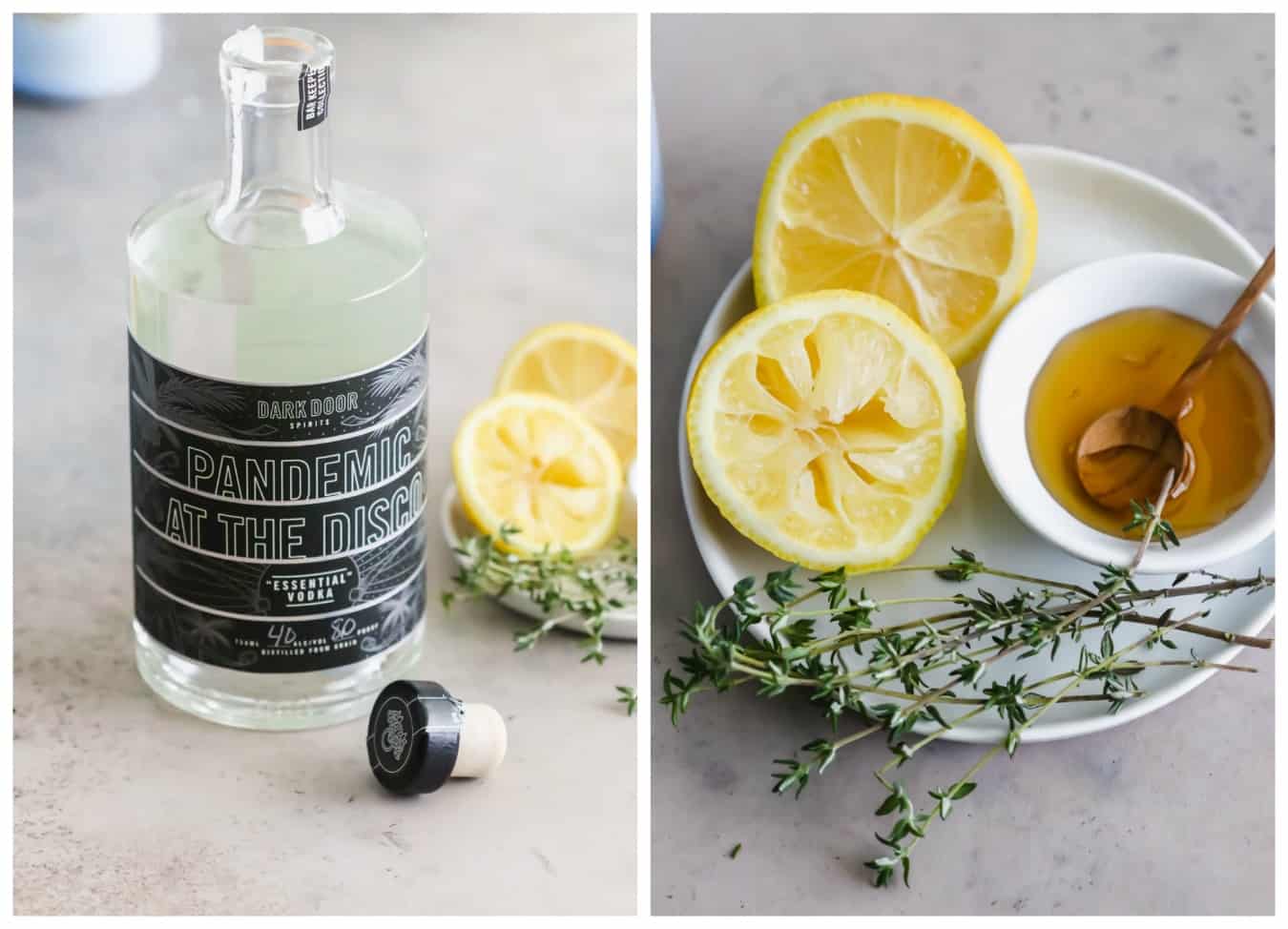 How to make lemonade
The most basic (and easy) way to make homemade lemonade is to combine freshly-juiced lemons, water and sweetener. Growing up, it was definitely sugar. Personally, I prefer raw honey. And if you're vegan, you could absolutely use maple syrup.
USE FRESH LEMONS
There's a time and place for bottled lemon juice, but this isn't it. See also: fresh lemons only contain lemon (duh) so it's as pure and clean as you're going to get.
STRAIN YOUR LEMON JUICE
This is an optional step, but it makes all the difference – especially if you're making a batch for friends. As you juice each fresh lemon, you can either strain through a small strainer like this one, or wait until you've juiced all of your lemons and pour the entire pitcher through the strainer. It's up to you – but this helps get the small amounts of pulp out.
ADD WATER
For every cup of fresh lemon juice, you'll want to use 4-4 1/2 cups of water to help cut the tart taste from the lemon. Start with 4-cups, sweeten and stir, and adjust to taste from there with an additional 1/4-1/2 cup of water, if needed.
SWEETEN + STIR
For a full pitcher of freshly squeezed lemonade, I start with 1/3 cup raw honey. You can adjust the taste from there, by a tablespoon or so each time.
WHAT KIND OF VODKA TO USE
To make this Boozy Backyard Lemonade, you can truly use any vodka you like! I love this brand from a local distillery here in Tampa (and their vodka sales go back to a really good cause!) but any vodka will do
Alternatively, any clear spirit such as gin, tequila or rum would also work for this lemonade if you don't have vodka on hand.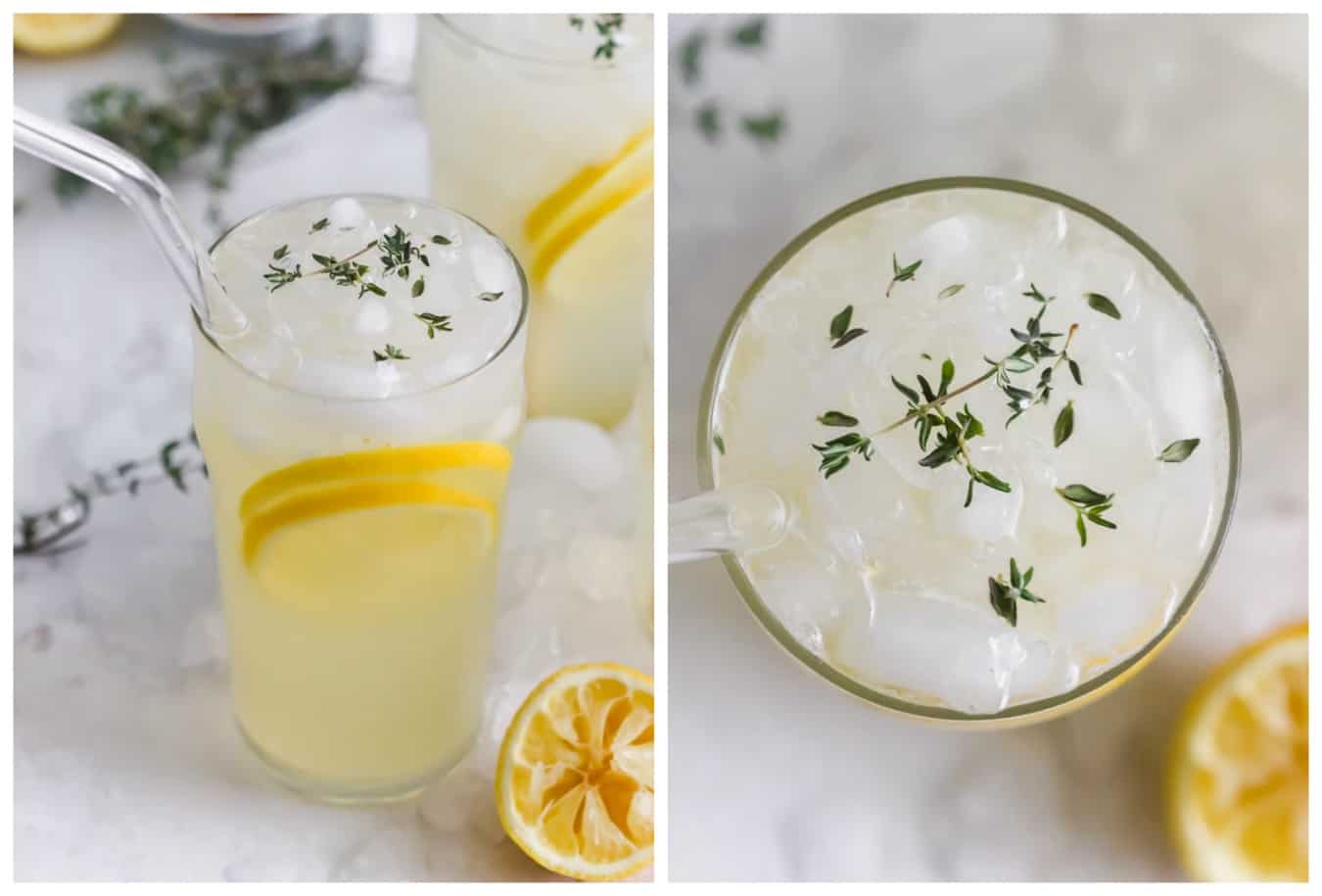 HOW TO SPIKE THIS LEMONADE
The below recipe shows how to make a pitcher of homemade lemonade, sweetened with raw honey. From there you can either add 10-ounces of vodka, or if you're making an individual drink, about 1.5 ounces (about the amount in a shot glass).
If I want a little fizz and flair, I'll top my glass with a splash of lemon sparkling water and fresh thyme. You could also garnish with rosemary or mint if you want to be extra!
Cheers – and enjoy!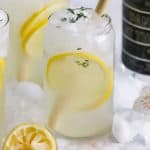 Boozy Backyard Lemonade
Tart and refreshing, this Boozy Backyard Lemonade hits the spot on a hot afternoon when you want something cold to drink with a vodka twist!
Print
Pin
Rate
Ingredients
Homemade Lemonade
4-5

fresh lemons, juiced and strained

-

- about 1 cup juiced

1/3

cup

raw honey, plus more to taste

4-5

cups

filtered water
Boozy Backyard Lemonade
1

pitcher homemade lemonade

crushed ice

12

ounces

vodka

-

or approx 1.5 ounces per glass

sparkling water, to garnish

lemon slices, to garnish

fresh thyme, to garnish

-

- can also use rosemary or mint
Instructions
Homemade Lemonade
To a pitcher, stir to combine 1 cup lemon juice, 1/3 cup raw honey (or other sweetener), and 4 cups filtered water. Sample lemonade and adjust taste by adding additional water (in 1/4 cup increments) or honey (1 TBSP at a time), if desired. Refrigerate to chill until ready to serve.
Boozy Backyard Lemonade
To a large glass, such as a highball or even pub glass, add crushed ice. Pour approx 1.5 ounces (a jigger's worth) vodka over ice.

Pour 2/3 cup lemonade over top and stir. Top with a splash of sparkling water, if desired. Garnish with fresh lemon and thyme or mint. Cheers!
This post may contain affiliate links. Purchasing through them help support this website. Please see the disclaimer here.