Just three main ingredients, and a handful of spices stand between you and a flavorful homemade batch of whole30 ranch dressing, that also doubles as a dip!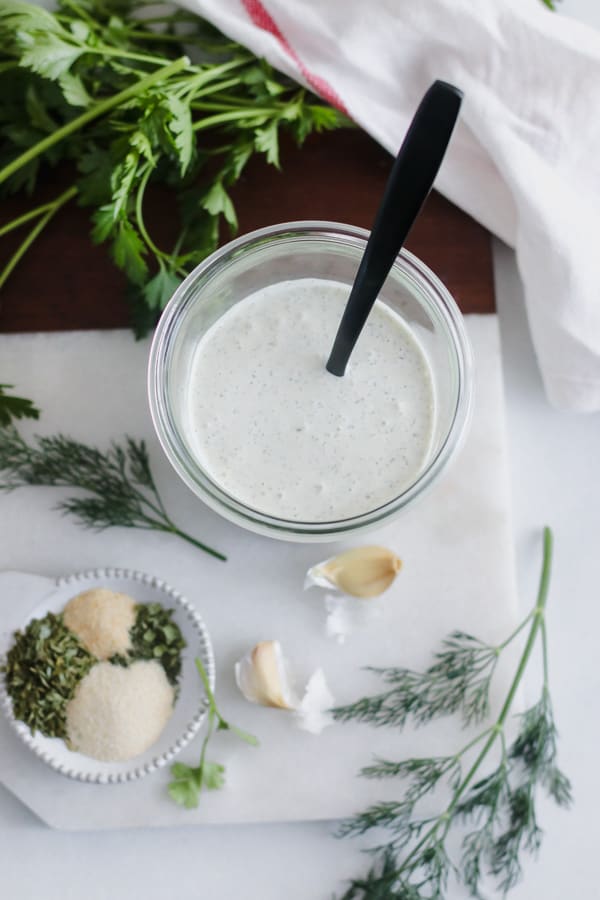 This month is my fifth round of the whole30 diet – and not that that matters to anyone except to say that it's taken me five long years to get the ingredients jusssst right when it comes to making a dairy-free, whole30 compliant ranch dressing that absolutely doubles as a dip.
Clean-eating, less processed buttermilk based ranch is one I've made for years, and it is gooooood. But buttermilk is pricey for the amount I need, so I end up wasting a ton. I have tried to freeze leftover buttermilk, but if I'm being honest I always forget about it because I would only use to make homemade ranch dressing. But if you want to try it, or have leftover buttermilk to use up and can tolerate dairy, here's the recipe.
So! The first time I attempted a batch of whole30 ranch dressing, there were like five recipes on the internet to help me out. This was 2014 and the whole30 was definitely a thing but it wasn't as common as it is now and so having no idea what I was doing as a new whole30-er, I found a recipe that called for an entire can of coconut milk. And it was awful; way too coconutty.
I didn't attempt it again for years. I just went ranch-less whenever I was trying to stay away from dairy. It was a sad, sad time. Just kidding, but also….not.
After playing with the ratios again, I decided that I do love coconut milk in a batch of dairy-free ranch dip, but you don't need a ton. And mayo. That's the real base, you guys. Mayo dressing. What a time to be A L I V E. You can make your own homemade mayo which is very inexpensive, or buy store-bought. For me, it just depends. Primal Kitchen, a compliant whole30 mayonnaise was on sale last week so I took the easy way out. You can also download my eBook to get the recipe for homemade mayo, here.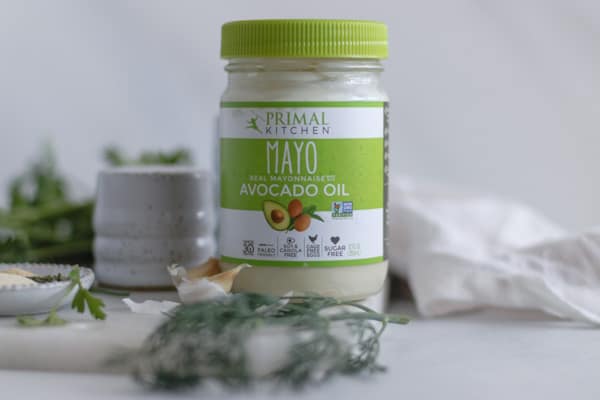 Beyond that, you need a handful of dried herbs – things you probably already have on hand in your spice cabinet! If this is an everyday ranch dressing, you can stick with dried herbs and keep it easy. But if you're making this homemade ranch for an event, I'd recommend mixing dried herbs with a few simple fresh herbs like dill and parsley to wow guests – there's no need to even tell them how "clean" this dip is. They'll just know that it tastes amazing and looks pretty.
Dip or dressing. It just depends on how you want to use this ranch! You can make ahead and store in a mason or weck jar for up to five days in the refrigerator.
Why coconut milk?
So here's the thing, you can use almond milk to make a batch of this ranch dressing, but coconut milk has less ingredients than almond milk or other dairy-free, whole30 compliant milks. Make sure to look for full fat coconut milk without sugar [in a can]. If you do opt to use almond milk, make sure it's also compliant [no sugar, no carrageenan, etc.]
The coconut cream [fat] gives this homemade whole30 ranch a little extra thickness so the consistency tastes similar to a store bought or buttermilk ranch. It's as close as you'll get and a little goes a long way.
If you've never used coconut milk before [canned is suggested for this recipe] the top will have a generous layer of coconut cream. Under that will be the liquid. For this recipe, I suggest blending it together to have the same consistency throughout. It takes literally two seconds on a blend setting – nothing fancy. If you have a massive blender that will obvi work, but so will any small smoothie blender.
You only need 1/4 cup of coconut milk for this whole30 ranch, so refrigerate the rest to use for another recipe, or double up on this ranch, or add to a smoothie, etc.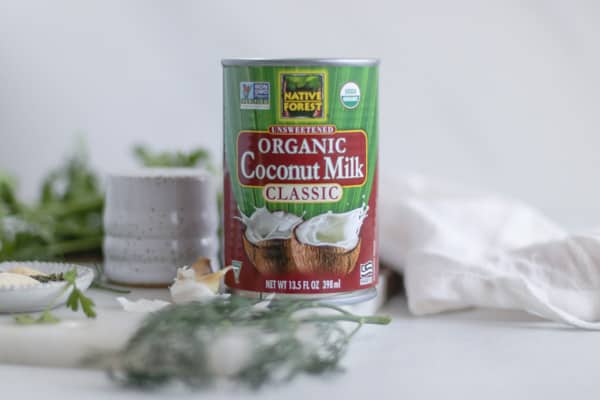 recipes that could use a drizzle of this ranch dip:
whole30 ranch dip + dressing
Just three main ingredients, and a handful of spices stand between you and a flavorful homemade batch of whole30 ranch dressing, that also doubles as a dip!
Print
Pin
Rate
Ingredients
1/2

cup

mayonnaise -

homemade, or Primal Kitchen

1/4

cup

full-fat canned coconut milk

-

may need to blend together

2

cloves

garlic, diced

1/2

large

lemon, juiced

-

approx 1.5 TBSP

1

teaspoon

dried parsley

1

teaspoon

dried dill

1

teaspoon

dried chives

1/2

teaspoon

onion powder

dash

of

salt and pepper, to taste
Instructions
Add all ingredients to a blender, and pulse until smooth and creamy. Season with salt and pepper, to taste.

Refrigerate for at least 30 minutes before serving to allow flavors to marry, and ranch to thicken.

Stir before serving and enjoy!
Notes
I like to use whole garlic cloves and blend this ranch together. If you don't want to blend, you can substitute 1 tbsp dried garlic powder and whisk all ingredients together.
Nutrition
Serving:
1
tbsp
|
Calories:
70
kcal
|
Carbohydrates:
1
g
|
Fat:
7
g
This post may contain affiliate links. Purchasing through them help support this website. Please see the disclaimer here.